Looking for sky-high fine dining experience in Auckland? Hello, The Sugar Club. It's tasting menus all around with uninterrupted sweeping views of Auckland City and the Hauraki Gulf. You won't find a dining table higher than level 53 of Sky City's Sky Tower.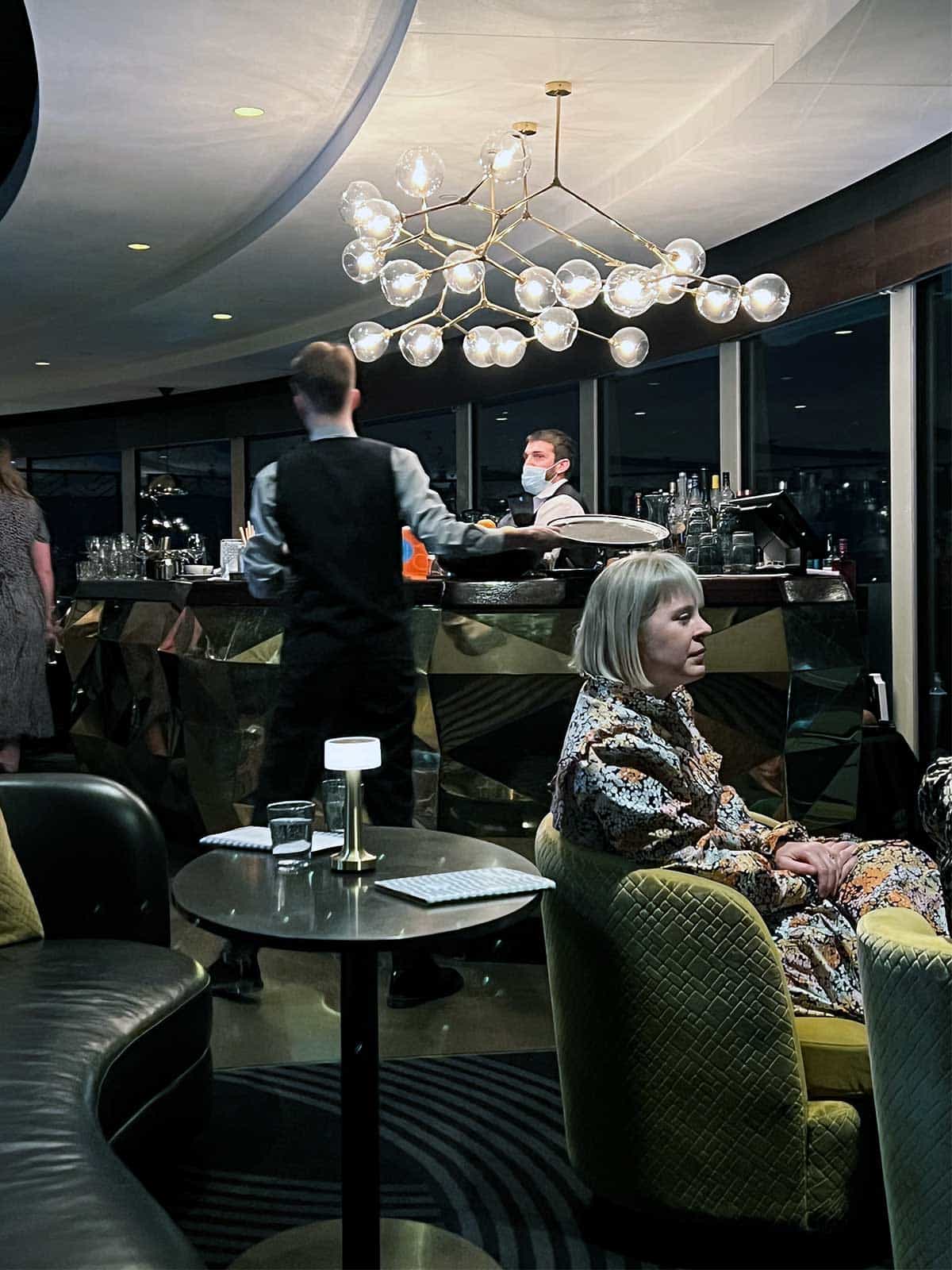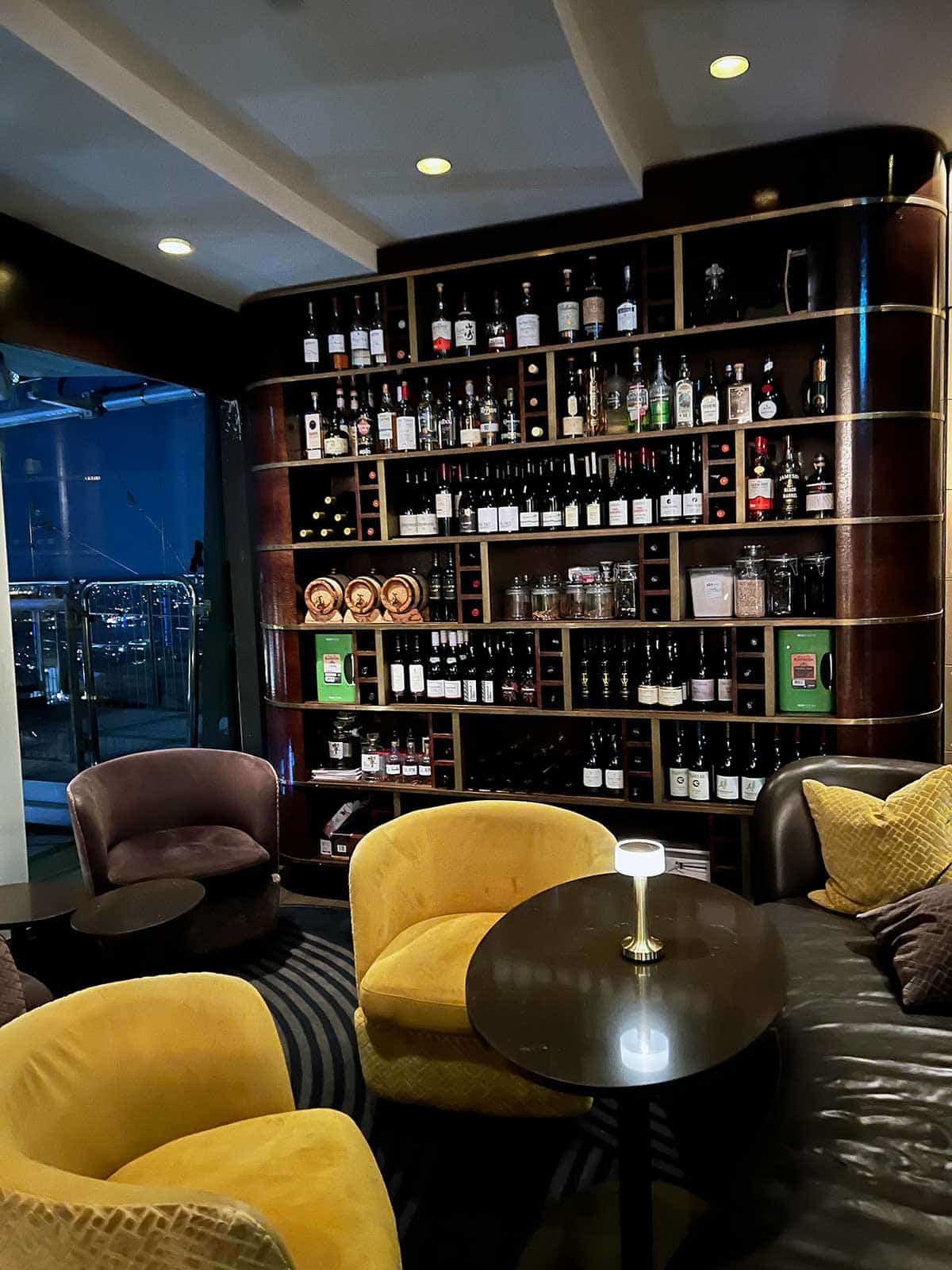 You can't get much higher in Auckland than the Sky Tower which is located at Sky City in the middle of Auckland's CBD. The only thing that may interrupt your view is the odd bird or a lost skywalker.
An important note unlike the other Sky Tower restaurant, Orbit 360 Dining, The Sugar Club does not rotate.
The restaurant is a must for any visitor to Auckland. The views from The Sugar Club are stunning. It has also been awarded 1 hat at the 2021/2022 Cuisine Good Food Awards.
But how do I rate it against two of my favourite Auckland restaurants, Ahi and The Grove? Keep reading for a look at The Sugar Club menu and my thoughts.
Sara xxx
(Our visit to The Sugar Club was independently paid for and as anonymous as possible)
What's in this post
The look and feel
The restaurant has a reception at the bottom of Sky Tower and on arriving you will be whisked up the speedy elevator to level 53. The elevator opens to the bar area filled with plush armchairs and lounges. Despite the floor-to-ceiling glass windows, the wall of wine gives a warm "library" feel to the area.
The whole area exudes a chic art deco vibe with a colour pallet of predominately black which is lifted with white and brass. Dark marble-style tables and accents of wood add warmth.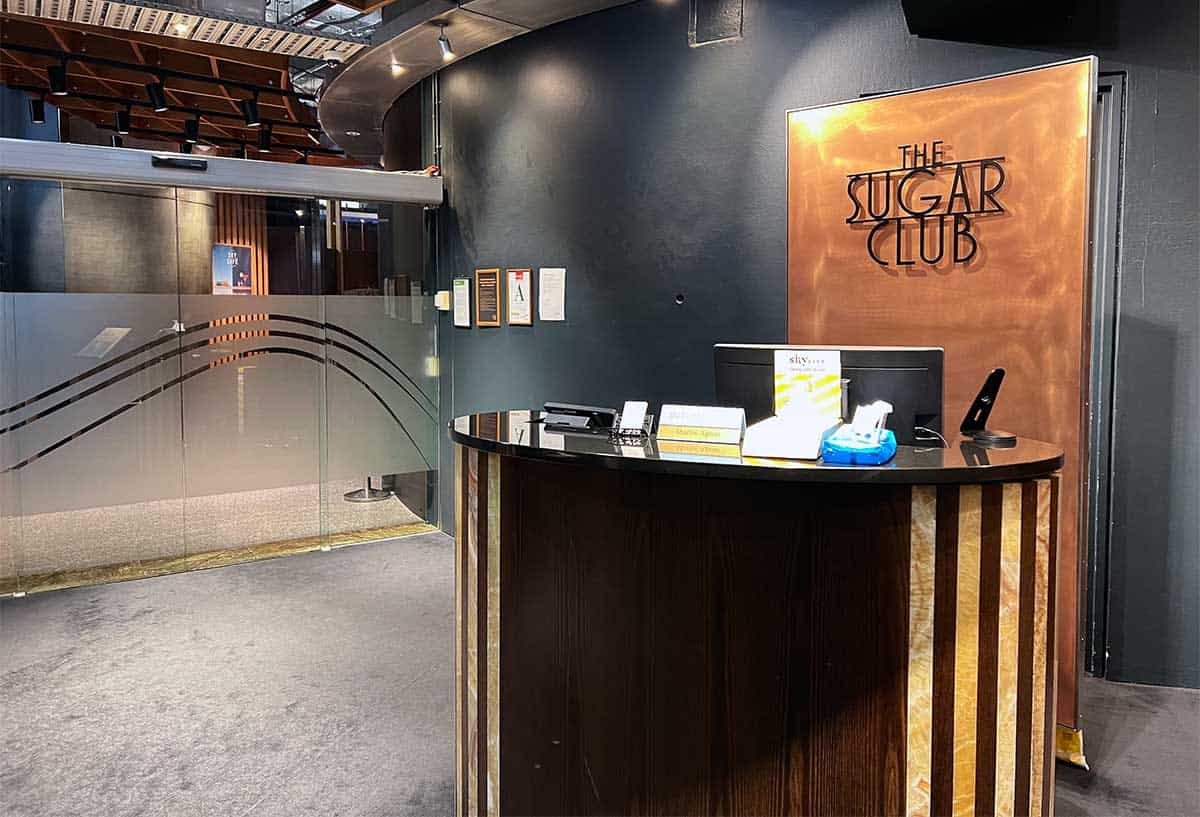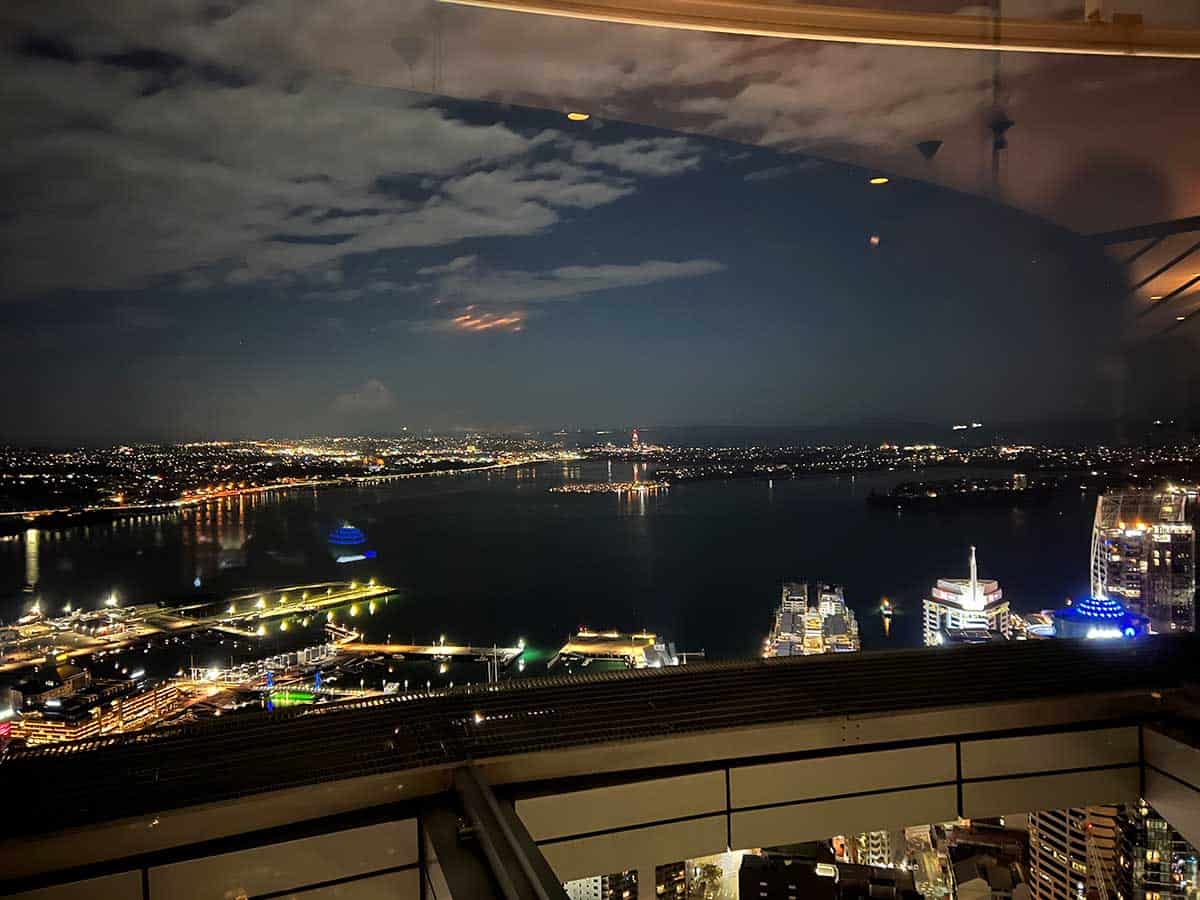 The Service
We arrived on time but our table wasn't ready. Therefore it was to the inviting bar to relaxingly wade out the waiting time of around 10-15 minutes.
Unfortunately, once we were seated at our table there seemed to be a knock-on effect from our initial wait. Although staff were lovely (professional, pleasant, and knowledgeable), the initial service was incredibly slow.
Our reservation was at 8.00 pm, we were seated around 8.10/15pm and the first bite to eat we had were the snacks that were served at 9.00 pm. Our pre-dinner drinks also took a very long time to arrive.
Luckily as service got rolling the pace picked up.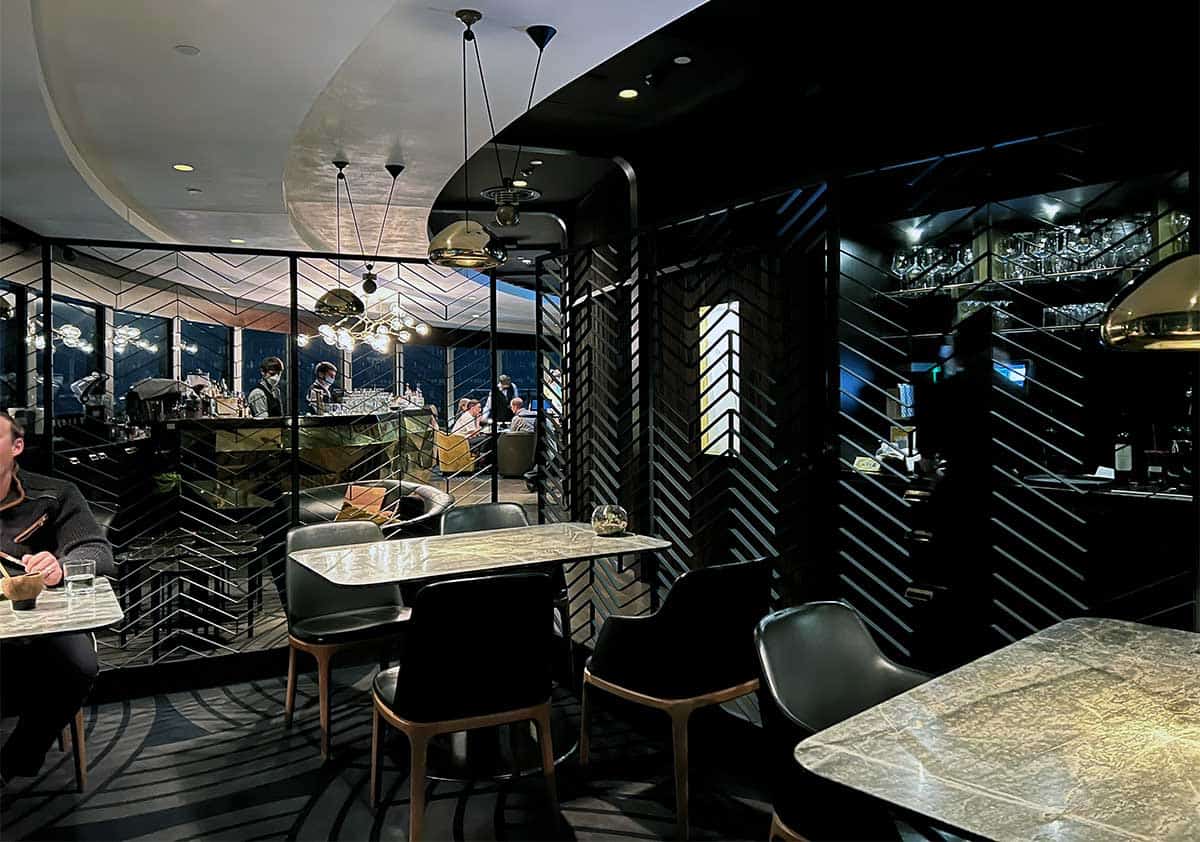 The Sugar Club menu
The Sugar Club menu is a tasting menu, and there are a few options to choose from. There isn't an a-la-carte option.
I have to stress, from our experience, they cater to dietary requirements brilliantly.
We decide to splurge and have the deluxe tasting menu at NZ$175/person with a beverage pairing of NZ$90/person (has now increased to $95/person).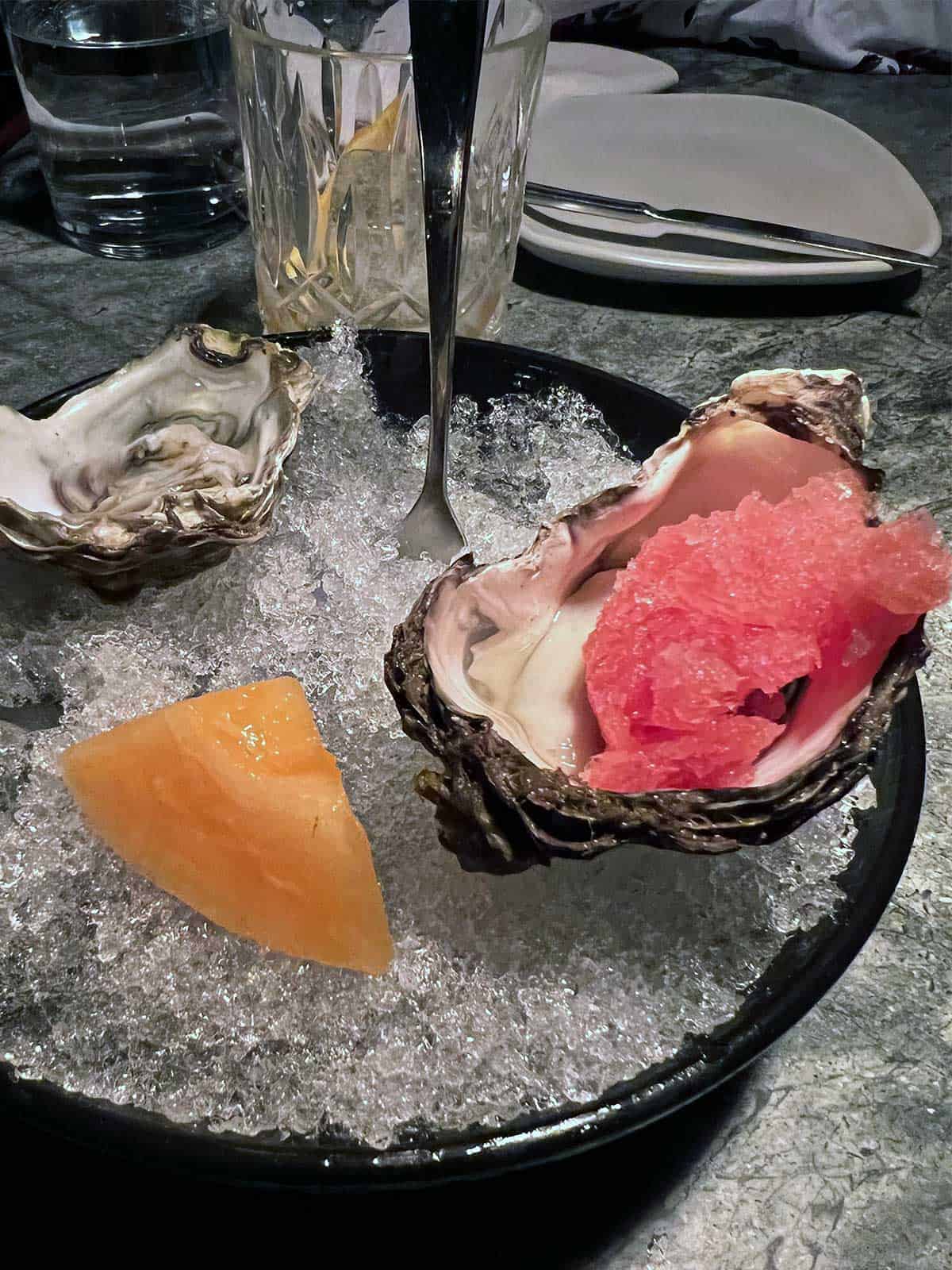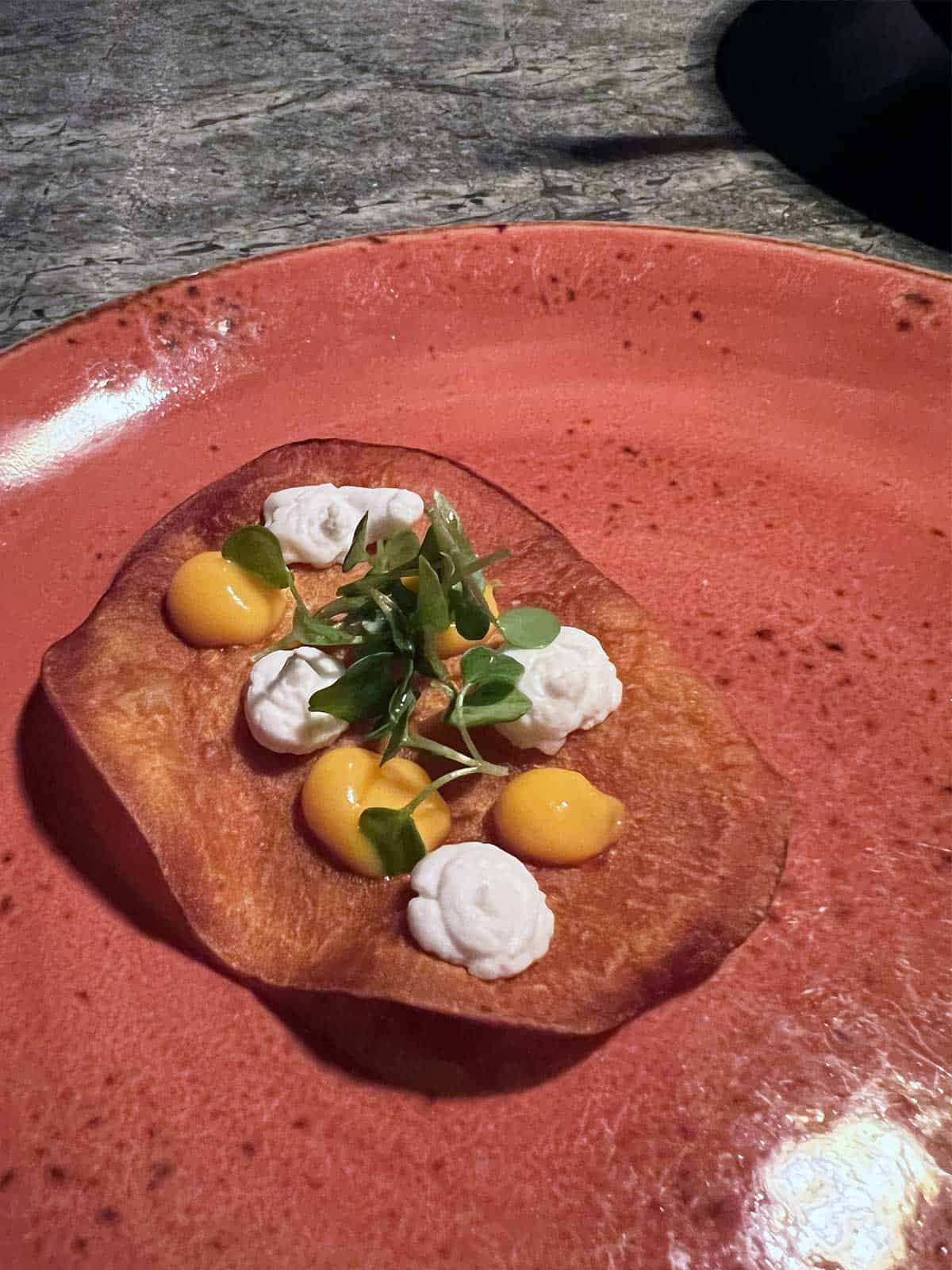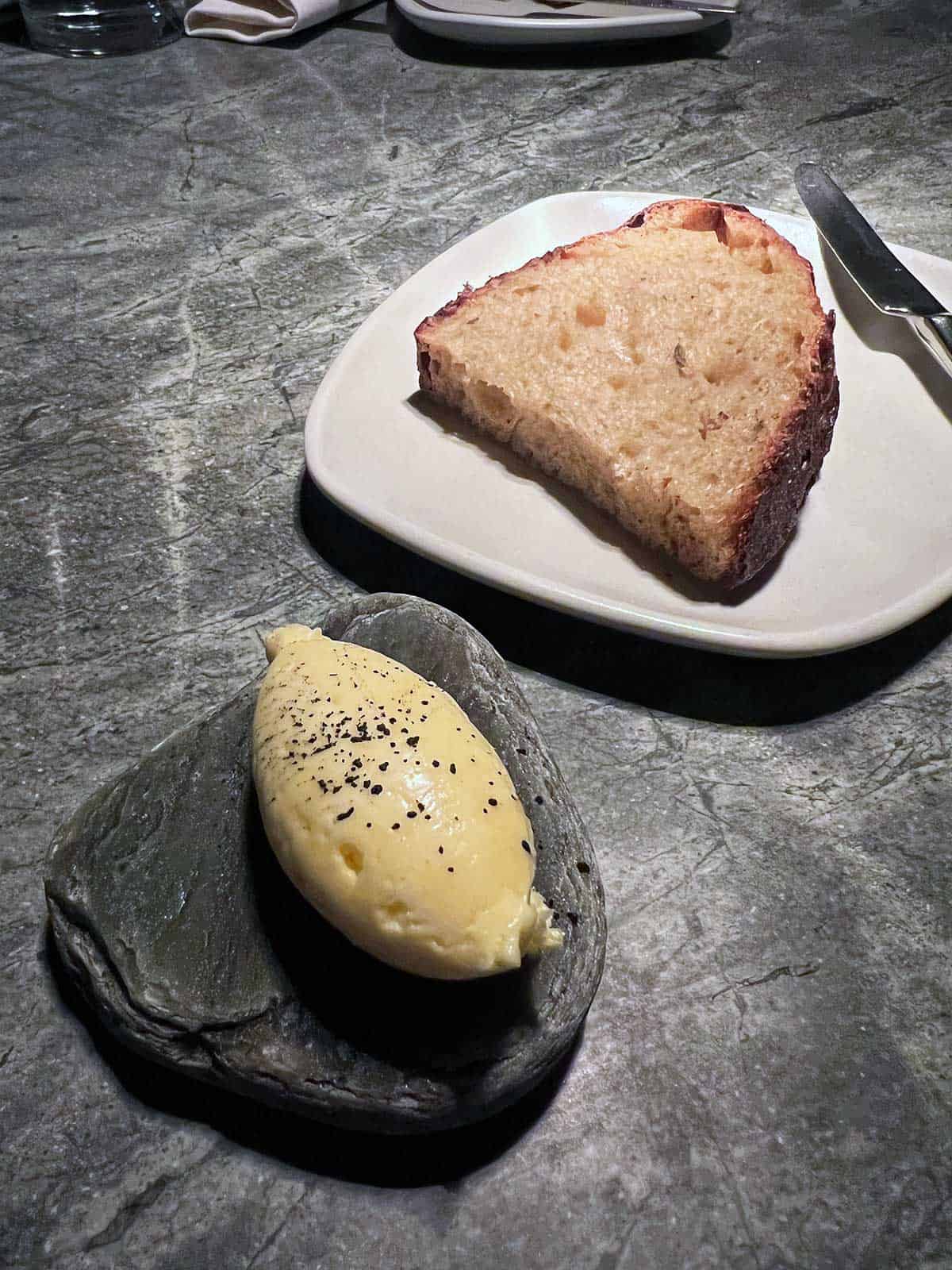 Course 1 - "Kia Ora": The meal starts with snacks shortly followed by bread, and charcoal butter. Gorgeous plump New Zealand oysters. The butter is smoked and sprinkled with charcoal dust.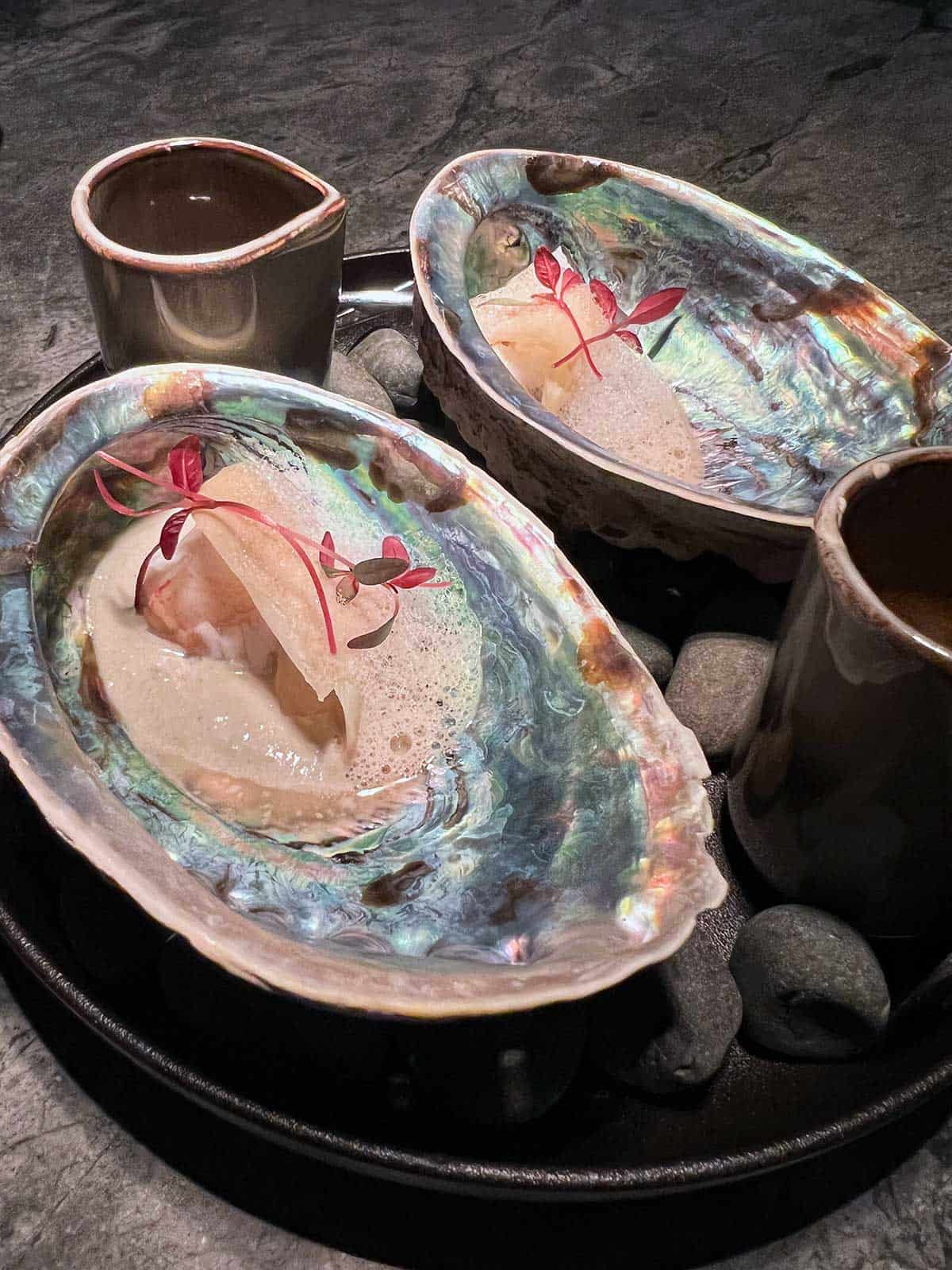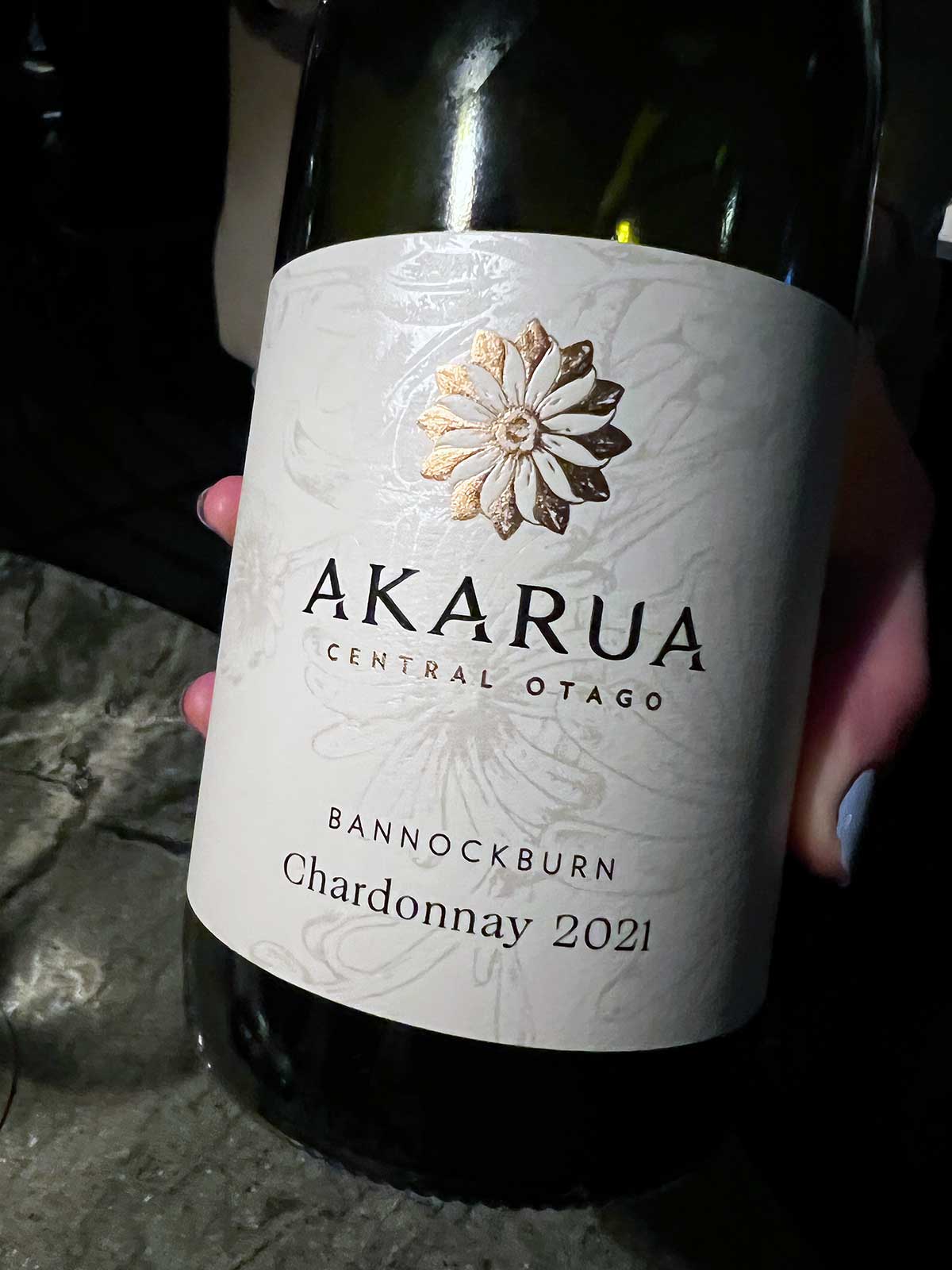 Course 2 - "A Gift from Tora": Crayfish, paua mousse, sliced New Zealand paua, head & wakame broth. The paua is tender and the rich seafood broth is umami packed. Not a drop of broth was left behind.
Beverage pairing: 2021 Akarua Chardonnay, Central Otago, New Zealand.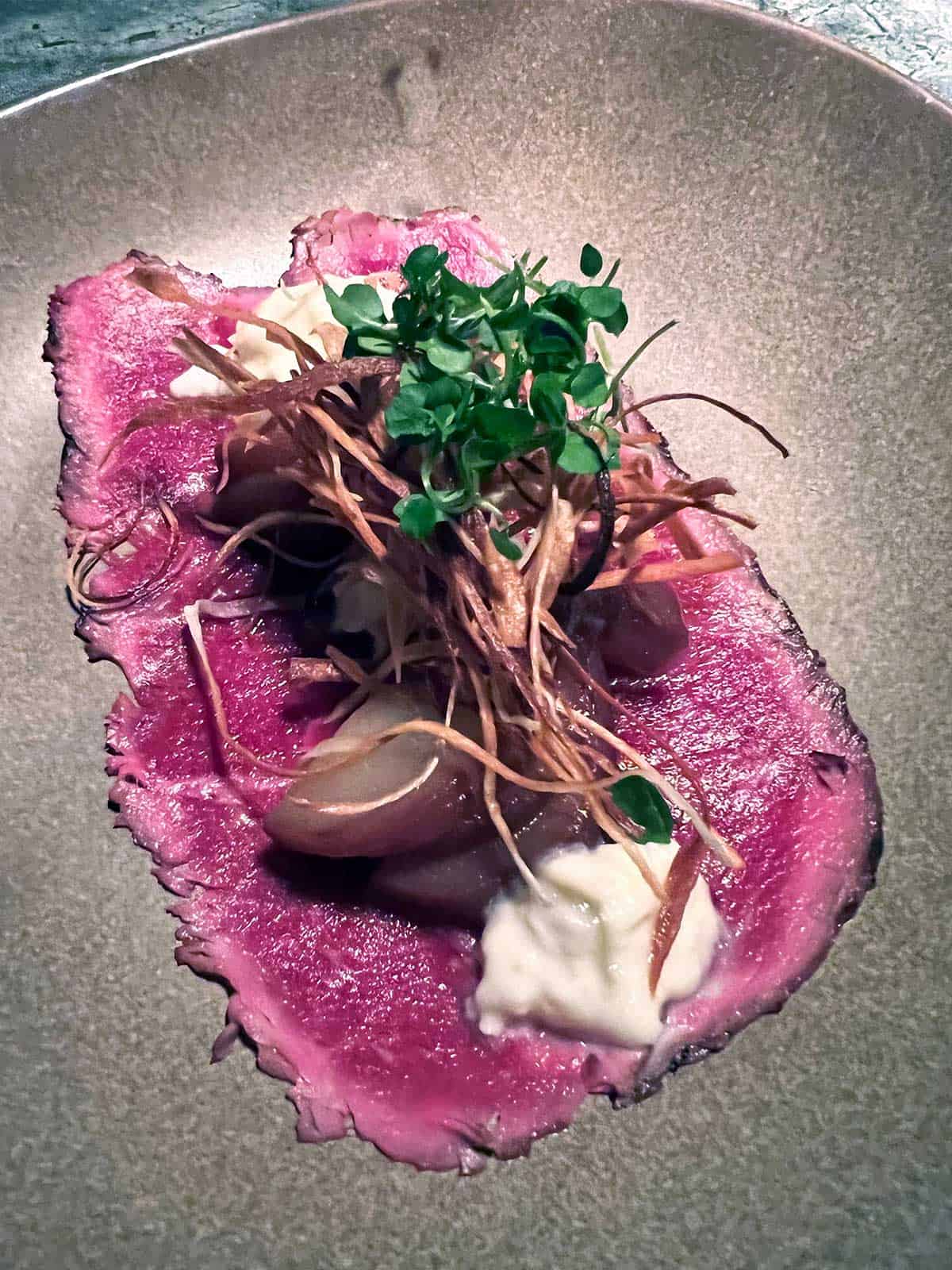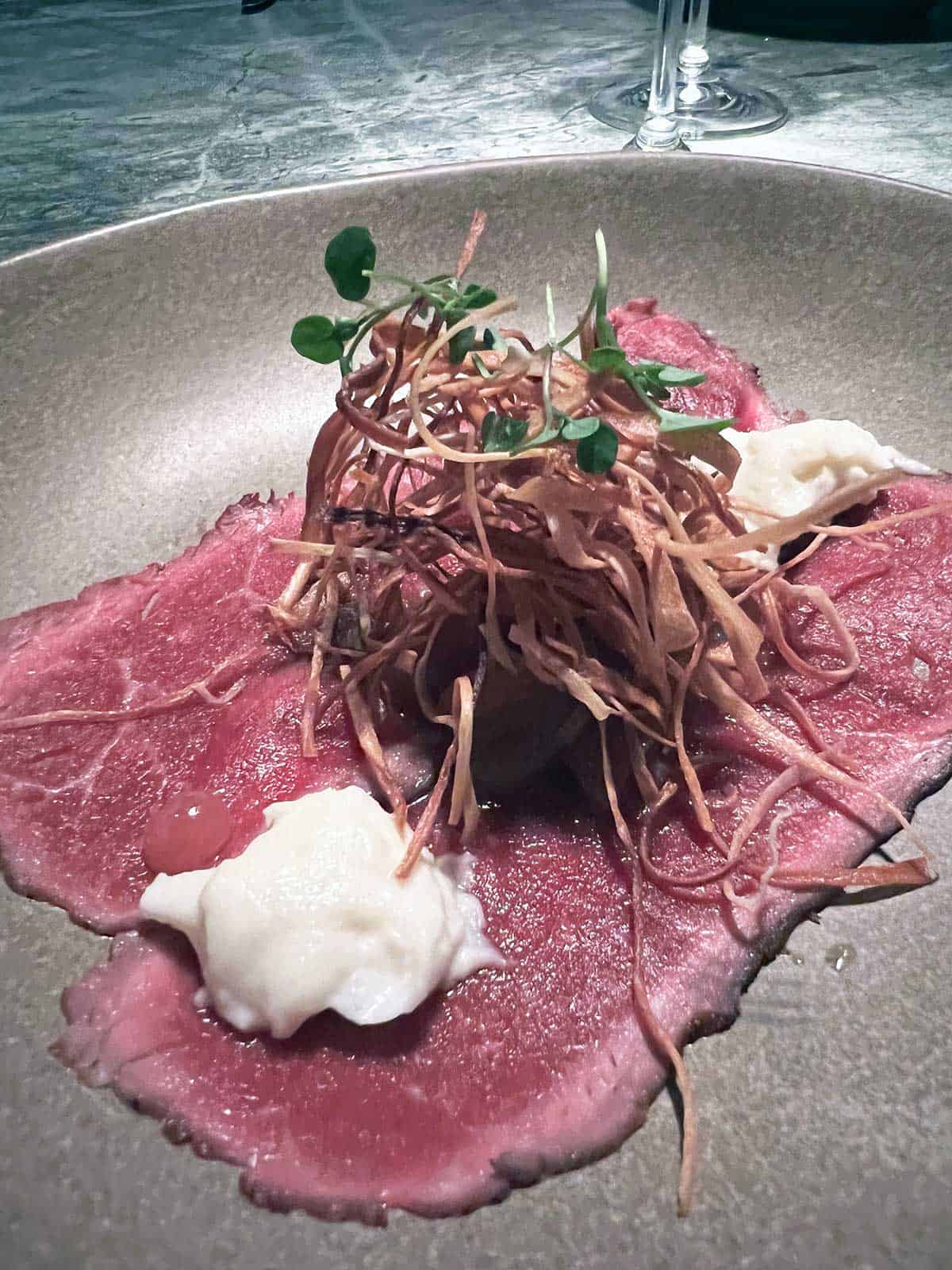 Course 3 - "Dry Aged Beef Carpaccio": Mulled wine poached pear, burrata, and peach gel. We found that the plating was a little inconsistent.
One serve of the thinly sliced sirloin had a very generous amount of poached pear that completely overpowered the dish. Whereas mine was more balanced. The kumara chips offered a textural crunch, but sadly the peach gel seemed to missing in action from my portion.
Beverage Pairing: 2020 Neudorf "Tirtiri" Pinot Noir Rosé, Nelson, New Zealand.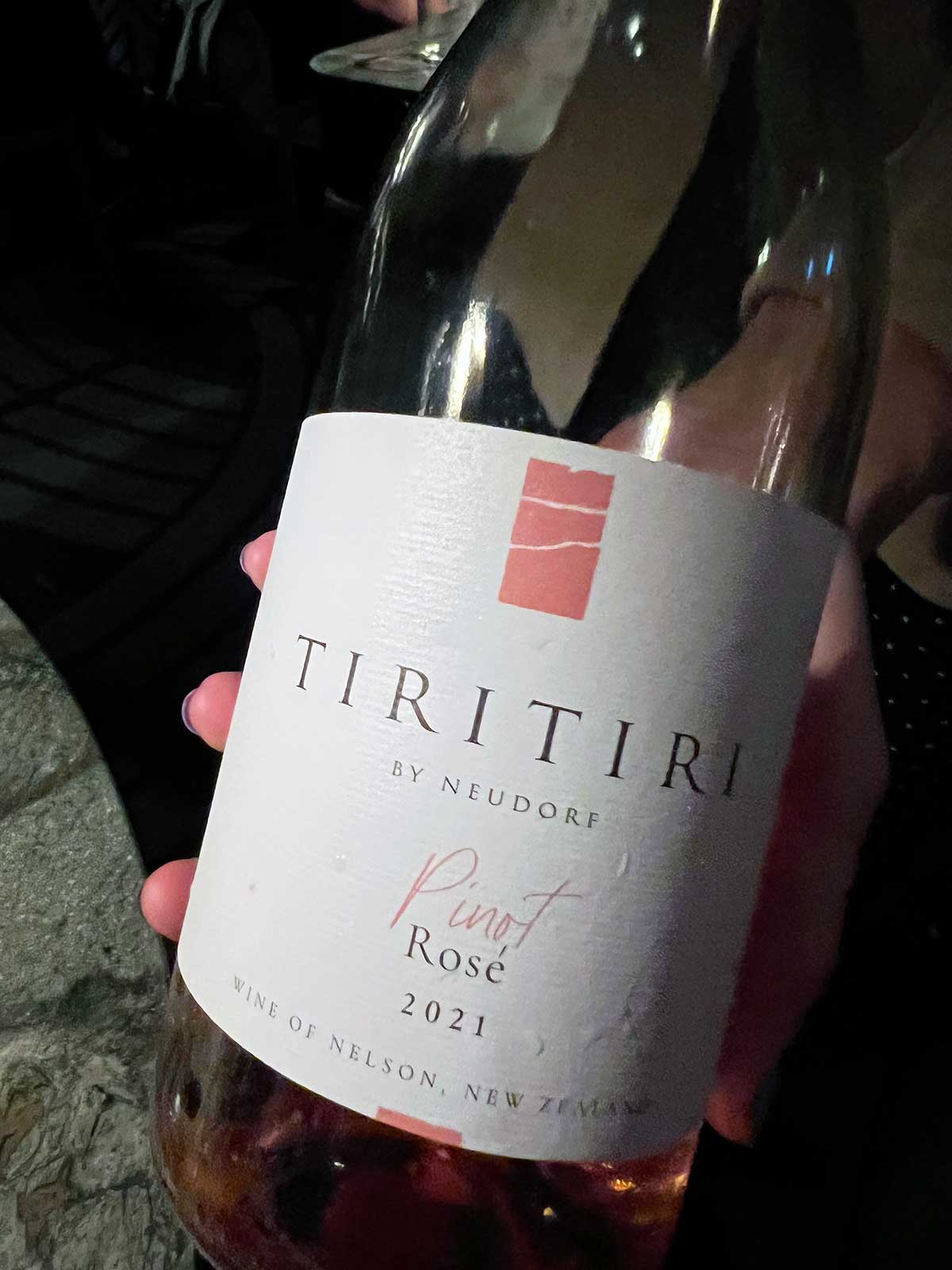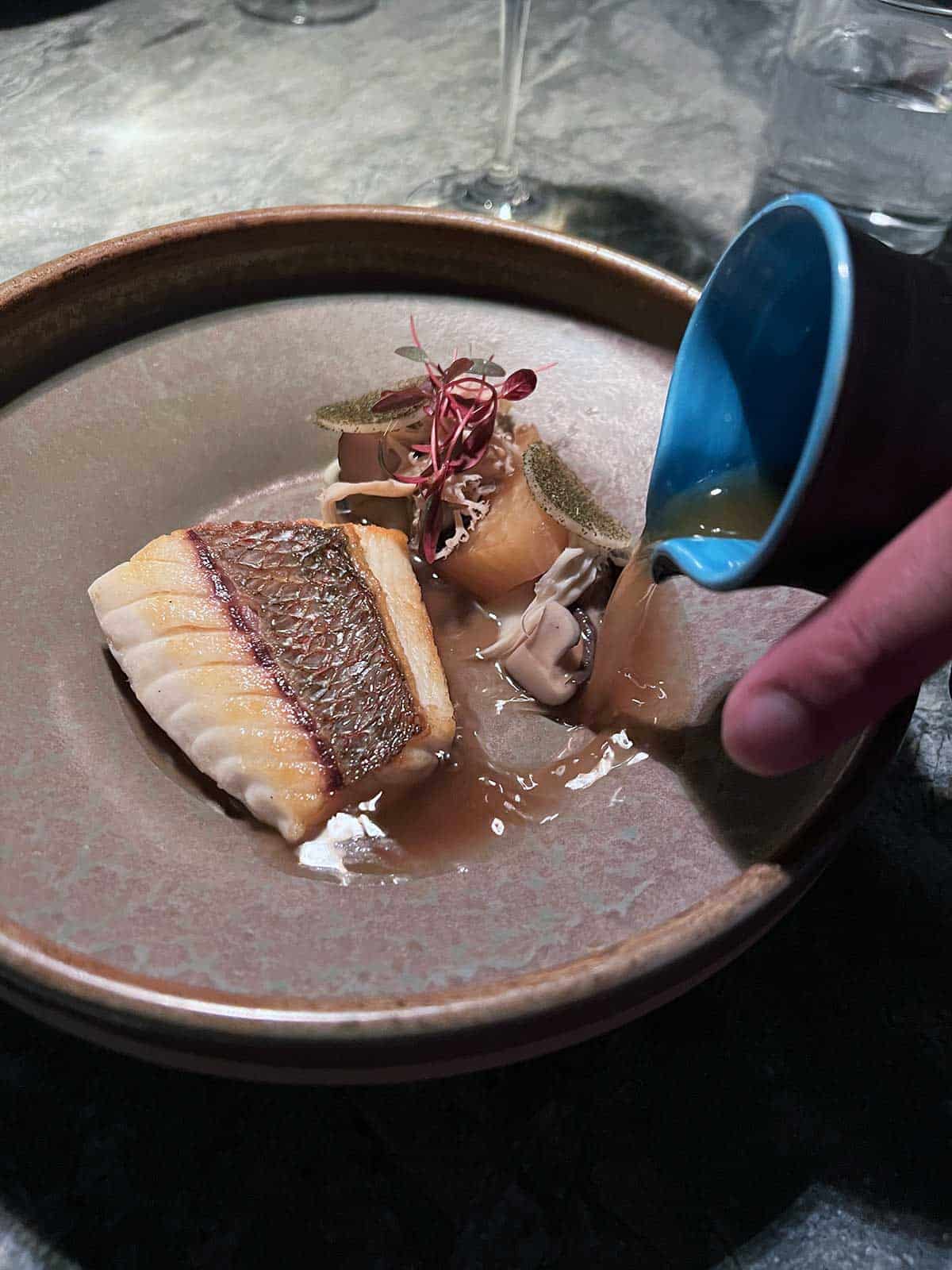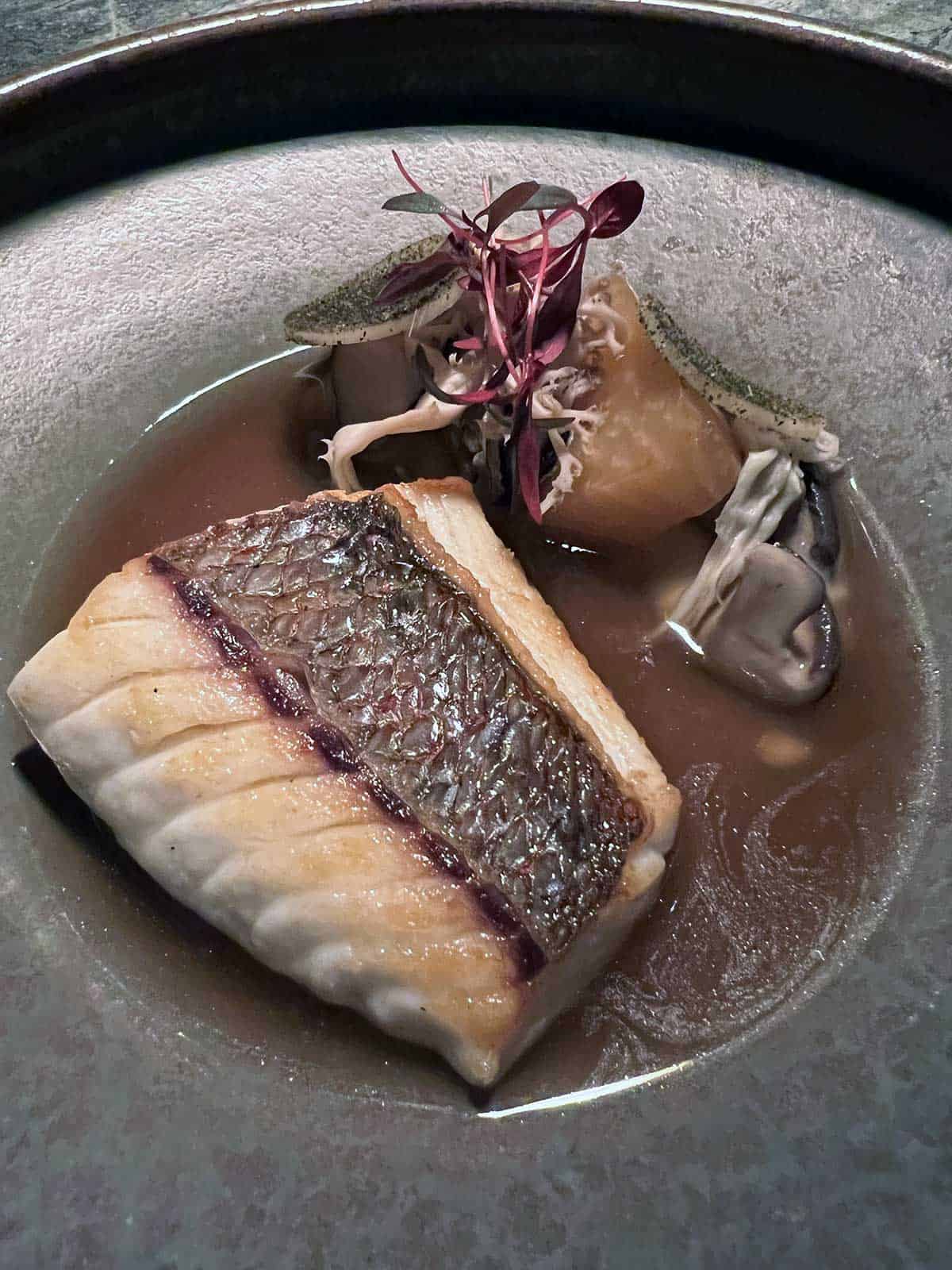 Course 4 - "Tauwhiro": Line caught market fish, green lip mussels, mushroom broth, pekepeke. The fish was snapper and was cooked to absolute perfection. The dish is lifted by a surprise pickled daikon round and shitake was the hero flavour of the dish.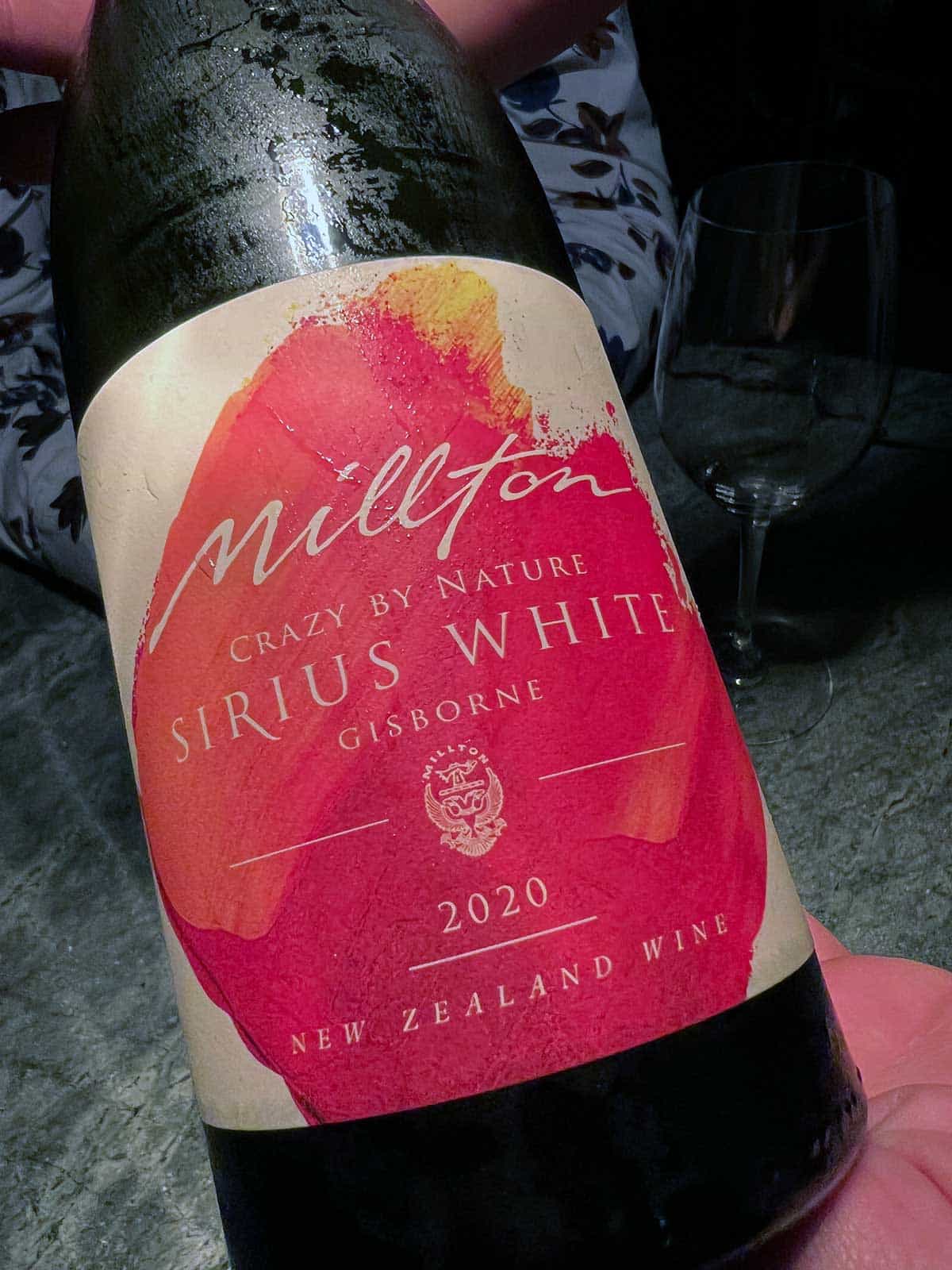 Beverage Pairing: 2020 Milton 'Crazy by Nature' white blend, Gisborne, New Zealand.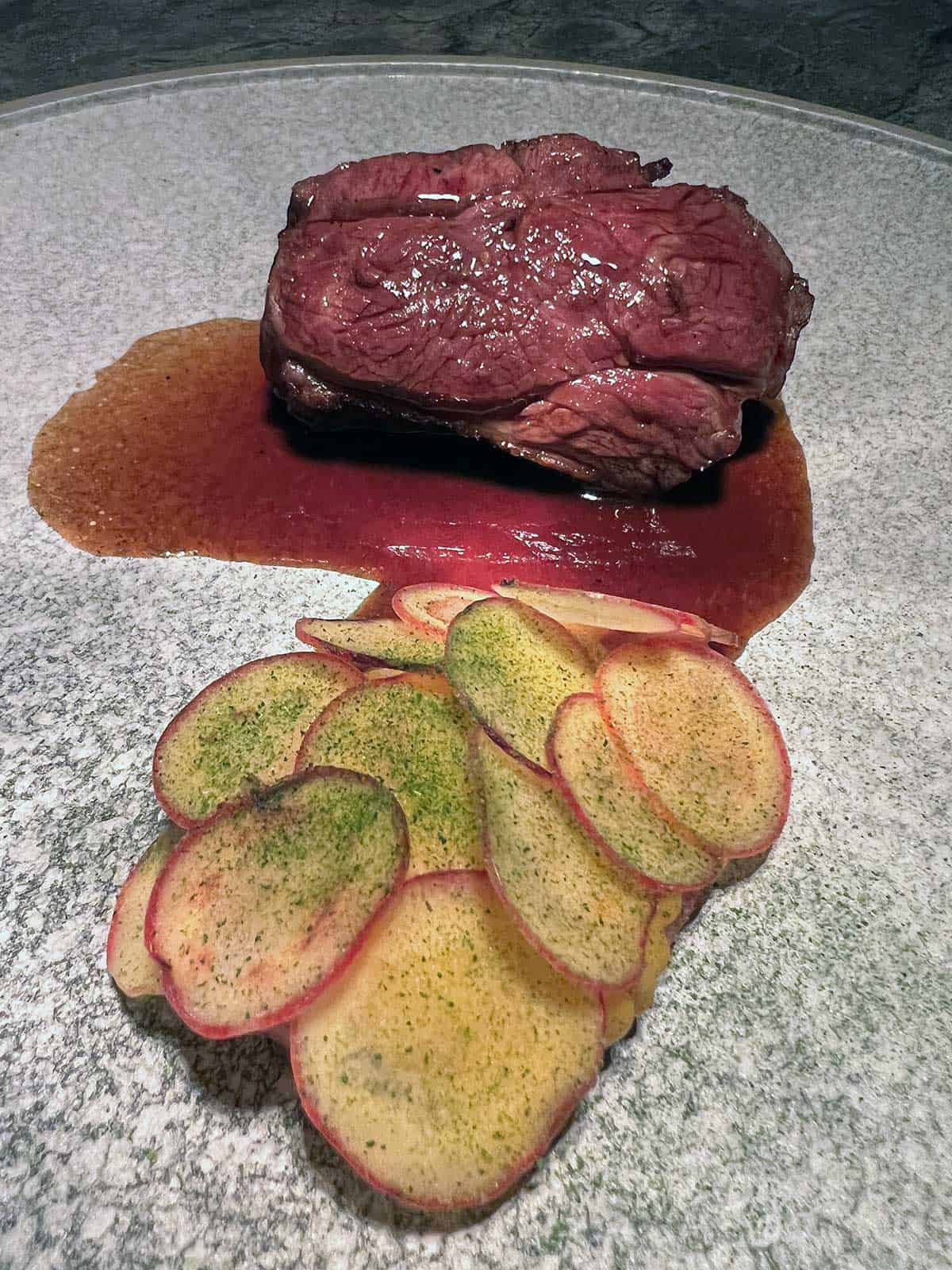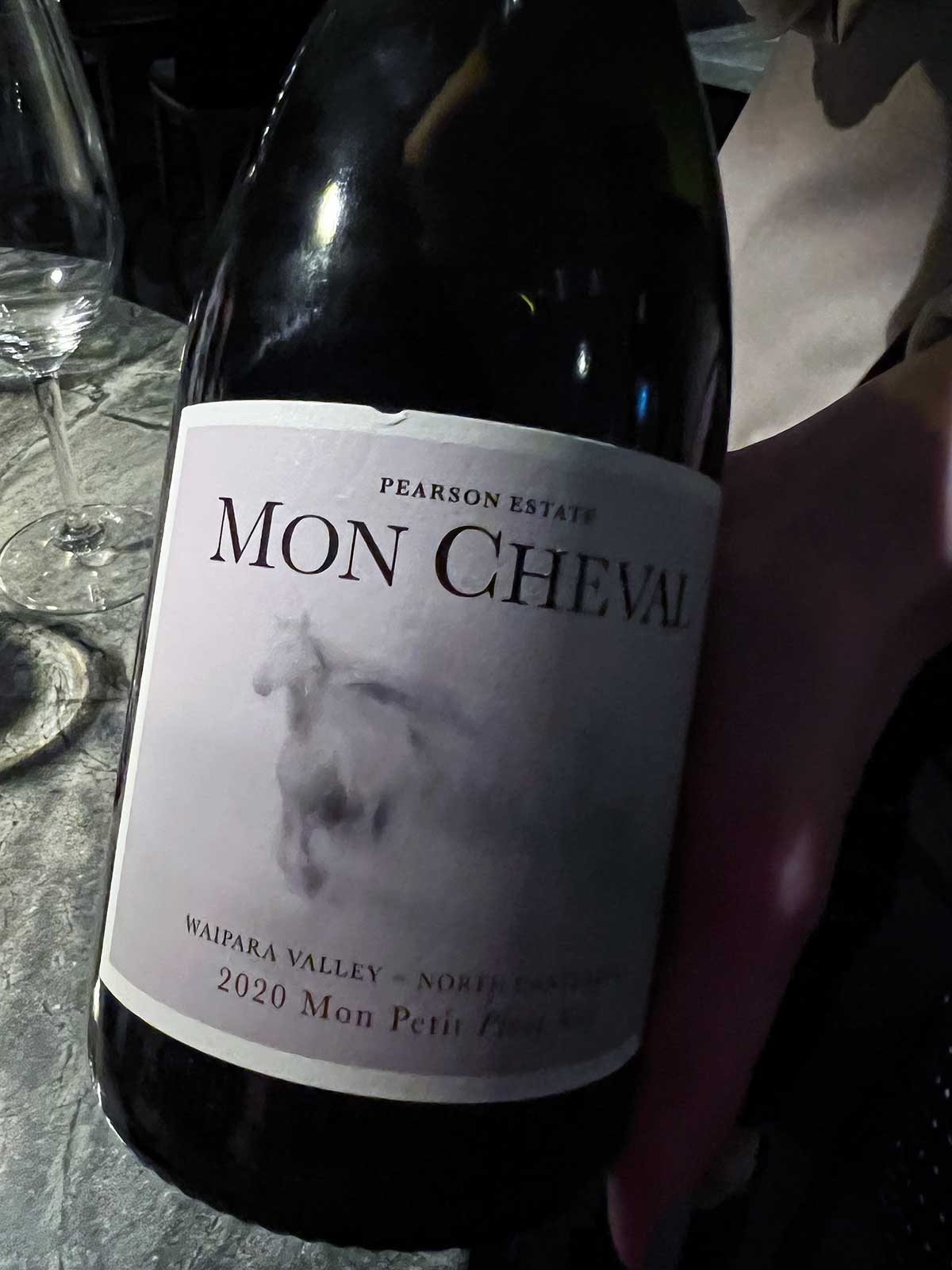 Course 5 - "Lamb and its Feed": Seared rump, yams roasted and mashed, chicory. Accompanying the lamb is a trio of yams, roast confit and mashed are covered with a layer of paper thin yam rounds.
Beverage Pairing: 2020 Mon Cheval 'Mon Petit' Pinot Noir, North Canterbury, New Zealand.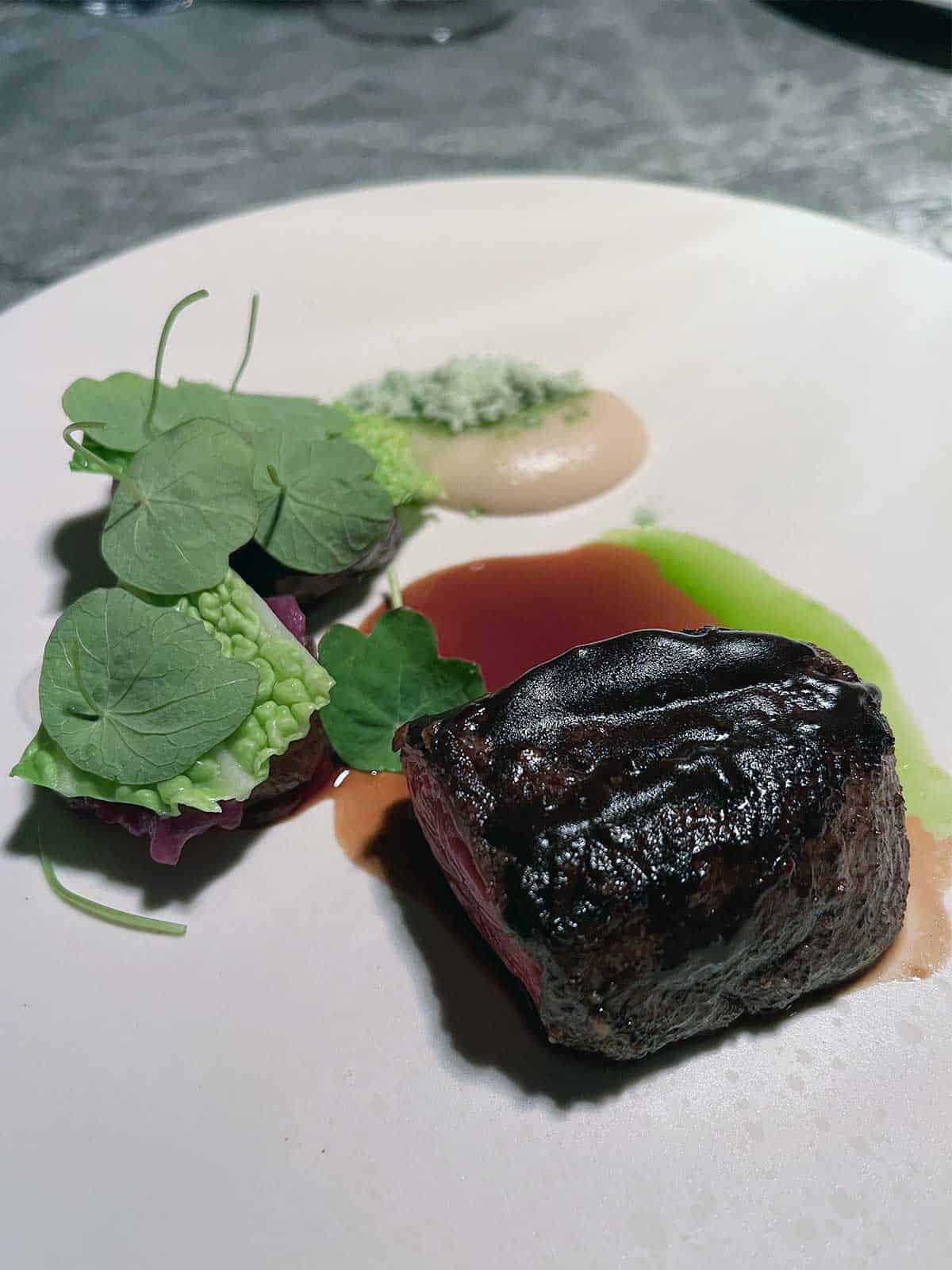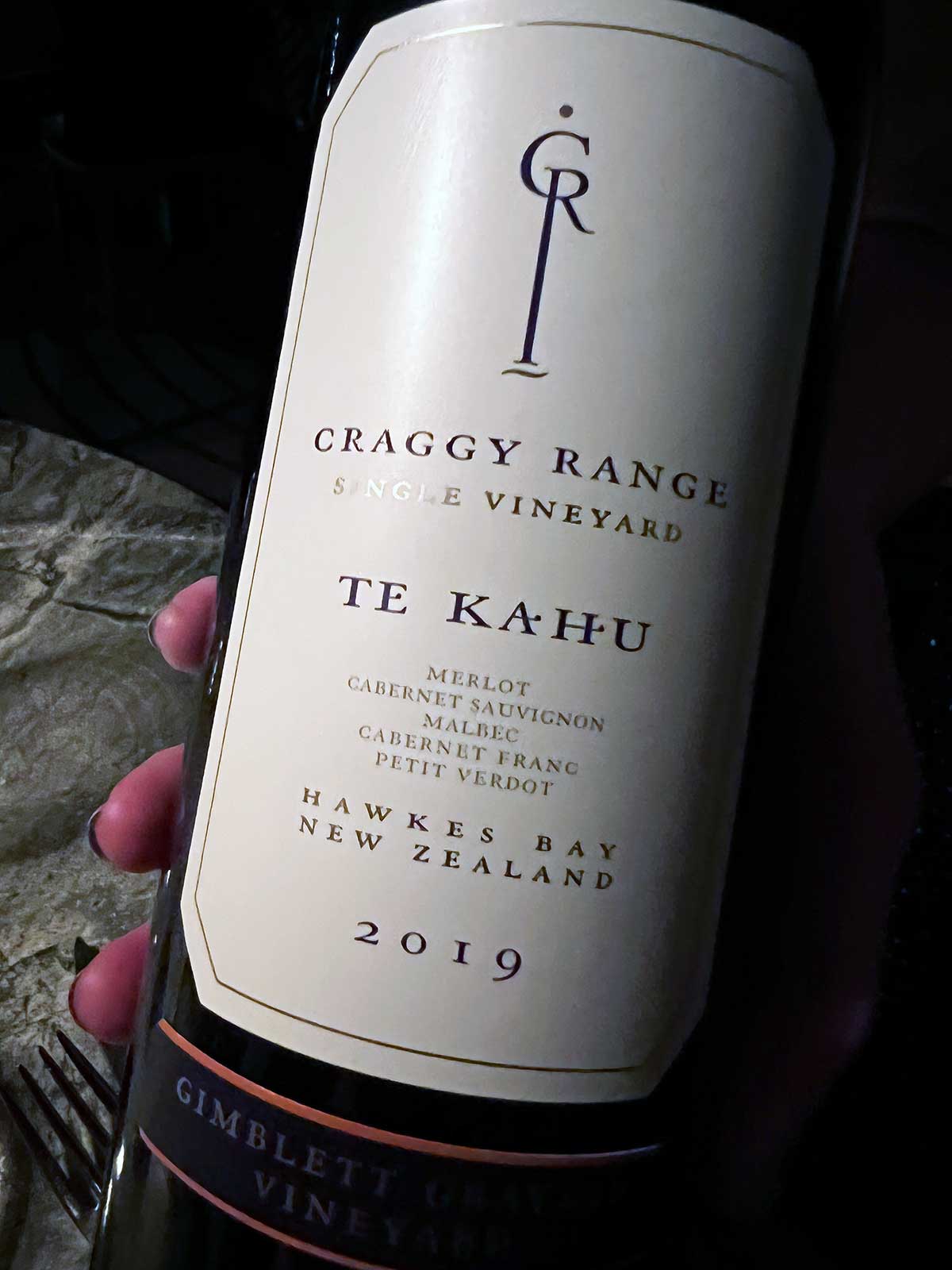 Course 6 - "Wild Venison": Black garlic glazed loin, Jerusalem artichoke, port and berry reduction. The local venison is perfectly pink and the artichoke puree is rich and silky. Roast beetroot is hiding under native kawa kawa leaves.
If a nasturtium and wasabi plant had a love child it would be the kawa kawa. The fresh leaves have a glorious heat.
Beverage Pairing: 2019 Craggy Range 'Te Kahu' red blend, Hawke's Bay, New Zealand.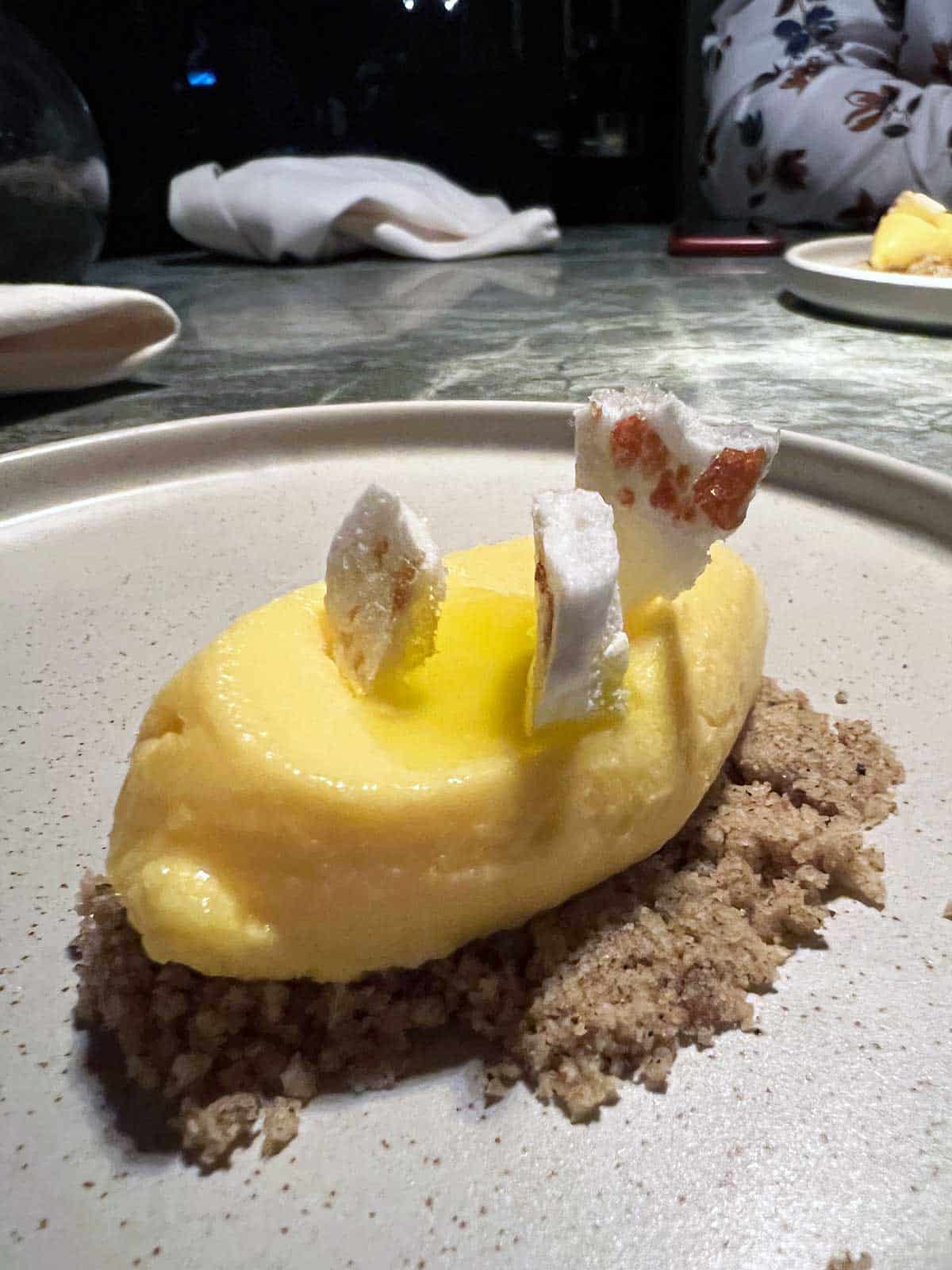 Course 7 - "Sweet Sour Bitter": Yuzu sorbet sits on a mound of green tea granita is crowned with meringue shards that are spiked with peel. Such a refreshing offering after the rich savoury final of venison. If only they offered the yuzu sorbet in take-home tubs.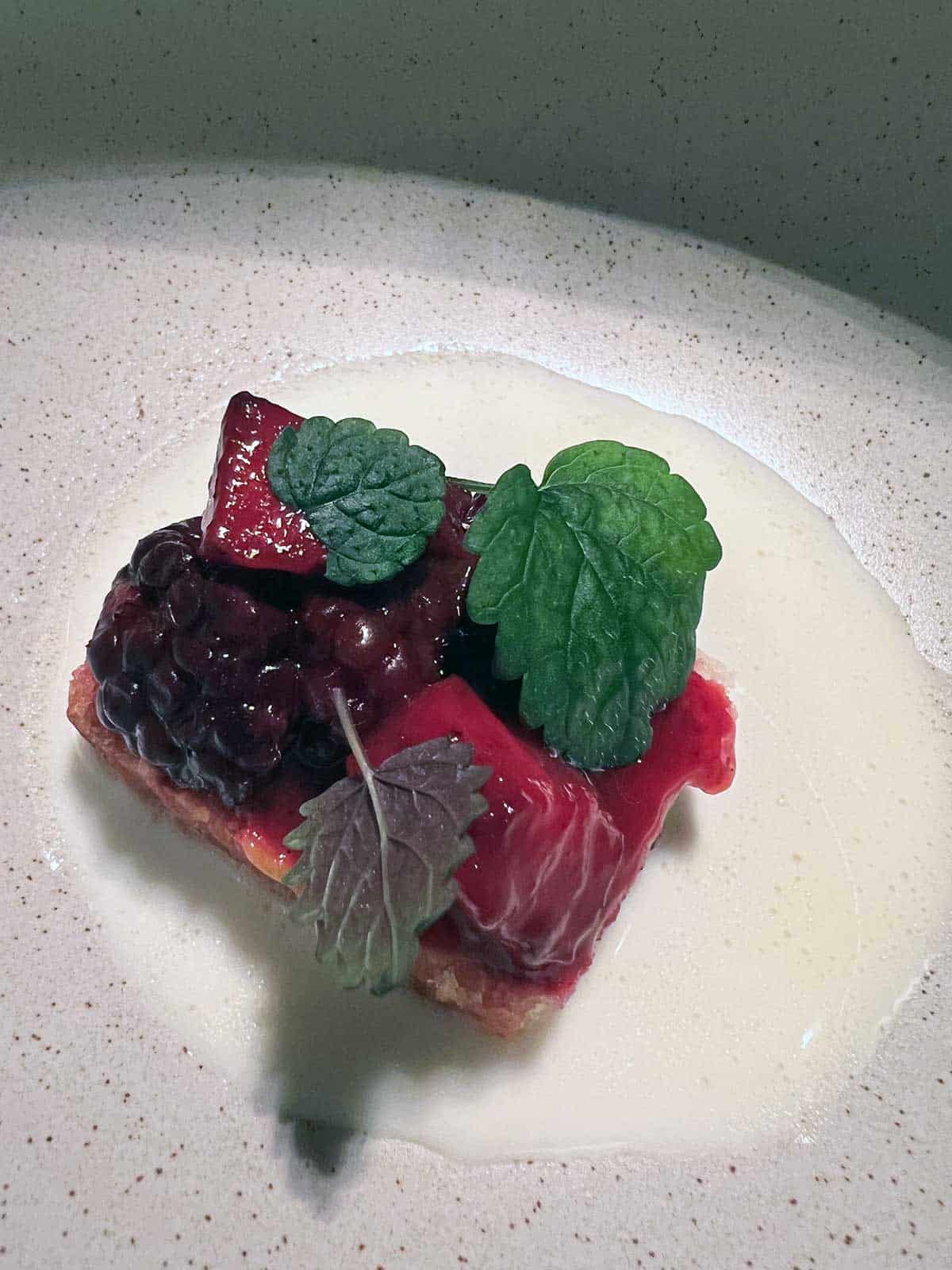 Course 8 - "Nearest and Deerest": Rice cake, jasmine ice cream, mixed berries, deer milk, and bee pollen. The final sweet dish surprisingly comes as a duo and after a few glasses of wine, also an adventure.
It takes me some time to ascertain how the course description played out plated. That was the adventure portion.
Jasmine ice cream is dotted with bee pollen, a delicate and refreshing dish. The rice cake with mixed berries is served warm with a deer milk sauce that is subtly salty and tangy.
Beverage Pairing: 2014 Nevis Bluff 'Vendamges Tardives' pinot gris, Central Otago, New Zealand.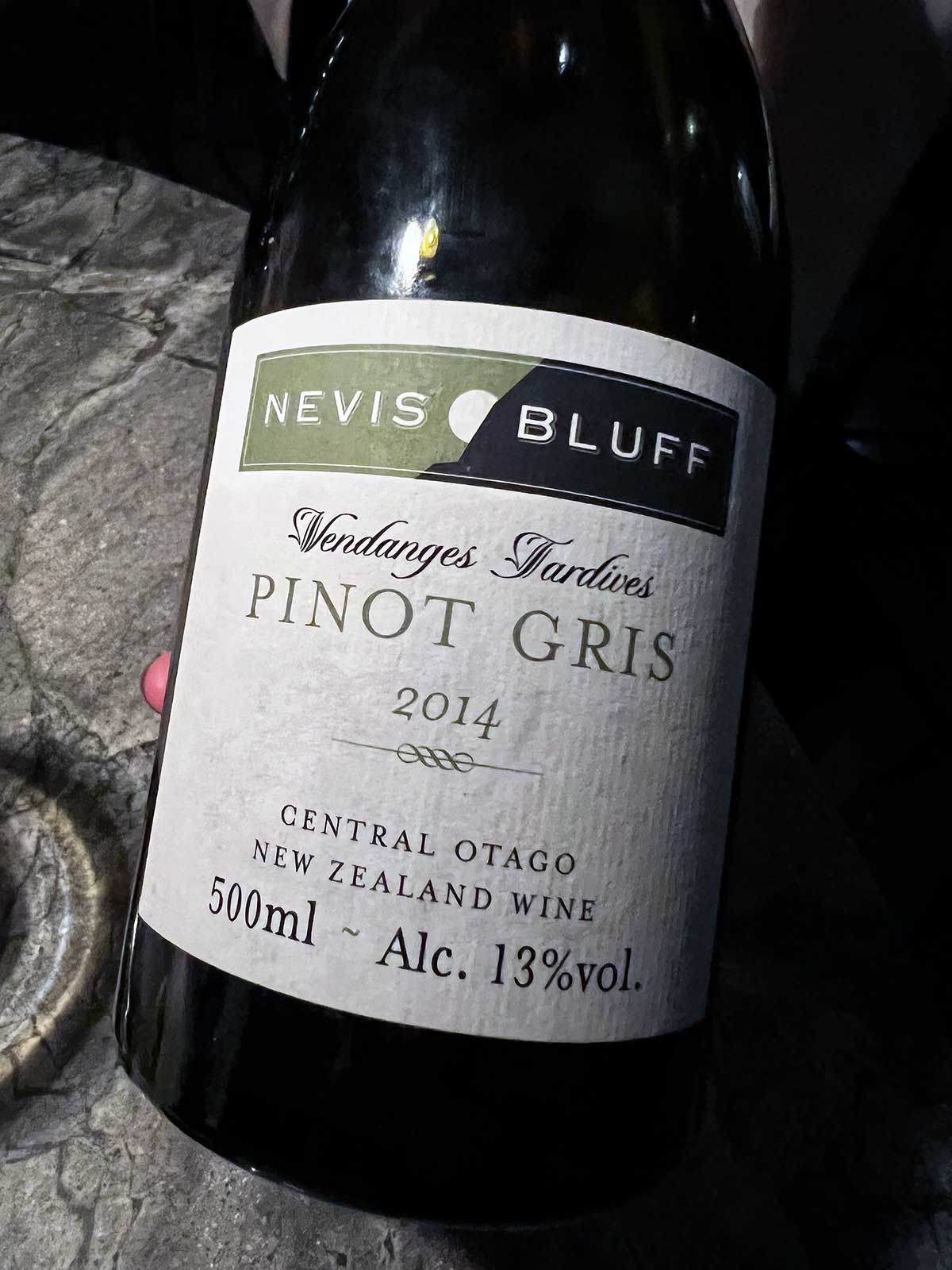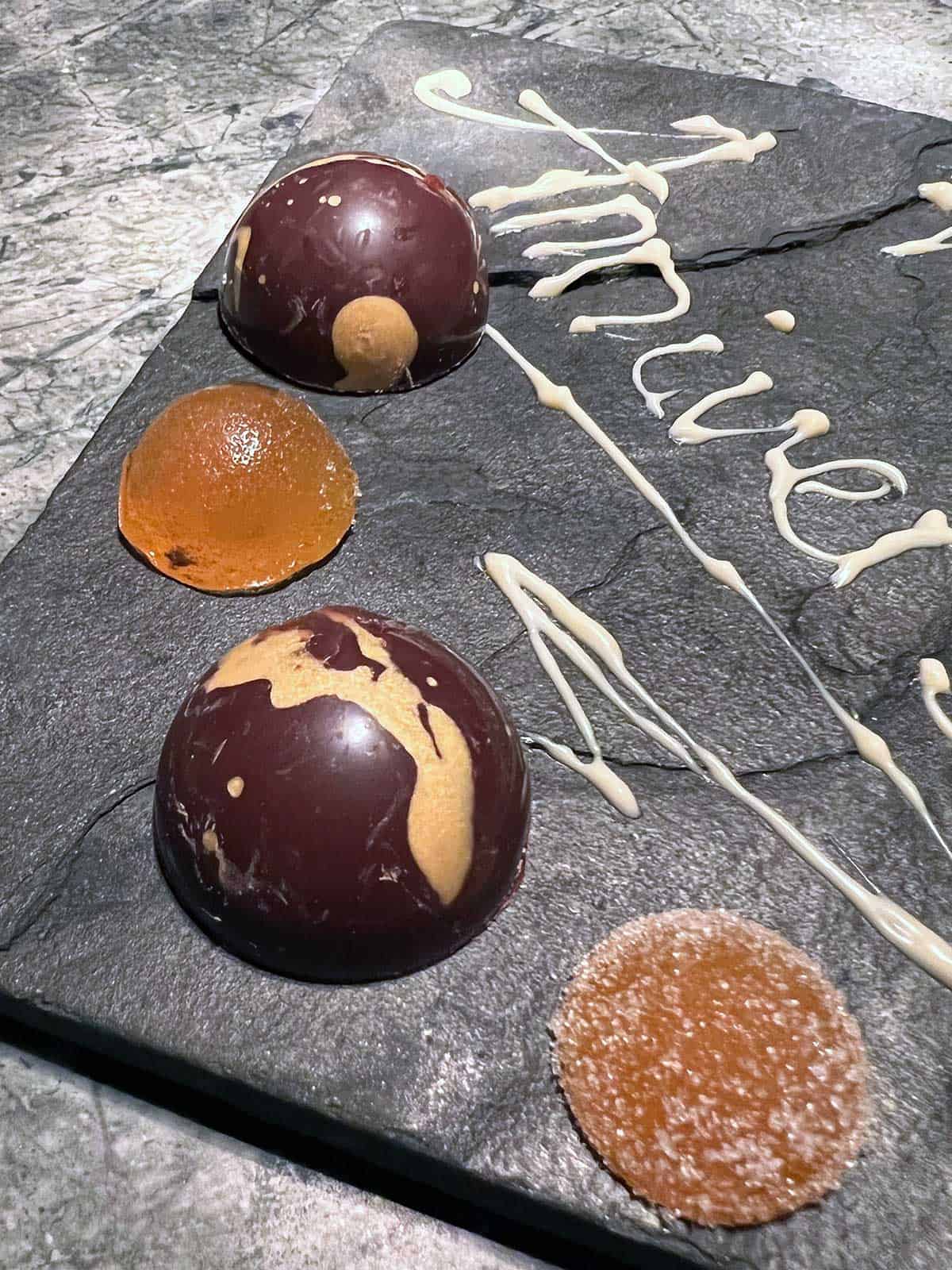 Course 9 - "Treats": The final treat and delightful surprise is a selection of homemade treats. A caramel bonbon and apricot gel that is coated in citric acid. The caramel was dark and luscious with a hint of bitterness.
Final Thoughts
The Sugar Club is one of Auckland's fine dining experiences. Putting aside our evening's delayed start (we all know things don't always run smoothly in the restaurant game) we had a deliciously wonderful dining experience.
My key tip is to go earlier than your dinner reservation and start your evening in the bar with a cocktail of two.
The Sugar Club FAQ's
Cuisine: Seasonal tasting menu with locally sourced and sustainably ingredients, prepared with an emphasis on robust international tastes.
Go-to Dish: The menu is constantly changing, my fave of the night was the paua and yuzu sorbet dishes.
Great for: Celebrations, date night and visitors wanting to embrace local and native produce.
Cost: Tasting menu $159/person + optional beverage pairing $80/person. Deluxe tasting menu $175/person + optional beverage pairing $95/person
Do they cater to vegetarians and vegans?
Yes they do. The Sugar Club offers a plant-based tasting and plant-based deluxe tasting menu.
What are The Sugar Club's opening hours?
At the time of writing The Sugar Club does not open for lunch.
Dinner Tuesday - Saturday, 5pm-10pm.
The bar is open Tuesday - Saturday, 4pm until close
Contact Details
Level 53, Sky Tower
Cnr Federal and Victoria Streets, Auckland, New Zealand
Tel: +64 9 363 6365
Orbit 360 vs The Sugar Club
Compared to the fine dining experience at The Sugar Club, Orbit 360 offers diners an iconic New Zealand brasserie experience. The Orbit 360 menu is a-la-carte, they are open for lunch, the restaurant revolves, and are kid friendly.
What is the dress code?
Chic casual, but feel free to dress up as much as you like. It is one of Auckland's finer restaurants after all. Leave the shorts, tee shirt, and jandals at home.
Can we take the kids?
Yes and no. In the words of The Sugar Club "Whilst the Sugar Club experience is for all to enjoy, we politely ask that any children dining with us are able to do so without impacting our other guests experience."

They do not offer a kid's menu, nor high chairs for infants. Orbit 360 would be a better option if you want to dine with children.