Isn't it funny when the main event doesn't become the star of the show? As soon as I saw these salmon and cucumber sandwiches at the Mandarin Oriental Taipei I knew I had to have a go at making them. I had finished a lovely lunch at the Mandarin Oriental's swanky Cantonese restaurant Ya Ge, and was on a fast paced hotel tour. The Mandarin really is a stunning hotel and Ya Ge's food exceptional, but I'll share that with you in the not too distant future.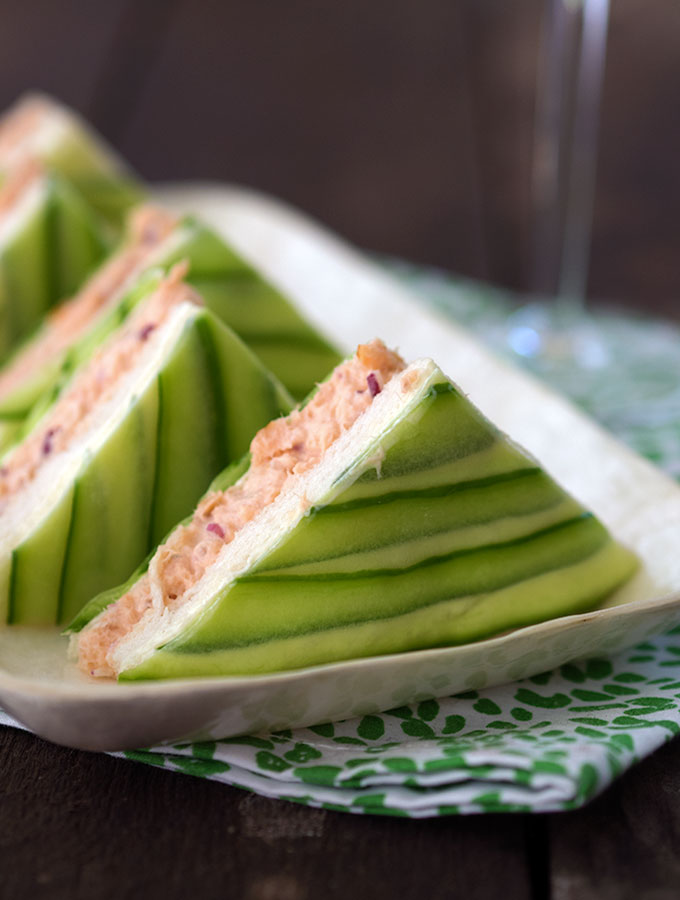 I was sticking my nose in the Oriental Lounge, an exclusive area for Club Floor guests, and spotted them. They were part of a complimentary spread for Club Floor guests to enjoy for afternoon tea. These simple sandwiches stole the show.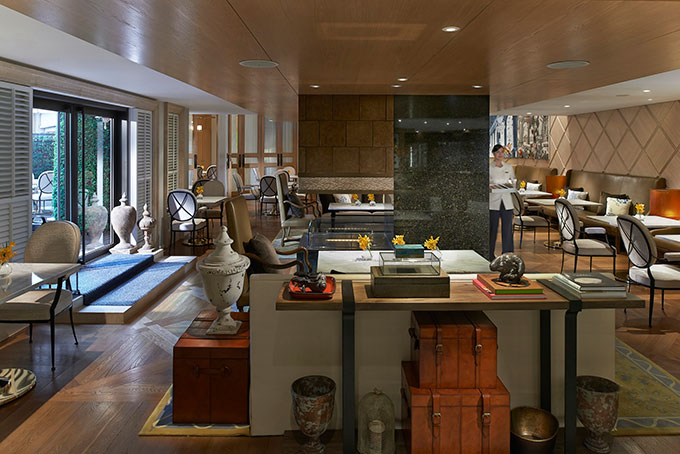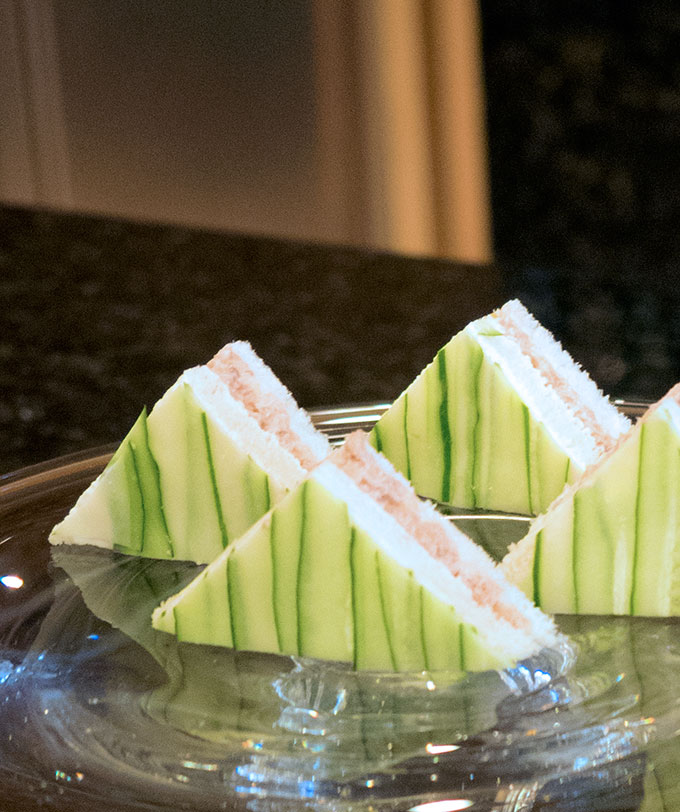 Having not seen them before I thought they were a clever idea, which is very easy to make. For the amount of effort that goes in to making these, which is none, you end up with an eye catching sandwich that would be the perfect addition to a high tea selection.
In fact they would be the perfect addition to a Melbourne Cup spread. Perfect with a glass of champagne, don't you think?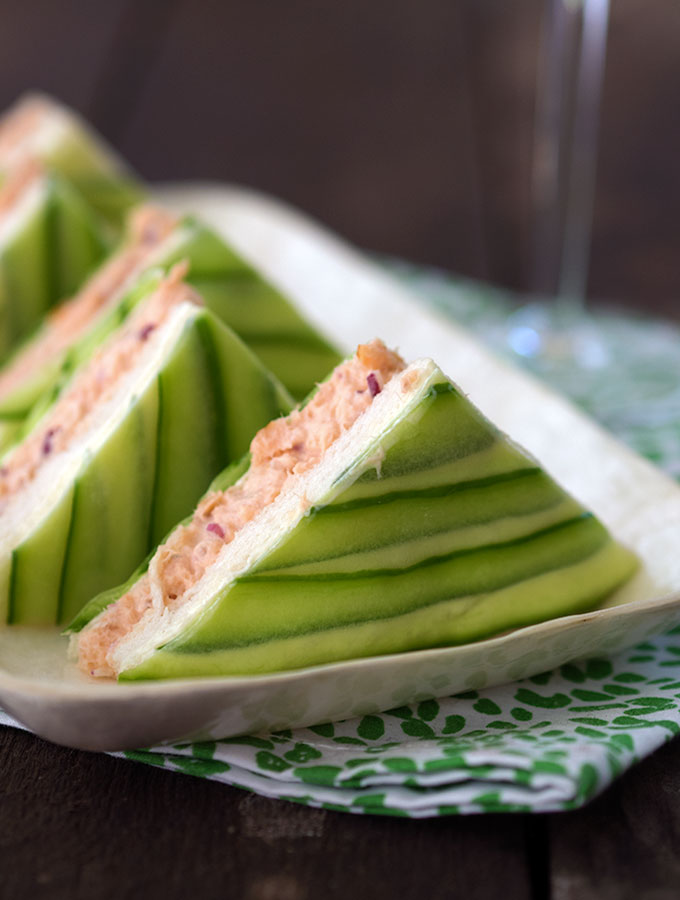 Chic Salmon and Cucumber Sandwiches
These chic Salmon and Cucumber Sandwiches are the perfect addition to an elegant high tea. Very simple to make with show stopping results. As seen at the Mandarin Oriental Taipei, in the Oriental Lounge.
Print
Ingredients
115

grams

hot smoked salmon

flaked

25

grams

red/Spanish onion,

very finely chopped

2

tablespoons

Japanese mayonnaise

1

tablespoon

lemon juice

salt and cracked pepper

2

Lebanese cucumbers

or small thin cucumbers, washed

6

slices

fresh white bread

30

grams

spreadable Cream Cheese
Instructions
Note: Make sure that your cream cheese is at a consistency that will spread over the fresh bread without tearing. It is best to take it out of the fridge for 10 minutes before use.

In a medium bowl mix smoked salmon, red onion, mayonnaise and lemon juice until combined. Add salt and pepper to taste.

Using a vegetable peeler slice long thin strips lengthwise from the cucumbers. It is best to avoid using the core of the cucumber, which holds all the seeds. Pat cucumber strips dry with some paper towel.

Spread cream cheese over a slice of bread. Lay the cucumber strips over the cream cheese, making sure they over lap slightly. Pat them down gently and turn the slice of bread over. The cucumber side becomes the outside of your sandwich.

Repeat this step with the remaining five slices of bread.

Spread one slice of bread, on the non cucumber side, with the salmon filling. Then place another slice of bread, cucumber facing up, on top of the salmon.

Gently cut off the crusts and cut sandwiches into triangle quarters. Repeat with the remainder of bread and salmon. You will end up with 12 triangle sandwiches.

You could also cut them in to fingers. Cut off the crusts as above, and then cut in to three even finger portions, you will end up with nine sandwiches this way.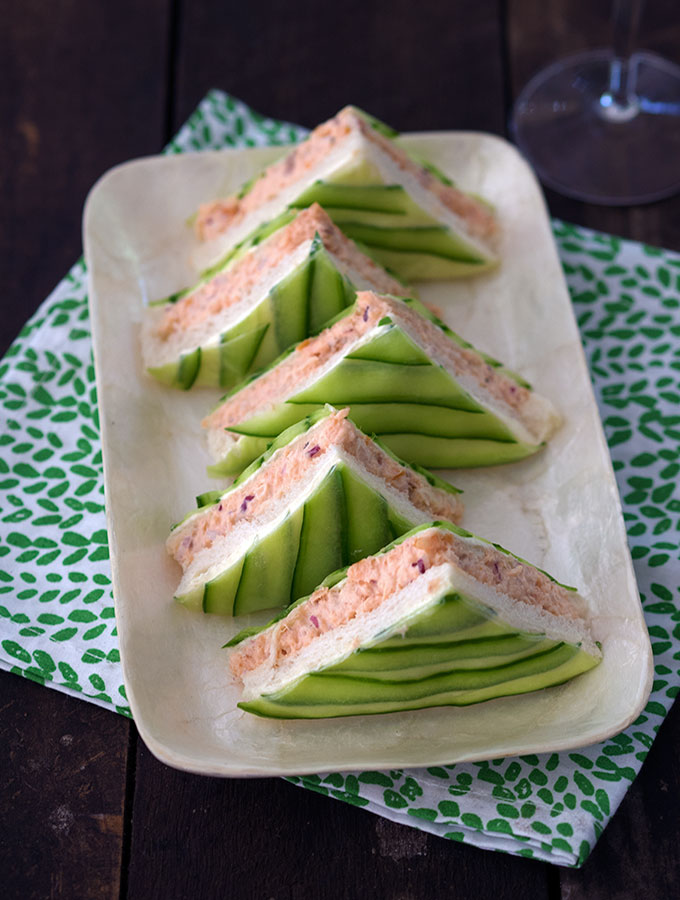 I use cream cheese as my "glue" to make the cucumber strips stick to the outside of the salmon and cucumber sandwiches. I feel it works best as it is white and matches the bread. It gives the illusion of nothing being there and lets the green of the cucumber stand out. Of course you could use butter, but the effect wont be as chic and clean looking. Also you run the risk of the butter softening more than it should when the sandwiches are set out to be eaten, resulting in the cucumber slices sliding off and greasy fingers. Cream cheese is more stable.
You are only limited to fillings by your imagination. Chicken, crab and prawn fillings would all be just as delicious. Even the cucumber isn't sacred with these sandwiches, have a play around with alternatives to cucumber. I thought that toasted sesame seeds could be quite eye fetching and tasty with the right filling, what do you think?
Sara xxx
Become a subscriber and don't miss a single delicious recipe, restaurant review or travel adventure. Plus you will also receive extra content and benefits.