Quail eggs with Oolong tea salt. Sounds slightly on the fancy side, doesn't it? A little impressive as well. It's funny how quail eggs bring a little bit of unexpected joy and luxury to the party.
It is the quail eggs' pretty speckled shell that I adore. Usually beige and brown, but in some circumstances you can even find the softest blues through to whites. So pretty and delicate, could quail eggs be the ultimate girly egg?
Dictated by their own beauty, quail eggs are best served in the shell. Why waste such a natural styling element? Plus quail eggs are a bastard to peel at times, especially if you are peeling a vast amount for a cocktail party. Been there, done that, not doing it again!
I hadn't planned on sharing this quail eggs with oolong tea salt recipe, but sometimes ingredients seem to fall in your lap. Normally I purchase my quail eggs from David Jones in town. Quail eggs and The Shire aren't synonymous with each other.
But finding quail eggs in The Shire had Josh and I going into shock at a local supermarket. There, in the egg section, was a lonely packet of quail eggs. My first sentence to Josh was "OMG look there are quail eggs!!!!" Trust me anyone in the surrounding aisles probably thought I was a bit "special".
Then without missing a beat came "There's only one packet, what do you think is wrong with them???"
Are you like me and wonder, if only one packet left of something, or you find an item without like "friends" on a supermarket shelf, that there is something wrong with it?
Or if even more like me, and you have a warped and creative mind, your thoughts may be more sinister. Is the item a plant? Has some nut case placed it here for me to purchase and poison me?
I probably shouldn't have shared the inner working insecurities of my brain. Firstly you now think that I am a neurotic nut case. Secondly I don't want to give anyone ideas.
Let's get back to quail eggs and oolong tea salt shall we?
Not only do these quail eggs and green tea salt look a little impressive to serve up to guests, they are no work at all. Impressive and easy to make, is my inner mantra (in between being a neurotic git).
Let your guests peel the quail eggs themselves, then they simply dip them in a little of the oolong tea salt. Easy for you to prepare, and easy for your guests to eat.
You don't have to use oolong tea, but I still had some left over from my trip to Taiwan. I do love the depth of flavour that oolong provides. Can't get your hands on oolong tea? Then you could easily substitute green tea. It wont be the same, but it will be a lovely alternative. When I state green tea I am not referring to Japanese matcha, which I have used before in recipes on Belly Rumbles. I am referring to Chinese green tea.
Green tea differs from oolong as it does not go through the same oxidising and withering process that oolong does. Oolong is processed similar to black tea.
Whichever tea you end up using, make sure it is one that you enjoy drinking. Also, importantly, make sure you grind it very finely in your mortar and pestle.
If you haven't tried quail eggs before you may wonder what they taste like. They taste like mini chicken eggs.
I hope you enjoy this very simple quail eggs and oolong tea salt recipe. Easy to make and will give you some extra time in the kitchen preparing for your guests. Or just some extra time for yourself! Which as you know, we all lack at this time of the year.
Sara xxx
Other Entertaining Ideas
Salmon and Cucumber Sandwiches - can a sandwich look this good?
Char Siu Kangaroo - bao bun fun
Zucchini Mushroom Croquettes - baked not fried
Indian Rice Doughnuts - with fresh coconut chutney
Wild Scampi Caviar - blue caviar
Salmon Ceviche - topped baby cos lettuce leaves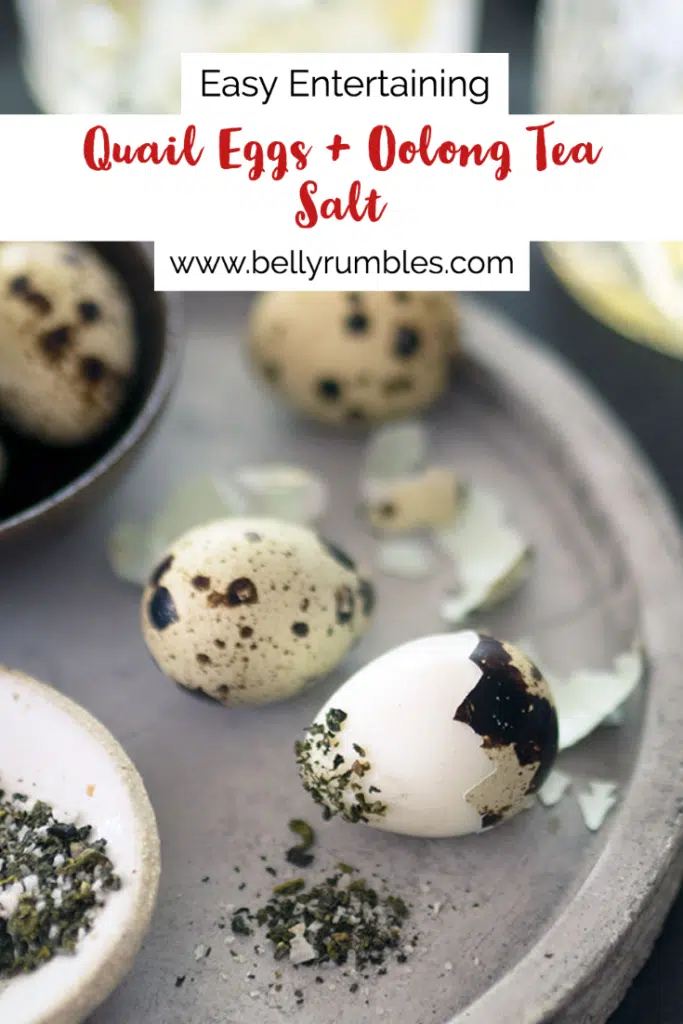 Printable Recipe