ANZAC Rock Cakes are the love child of an ANZAC Biscuit and a Scone. Serve them warm with lashing of butter and golden syrup.
I wanted to come up with something traditional but different for this coming ANZAC Day. As you can see above there are already a couple of ANZAC biscuit recipes on Belly Rumbles.
My brain really didn't venture too far. When I think traditional Aussie baking I think of the CWA and scones. Then there is the obvious ANZAC Day treat, ANZAC biscuits. So why not marry the two together and come up with ANZAC rock cakes?
If I lost you with CWA, this probably means you're not an Aussie. CWA stands for Country Women's Association. All hail the CWA, the goddesses of cooking. The up keepers of our traditional recipes. The high priestesses of scone making. And what I found out, is as delicious as these are, they really aren't scones.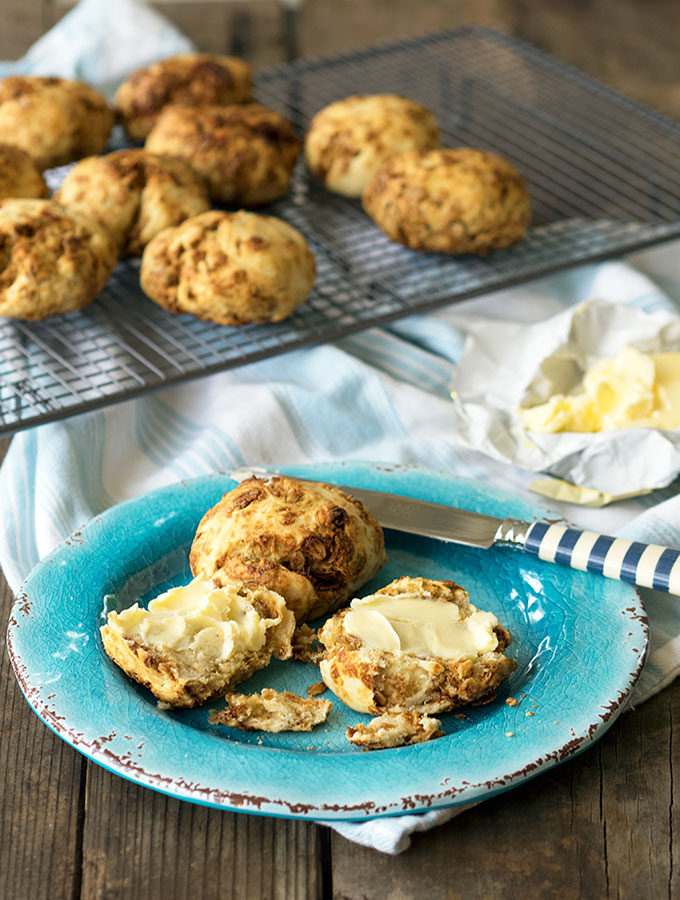 This coming Saturday, 25th April, marks the 100th anniversary of when Australian and New Zealand troops made that infamous landing at Gallipoli. The youngest solider amongst them was 14.
ANZAC Biscuit Recipe
Macadamia, White Chocolate Oat Cookie Recipe
Think about that one mums and dads. Can you imagine your 14 year old son facing the horrors that occurred at Gallipoli? I know the thought scares the hell out of me.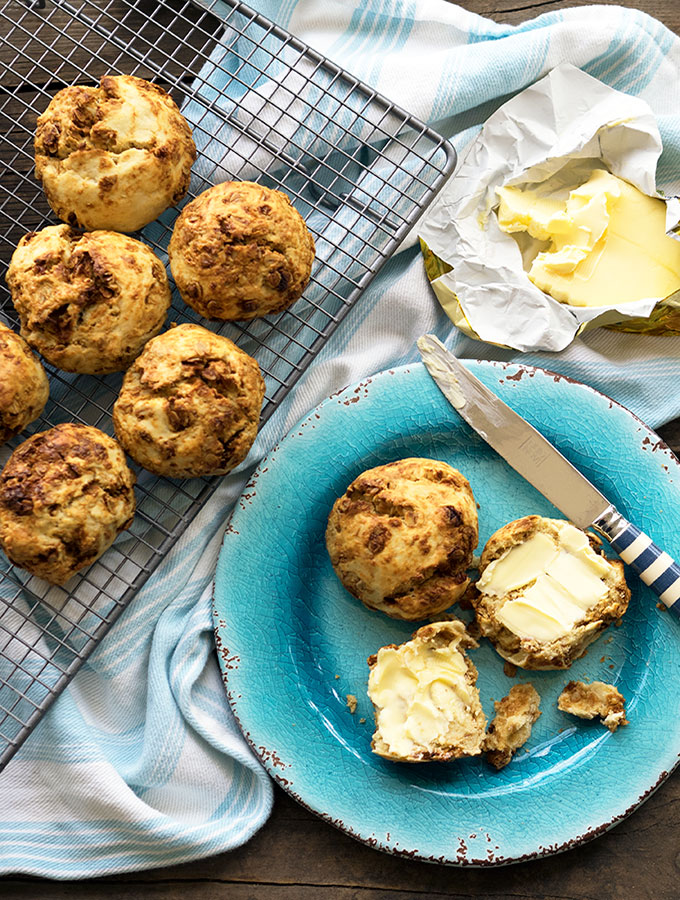 I'm not a fan of war, and what happened at Gallipoli 100 years ago brings a tear to my eye, as I am sure it does with a lot Aussies. I just wish it never happened. But it did. And those soliders faced that horror for me, for you, for our way of life. They deserve to be honoured and remembered. As does all our service men and woman, past and present.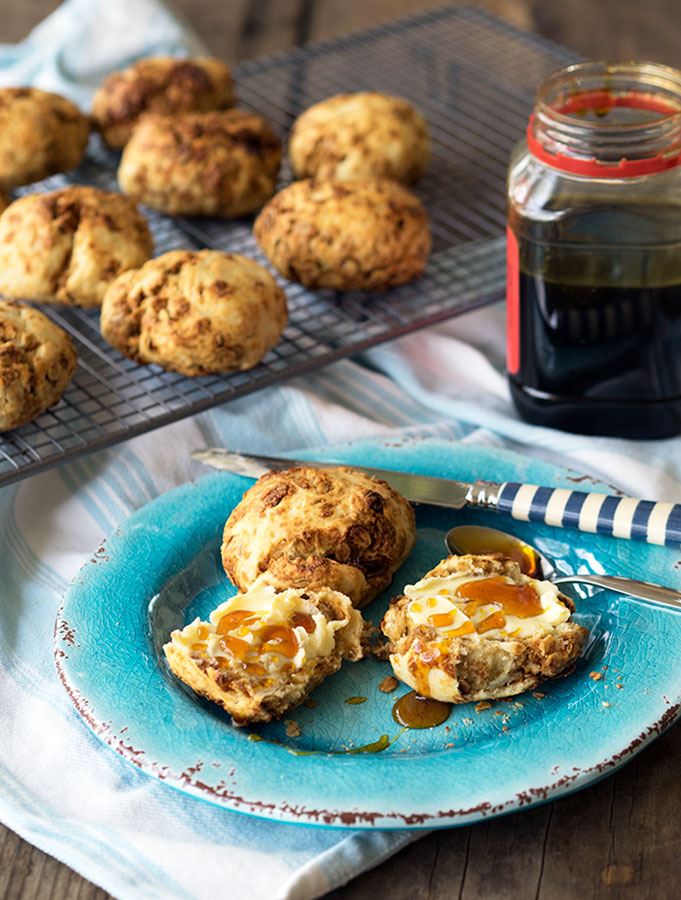 Think of an ANZAC biscuit and a scone having a love child, you will end up with ANZAC rock cakes. It's due to adding ANZAC biscuit flavours through them. Which basically are ANZAC biscuit ingredients.
I highly recommend serving these scones with lashings of butter and then drizzled with golden syrup. Of course you can serve them with honey or maple syrup.
Sara xxx
Printable Recipe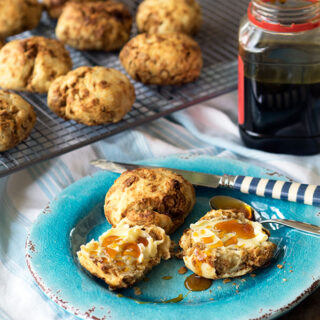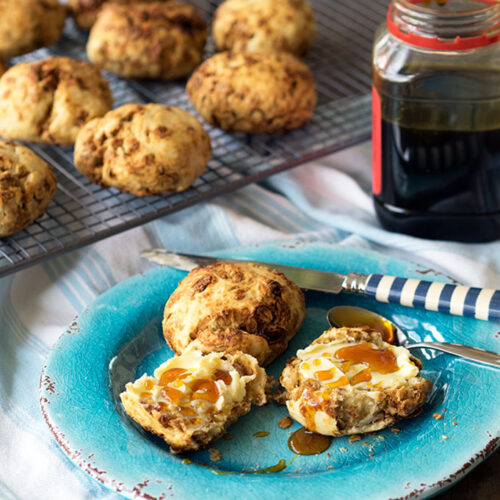 ANZAC Rock Cakes
What happens when you cross an ANZAC biscuit with a scone? This is what happens, ANZAC Rock Cakes, and they are mighty tasty.
Ingredients
50

grams

butter

60

grams

golden syrup

15

grams

(1 tablespoon) caster sugar (superfine)

5

grams

(1 teaspoon) bicarbonate soda

40

grams

desiccated coconut

100

grams

rolled oats

450

grams

plain flour

7

grams

(1 teaspoon) salt

60

grams

cold butter

unsalted

250

ml

milk
Instructions
Pre-heat oven 230°C (420°F). Line a baking tray with baking paper.

In a non-stick saucepan 50g butter, then add golden syrup and sugar. Cook over low heat until sugar has dissolved. Then add bicarb, coconut and rolled oats. Cook for a further 5 minutes.

Remove from the heat and leave to the side to cool.

Place flour, salt and butter in a food processor, process until the mixture resembles breadcrumbs. If you don't have a food processor you can rub the butter into the flour by hand.

Add milk gradually until a dough forms.

Remove dough from the food processor and place on a floured surface.

Roughly knead through the rolled oat mixture. You don't want to perfectly incorporate the rolled oat mixture into the dough. You want lumps of the mixture through the dough, and bits of dough that don't have any of the mixture incorporated.

Roll out 12 evenly sized balls of dough and place on the prepared tray.

Bake for 20 minutes or until cooked through.

Serve from the oven with butter and golden syrup.
Measurement Notes
All measurements are Australian metric standard. All measures are level, and cups are lightly packed unless specified. 1 teaspoon = 5ml / 1 tablespoon = 20mls / 1 cup = 250ml /4 teaspoons = 1 tablespoon.
NUTRITIONAL INFORMATION
The recipe's nutritional information is an approximation based on an online calculator. It is meant solely for reference purposes. If you're looking for precise details, be sure to double-check with your own research.
Calories:
289
kcal
Carbohydrates:
41
g
Protein:
5
g
Fat:
11
g
Saturated Fat:
7
g
Cholesterol:
21
mg
Sodium:
416
mg
Potassium:
115
mg
Fiber:
2
g
Sugar:
6
g
Vitamin A:
265
IU
Calcium:
37
mg
Iron:
2.2
mg
Did You Make This Recipe?
I do a happy dance when people share how they went. Tag me on Instagram or Twitter @bellyrumbles & #bellyrumbles