ANZAC biscuits are a traditional Australian and New Zealand ANZAC day treat. The biscuits (cookies) can be crunchy or chewy. Packed with oats, butter and golden syrup make them an addictive treat.
Nothing beats a homemade ANZAC biscuit. The ones purchased from the local supermarket are not the same.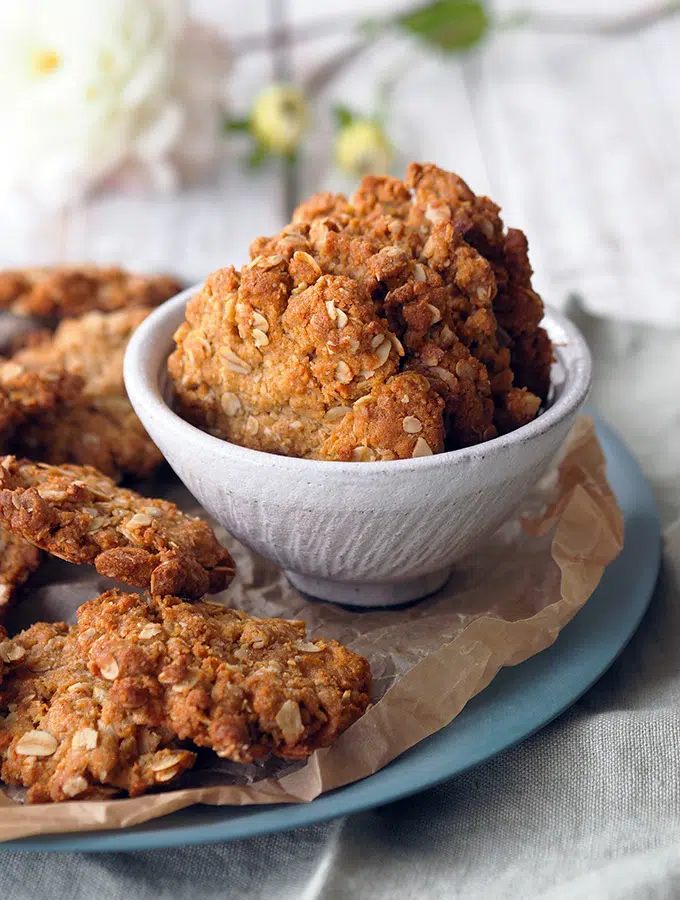 Part of the joy with these biscuits, or cookies for my American readers, is the smell when baking.
The smell that escapes from the oven is both comforting and delightful. It is the combination of sugar, golden syrup and butter. The smell tantalises nostrils and is pure bliss.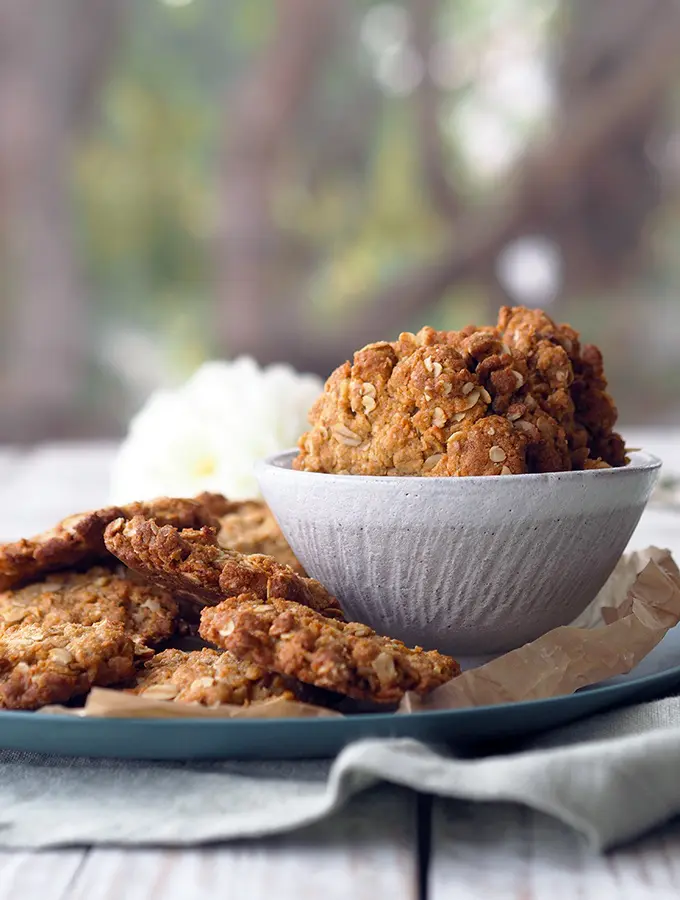 What is ANZAC Day?
For my non Aussie and NZ readers, you probably are wondering what ANZAC is. ANZAC stands for Australian & New Zealand Army Corps.
ANZAC day falls on the 25th April, a day where we spend the time to reflect on the brave women and men of our armed forces, red cross, other groups and individuals.
We remember what these people have done/do during war and peace. Protecting their homelands and assisting those that are in need in other countries.
ANZAC day means reflection and showing our respect to so many that have sacrificed so much for us. To remember those that have fallen. Lest We Forget.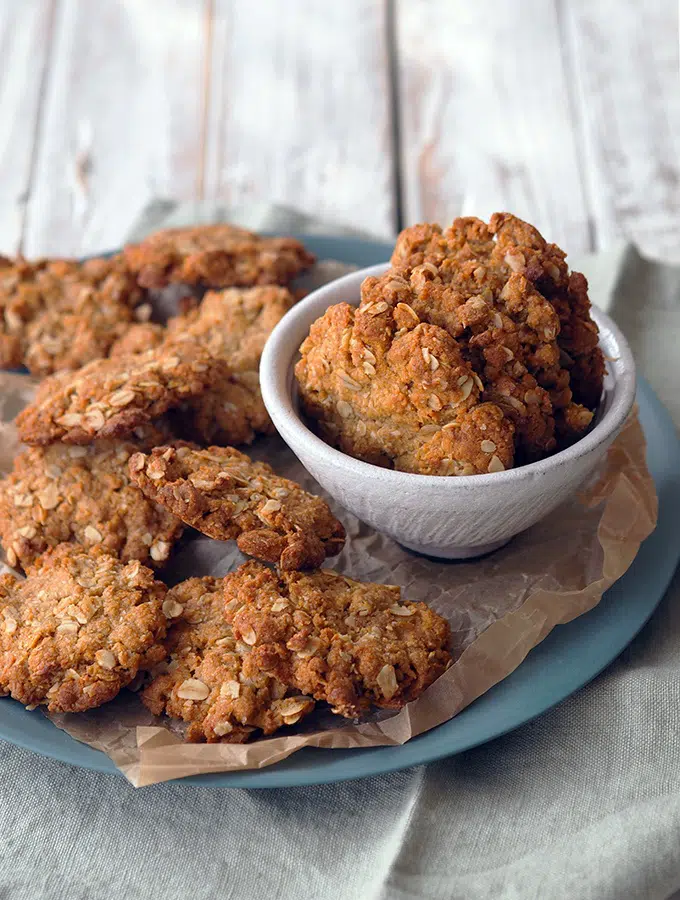 Chewy ANZAC Biscuits vs Crunchy
Lovers of these biscuits fall into two camps. Camp chewy and camp crunchy. I am a crunchy girl at heart.
I find that being crunchy aids to the ANZAC biscuits taste. The sugars develop toffee notes and caramelise beautifully.
When they are on the chewy side, still delicious, but I feel them lacking in flavour. Therefore chewy ANZAC biscuits just aren't my thing.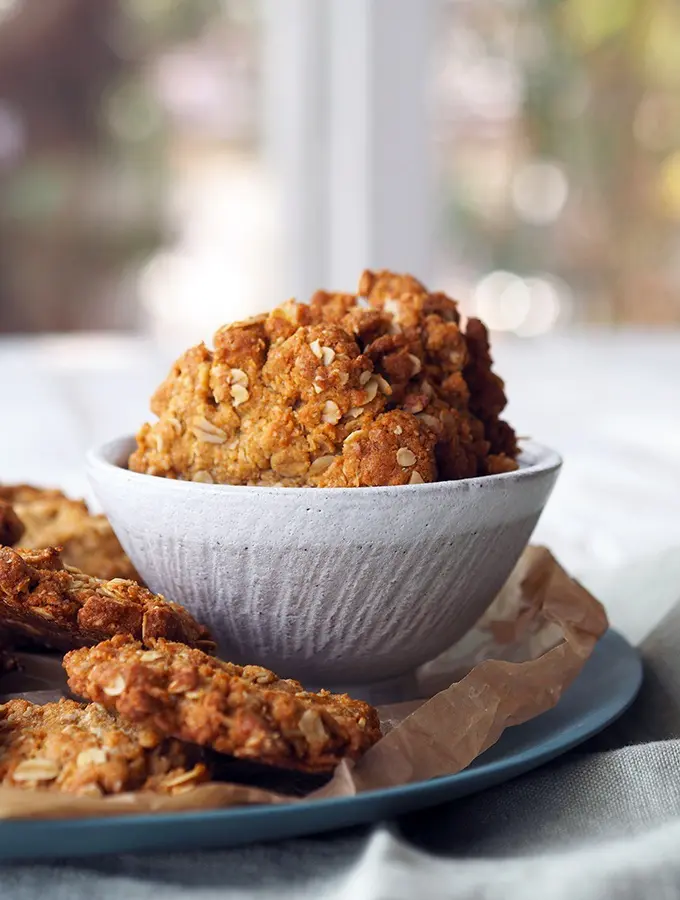 Golden Syrup
Golden syrup adds to the unique flavour of these biscuits. You could substitute with maple syrup, but they won't taste authentic.
I should add that the ANZAC biscuits may not be authentic with maple syrup, but they will still be a very tasty cookie!
If you don't have access to golden syrup from your local supermarket, you can buy Golden Syrup on line.
Sara xxx
More ANZAC Day Recipes
ANZAC Day Rock Cakes - a cookie scone love child
Baked Anzac Cheesecake - biscuit base, creamy cheesecake and toffee shards
Macadamia White Chocolate Oat Cookies - a twist on traditional
PIN ME TO MAKE ME LATER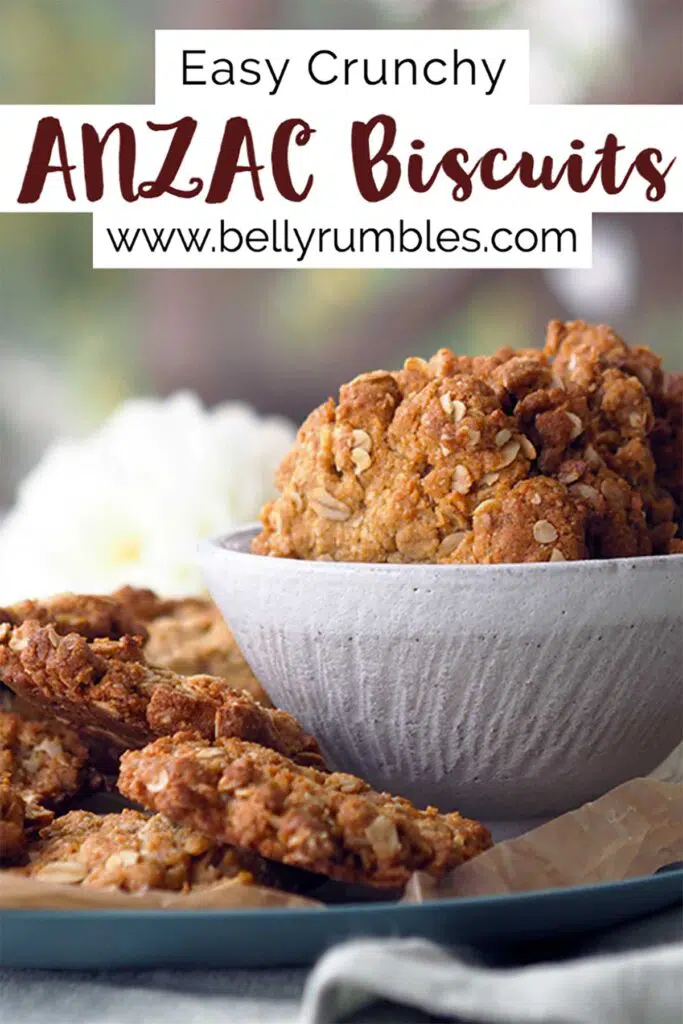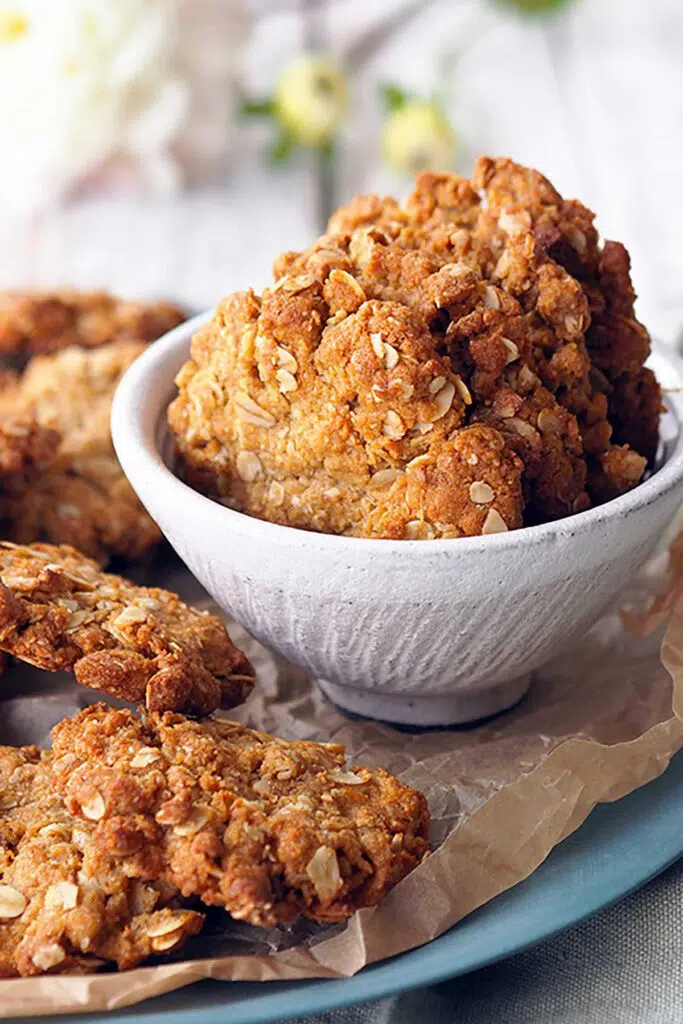 Printable Recipe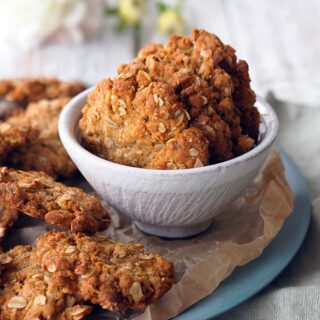 ANZAC Biscuits
ANZAC biscuits are a traditional ANZAC day treat. The main ingredients that give ANZAC biscuits their unique characteristics are rolled oats, golden syrup and coconut.
Ingredients
135

grams

(1 ½ cups) rolled oats

40

ml

(2 generous tablespoons) golden syrup

110

grams

butter

1

teaspoon

bicarbonate of soda

150

grams

(1 cup) plain flour

75

grams

(1 cup) heaped shredded coconut

180

grams

(¾ cup) caster sugar

pinch

of salt

1

egg white
Instructions
Pre heat oven to 180 degrees Celsius.

Melt butter and golden syrup (I am lazy and melt them in a bowl in the microwave) then add the bicarb to the mixture.

Stir in the oats, flour, shredded coconut, sugar and salt. Give it a slight mix.

Add the egg white and mix until combined. If the mixture is not holding together enough to roll in to balls add a little water.

Roll the mixture with wet hands into large walnut sized balls and place on a baking paper on a tray. Press the balls down slightly.

Bake in the oven for around 12 minutes or until golden brown. Place on a wire rack to cool.
Measurement Notes
All measurements are Australian metric standard. All measures are level, and cups are lightly packed unless specified. 1 teaspoon = 5ml / 1 tablespoon = 20mls / 1 cup = 250ml /4 teaspoons = 1 tablespoon.
NUTRITIONAL INFORMATION
The recipe's nutritional information is an approximation based on an online calculator. It is meant solely for reference purposes. If you're looking for precise details, be sure to double-check with your own research.
Calories:
125
kcal
Carbohydrates:
15
g
Protein:
1
g
Fat:
6
g
Saturated Fat:
4
g
Cholesterol:
9
mg
Sodium:
59
mg
Potassium:
45
mg
Fiber:
1
g
Sugar:
8
g
Vitamin A:
115
IU
Vitamin C:
0.1
mg
Calcium:
5
mg
Iron:
0.6
mg
Did You Make This Recipe?
I do a happy dance when people share how they went. Tag me on Instagram or Twitter @bellyrumbles & #bellyrumbles