Everything but the bagel seasoning is a sprinkle of joy you didn't know you needed. Easily made at home with toasted sesame seeds, poppy seeds, onion, garlic, and salt. Takes two shakes of a jar to make.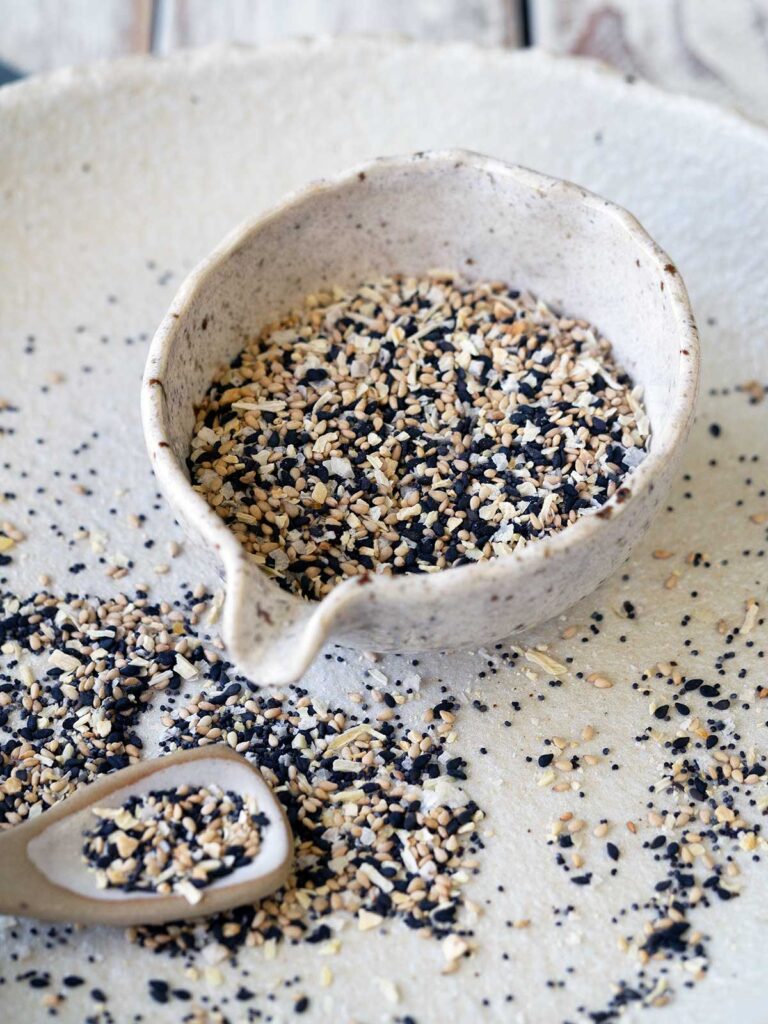 If you live in the US you are probably familiar with Trader Joe's everything but the bagel seasoning. My Australian and UK readers may have seen McCormicks everything bagel all purpose seasoning. If not, and this is all new to you, you are in for a treat.
A jar of this is one of my little joys to have in the kitchen. A sprinkle adds a savoury, salty kick to whatever I am sprinkling it on. It's a lovely finishing touch to many things, even avocado on toast.
The seasoning is what you find topping everything bagels, so of course you can use it when making bagels. You'll surprise yourself when you realise how many things you sprinkle it on. I think of it as a Western version of Japanese furikake.
Sara xxx
Ingredients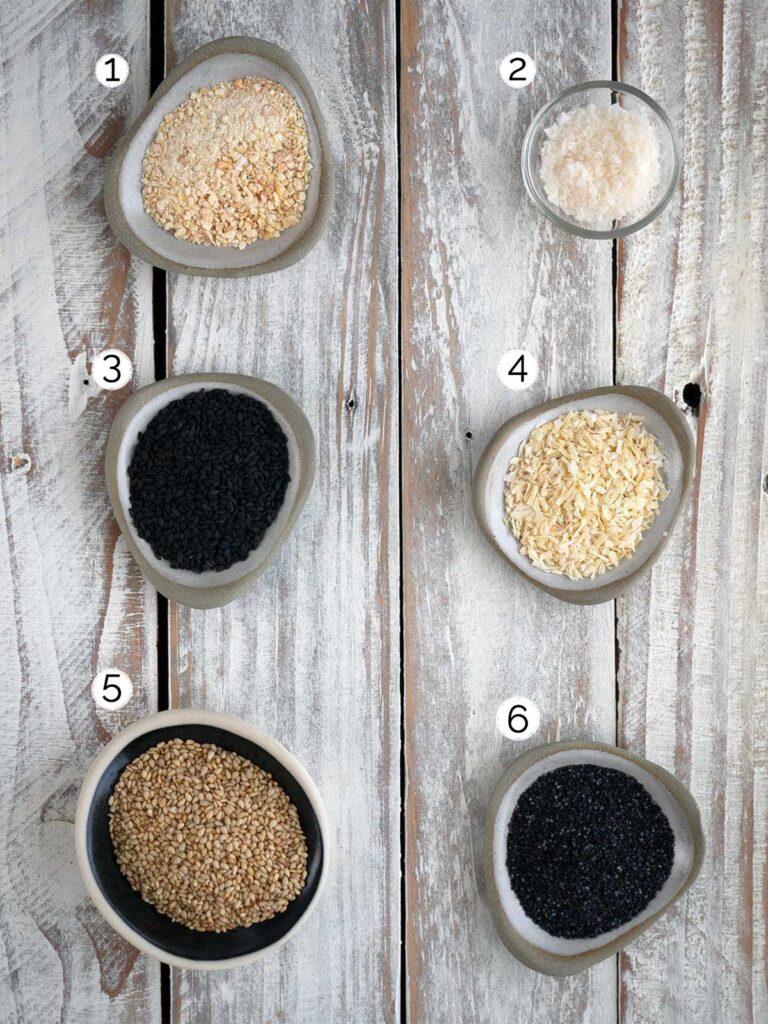 Dried Minced Garlic: Not to be confused with a minced garlic clove. Minced garlic is dried small pieces of garlic found in the dried herb section of the supermarket.
Flaked Sea Salt or Kosher Salt: A flaky salt works best as it happily sits incorporated with the other ingredients. Granulated salt will fall to the bottom if the mix.
Black Sesame Seeds: Black sesame seeds generally have their thin hull still attached giving them a different texture to white sesame seeds. Plus they have a nuttier flavour. Always available at Asian supermarket if you can't find them at your local supermarket.
Dried Minced Onion: As with the garlic, not be be confused with freshly minced onon. Dried minced onion also can be found n the dried herb section of the supermarket.
Toasted White Sesame Seeds: Toasted white sesame seeds have a richer sesame flavour than untoasted. You can buy them already toasted (Asian supermarket) or toast white ones. Don't be lazy and use untoasted.
Poppy Seeds: Add another flavour dimension and texture. Can be found in the nut aisle of the supermarket, or at the health food store.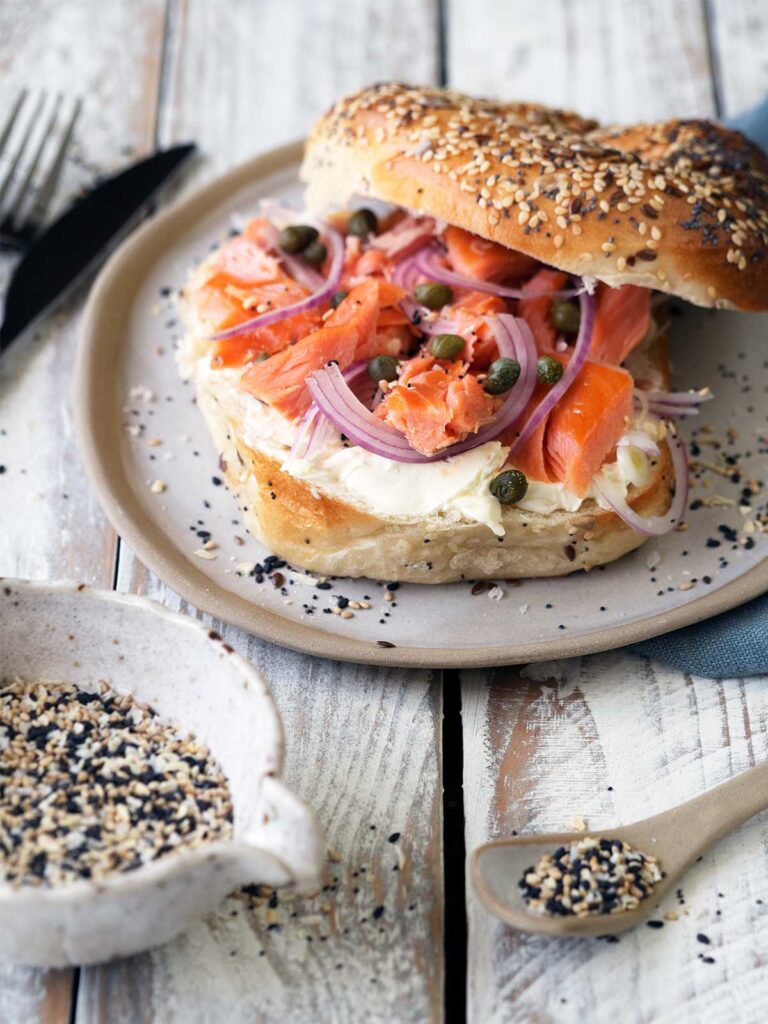 How to use Everything but the Bagel Seasoning
There is no end to how you can use it. Below are a few of my favourite ways, but in the end I am sure your imagination will come up with a brilliant use I haven't thought of.
Sprinkle over cloud eggs.
Add some umpf to popcorn.
Use it to top homemade Turkish bread before baking.
Stir a tablespooons through waffle batter.
Roasted vegetables.
Add it too the coasting for air fryer chicken tenders.
Sprinkle over baked potatoes and add some sour cream for good measure.
Make a compound butter, perfect to top seafood or steak.
Sprinkle over grilled corn.
As a topper for avocado or tomato on toast.
Sprinkle it over cottage or cream cheese spread on a muffin.
Use it as a salad topper.
Coat the rim of your bloody mary cocktail glass with it.
Use it in place of the herbs topping my quick herb roasted salmon.
Recipe Instructions
Scroll to the bottom of the page for a printable version of this recipe.
I do feel that this regular section of my recipe posts is a little unwarranted for the everything but the bagel recipe. But here goes...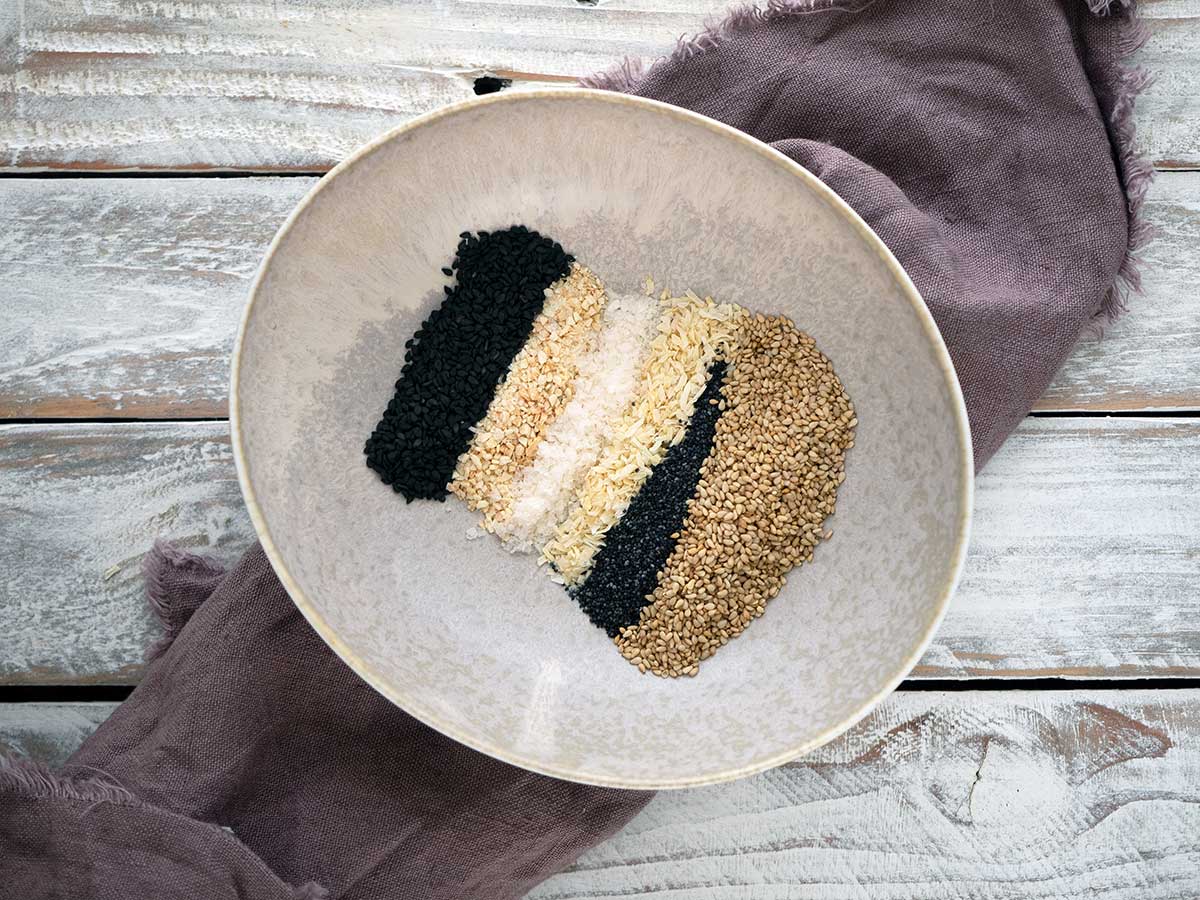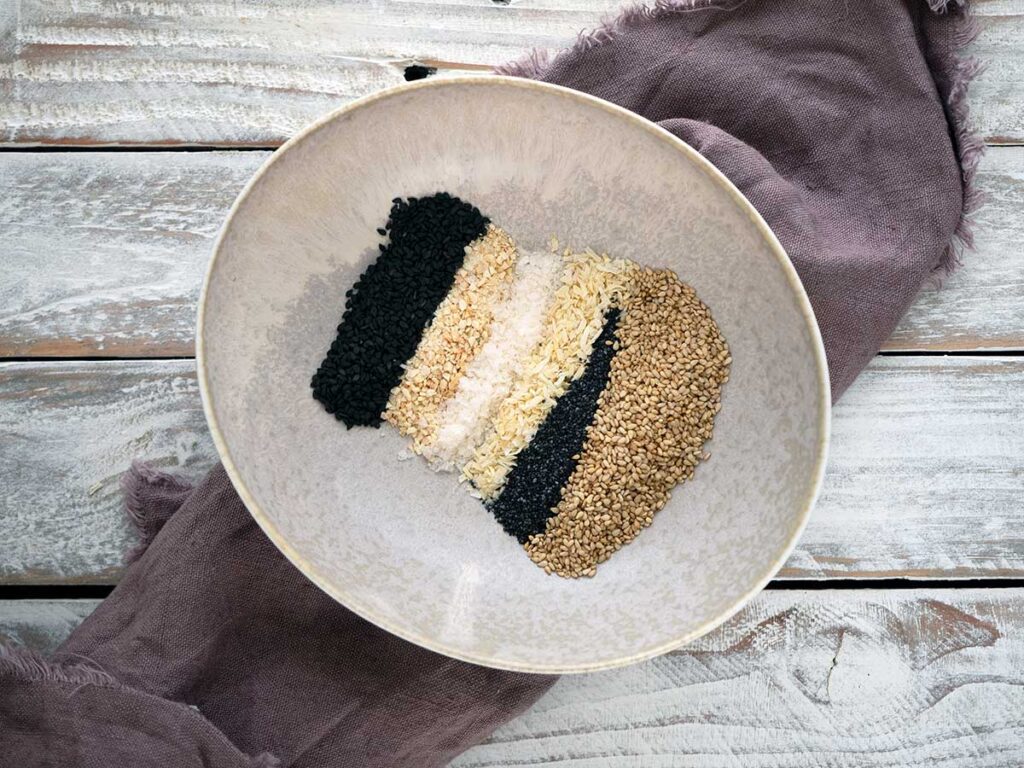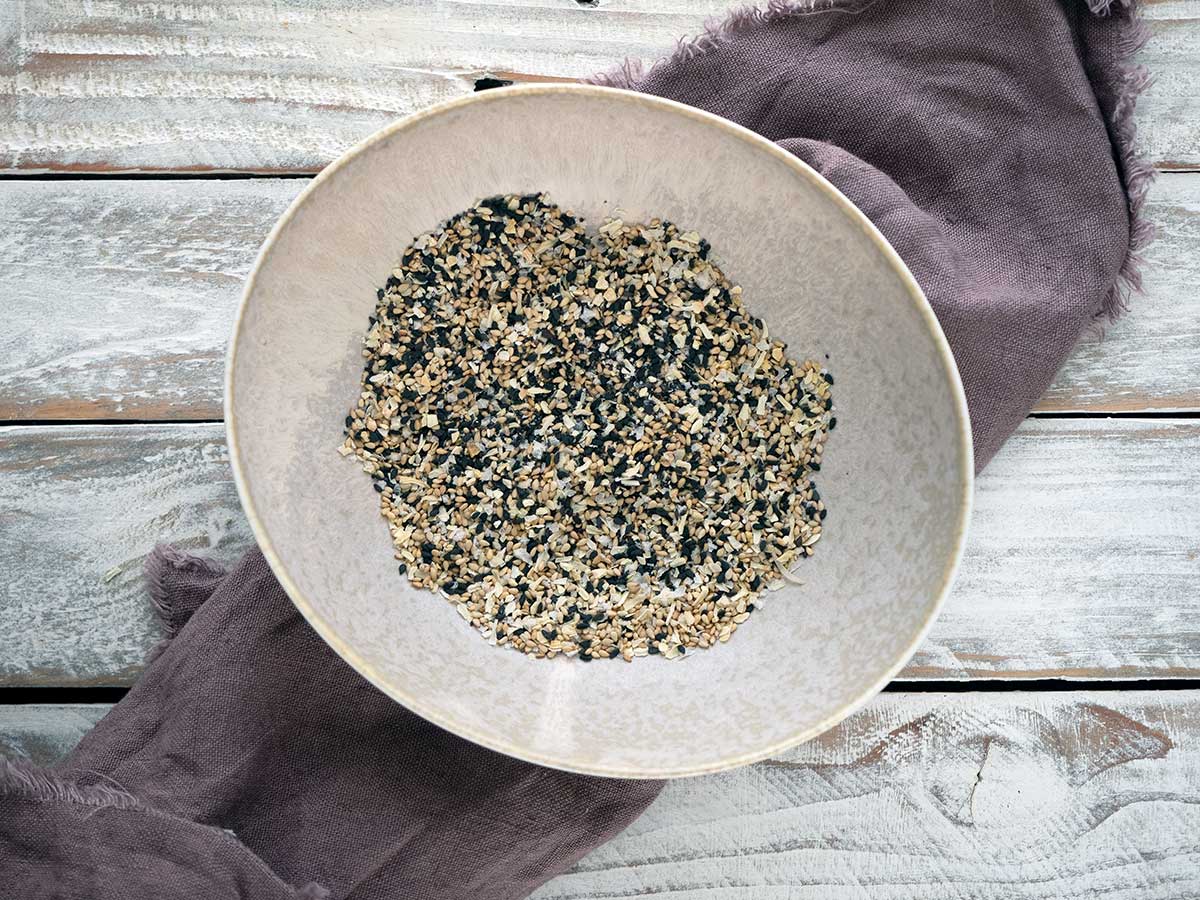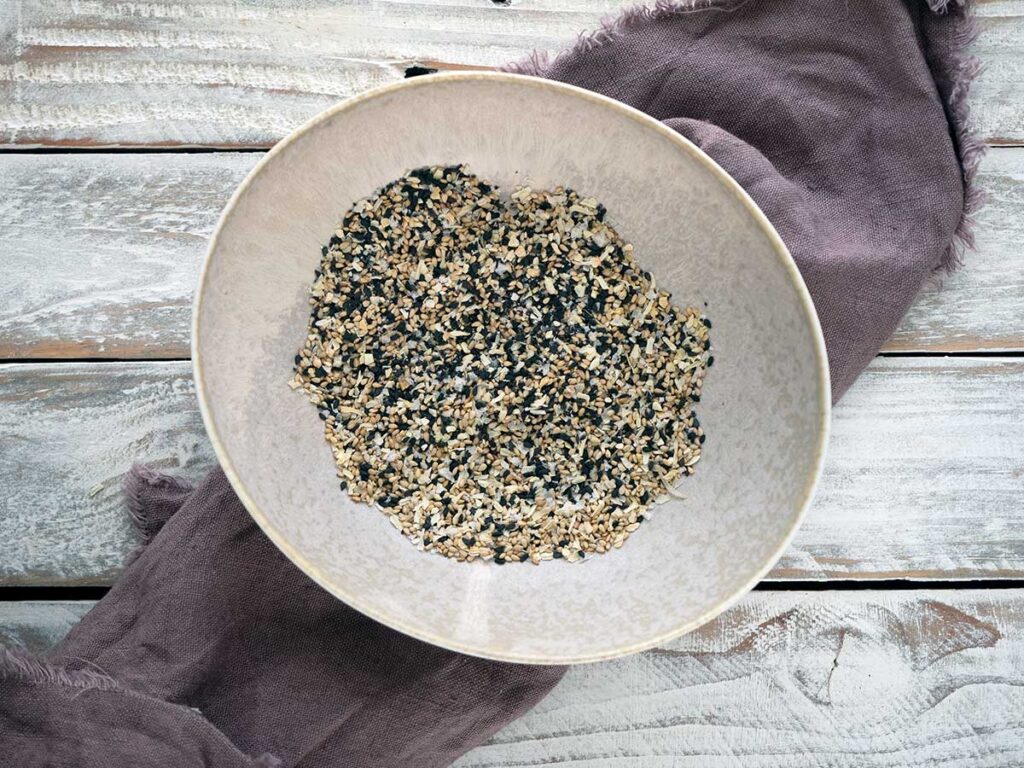 Simply place all ingredeints in a bowl and mix thoroughy. Place seasoning in an airtight jar/container and store in the cupboard until needed.

Alternatively place all ingredients in an airtight jar/container, shake, then place the jar in the cupboard. This method saves you washing up a bowl and spoon. Yup, life does not get much simpler than that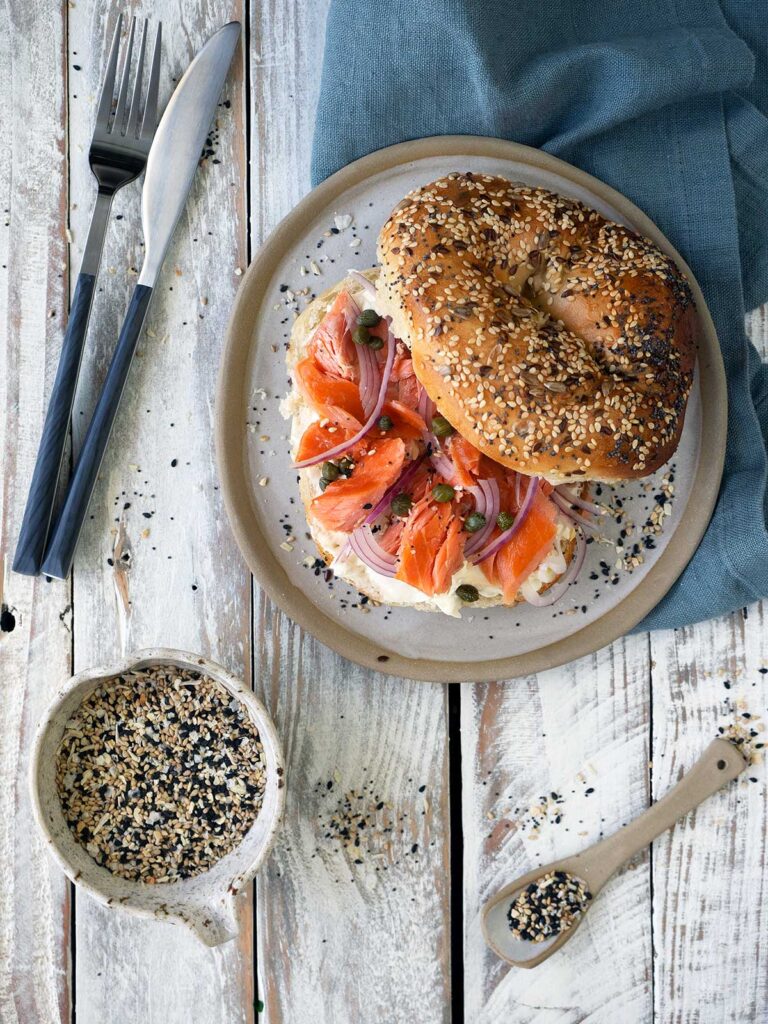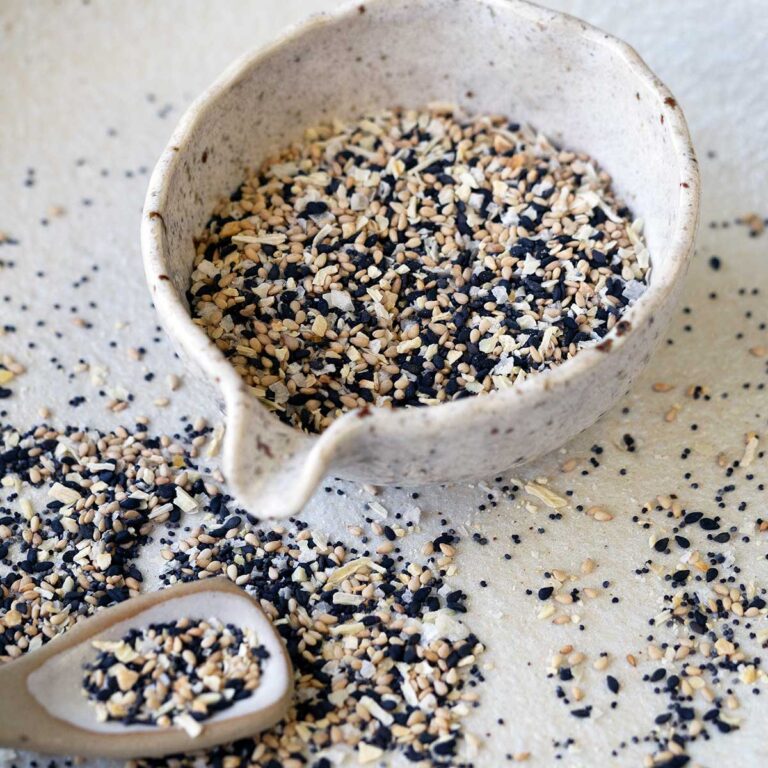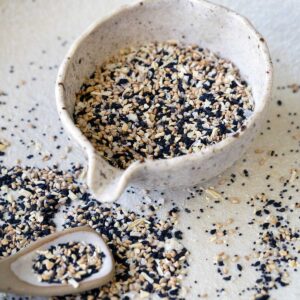 Everything Bagel Seasoning
Everything bagel seasoning is a sprinkle of joy you didn't know you needed. Easily made at home with toasted sesame seeds, poppy seeds, onion, garlic, and salt. Takes under five minutes to make.
Ingredients
4

teaspoons

toasted sesame seeds

2

teaspoons

black sesame seeds

2

teaspoons

poppy seeds

2

teaspoons

dried minced garlic

2

teaspoons

dried minced onion

1

teaspoon

Kosher, or flaky sea salt
Instructions
Place all ingredients in a bowl and mix well.

Store in an airtight jar or container.
Notes
GENERAL COOK'S NOTES
All oven temperatures are fan-forced, increase the temperature by 20 Deg C (70 Deg F) for convection ovens.
All measurements are Australian tablespoons and cups. All measures are level, and cups are lightly packed unless specified.
1 teaspoon equals 5ml
1 tablespoon equals 20 ml (Nth America, NZ & UK use 15ml tablespoons)
1 cup equals 250ml (Nth America use 237ml)
4 teaspoons equal 1 tablespoon
I use the below unless specified in my recipes.
Herbs are fresh | Vegetables are of a medium size | Eggs are roughly 60 grams in weight (large)
NUTRITIONAL INFORMATION BELOW IS A GUIDE ONLY
Nutrition
Calories:
5
kcal
Carbohydrates:
1
g
Protein:
1
g
Fat:
1
g
Saturated Fat:
1
g
Polyunsaturated Fat:
1
g
Monounsaturated Fat:
1
g
Sodium:
79
mg
Potassium:
11
mg
Fiber:
1
g
Sugar:
1
g
Vitamin A:
1
IU
Vitamin C:
1
mg
Calcium:
8
mg
Iron:
1
mg
Did You Make This Recipe?
I do a happy dance when people share how they went. Tag me on Instagram or Twitter @bellyrumbles & #bellyrumbles