Warm loaves of home-baked Turkish bread, or Turkish pide, straight from the oven will fill your home with a sensational aroma. This recipe makes two loaves, or the dough can be divided into more pieces to make Turkish bread rolls.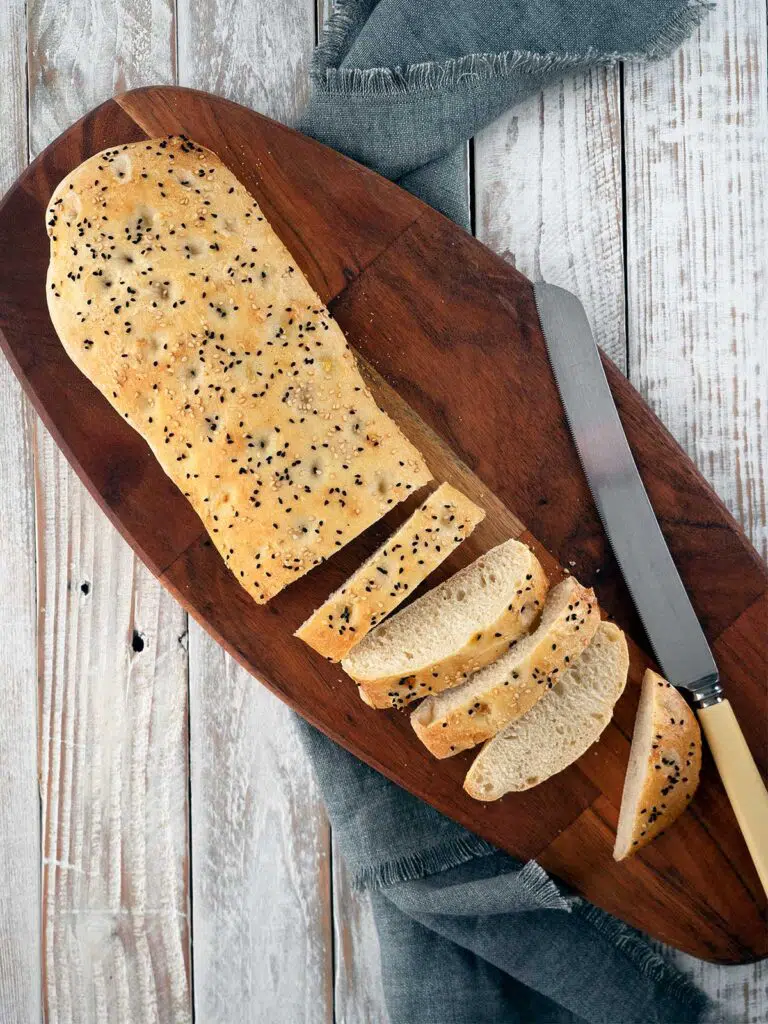 Turkish bread is a staple on supermarket shelves across Australia. Sold as either loaves or rolls, it's tasty and versatile to have on hand. Used for sandwiches or sliced to be scooped through delicious dips such as toum (garlic dip), or dunked into olive oil.
Until I started baking it at home I hadn't thought much about the distinctive smell Turkish bread has. If you know the bread you know the subtle smell. It's from the nigella seeds scattered over the top of the loaves along with sesame seeds. They roast and produce a rich aroma during baking.
Like most home-baked bread it is best eaten within a day or two. I transform any leftover bread, after a couple of days, into "pizza". Simply slice in half, add your desired toppings, and bake in the oven for 10 minutes or so.
Sara xxx
Ingredients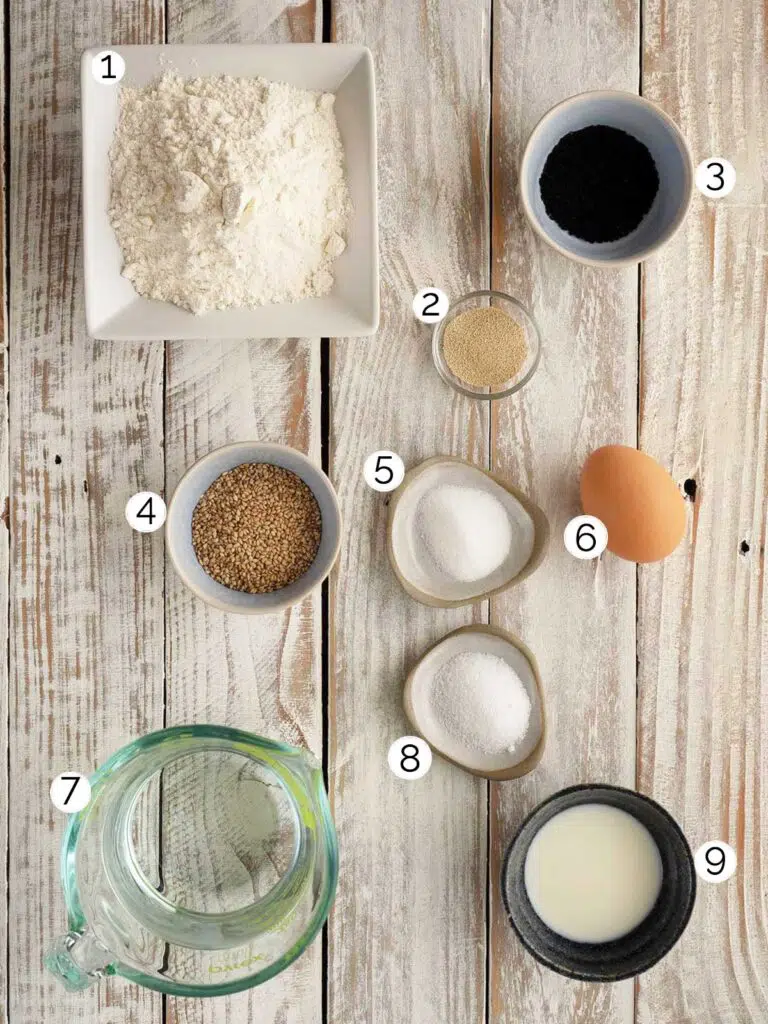 Flour: For simplicity of the recipe you can use all-purpose flour (plain flour). If you do happen to have bread flour (00 flour) on hand use it.
Yeast: Even though Turkish bread is rather flat looking it does include yeast as a raising agent in the recipe. I use instant yeast granules.
Nigella Seeds: Nigella seeds (Nigella Sativa) are a black seed that have a very distinct smell and taste. They are also known as charnushka, black caraway seed, black cumin, or kalonji. They give the bread its distinct aroma and can't adequately be substituted. If you can't find them omit them and use a combination of black and white sesame seeds.
Sesame Seeds: Along with the nigella seeds they top the bread for texture, flavour and aroma.
Salt: Use everyday cooking salt, or Kosher.
Egg: Is used to make an egg wash with some milk. Helps the seeds stick to the top of the loaves and aids browning the bread during baking.
Water: If your tap water is drinkable then tap water is fine.
Sugar: Helps activate the yeast.
Milk: Use whatever milk you have in the fridge.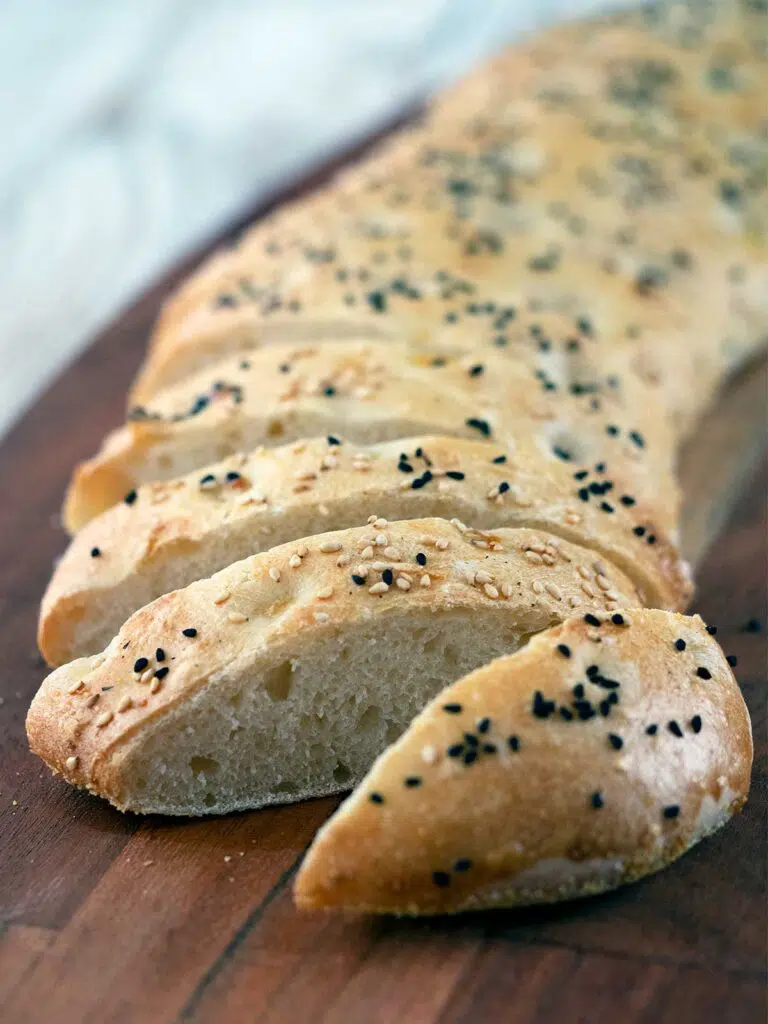 Make it a complete meal
Served straight from the oven homemade Turkish bread is a delicious centrepiece to a Mediterranean/Middle Eastern fusion feast. Pull together a selection of store bought and homemade goodies for a special meal.
Recipe Instructions
Scroll to the bottom of the page for a printable version of this recipe.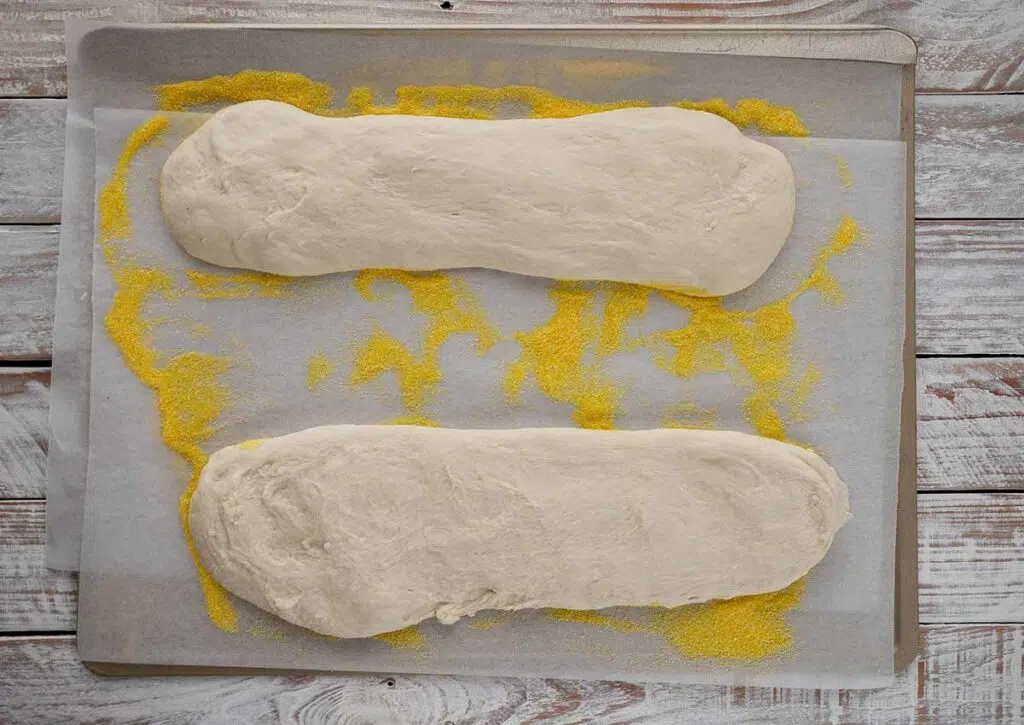 Once the dough has doubled in size, shape and stretch the dough into two long flat loaves. You can also shape the dough into six large or eight small shapes to make Turkish rolls. As the dough is sticky make sure to flour your hands.
Place on a baking tray lined with baking paper and scattered with fine polenta. Cover with a damp cloth or damp clean tea towel and leave to rest for 15 minutes.
Once the loaves have rested for 15 minutes using either your finger or end of a wooden spoon (dusted with flour) poke dimples over the surface of the loaves. Brush the tops of the loaves with eggwash and then sprinkle with nigella and sesame seeds.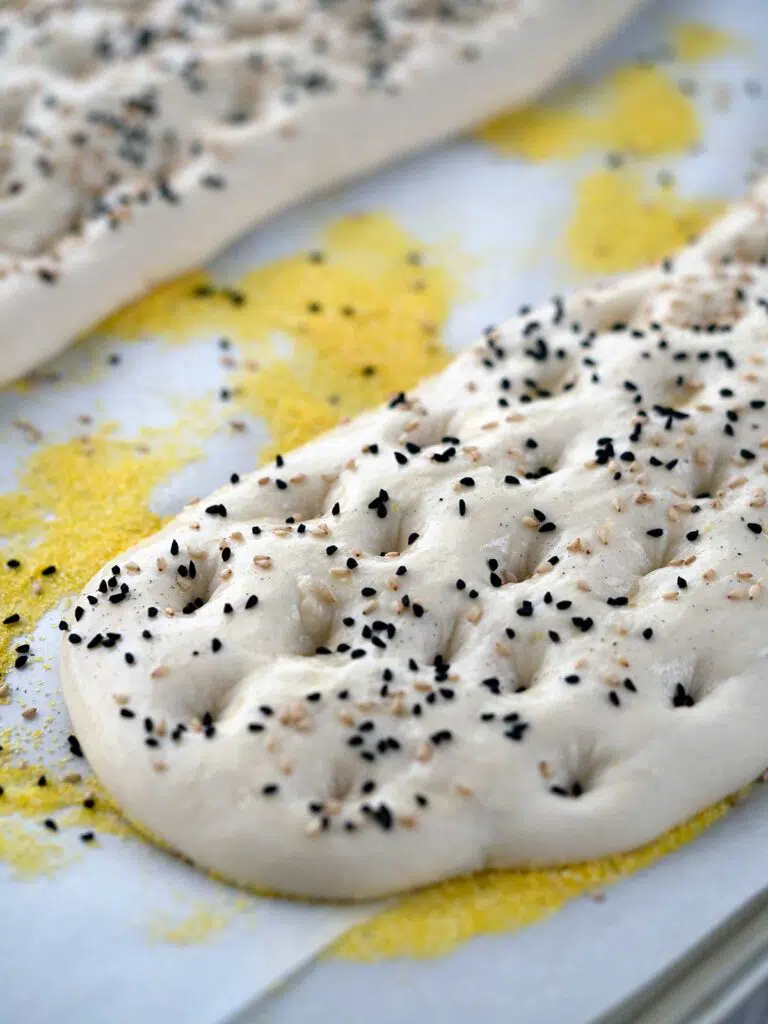 Bake the loaves in a 230°C/450°F pre-heated oven for 15 minutes or until golden brown and cooked through.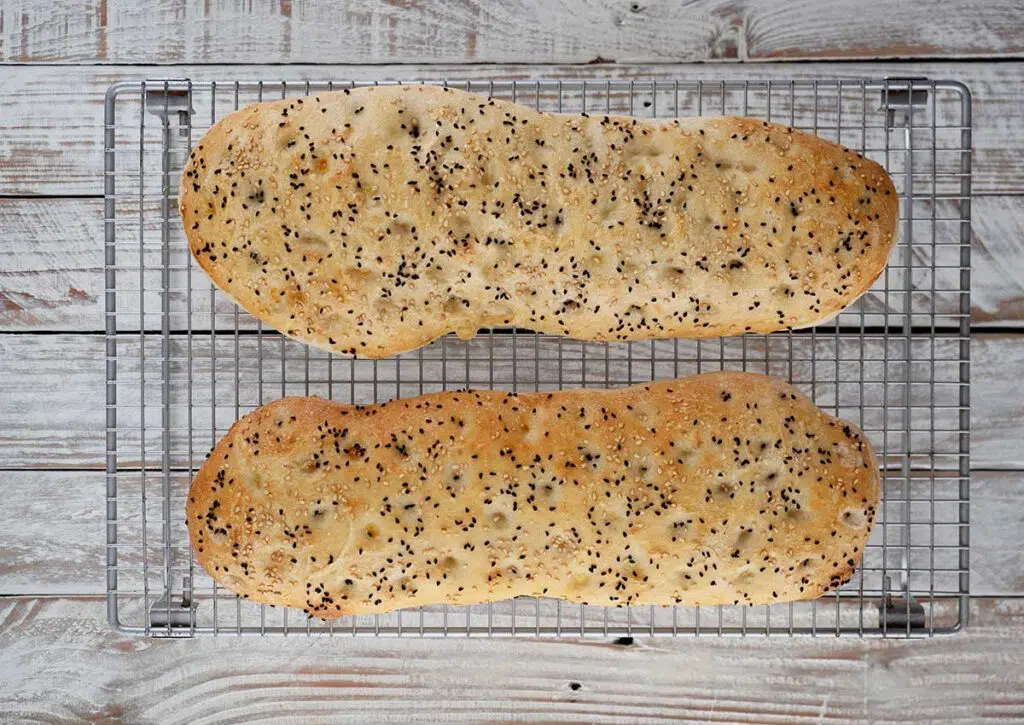 Proofing dough in the dehydrator
If you have a dehydrator using it to proof dough makes life so much simplier, especially during winter. Dough will rise quicker and more predictably due to a constant temperature.
Set the dehydrator temperature to 35°C/95°F and place your covered bowl of dough on one of the shelves. Close the dehydrator door and allow it to work it's magic until the dough has doubled in size.
Obviously if you are in the midst of an Aussie summer, leave the dehydrator packed away.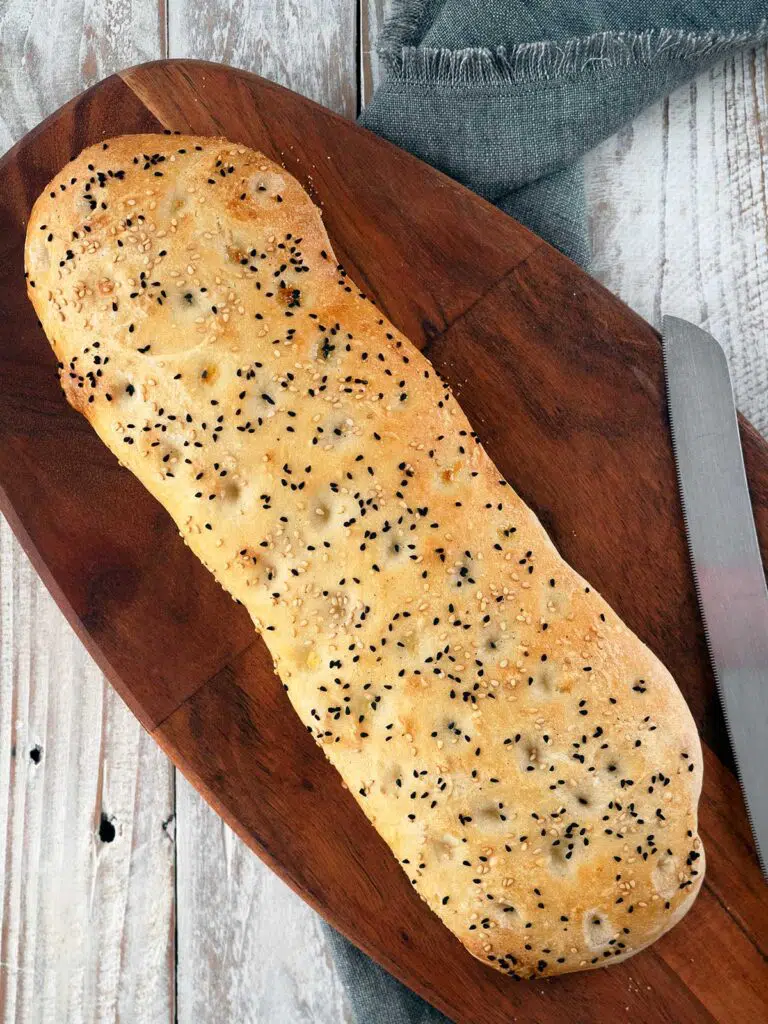 Printable Recipe