The stunning Macy's Tiffany Dome Ceiling and the elegant Walnut Room. Even if shopping isn't on your agenda a visit to Macy's on State Street is a must when in Chicago. The neo-Renaissance style Marshall Field's Building is a sight to behold.
Andy's Jazz Club, Chicago
Little Goat Diner, Chicago
I Stay In The Most Haunted Hotel In Chicago
It's a bit of a mental juggling act when deciding which city I love more in the US, New York or Chicago. I feel in love with New York the minute I arrived and Chicago had the exact same hold on me.
I have a few friends who are die hard New York lovers. When I say I think Chicago is my favourite city I get a quizzical look while their lips slowly release a puzzled "really?". Yes really.
I say, "I think" as I am still a torn on which city I adore more.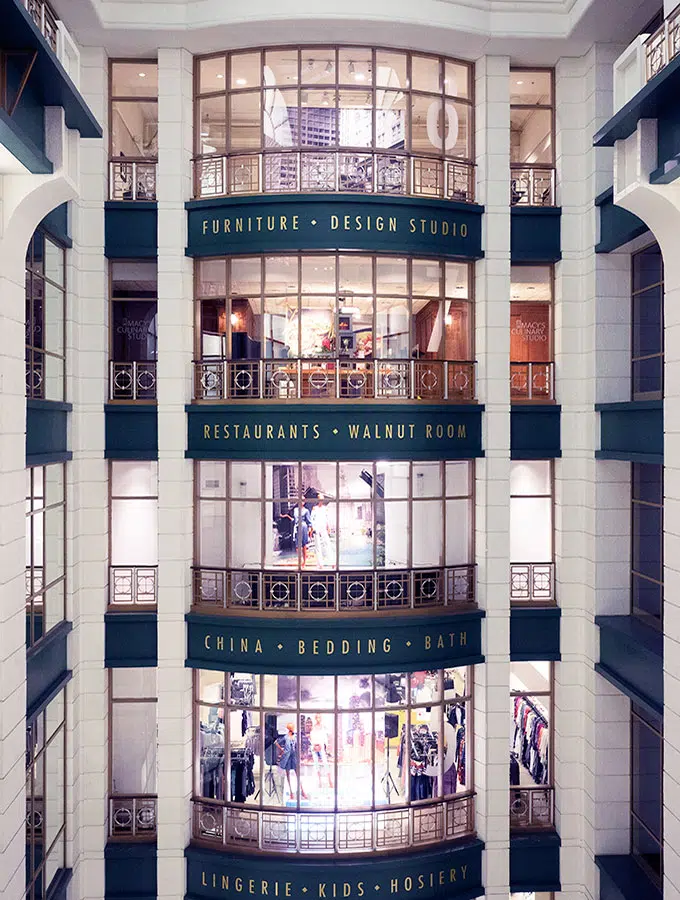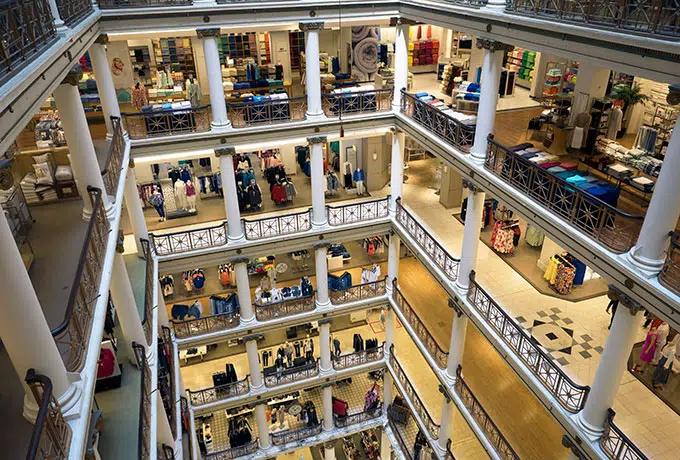 There are a couple of similarities between the two cities, and they are aspects that I love about them. Both Chicago and New York have amazing architecture. Did you know that Chicago was the birthplace of the skyscraper, not New York? They both have an amazing food scene and rivers. Though Chicago probably trumps New York by turning theirs green every St Patricks Day.
It's my architecture love that had me visiting Macy's. There are a couple of Macy's department stores in Chicago, but it's the State Street store, in the heart of the Theatre District you need to visit.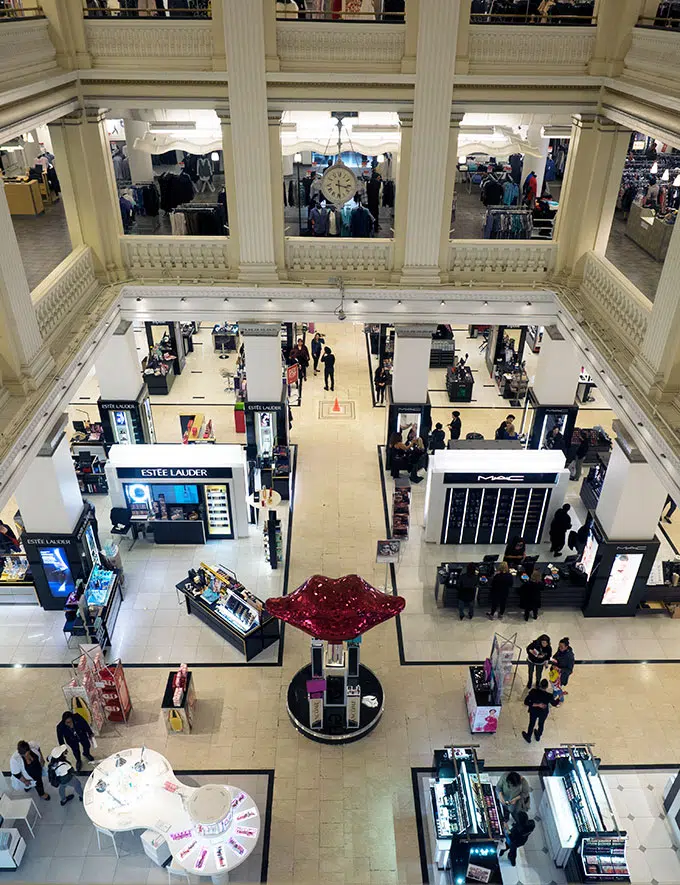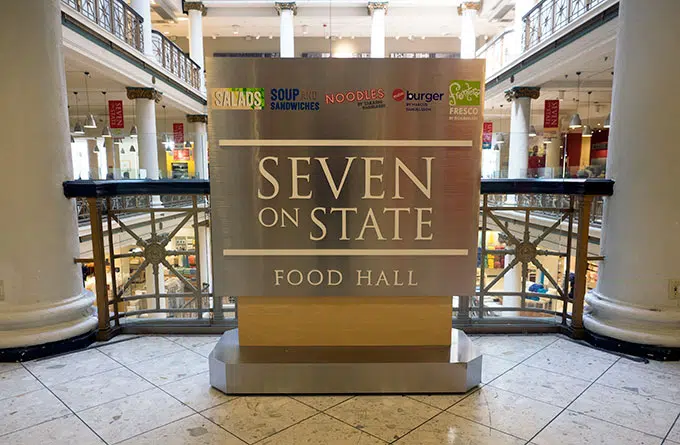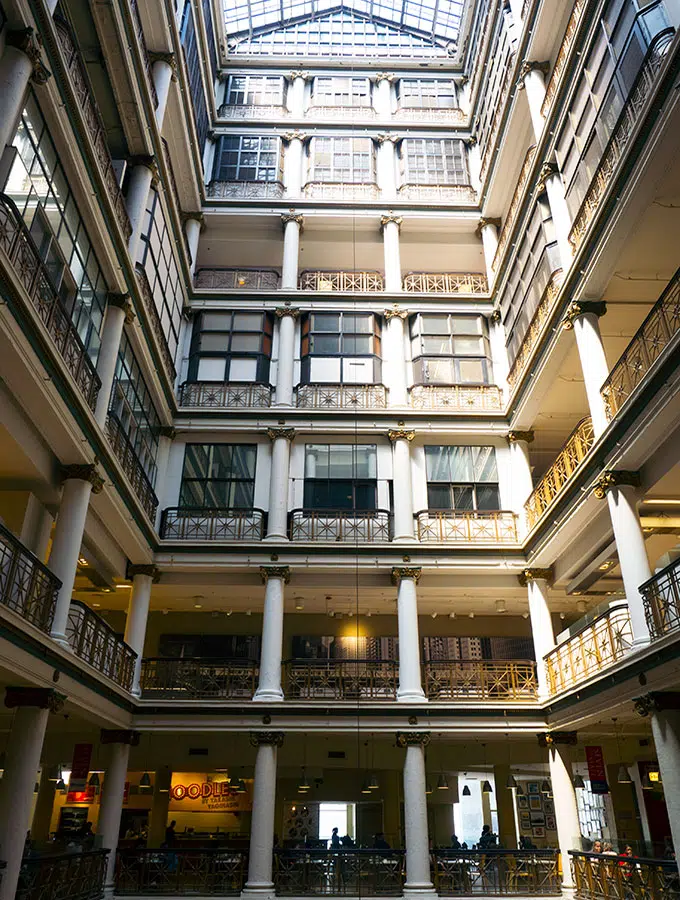 Macy's acquired the neo-Renaissance style Marshall Field's department store in 2006. It's an incredibly grand building built between 1891-1892. A designated National Historic Landmark listed on the National Register of Historic Places in 1978.
Macy's Tiffany Dome Ceiling
The main purpose of my visit was to see the stunning Macy's Tiffany Dome Ceiling. Louis Comfort Tiffany, of the Tiffany Studios in New York, designed the Dome. If you have a love of glass like I do, then you will know that Tiffany glass was the ant's pants back in the day, and still ix. He even developed a type of glass he called Favrile. Favrile is a slightly opaque iridescent glass, with a gorgeous shimmer.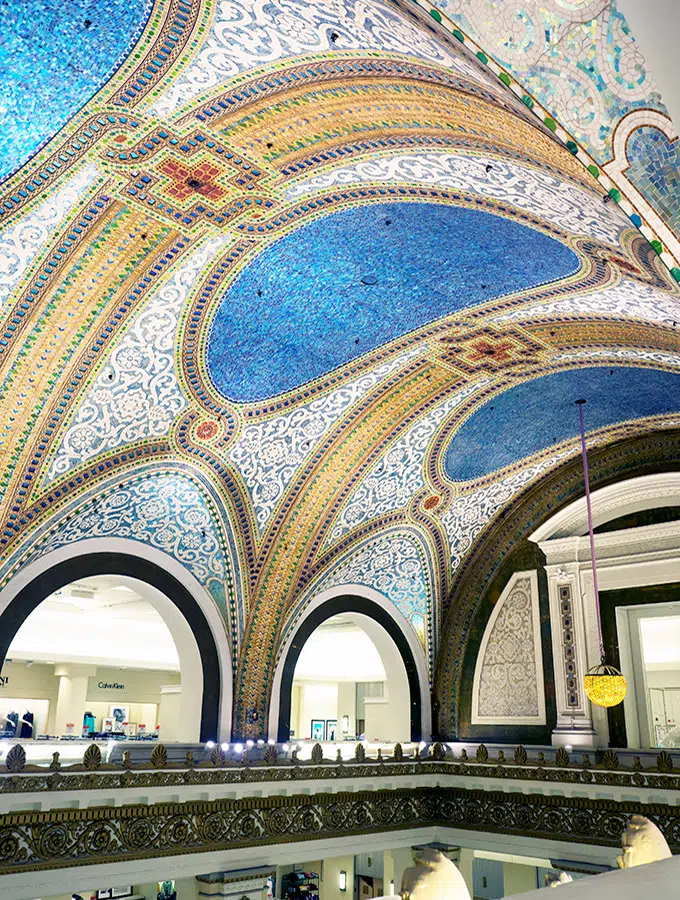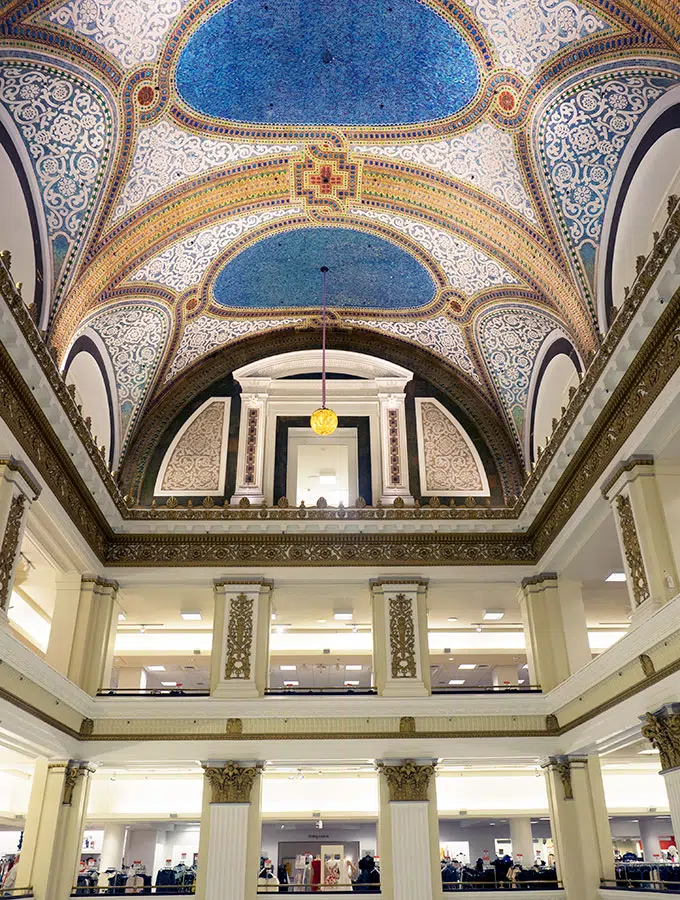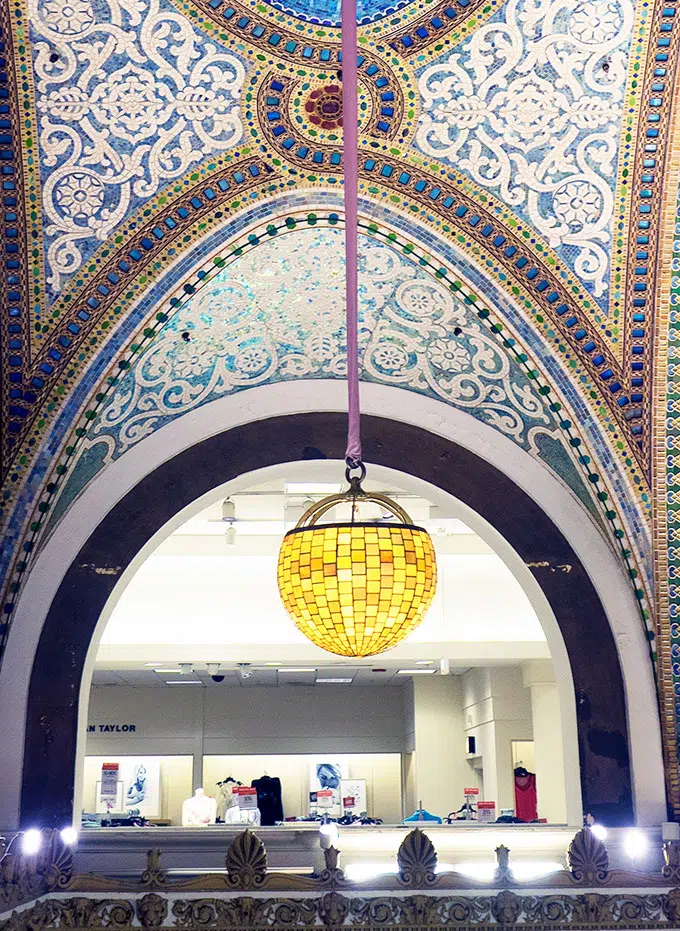 Macy's Tiffany Dome Ceiling uses Favrile glass, built in 1907. It also happens to be the largest glass mosaic of this style. It contains over a whopping 1.6 million pieces.
Macy's Walnut Room
After admiring the Tiffany Dome I had a wander around Macy's. It's really quite a large department store. This is how I stumbled upon the Walnut Room on the 7th level.
In tee shirt and jeans I felt rather underdressed to lunch here, but lunch I did. The Walnut Room is as grand as the Marshall Fields Building. It opened in 1907 and Macy's state that it was the first restaurant to ever open in a department store.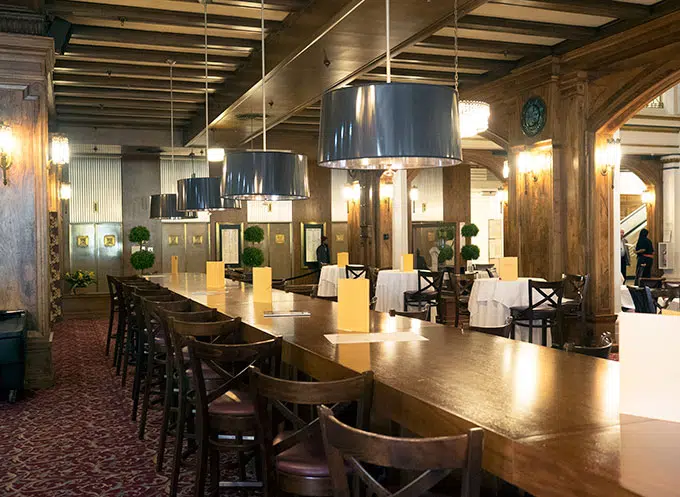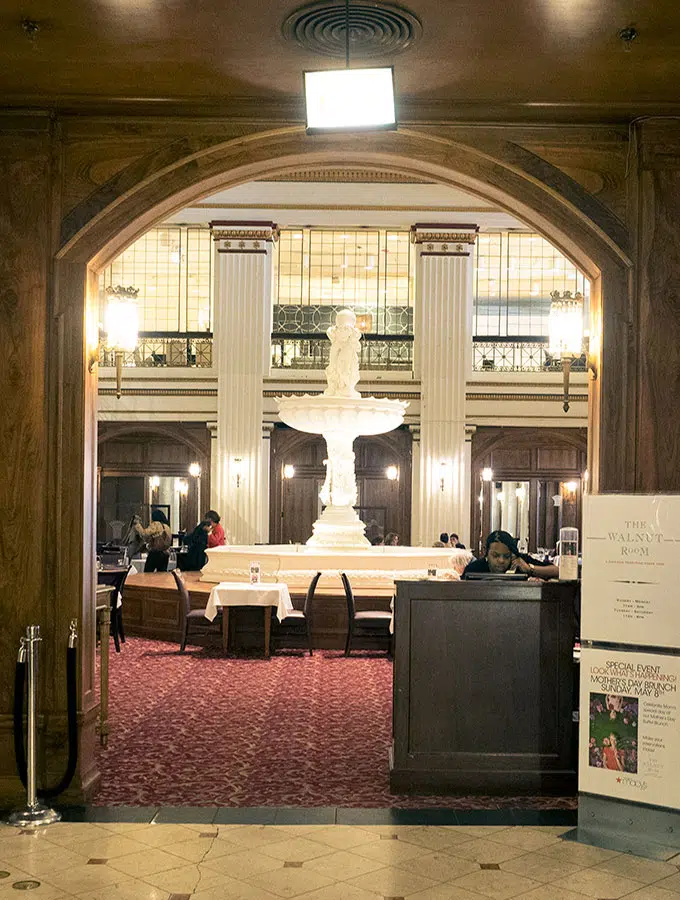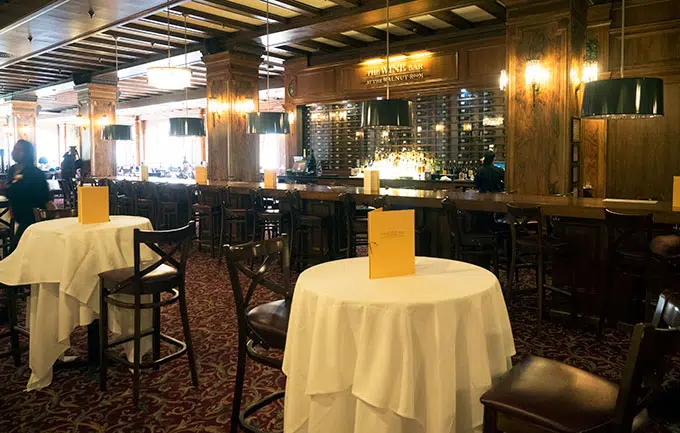 Some will disagree with this, like Wendy City Chicago who shares that department stores in New York and Philadelphia had in store food options as early as the 1870's. Plus that The Fair in Chicago also had somewhere to chow down in 1885.
Marshall Field had no interest in adding a restaurant to his department store. That was until employees Mrs Hering and Harry Selfridge convinced him otherwise.
Mrs Hering worked in the Millinery Department and started sharing her homemade chicken pot pies with her hungry customers. There was a lack of decent places to eat on State Street and the Marshall Field's Millinery Department became the place to be.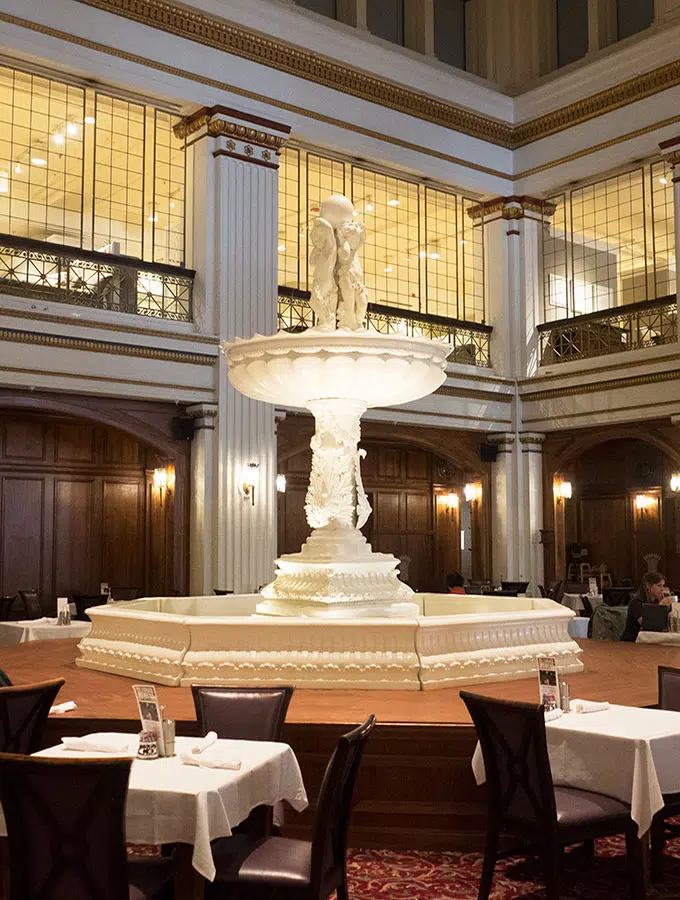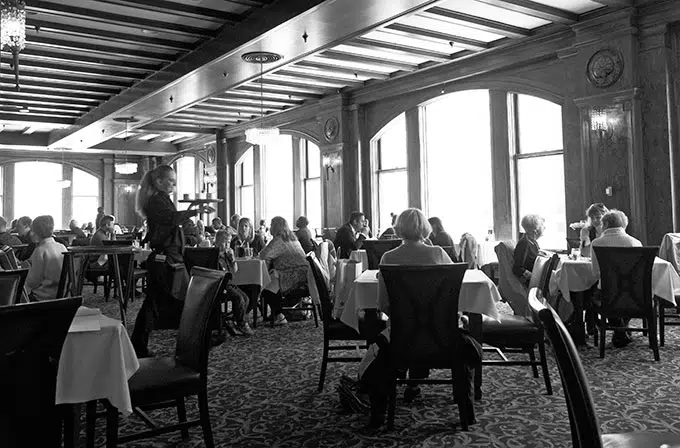 It's worth popping over to Wendy City Chicago to read more on the history of the Walnut Room, and she shares some interesting historic photos.
The name of the Walnut Room comes from the Circassian wood panelling imported from Russia. As mentioned it is grand with Austrian chandeliers and even a fountain.
The menu has a good variety of dishes, entrees, mains and dessert created by Chefs who are members of Macy's Culinary Council. As soon as I sit down I'm offered complimentary bread and water, plus presented with the menu.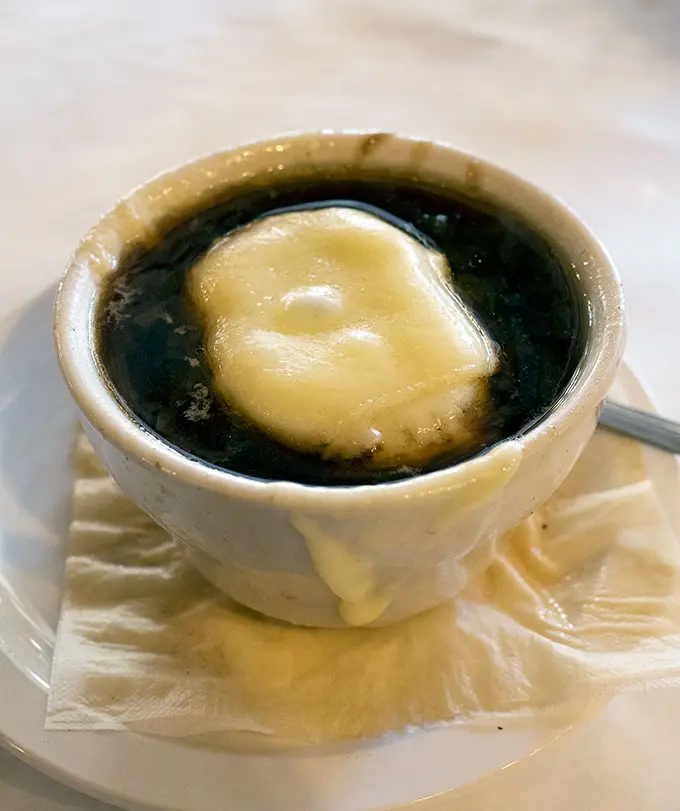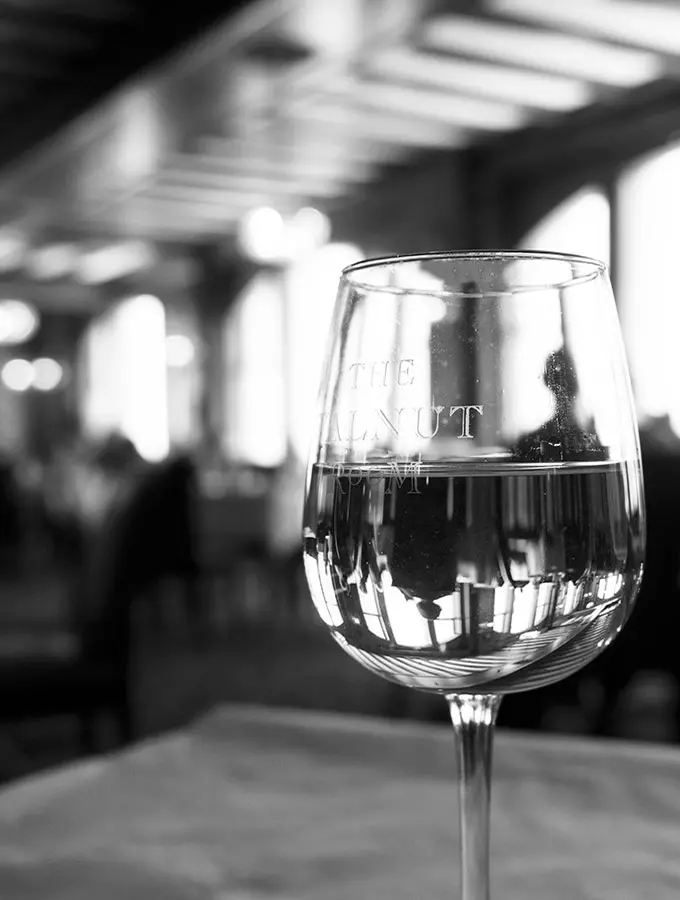 Mrs Hering's Chicken Pot Pie is still on the menu and is one of two dishes they are famous for. The other is French Onion Soup. I didn't bother with the pie but did order the soup. It was peppery, rich, hearty and loaded with cheese. Just a shame presentation wise it was a bit of mess, it seems to have had a spill on the way to the table.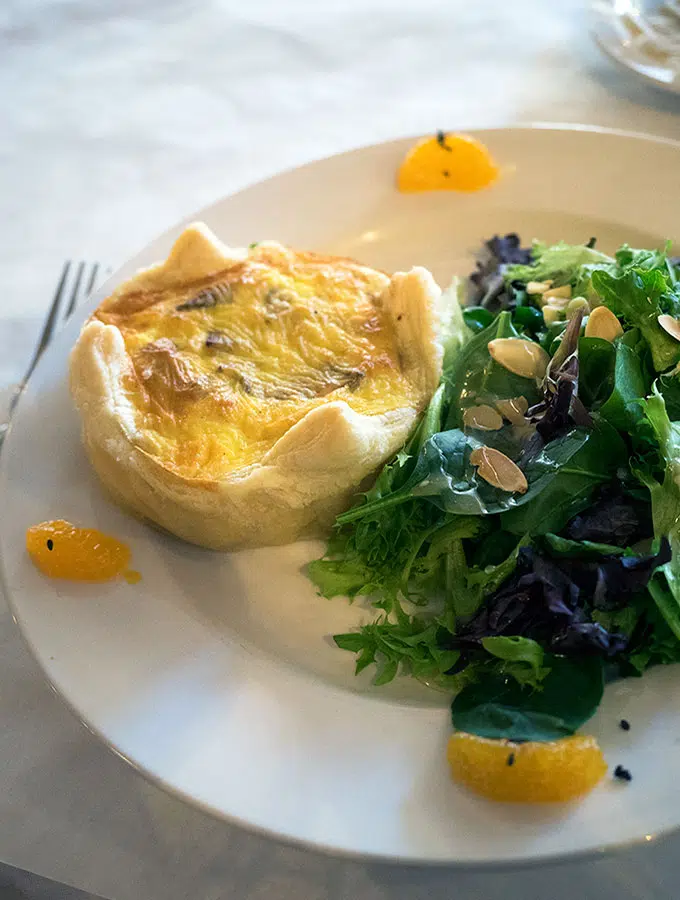 I ordered the quiche as my main, this arrived halfway through eating my soup. The quiche was packed with smoky bacon and soft sautéed onion. Sadly she was a bit of a soggy bummed girl. Due to the combination of soggy pastry and rich filling, I only ate a third of the quiche. The salad was very enjoyable, the canned mandarin segments are a mainstay here, I ate the lot.
I was probably the only tourist dining there. The other diners were made up of elderly couples, well dressed ladies who lunch, girlfriends having a bite while shopping and solo diners like myself.
The Walnut Room isn't a hot dining spot for tourists, but it is definitely worth a visit for the grandeur. Staff are also really lovely, Macy's has free Wi-Fi, and you get a peppermint melt to finish your meal with. I'm easily won over with free chocolate.
Sticking My Nose Where it Probably Doesn't Belong
After lunch, I continued exploring Macy's. I was reading a display about their Culinary Council, then spotted a lovely old water bubbler. That's when I was caught taking a photo of it by a staff member.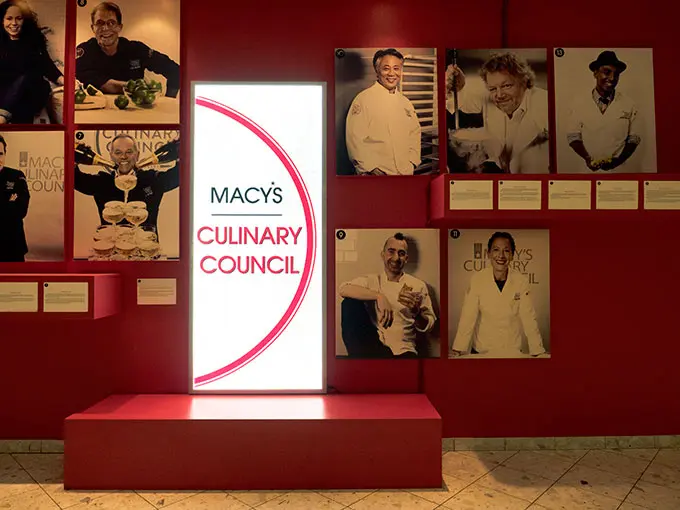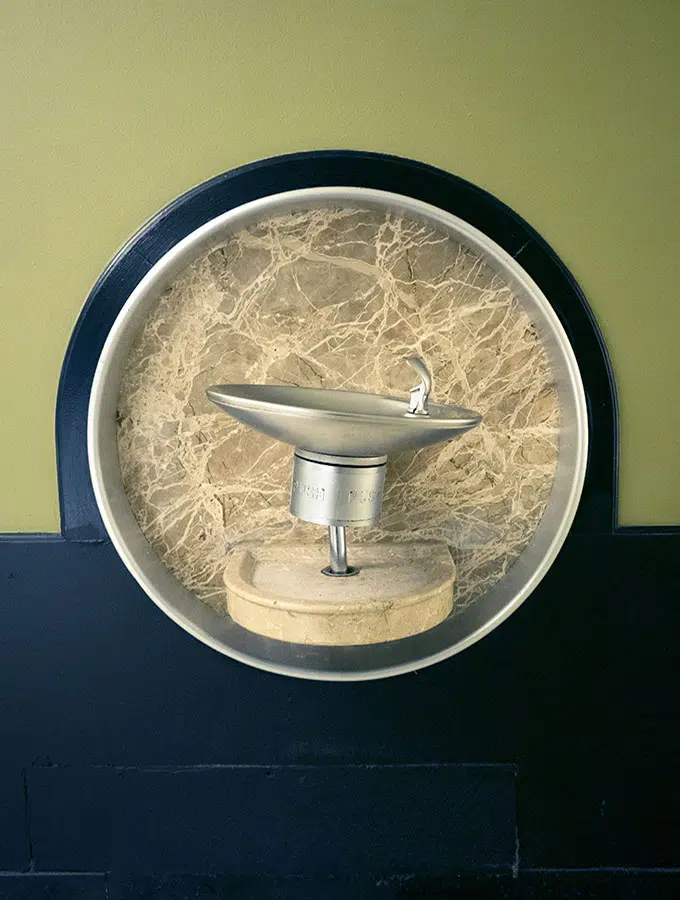 We starting chatting, which led to her showing me one of the rooms that they use for functions. Another stunning room, with fountain and chandeliers. At that point, I wondered what other gems this old building was hiding from the general public.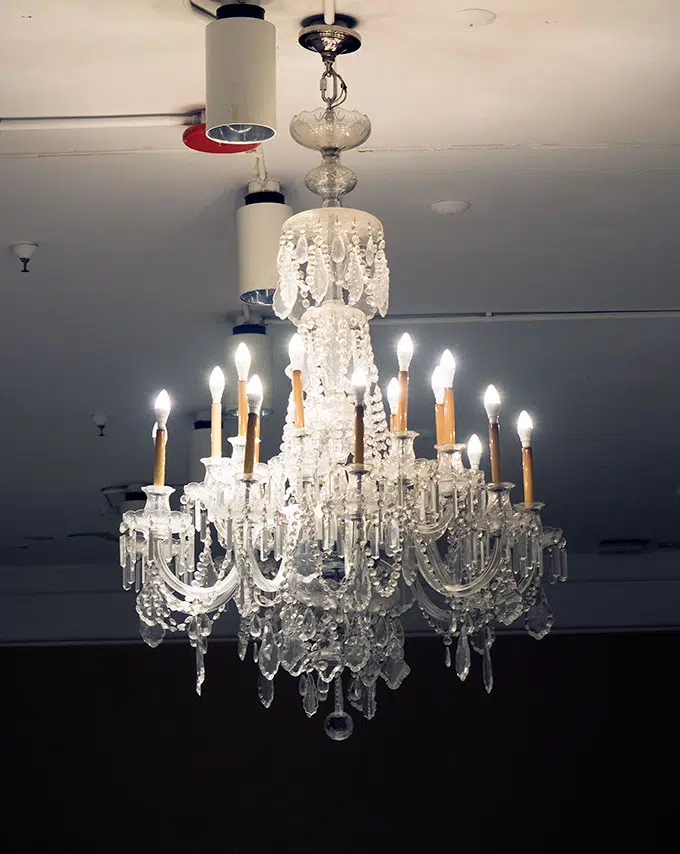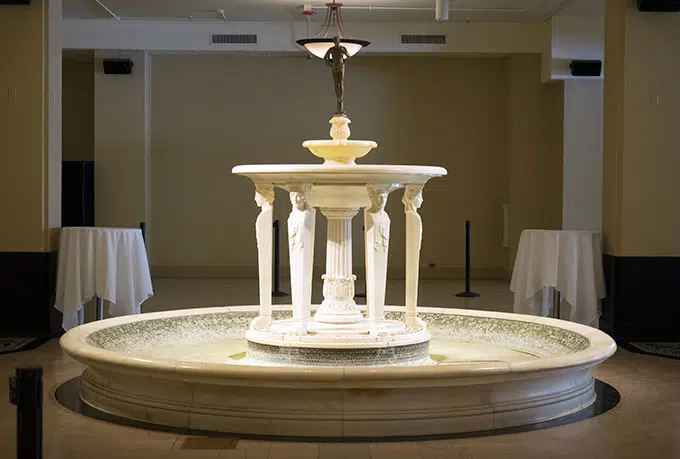 Macy's on State Street is worth popping into when you find yourself in Chicago. If you don't want to eat at the Walnut Room there are a few other options. Shopping wise I always call in as it is a mecca for reasonably priced designer clothes in larger sizes. Oh, and you can't forget the free Wi-Fi.
Sara xxx