Water spinach tagliatelle is vibrant Italian Asian fusion pasta. Served with pork and chestnut ragu makes for a delicious and fun fusion meal.
Prawn & Soba Noodle Salad
Pan Fried Gnocchi, Pinenuts, Prosciutto & Sage
Orecchiette, Vongole & Saffron Cream Sauce
Water spinach tagliatelle is very similar in taste to English spinach pasta, but I feel is a better match to the flavours of my Chinese style pork and chestnut ragu. Plus it is a fun dish to make. I love playing around with flavours and ingredients. Sometimes they work and sometimes it is a complete disaster.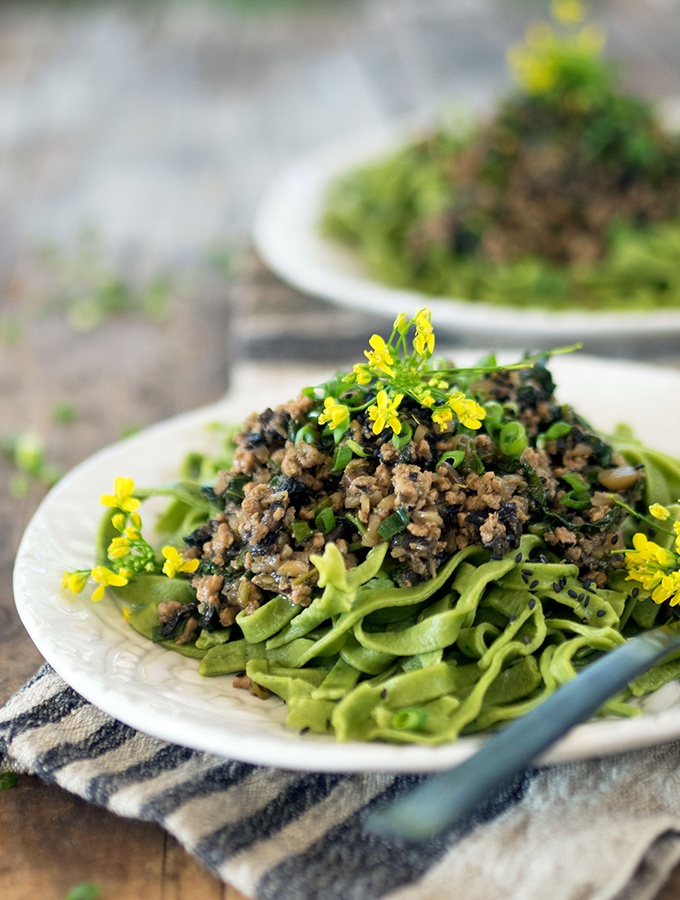 The pork and chestnut ragu is based on the popular san choy bow. The result is a flavoursome ragu with added crunch from the water chestnuts.
Normally when I purchase water spinach it is delegated to stir fry dishes. Nothing fancy, an Asian green in my rotation that simply ends up being added to the wok for variety.
I also picked up a bunch of choy sum for the ragu. It was in flower and was dotted with pretty little yellow flowers. I separated them from the bunch and reserved them for garnish. They brightened up the whole dish. And yes they are also edible.
As far as making ragu goes, this pork and chestnut ragu is a rather quick one to make. It will happily simmer away for under an hour. My normal ragu recipe slowly simmers away for hours on my stove top.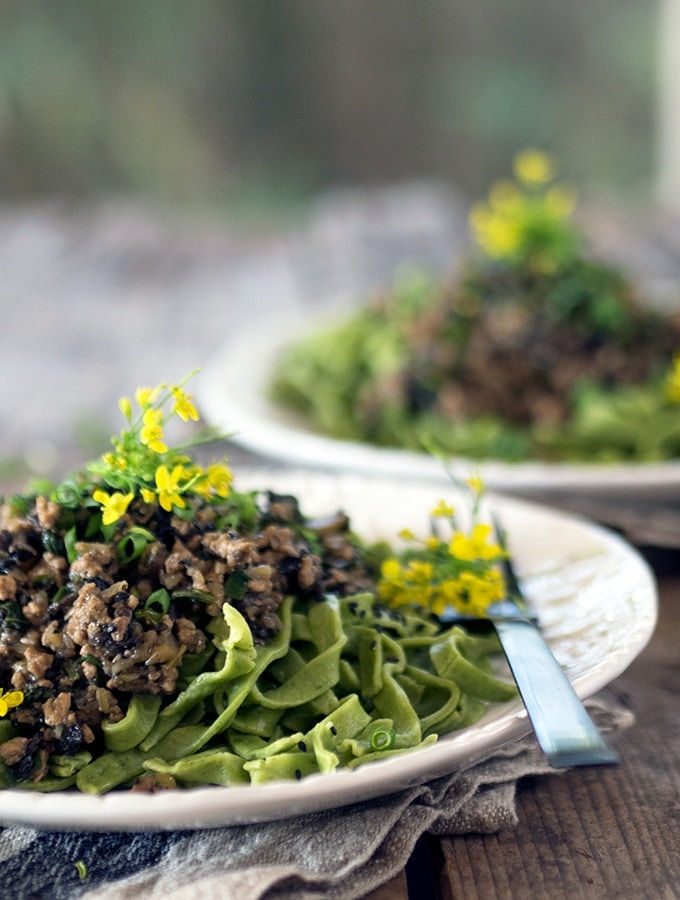 Make your tagliatelle up to the cooking stage while the ragu is cooking. Hang your tagliatelle or dust well with flour to prevent it sticking together. Only cook your water spinach tagliatelle once your pork and chestnut ragu is ready to serve. Fresh pasta does not take long to cook.
Special Equipment for this recipe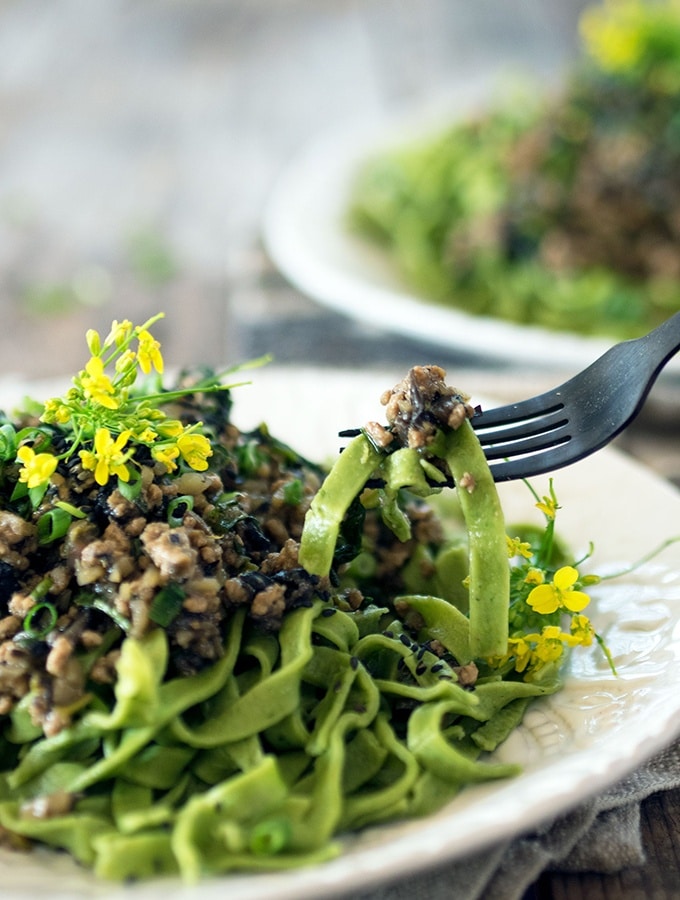 Pasta Making Machine
A pasta making machine will be needed for this recipe. Don't have one or do not want to purchase one? That's okay, you can still make this recipe, it will just be a little more rustic.
If you don't have a pasta machine make the dough as per the recipes and then working with one dough ball at a time roll as thinly as you can on a well floured surface. Cut your pasta into thin strips using a pizza cutter or a sharp knife. Then continue on as per the recipe.
Special Ingredients for this recipe
Water Spinach & Choy Sum
Both of these are Asian greens and can be found at most greengrocers in Australia. If you live where they may be harder to come by then head to your local Asian grocer. If you aren't quite sure what you are looking for amongst the fresh vegetables then simply ask, they will be more than happy to point you in the right direction.
If all else fails, substitute English spinach for the water spinach and bok choy or more English spinach for the choy sum.
Water Chestnuts and Bamboo Shoots
I used canned for both of these and are readily available in the Asian section of most supermarkets.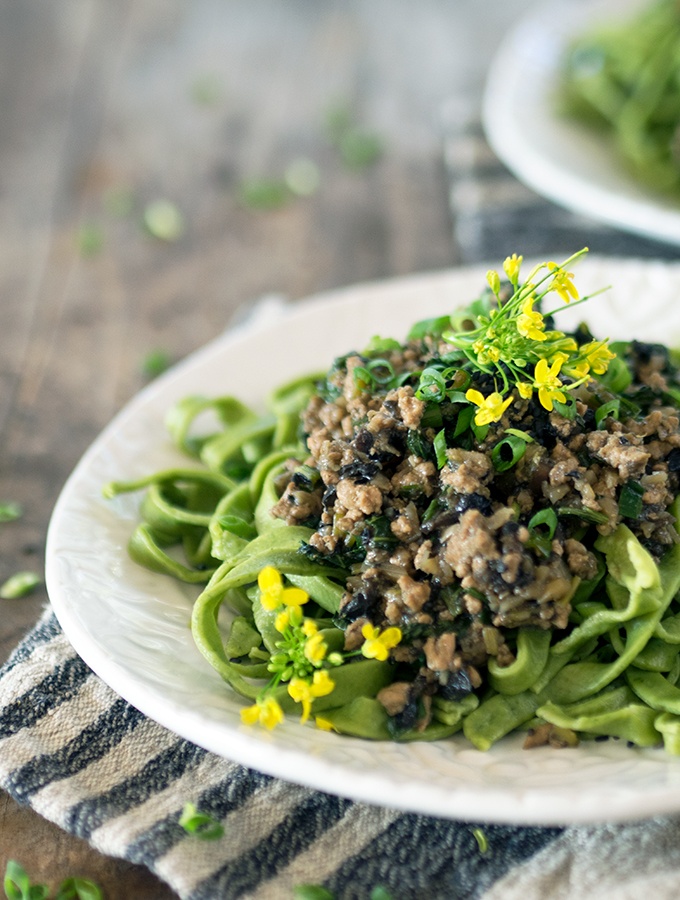 Shao Shing
This is Chinese cooking wine. If you can't find it then replace with dry sherry.

What to do with any leftovers?
Water Spinach Puree
You will end up with more puree than you will need for this recipe. Store any extra in an airtight container in the fridge. You can add it to scrambled eggs or an omelette. Keep no longer than 24 hours.
Water Spinach Tagliatelle
Dust tagliatelle with flour and hang or leave to dry on trays for 15 minutes. Dust with a little more flour and roll portions into "nests" and store in an airtight container in the fridge for up to two days.
Alternatively follow the steps above and place in airtight ziplock bags in the freezer for up to three months.
Pork and Chestnut ragu
Store any extra in the freezer for up to three months. When defrosted and heated you could use it again with pasta or noodles, as san choy bow, for omelette filling or even served on steamed rice topped with sliced spring onion and a sprinkle of sesame seeds.
Don't forget that if you do make any of our recipes please tag Belly Rumbles in on social media. I love seeing what you guys make!
Sara xxx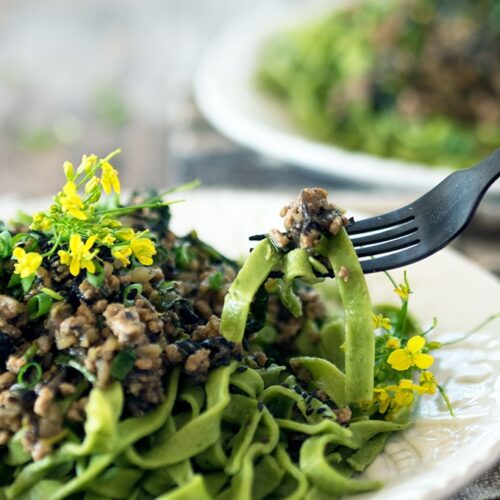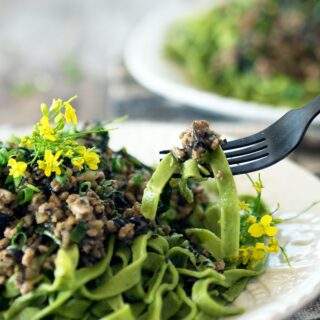 Pork and Chestnut Ragu with Water Spinach Tagliatelle
Pork and Chestnut Ragu is a play on traditional Chinese San Choy Bow. Perfect with Water Spinach Tagliatelle, but also makes a great filling for omelettes or topped on steamed rice.
Ingredients
500

grams

pork mince

1

tablespoon

freshly grated ginger + any juice

2

garlic cloves

crushed

175

grams

2 large flat mushrooms

½

bunch choy sum

chopped, reserving any flowers for garnish (place chopped leaves in a separate bowl to the chopped stems)

230

grams

1 cup water chestnuts, finely chopped

60

grams

⅓ cup bamboo shoots, finely chopped

250

ml

1 cup chicken stock

125

ml

½ cup shao shing, Chinese cooking wine

40

ml

2 tablespoons soy sauce

20

ml

1 tablespoon oyster sauce

10

ml

2 teaspoons hoisin sauce

20

grams

1 tablespoon sugar

4

spring onions

finely sliced

24

grams

2 tablespoons cornflour

Extra spring onion

reserved choy sum flowers and sesame seeds as garnish to serve.
Water Spinach Tagliatelle
3

eggs

400

grams

2 ½ cups 00 flour (bread flour)

50

ml

2-3 tablespoons water spinach puree
Water Spinach Puree
1

bunch water spinach

50

ml

2-3 tablespoons olive oil
Instructions
Pork and Chestnut Ragu
In a large heavy based saucepan (that has a lid) brown pork mince with ginger and garlic.

Once browned add mushrooms, stir through and cook for a minute or two.

Then stir through chopped stems of the choy sum, water chestnut and bamboo shoots.

Add stock, soy sauce, oyster sauce, hoisin sauce and sugar, stir well.

Bring ragu to a gentle simmer and place lid on saucepan.

Simmer gently over a low heat for 40 minutes. Stir ragu every so often.

Remove lid and simmer for 10 more minutes until sauce has reduced.

Then stir through chopped choy sum leaves and sliced spring onion.

Once choy sum leaves have wilted, stir through cornflour slurry (corn flour slurry: cornflour mixed with 3 tablespoons of cold water in a small bowl).

Cook for a couple of minutes, the sauce will thicken and become glossy.

Serve with water spinach tagliatelle.

Garnish with extra spring onion, choy sum flowers and sesame seeds.
Water Spinach Tagliatelle
Place flour on a clean bench in a mound, and make a well in the centre. Crack eggs into the centre of your flour mound with a couple of tablespoons of water spinach puree.

With a fork gently beat the eggs and water spinach together.

Then start to incorporate the flour, from inside of the well to the outside.

Knead the dough, adding a little more water spinach if it is too dry.

Keep kneading until dough is smooth and shiny, this can take 10 minutes.

Place dough in a small bowl, and cover with plastic wrap to prevent it drying out. Leave dough to rest for at least 30 minutes.

Once dough has rested divide the dough into 4 balls (keep covered when not rolling).

Set the rollers on your pasta machine to the widest setting.

Take one dough ball and flatten with your hands and then feed through the rollers.

Set the rollers of your pasta machine to the next smallest spacing, and re-roll your dough through the machine.

Keep doing this until you have rolled your dough through the second smallest setting.

Dust your rolled dough on either side lightly with flour (this helps to prevent it sticking together when you cut it).

Place the cutting attachment on to your pasta machine. Feed the floured pasta through the tagliatelle cutter.

Place cut pasta on a clean tea towel or bench. Dust with a little more flour if you feel it is needed to prevent sticking.

To cook bring a large pot of salted water to a rapid boil. Drop in the tagliatelle and cook for a couple of minutes. It won't take long at all to cook, and reach al dente.

Drain and serve immediately with pork and chestnut ragu.
Water Spinach Puree
Place water spinach and a couple of tablespoons of olive oil in a blender. Blend until a smooth puree has formed. Add a little extra olive oil if needed to create the puree.
Notes
What to do with Leftover Ragu?
Any leftover ragu can be frozen in an airtight container or zip lock bag for up to 3 months for later use.
Leftover Water Spinach Puree
Use any leftover water spinach puree from making your tagliatelle with scrambled eggs or an omelette.
Nutrition
Serving:
1
grams
Calories:
914
kcal
Carbohydrates:
98
g
Protein:
41
g
Fat:
39
g
Saturated Fat:
12
g
Cholesterol:
215
mg
Sodium:
889
mg
Fiber:
5
g
Sugar:
8
g
Did You Make This Recipe?
I do a happy dance when people share how they went. Tag me on Instagram or Twitter @bellyrumbles & #bellyrumbles