Suhring Restaurant in Bangkok Thailand is one of Asia's 50 Best Restaurants. The cuisine is modern German set in a gorgeous restored townhouse in Yannawa, Bangkok.
The taxi drivers in Bangkok are hopeless most of the time. Even with instructions in Thai and a hand drawn map from the guys at the Peninsula, he still had no idea where we were going.
Thank goodness for Google Maps, and being assertive. He wanted to drop Mac and I in the middle of a deserted dark, and rather creepy, back alley. We were in a more residential area of Bangkok, far from the bright lights of the main areas.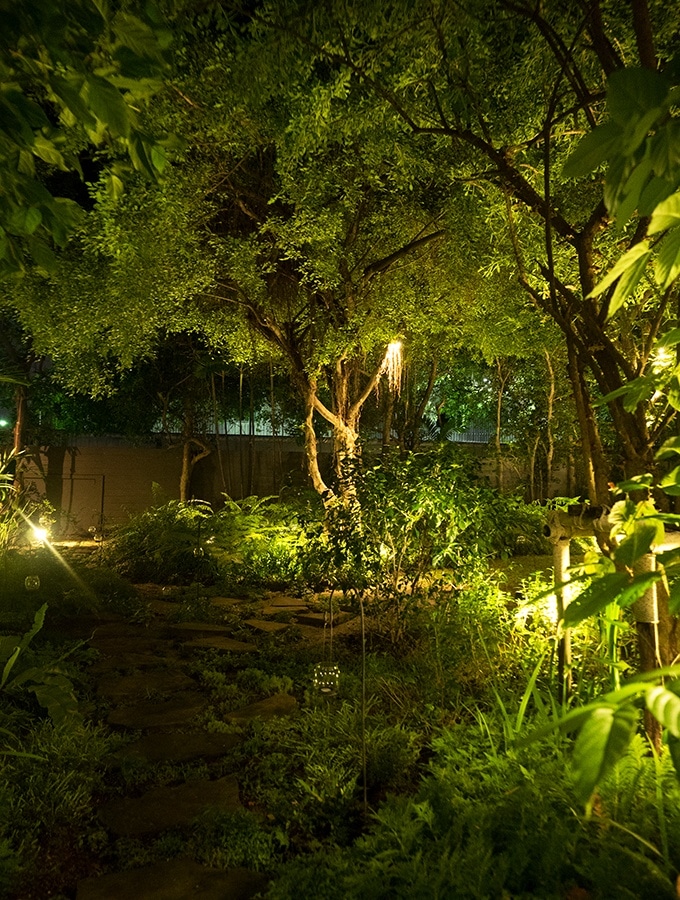 I kept telling him it was at the other end of the street. He refused to accept what I was saying until a security guard came out from one of the houses. I assume it was a house it was so dark I couldn't actually tell. When the guard asked me what the problem was, I explained where we wanted to go and he then told the taxi driver that I was right and to take us up the other end.
Watching our blue dot get closer to the destination, I got him to stop. He looked at me and said are you sure? Yep, this is the place. And before we knew somebody from front of house came to greet us and show us into the restaurant.
You wouldn't think it would be that difficult, but even though Suhring is in Bangkok, it is a little out of the way.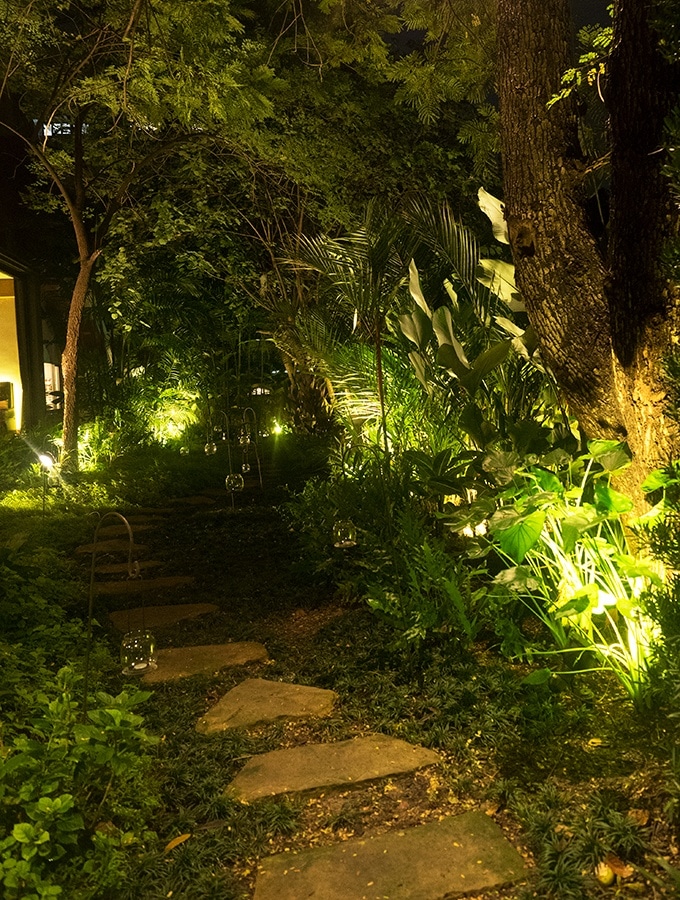 By daylight it probably would have been easier. But at nighttime, there are hardly any street lights in the area and the restaurant is a restored villa in stunning lush tropical gardens.
There is a sign stating it is Suhring, but it is subtle. Well at least in all the craziness of finding it and a taxi driver who didn't want to believe my directions.
Walking into Suhring is like walking into a home of a well to do German family. I instantly felt like I was back in my early teenage years when I was living in Germany for a little while with my parents.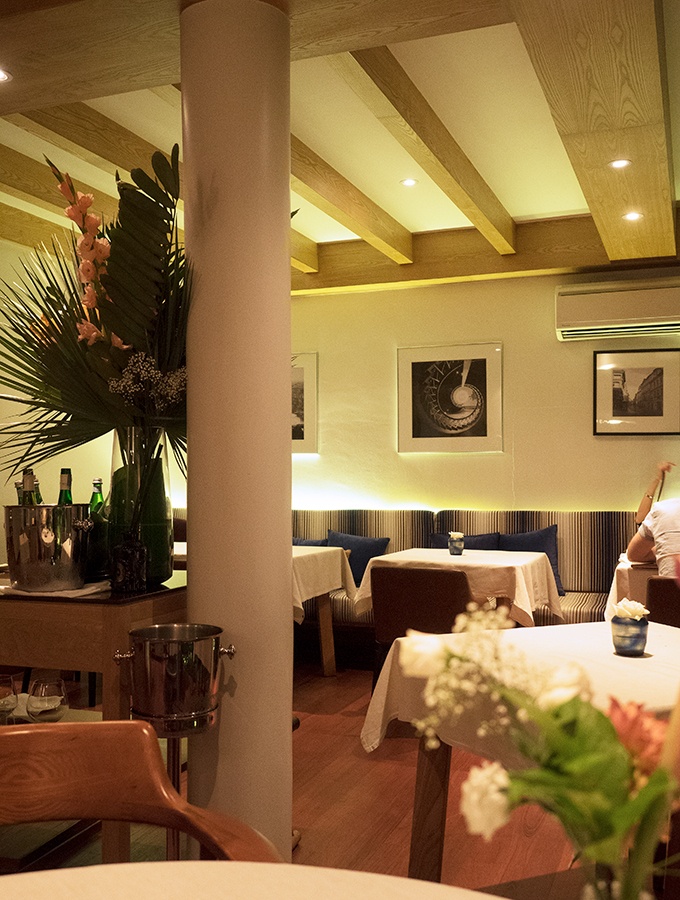 living room dining area
I dined in a few of my dad's work colleagues' homes while there. Suhring took me straight back there. The 1970s villa is rather large and is very German in its restoration with pale wood, natural colours, large glass windows and a minimalistic design. The result is a very relaxed and elegant environment
Only when you look out the windows on to the lush green tropical gardens that you are reminded you are in South East Asia.
This is the second year that Suhring has had a place in Asia's 50 Best Restaurant. The 2018 list has been released and this year they rank number 4 (#13 in 2017). This is where I should mention that Suhring has only been in operation for 2 years. You know that you are in for a special dining experience when one of the investors in Suhring is Gaggan Anand of Asia's top restaurant Gaggan (also in Bangkok).
You will not find one, but two chefs manning the pass at Suhring, brothers Thomas and Mathias Suhring. If you feel you are seeing double, that's because Thomas and Mathias are twins.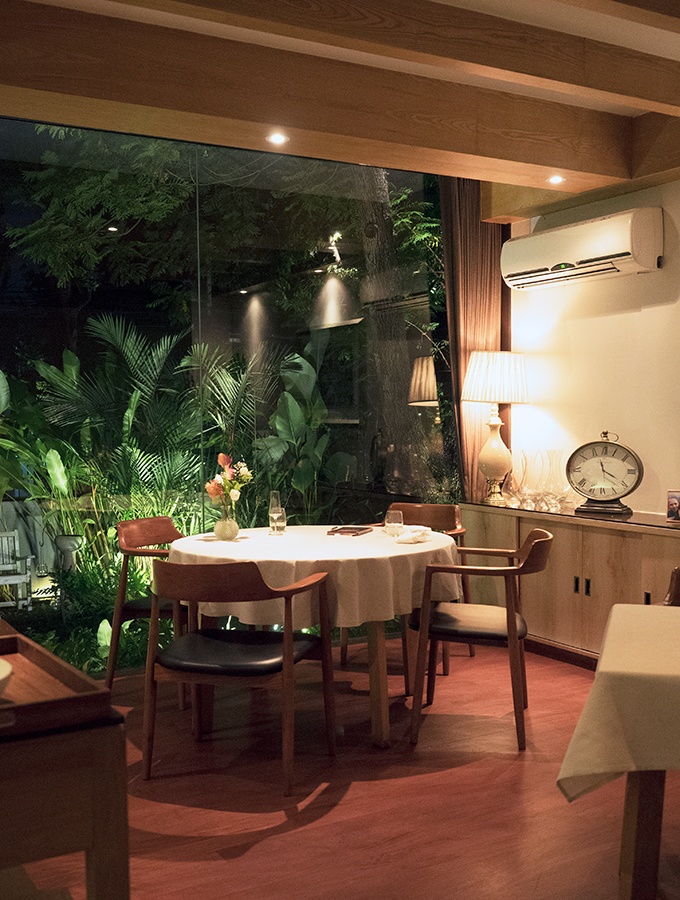 living room dining area
The restaurant, or "house" as it is referred to, is split into three dining sections. There is the Winter Garden, which overlooks the lush tropical garden. The Living Room is the main dining area and where we are seated on our visit. The final area is the Kitchen which is more dynamic as you can watch the twins and their team work.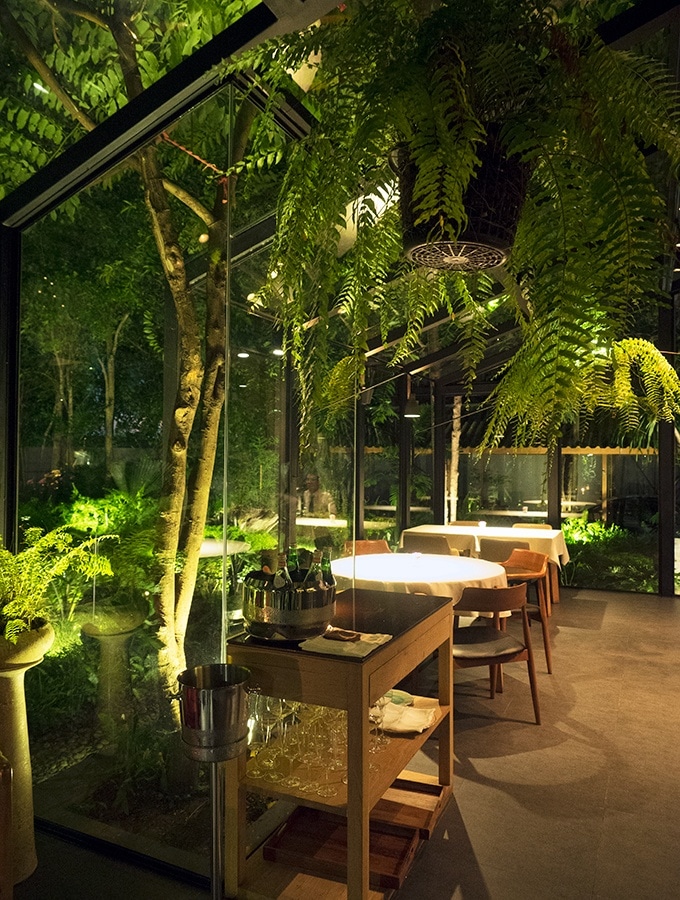 winter garden dining area
As I had researched Suhring well in advance, plus made our booking months before we arrived, I knew what we would be ordering. Suhring offers only a degustation menu. A choice of 12 or 8 courses, we went for 12 with matching wines.
Appetithappchen "eat with your fingers" is the first course served. A selection of snacks that you do eat with your fingers.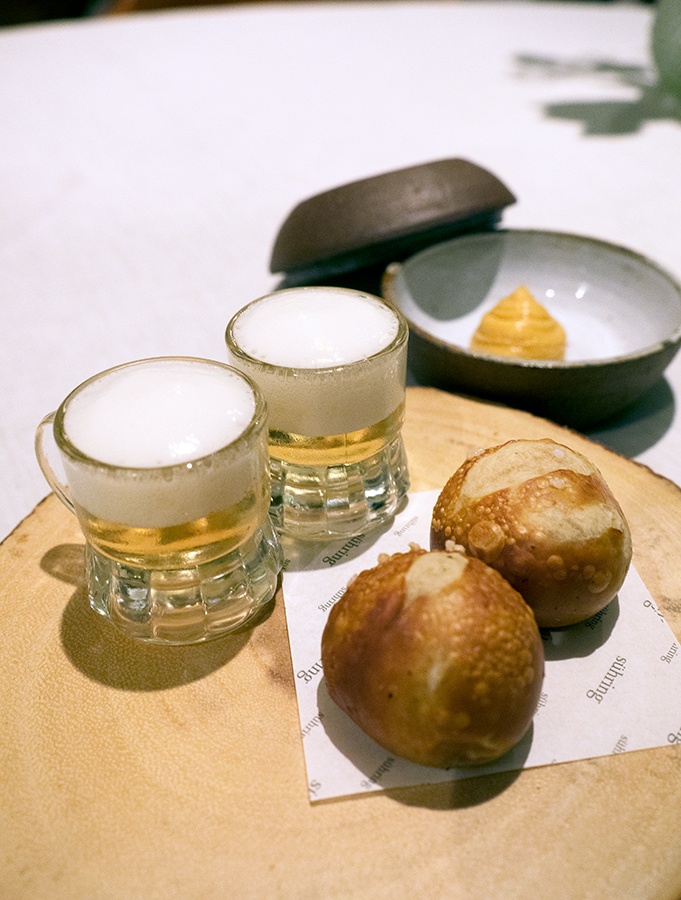 appetithappchen "eat with your fingers" - pretzel & obatzda
The first snack is Pretzel & Obatzda, mini pretzels served with a buttery cheese spread and teeny steins of non alcoholic beer. It wins the award for the cutest dish of the evening.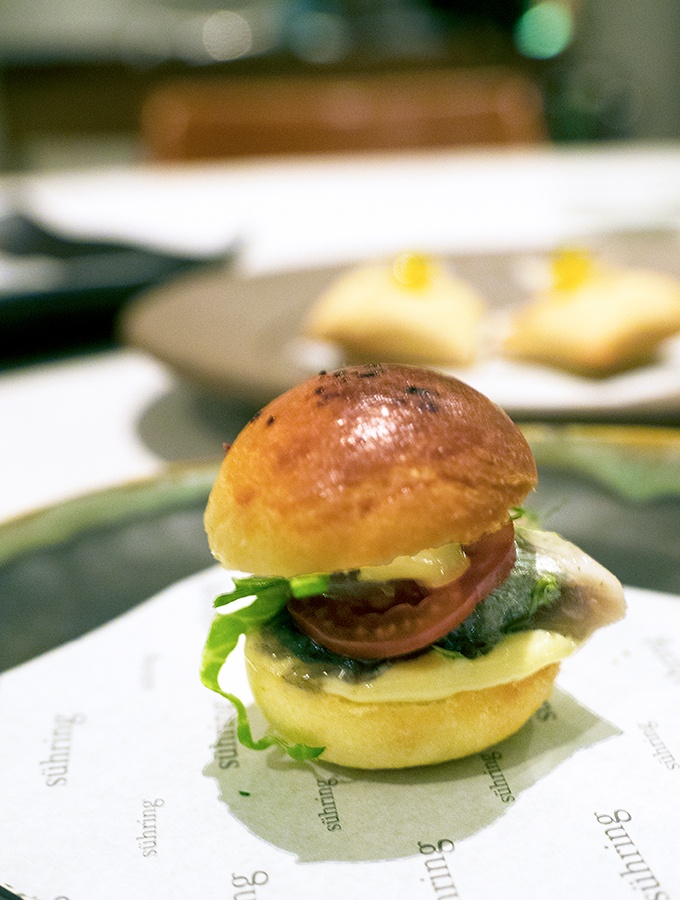 appetithappchen "eat with your fingers" - Fischbrotchen
Fischbrotchen is a mini burger with hand pickled sardine, lettuce tomato and sauce. A soft milk bun, two mouthfuls and it is gone. Not being a sardine fan, I quite like it.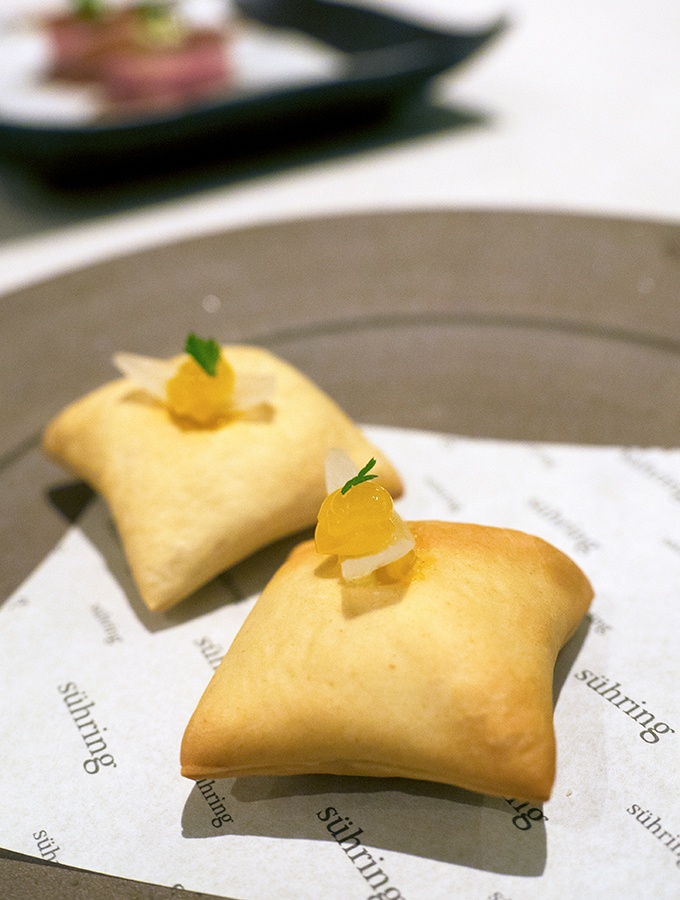 appetithappchen "eat with your fingers" - Zwiebelkuchen
The Zwiebelkuchen are little pastry pillows filled with rich sweet sauteed onion. They are based on a traditional German onion tart.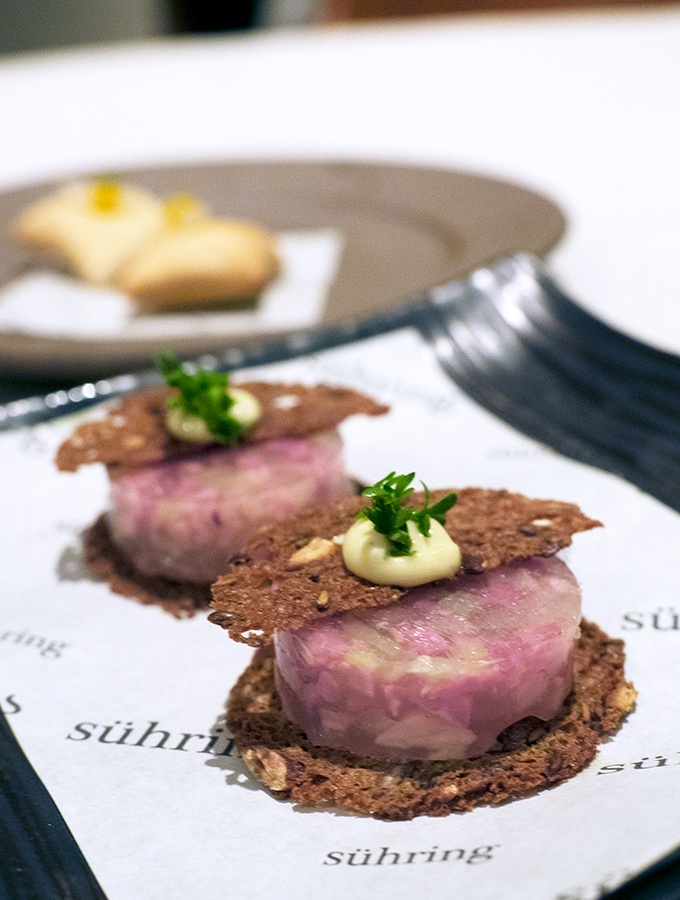 appetithappchen "eat with your fingers" - Eisbeinsulze
Eisbeinsulze is German brawn, meat in jelly. Suhring's Eisbeninsulze is made from pork knuckle and served on a rye crisp.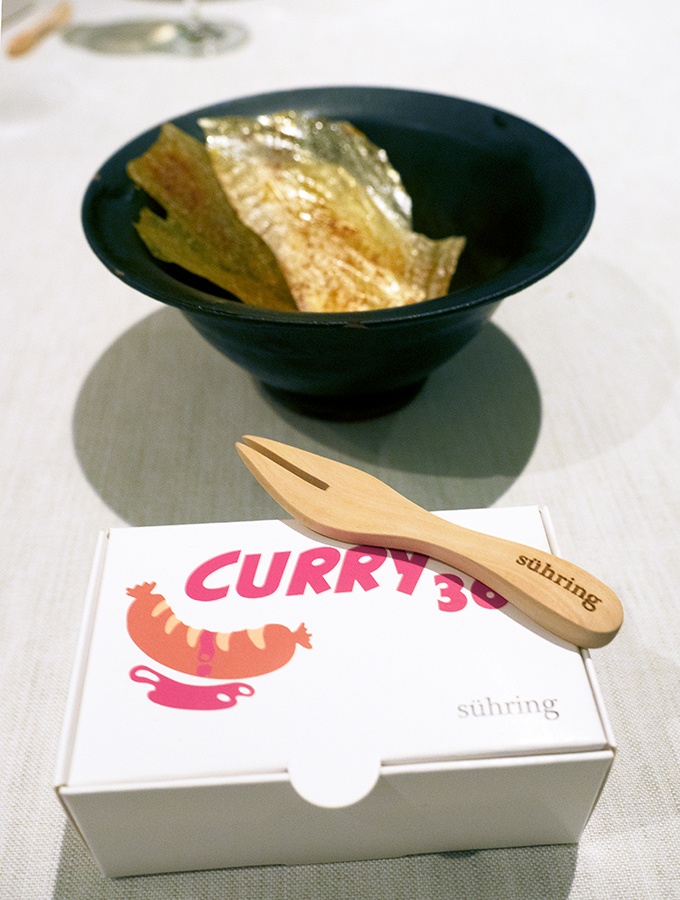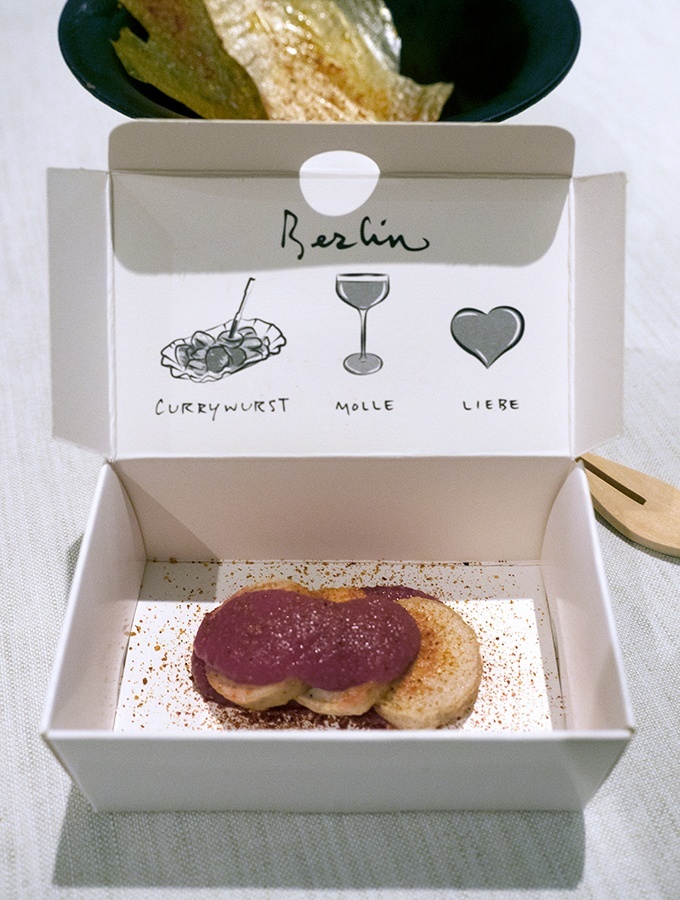 appetithappchen "eat with your fingers" - curry 36, berlin street food
Curry 36, Berlin Street Food is one of the dishes that caught my attention and made me investigate a possible visit to Suhring. The Curry 36 is a fun play on the common street food, currywurst. The chips are thin sheets of crisp potato "glass".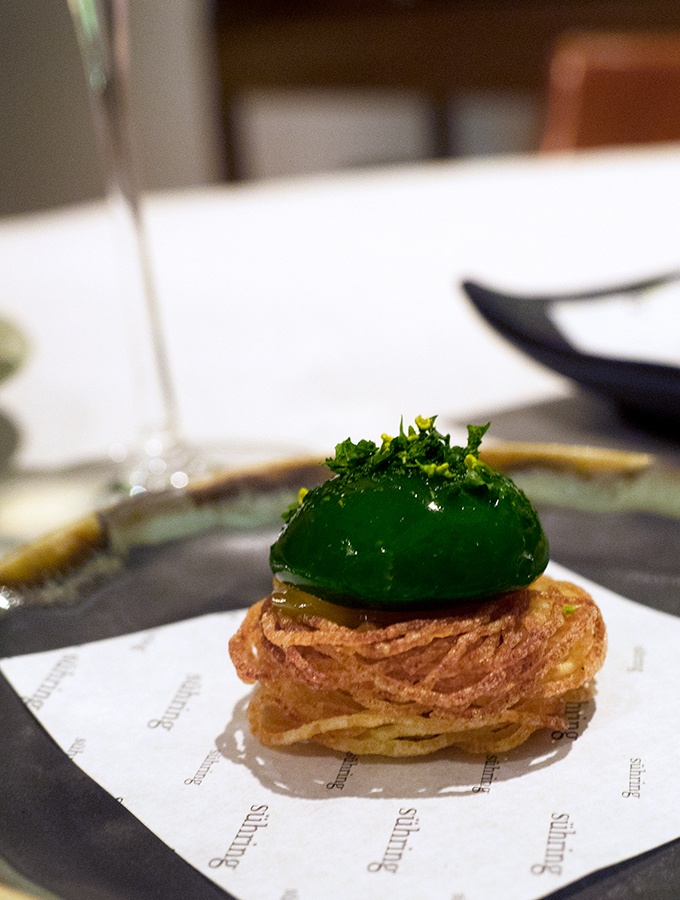 appetithappchen "eat with your fingers" - frankfurter grune sobbe
Due to dietary restrictions Mac wasn't able to eat the Fischbrotchen. Instead he was served the vegetarian option, Frankfurter Grune Sobbe. A green mouse made from several herbs resting on an egg yolk in a nest of crunchy potato.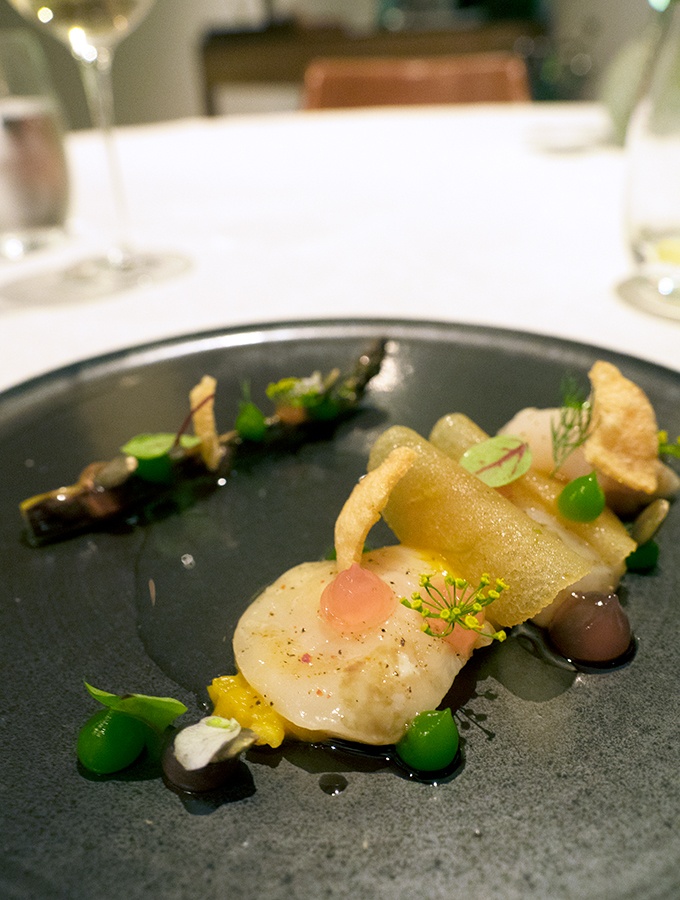 vorspeise - hokkaido scallop
"Vorspeise" or to start, we have Hokkaido Scallop which has been quickly cured and served with applesauce, charred asparagus, pepitas, prawn rice cracker, thin rounds of apple, pumpkin apple and sorrel.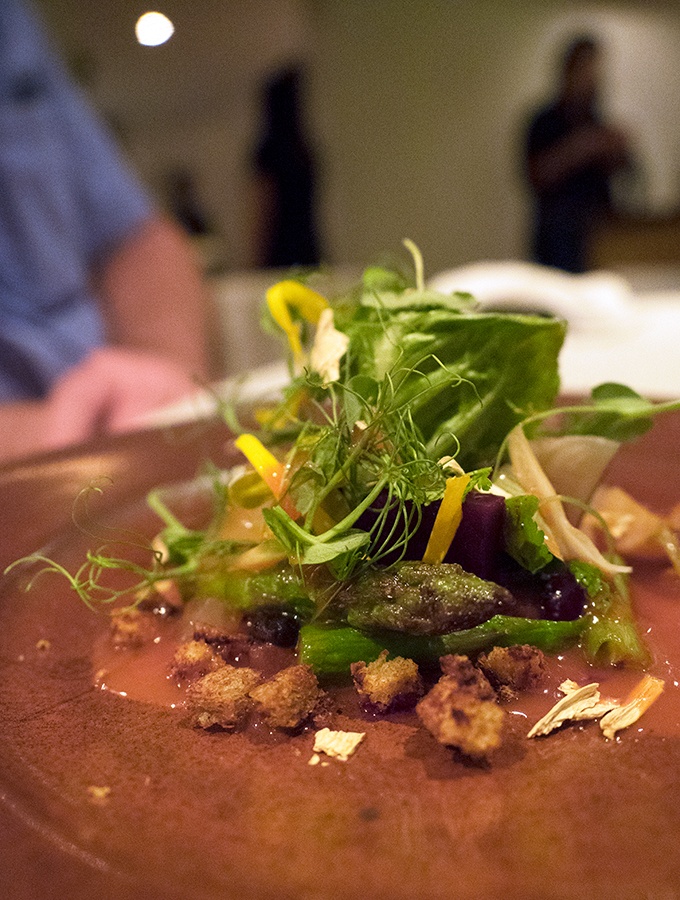 vorspeise - 27 leaf salad
Again Mac has an alternative dish to the Hokkaido scallops due to dietary restrictions. Also a dish from the vegetarian menu, 27 leaf salad. It is quite a complex salad as far as salads go, with beetroot, pickled onion, asparagus, blueberries and a tomato vinaigrette.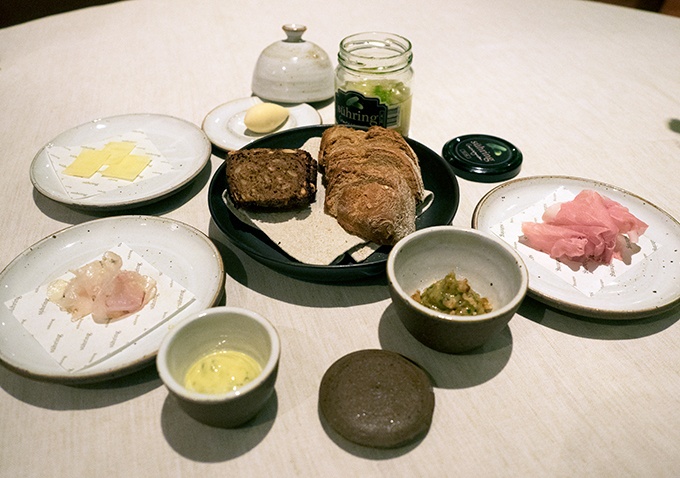 brotzeit, for sharing
"Brotzeit", for sharing, is rustic sourdough breads baked over an open fire. This is served with various spreads and cold cuts. It reminds me of breakfasts in Germany.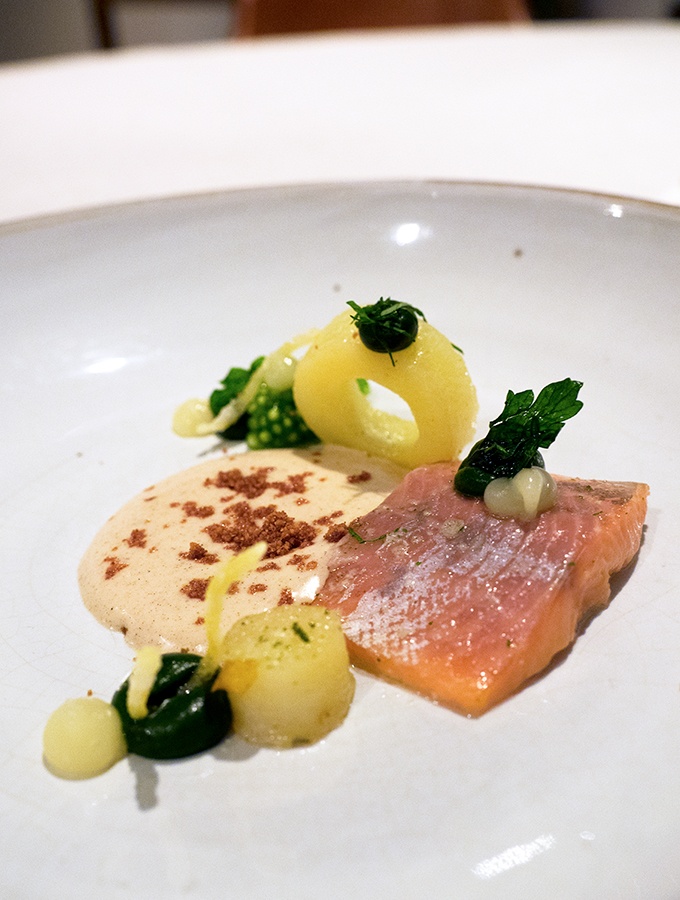 mittiges - pink river trout
"Mittiges", continue with, Pink River Trout with parsley tapioca, candied lemon rind, potato and brown butter sauce. There is the option to add 5g of Ossetra Caviar to the dish for THB 490.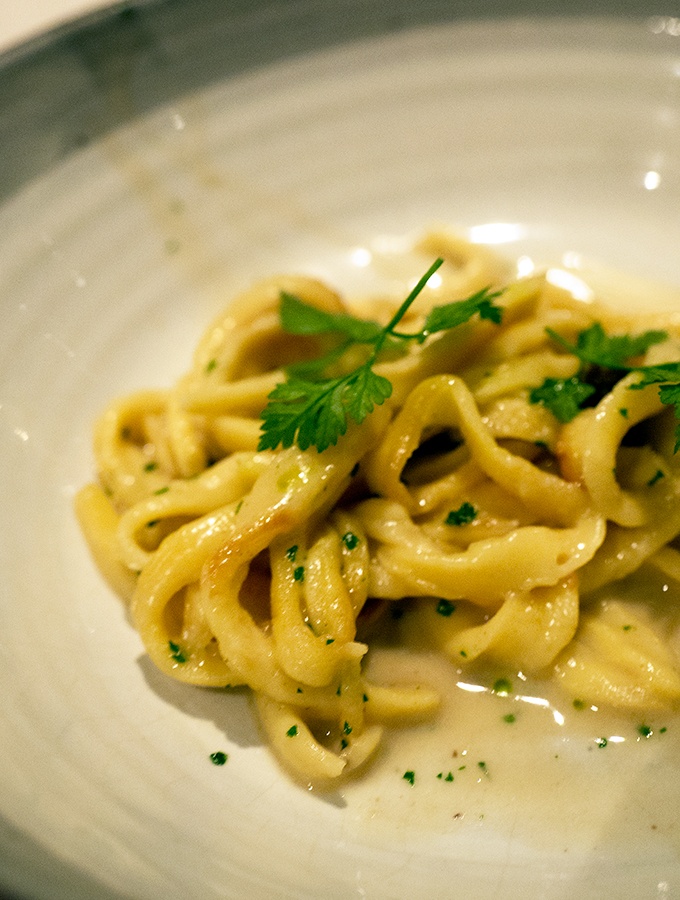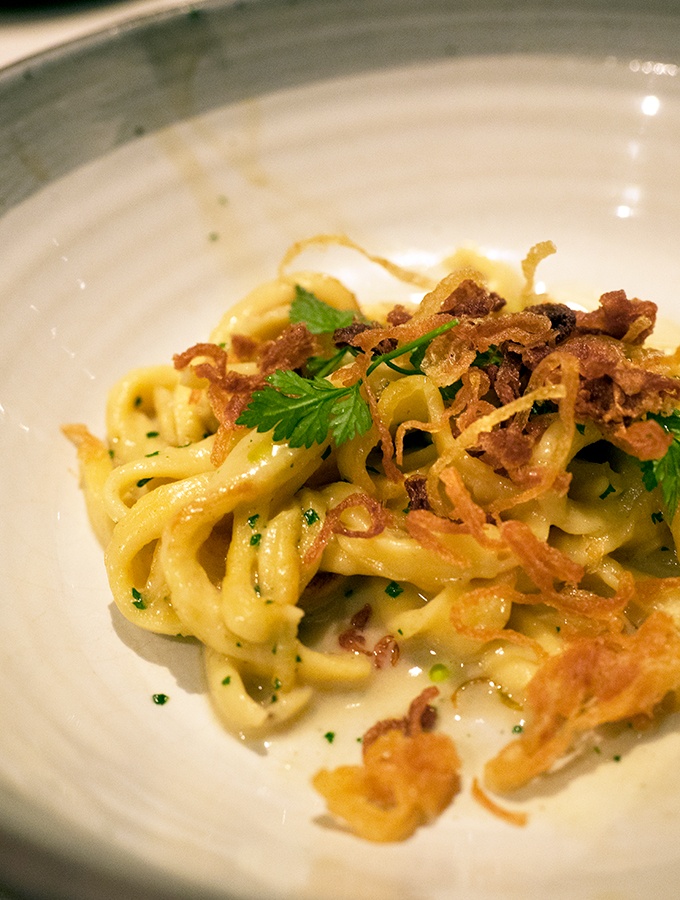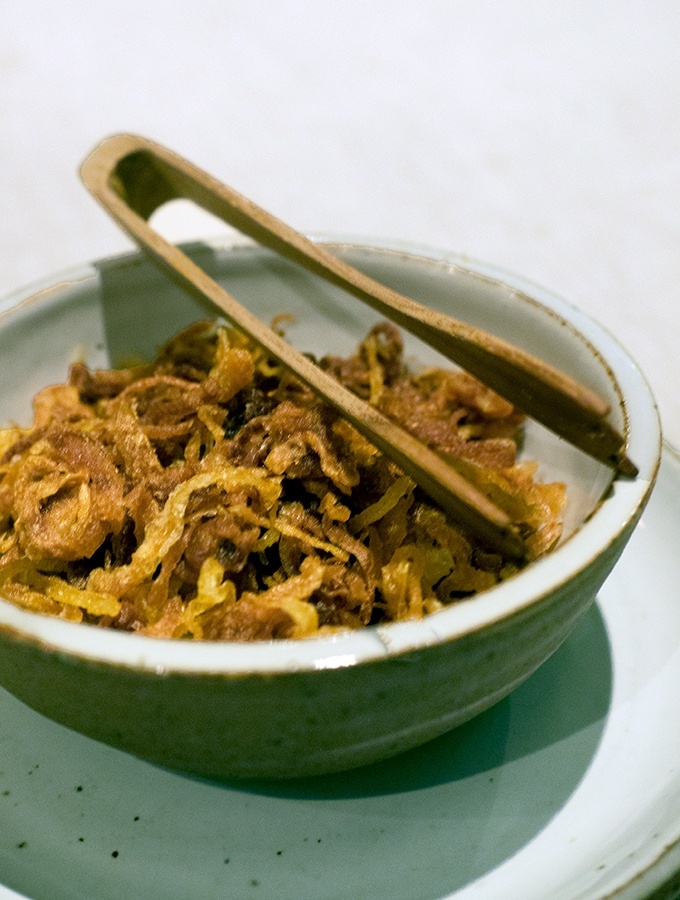 mittiges - spatzel with crispy onion
This is served with one of my favourite German comfort foods Spatzel. Spatzle are soft egg noodles, these have been hand cut and are served with crispy onion.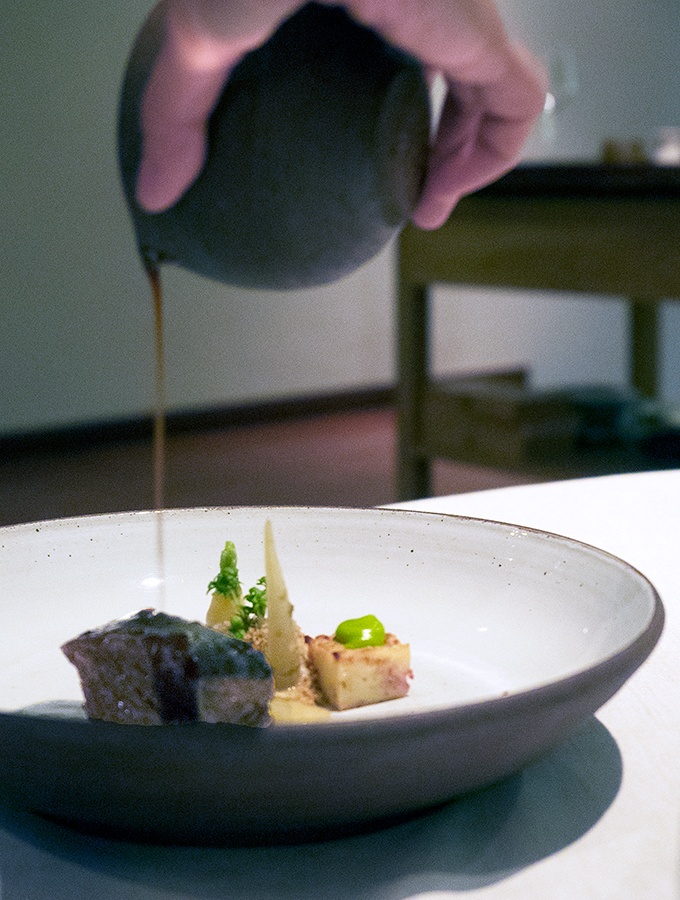 Hauptang - Sauerbraten
"Hauptgang", the main course is Sauerbraten. Sauerbraten is sour roasted wagyu short rib with "Semmelknodel and root vegetables. The beef is marinated in red wine vinegar for four days before being slow cooked for 12 hours. As well as the root vegetables it is also served with red bean cake, pea puree, and topped red wine reduction at the table.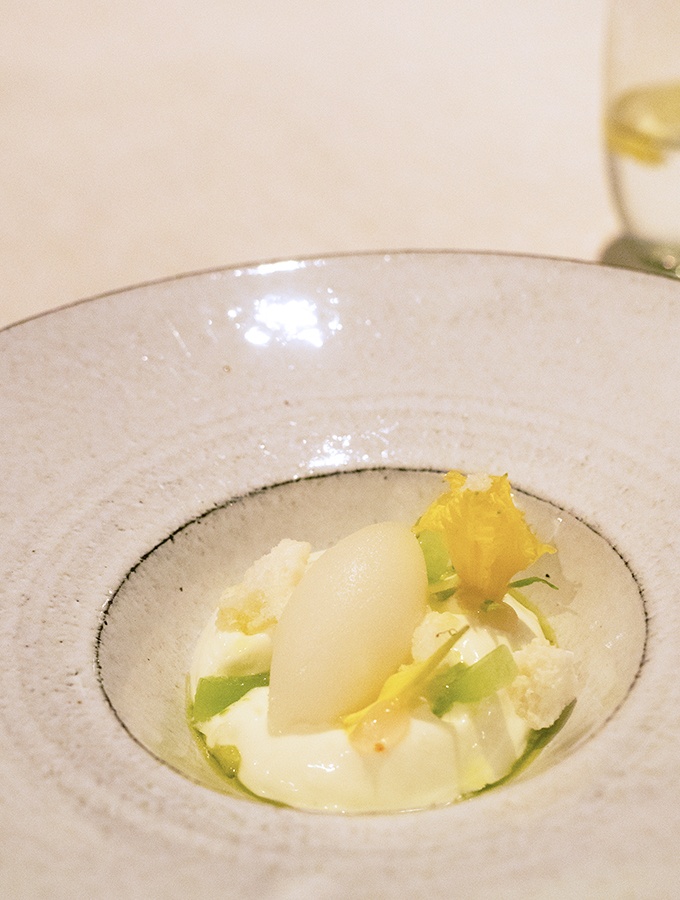 nachspeise - buttermilk gin & tonic
"Nachspeise" is sweets and there are two dessert dishes to end the meal. We start with the light buttermilk gin and tonic. Compressed cucumber with meringue, gin and buttermilk foam. Not being a dessert person I love this dish. I wanted a whole tub of the buttermilk foam, it was incredible. I didn't want this dessert to end.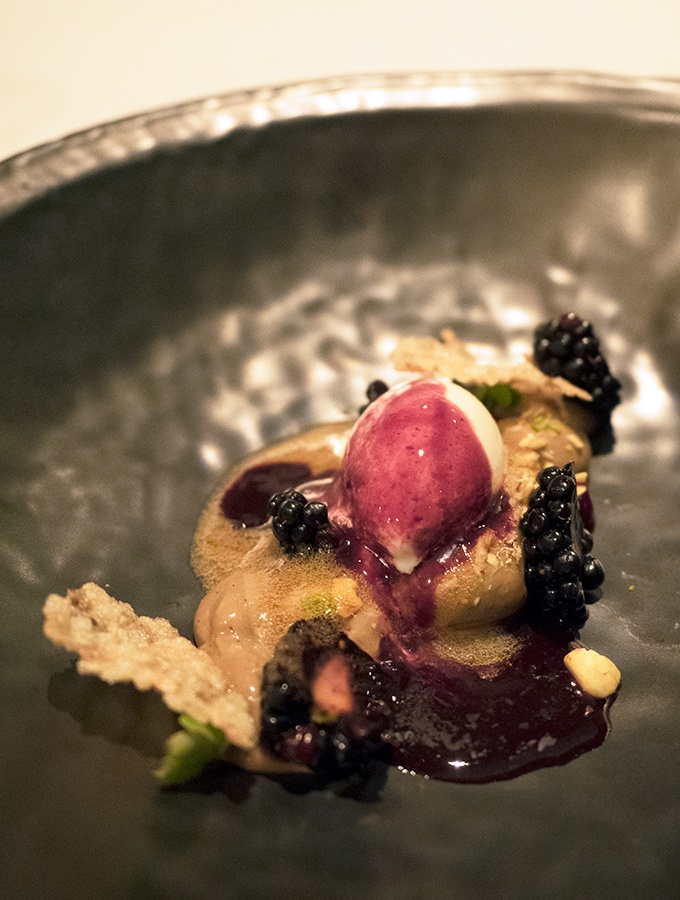 nachspeise - buckwheat, dark beer & blackberry
The second dessert and final course of the degustation is buckwheat dark beer and blackberry. Blackberry pudding with a puffed fried bread wafer, blackberries and beer sauce. We are instructed to mix it all together before eating. A heartier dessert than the previous one, and lovely in its German heartiness.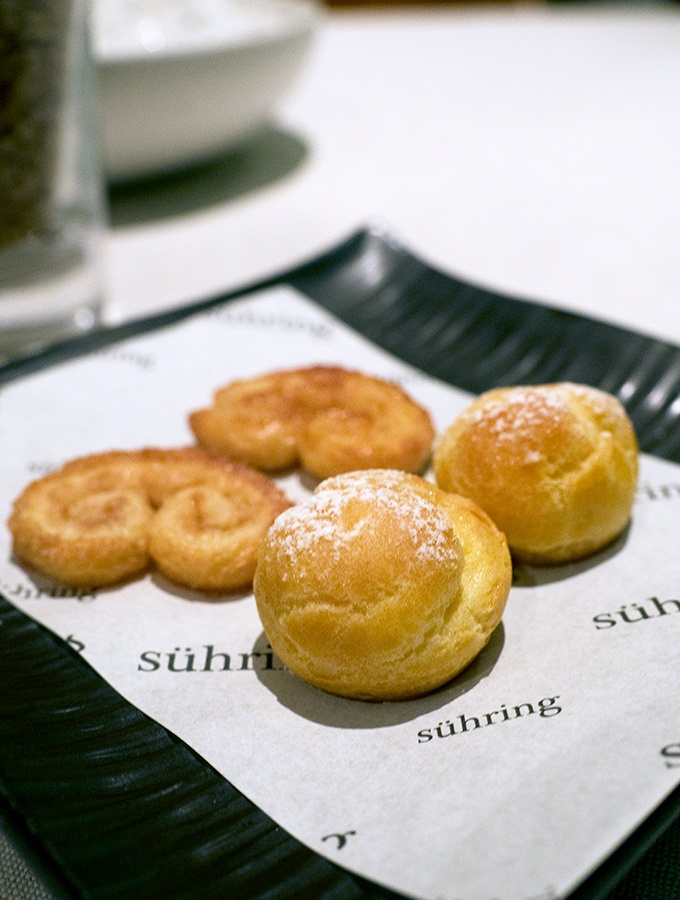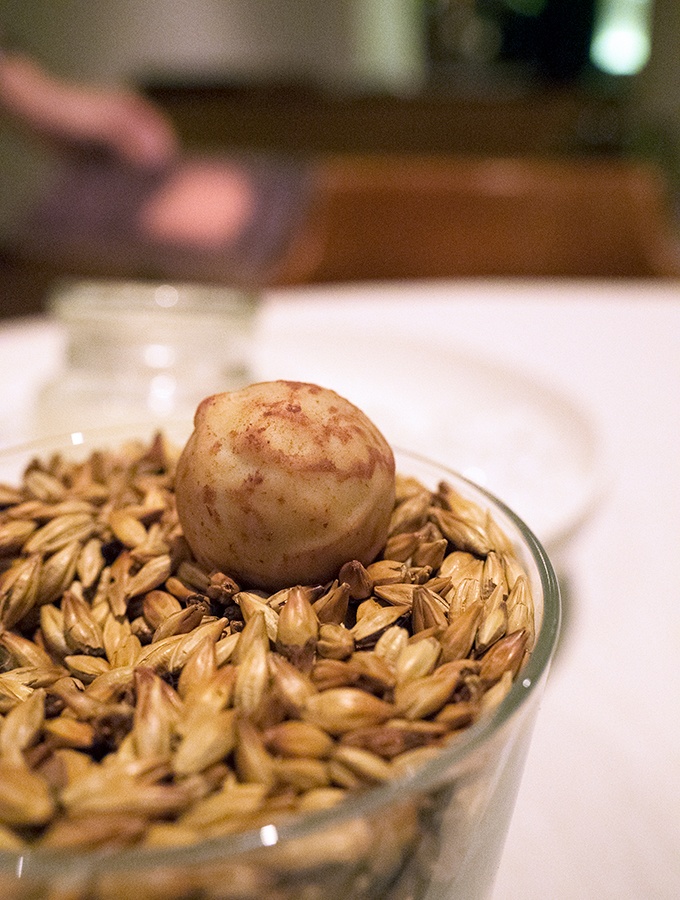 With coffee we ar presented a couple of sweets and housemade chocolate.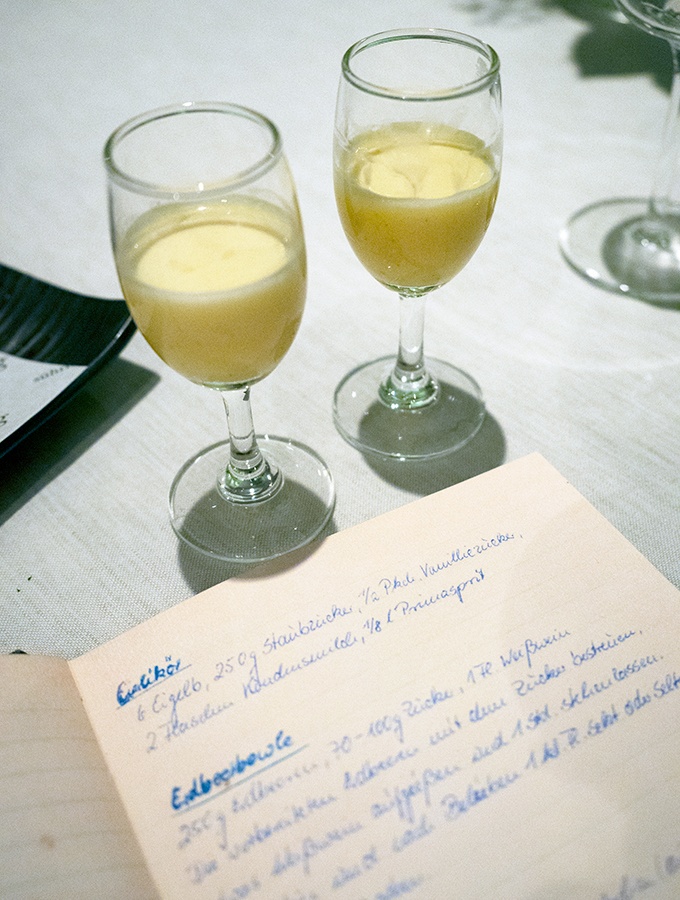 grandma's eggnog
To finish we are presented with Grandma's eggnog. A light creamy custard with vodka. The recipe is a family one, from Thomas and Mathias' grandmother. It is served with their Grandma's recipe book which also holds our bill for the evening. All I can say is that Grandma was one busy woman and there are a stack of these at the watier's station.
Our experience at Suhring was unfaultable. The staff are informative, super friendly without being intrusive and attentive. The dishes give German food new life. The dishes are lighter and fun, putting the stodgy heavy tag that normally accompanies German food out the door.
You may not think of heading to a German restaurant when you visit Bangkok. All I can say is you seriously need to consider it.
Sara xxx
Become a subscriber and don't miss a single delicious recipe, restaurant review or travel adventure.
More Bangkok Adventures
The House on Sathorn, Bangkok
Salathip Thai Restaurant, Bangkok
Deluxe Suite Peninsula Hotel, Bangkok
Shangri-La Hotel, Bangkok