The Dining Room at The House on Sathorn is listed in Asia's 50 Best Restaurants 2017. A fun dining concept in a beautifully renovated mansion in the heart of Bangkok.
Everybody I spoke to about my trip to Bangkok before leaving said "make sure you eat lots of Thai Street food while you're there". I just nodded my head and smiled in agreement.
Street food was not on my agenda at all for this trip. Don't get me wrong, street food in Thailand is really good. But with only a couple of nights I could call my own, I had bigger and better plans.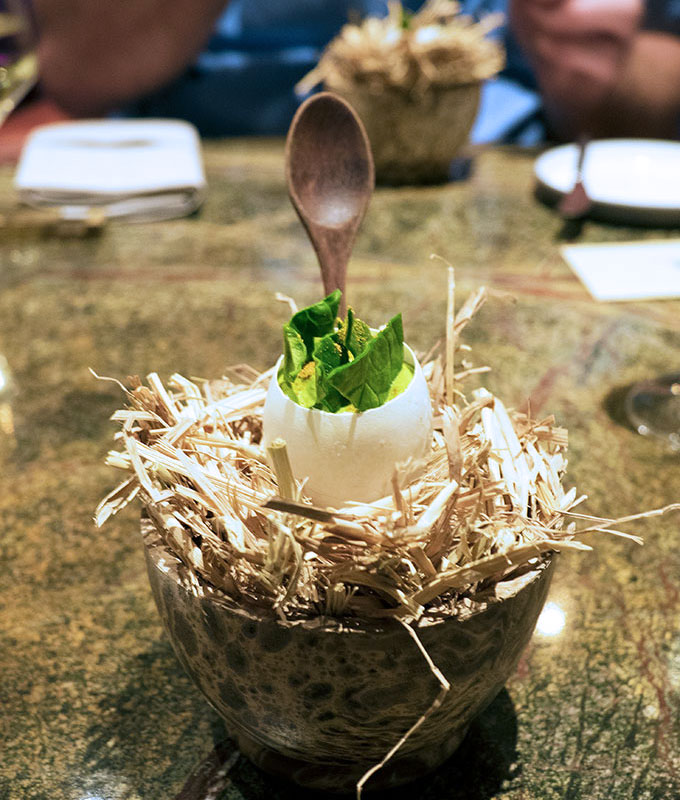 There are nine Bangkok restaurants on Asia's 50 Best Restaurants list. We were in Bangkok for four nights and I had made reservations at two of them. Obviously one was The Dining Room at The House on Sathorn, the other was Suhring.
The standard of high end dining in Bangkok is brilliant. And I believe often overlooked by tourists who head for the cheap street food.
The first Michelin Guide to Bangkok was launched recently (11/12/17). A total of 98 restaurants in Bangkok are listed. Not only are high end establishments that achieved two Michelin stars listed, but 28 of the capital city's traditional street food stalls made the list.
Whilst The Dining Room at The House on Sathorn did make the Michelin Guide, unfortunately they missed out on a star.
Chef Fatih Tutak – The Dining Room at The House on Sathorn
The chef behind The Dining Room at The House of Sathorn is Chef Fatih Tutak. Fatih is a Turkish born chef with a creative flair and sense of humour.
Fatih was raised in Istanbul and had an interest for cooking at an early age. He inspiration was his mother, which is acknowledge on his menu with the dish "From My Mum…".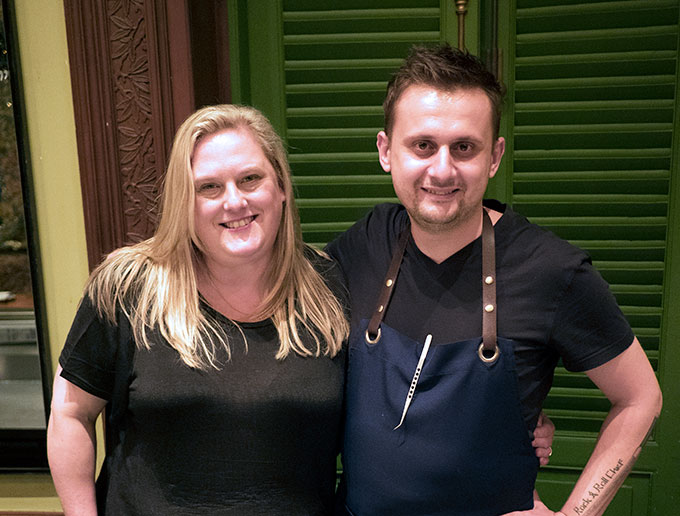 He has a resume that would make most chefs envious. Starting his career at top establishments in Istanbul before moving abroad. He has worked in Copenhagen at NOMA with Chef Rene Redzepi. In Tokyo with Chef Seiji Yamamoto at Nihonryori Ryugin (3 Michelin Stars). Then it was on to Singapore running the kitchens at Marina Bay Sands.
The Dining Room at The House on Sathorn's menu showcases Fatih's global experiences, whilst paying homage to his heritage. A modern menu with Turkish influence.
The House on Sathorn
More a mansion than a house, and a stunning one at that. The building was built almost 130 years ago as a home for a Thai aristocrat and his family.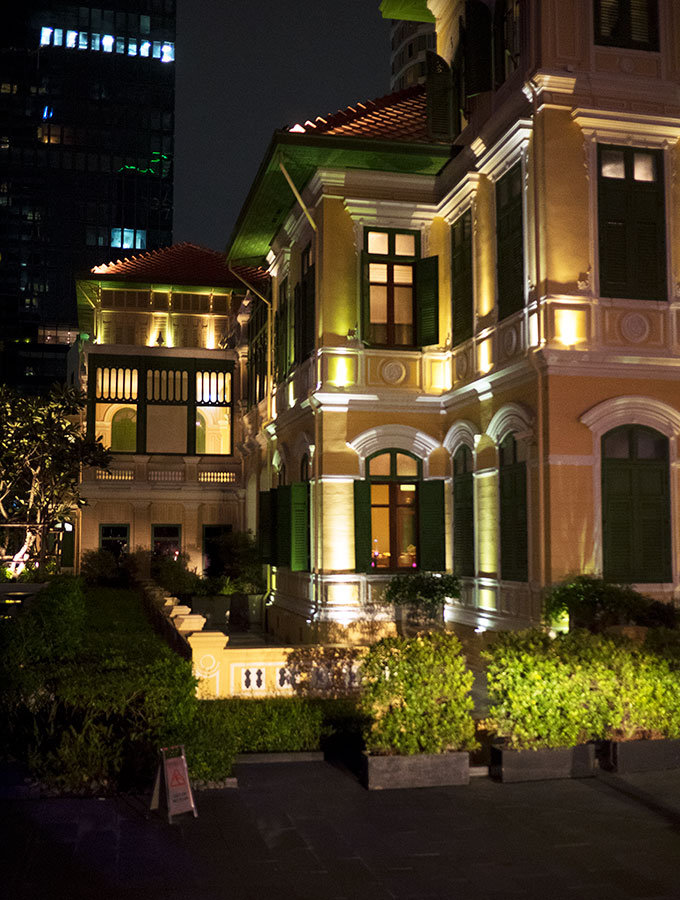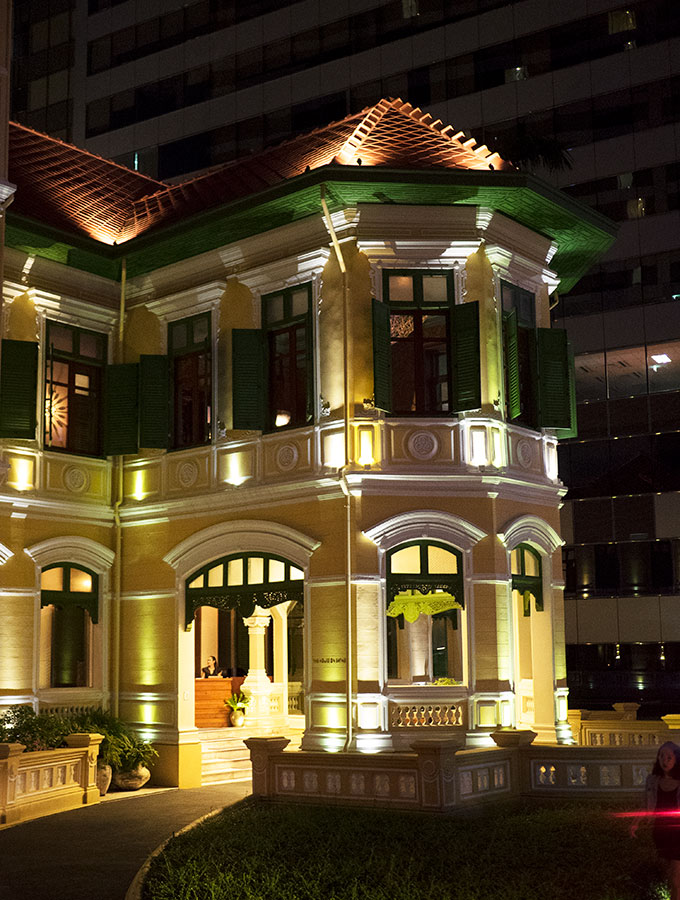 It has been fully restored and now is part of the grounds of the W Hotel. A stunning building on the inside and out. It is a richly decorated interior with dark wooden flooring, generous chesterfield leather lounges, silk cushions, granite table tops and richly coloured carpets. It is a truly gorgeous space to dine.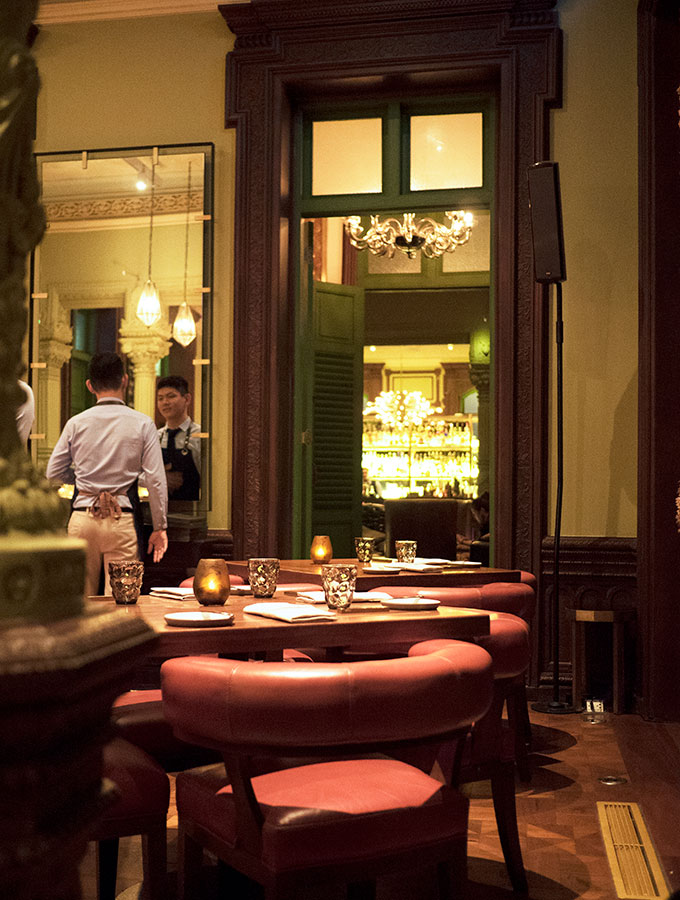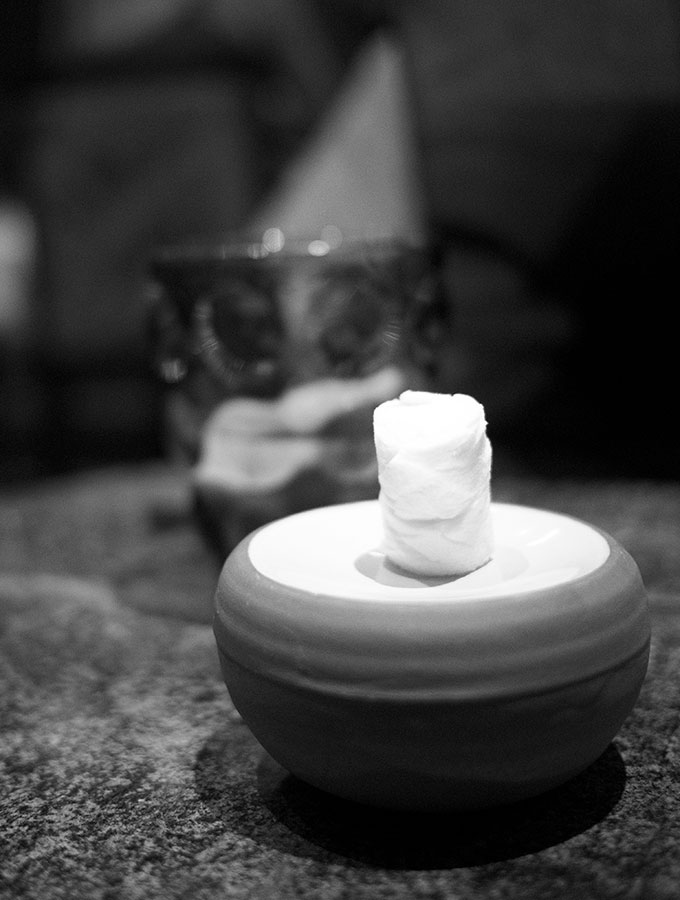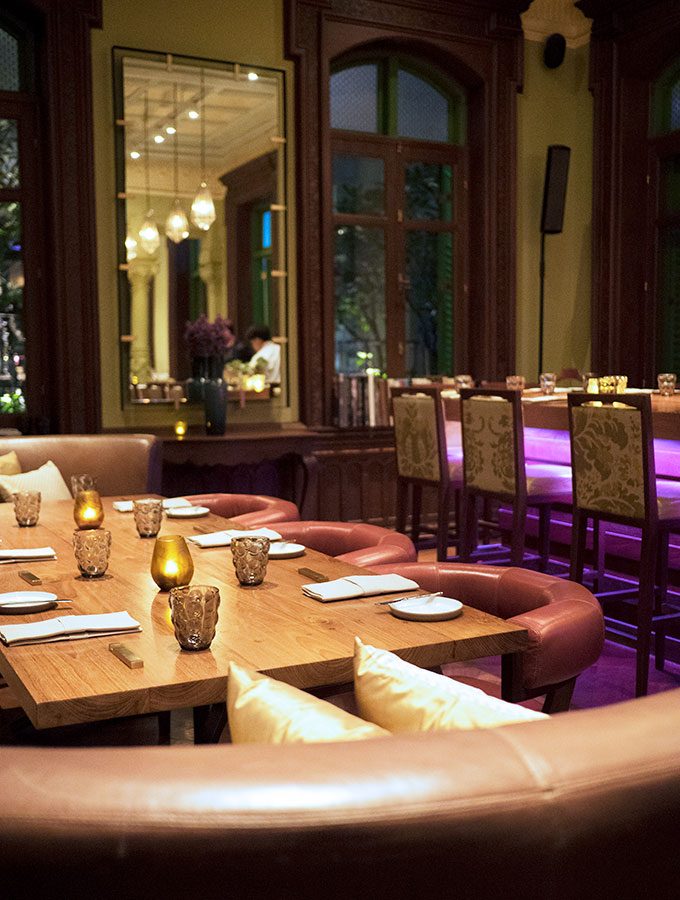 The Menu – The Dining Room at The House on Sathorn
Dining here is all about Chef's tasting menus. A choice of three, Signature Journey (THB 3,800/person), Voyage (THB 2,800/person) and the vegetarian option Trip (THB 2,200/person).
We decide on Chef Fatih's Signature Journey menu, which starts with an assortment of mezze dishes.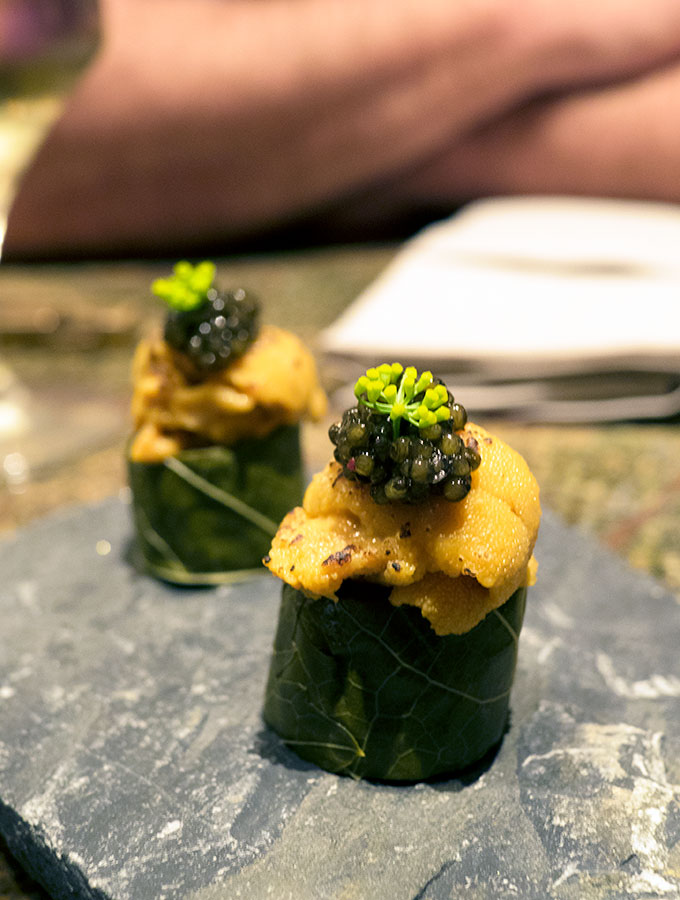 yaprak sarma/hokkaido sea urchin/oscietra caviar
Grapevine leaves stuffed with rice, topped with sea urchin from Hokkaido in Japan. This is then finished off with some of the finest farmed caviar you can get, Oscietra.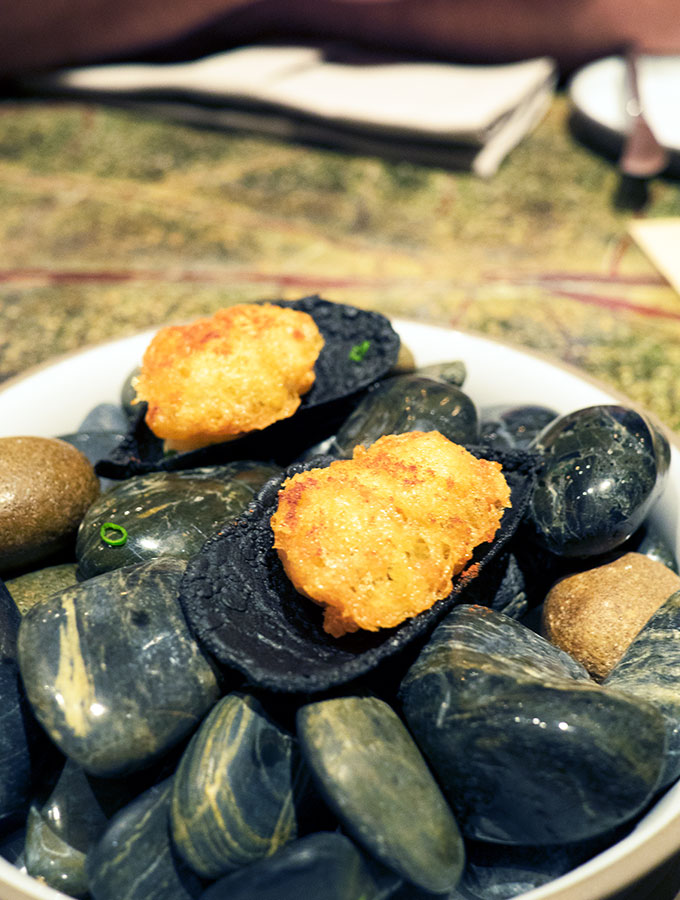 bosphorus black mussel/tarator/shell
Bosphorus black mussel is one of many dishes to pay homage to Fatih's birthplace, Istanbul. The Bosphorus is a body of water that Istanbul sits on. There is a trick of the eye with this dish, at first you don't realise that the mussel "shells" are edible as they sit upon the rocks, but they are.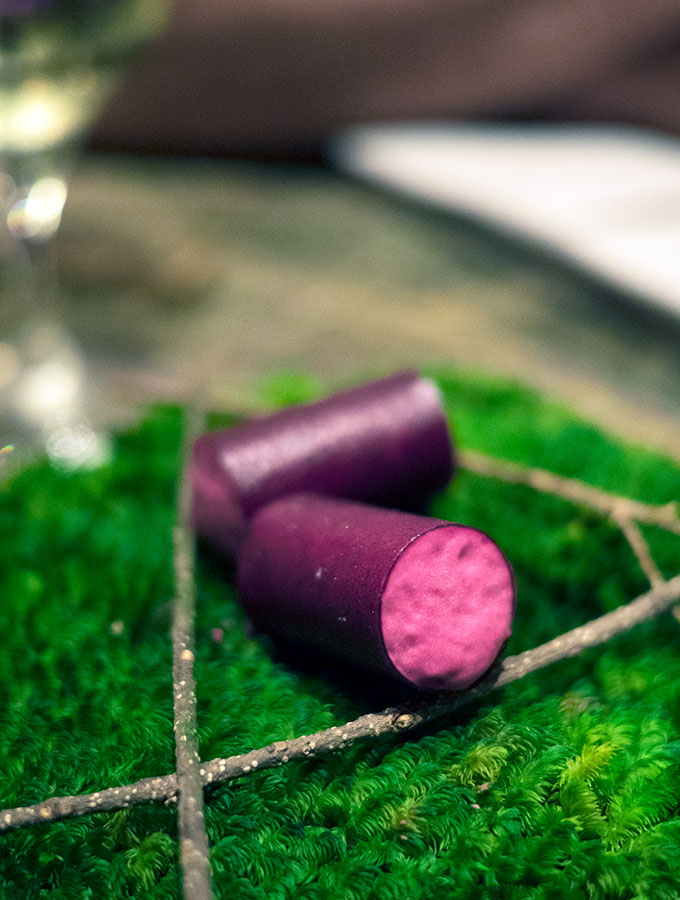 beetroot / yoghurt / garlic / rosehip
If I thought the edible mussel shells were fun, then the thin beetroot glass like tube with the creamy yoghurt beetroot filling is just, well... it's just plain cool. You do need to eat it quickly or the tube will lose it's shattering crisp texture.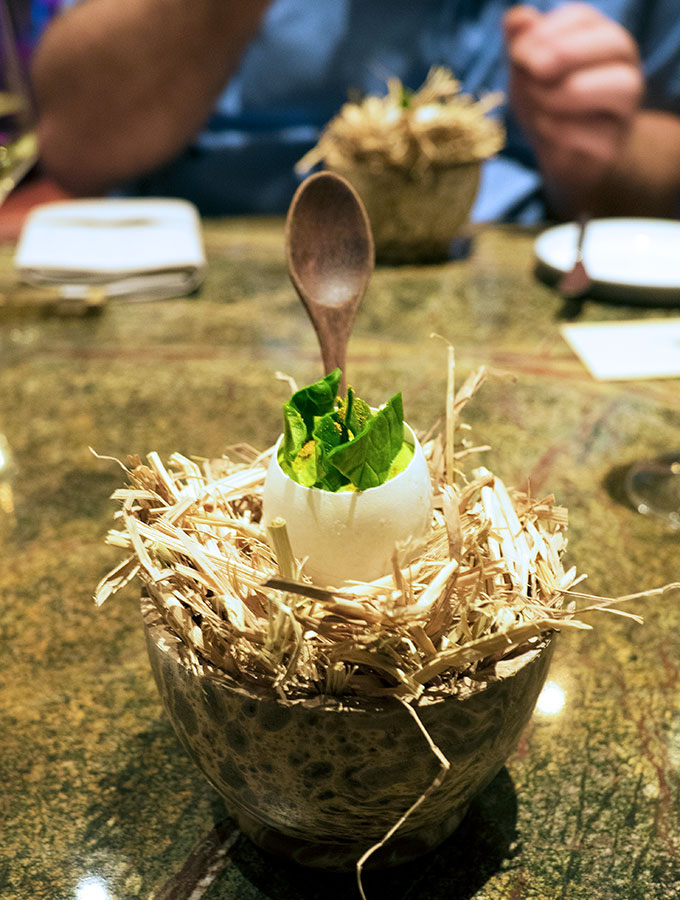 shakshuka free range egg / spinach / sujuk
A play on a popular breakfast egg dish, shakshuka. In this case a single egg shell is presented on a next of hay. Inside is egg, sujuk sausage topped with raw spinach leaves.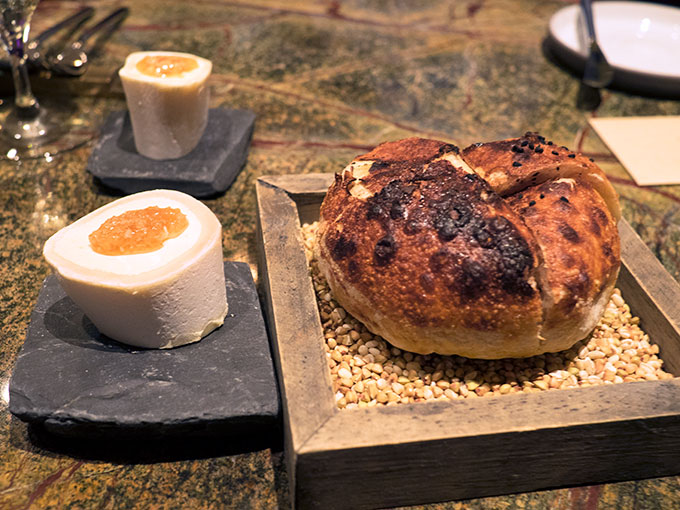 house fermented turkish pide / cultured butter / honeycomb
The housemade fermented Turkish pide smells amazing. The fermentation gives the pide sourdough qualities. Served warm with cultured butter presented in bone topped with honeycomb. We are offered more pide after devouring the first serving. As much as we would have loved to have said yes, the feast had just begun.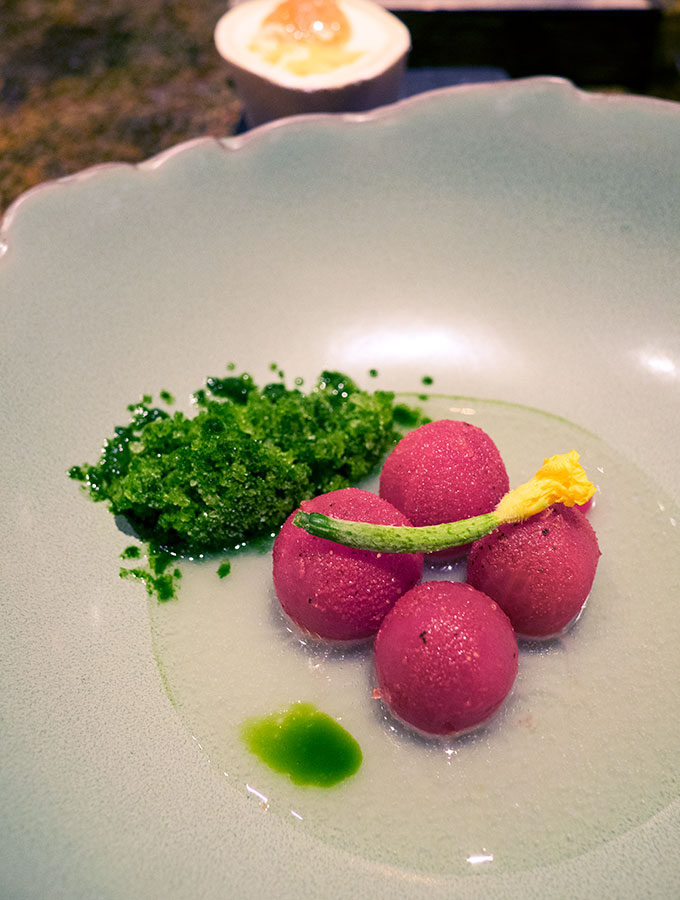 Umami of Anatolia
Anatolia is another regional reference to where Fatih grew up. As far as the umami goes, this dish is delightfully so. The Kyoto tomatoes are injected with aged pomegranate and are served with parsley granita and a feta dashi consume.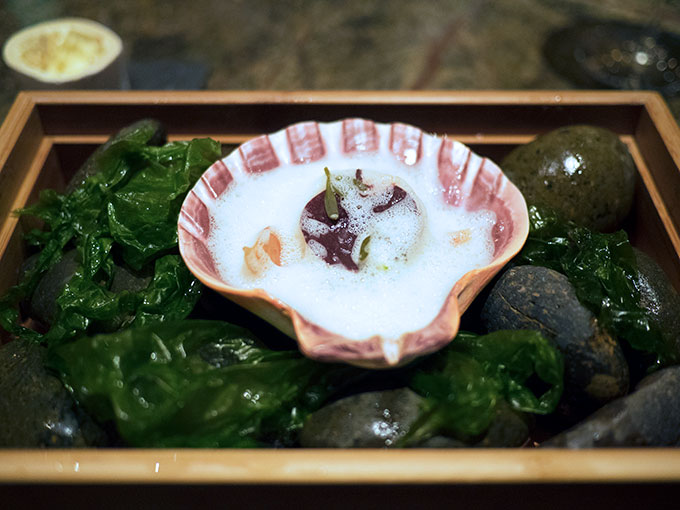 Vikings Discovered Istanbul
Nordic scallops are cooked only slightly to retain their flavour and texture. A disc of olive leather is placed on top and then covered with a burnt lemon foam. You will find some sea fennel in there too.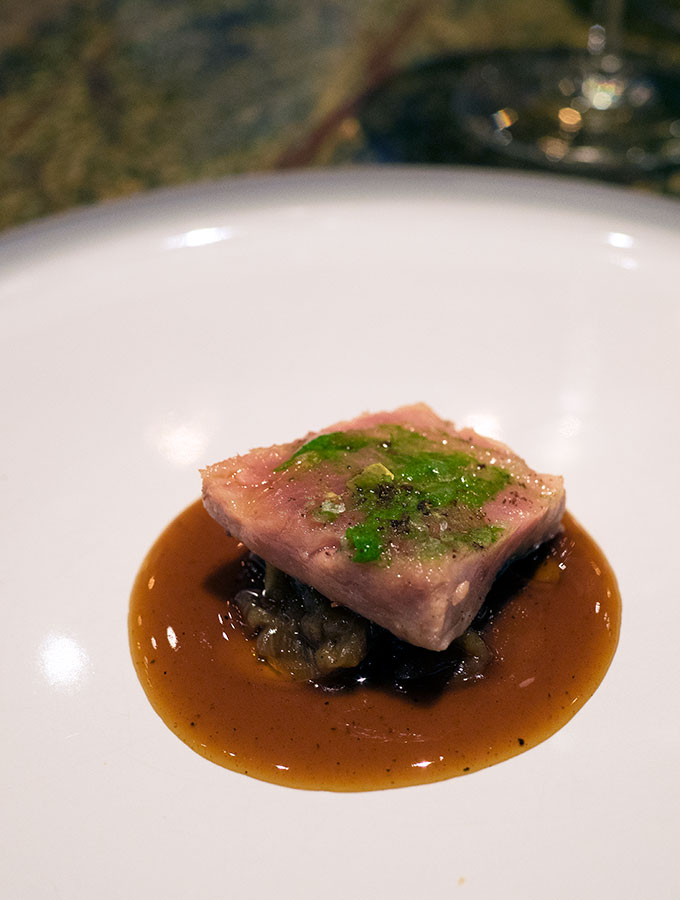 Constantinople 1453
Why 1453? It's all in the sauce. The smoked and seared tuna belly from Japan's Tsukiji Markets sits on top of an old Roman style fish sauce and caramelised onions. Topped with refreshing scallion salsa.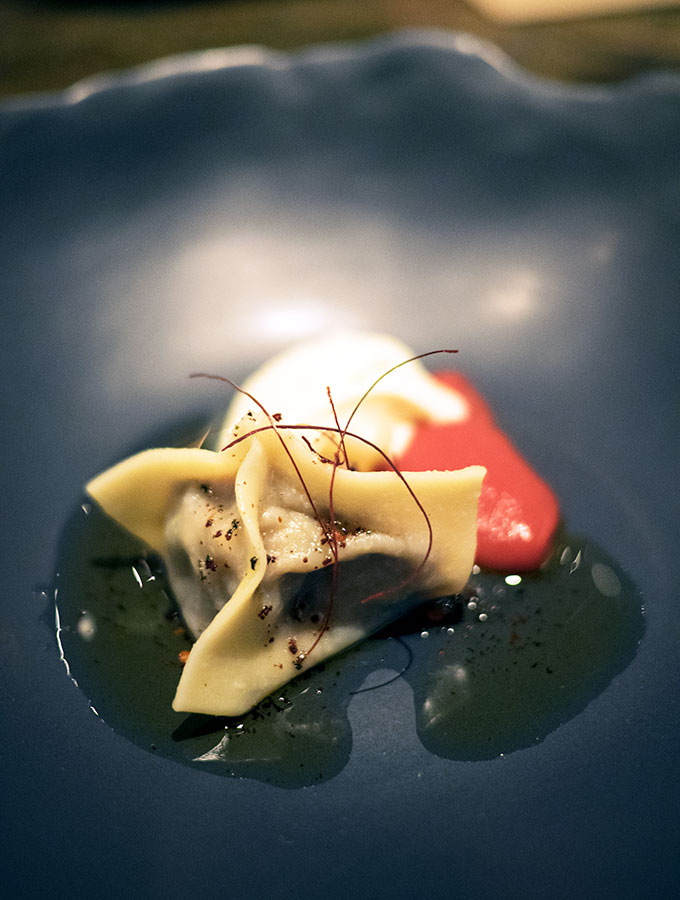 From My Mum...
The focus of this dish is a Turkish style eggplant dumpling, manti. The manti rests in a pool of mint butter with a dollop of kaymak on the side. Kaymak is similar to clotted cream in texture. We are directed to mix the sauces together before eating.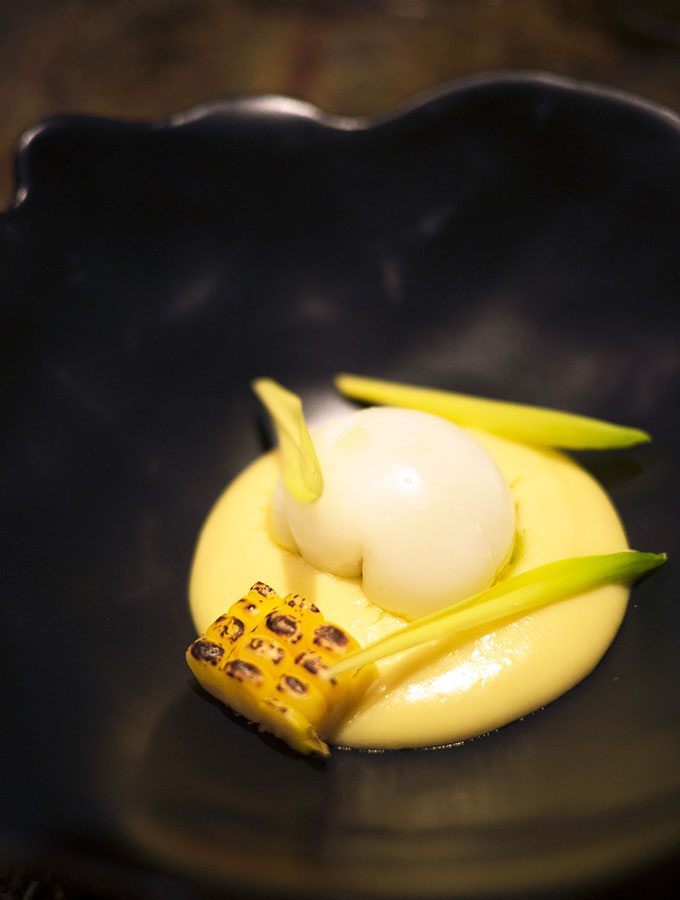 The Black Sea
A Turkish cheese ball, Kashkaval cheese, filled with kale nestles on top of a silky smooth cornmeal. To accentuate the corn presence a piece of charred corn is added.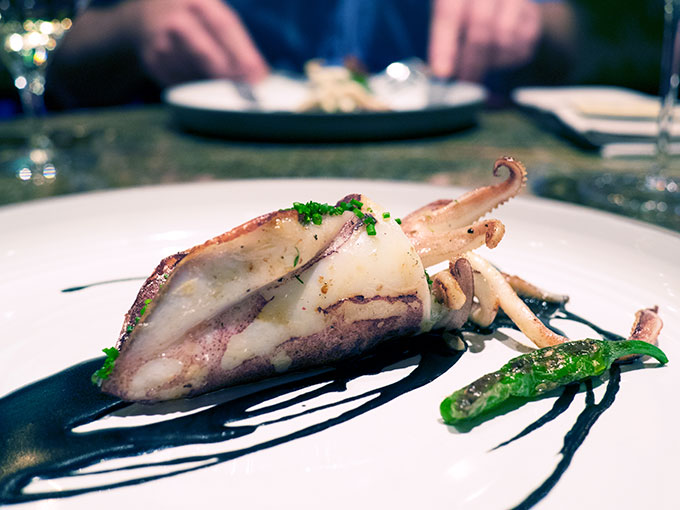 Calamar Dolma
A new dish on the menu when we dined. Squid stuffed with porcini mushrooms and peas sitting on a splash of squid ink sauce. To this point all the dishes were excellent, but the squid did let us down. I found the squid on the chewy side and ended up leaving half.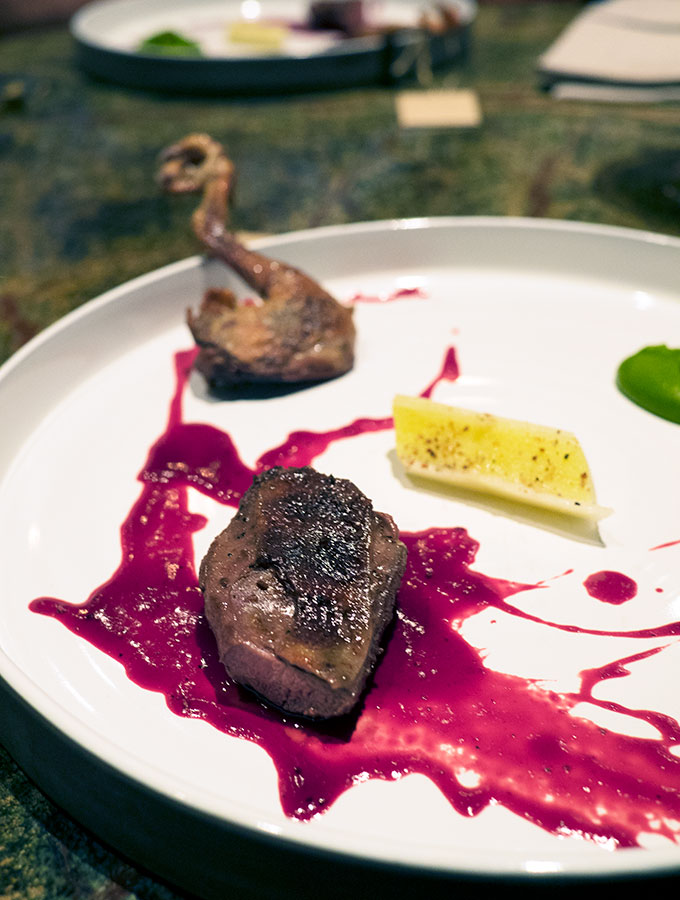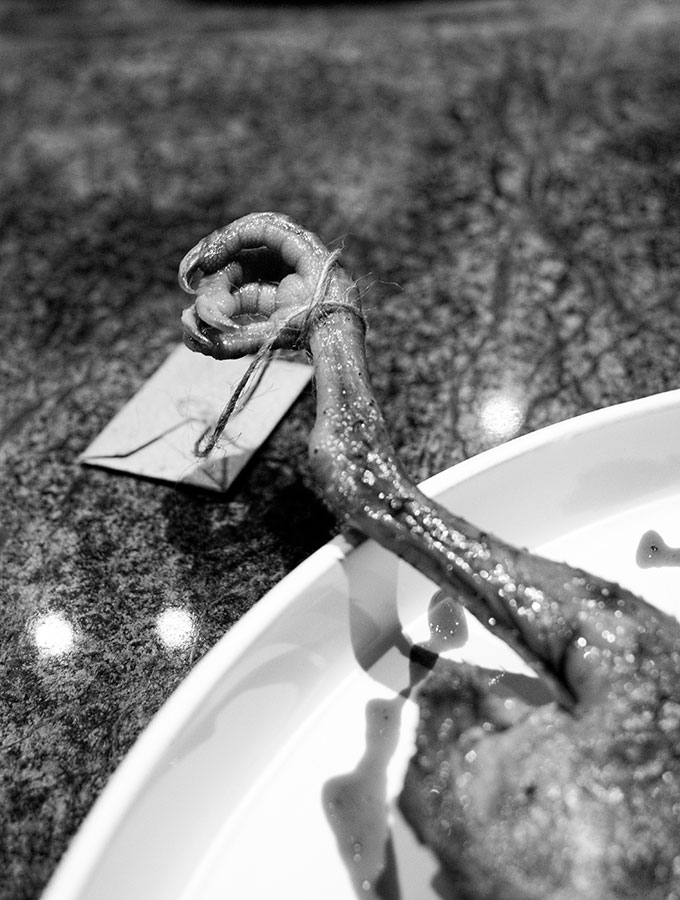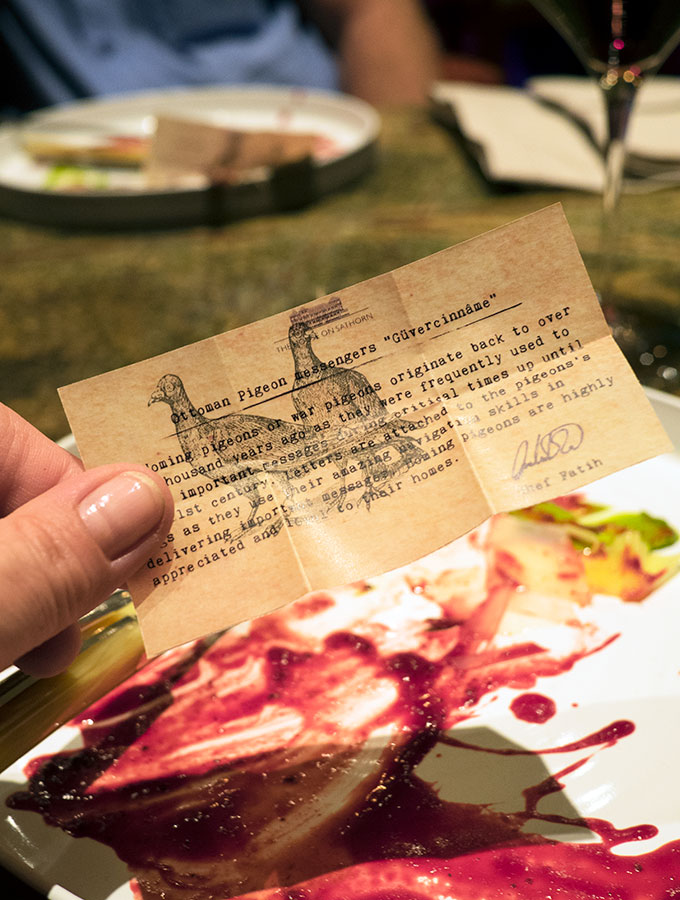 Sultan's Message
This is the showpiece of the tasting menu. I mentioned fun before, this is fun and theatrics. You have heard the saying "don't shoot the messenger", while this pigeon may not have been shot, it is cooked to perfection and plated quite theatrically. How often does your fowl carry a message from the chef? A small envelope is tied above the claw of the pigeon and inside the message. The pigeon is served on a summer cherry sauce with an antep (Turkish) pistachio puree and leek.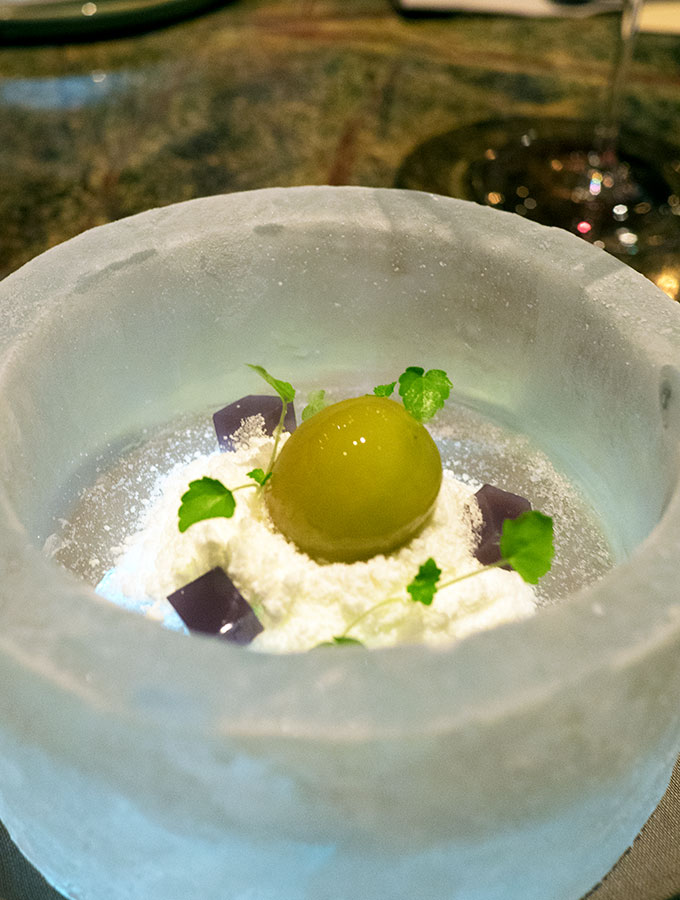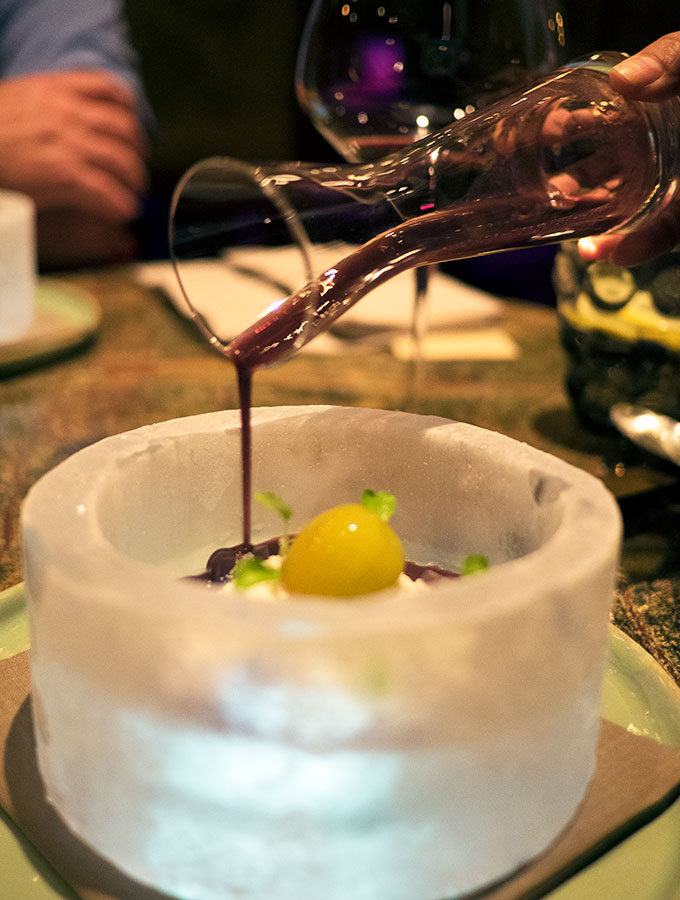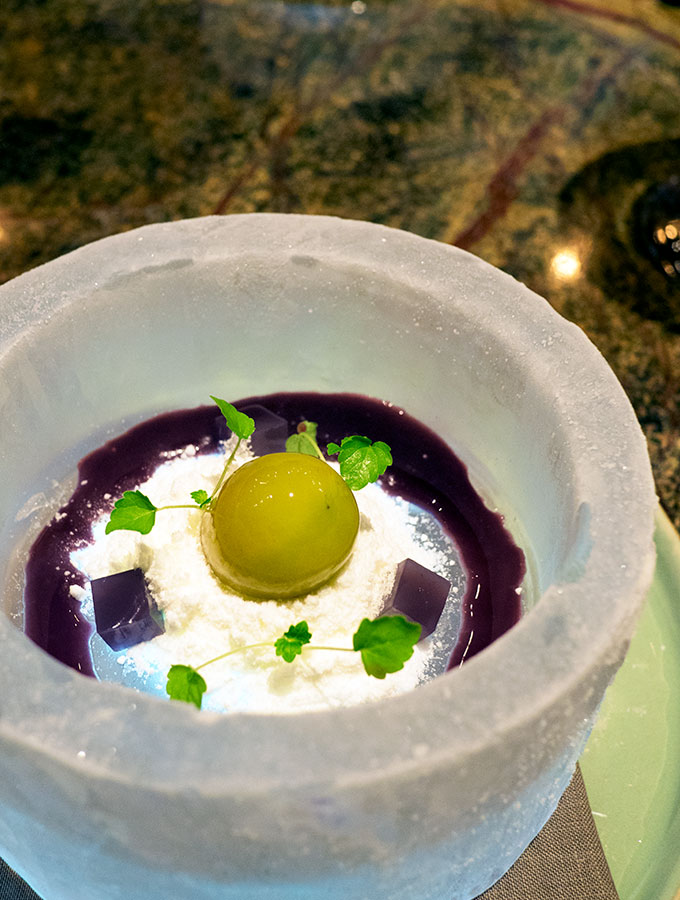 Hallucination of Winter
Not being a dessert person, it surprises me that a dessert is my favourite dish of the meal. There were other highlights of course, but everything about this dish made me smile. Starting with the stunning ice bowl it is served in. A custom made bowl of ice that has room for a light underneath to illuminate both it and the dessert.
The centrepiece, a large peeled Nagano grape covered in grape gel infused with grape skin and seeds. This sits on homemade yoghurt snow with pieces of grape and cinnamon jelly. Once at the table the server pours grape and cinnamon juice around the snow.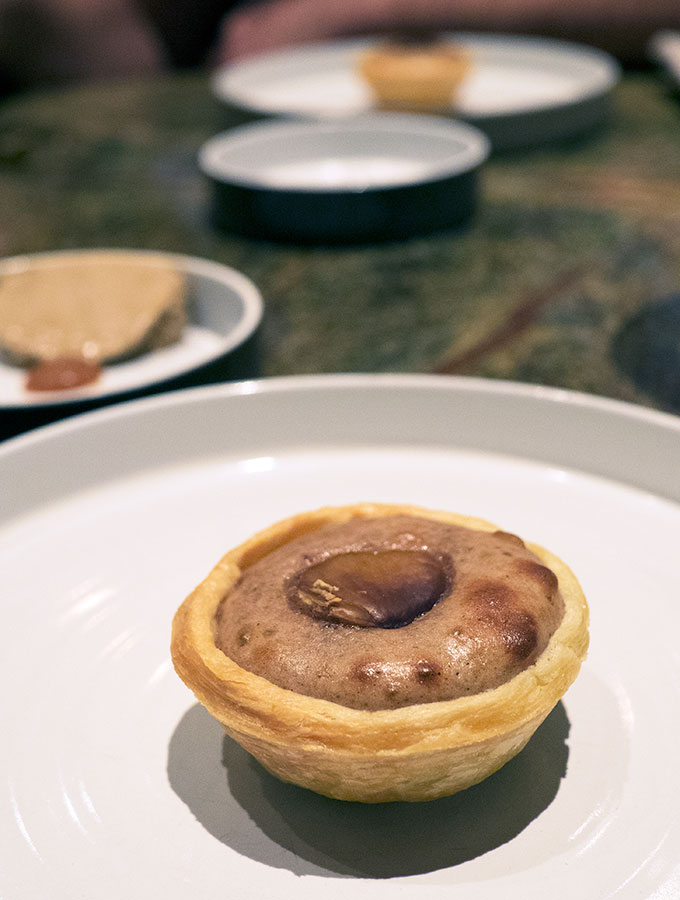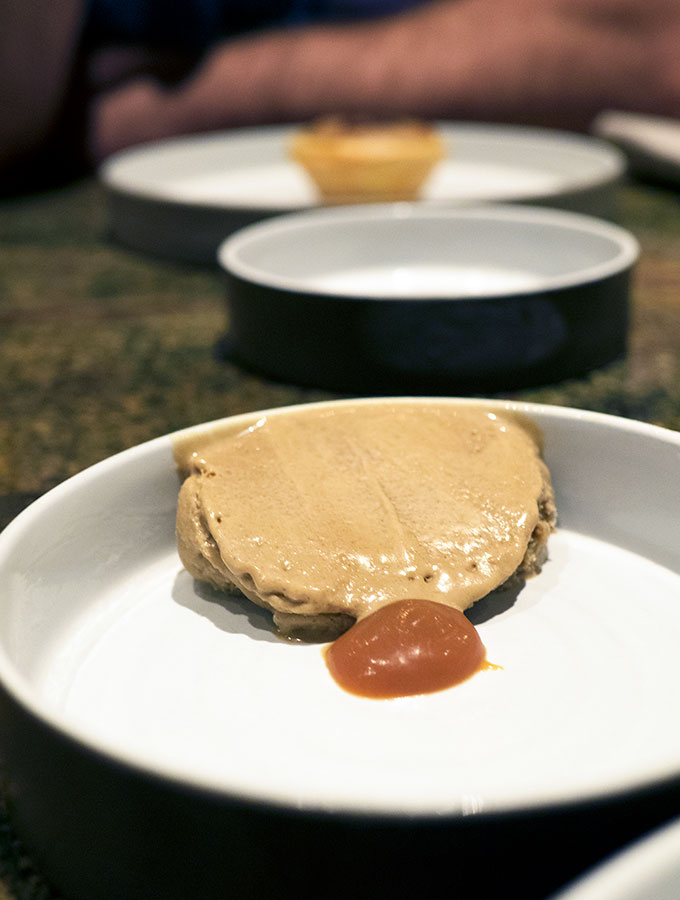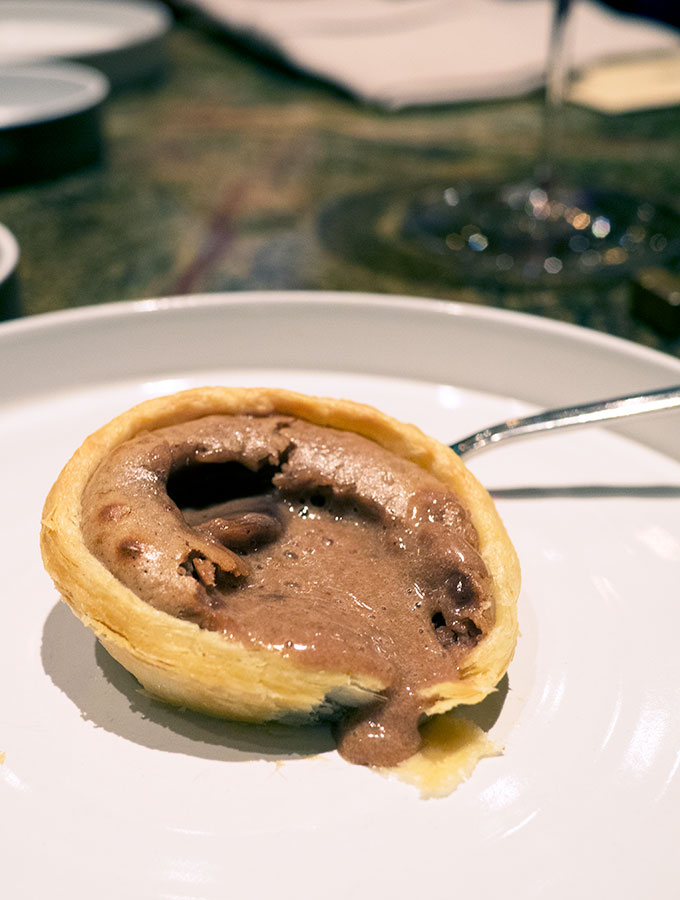 Tarte
A warm and gooey chestnut and white chocolate tart served with Turkish coffee ice cream. As soon as I reached for the accompanying utensils I was "schooled" and advised to eat it with my hands "as chef intended". The coffee ice cream had a glorious coffee kick to end the meal and the tart was homely and comforting.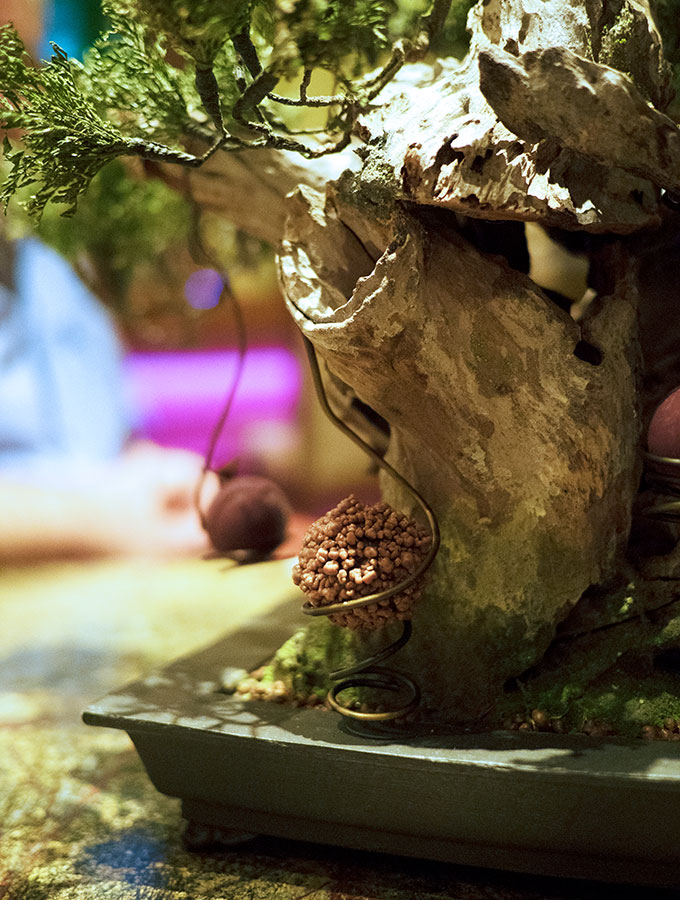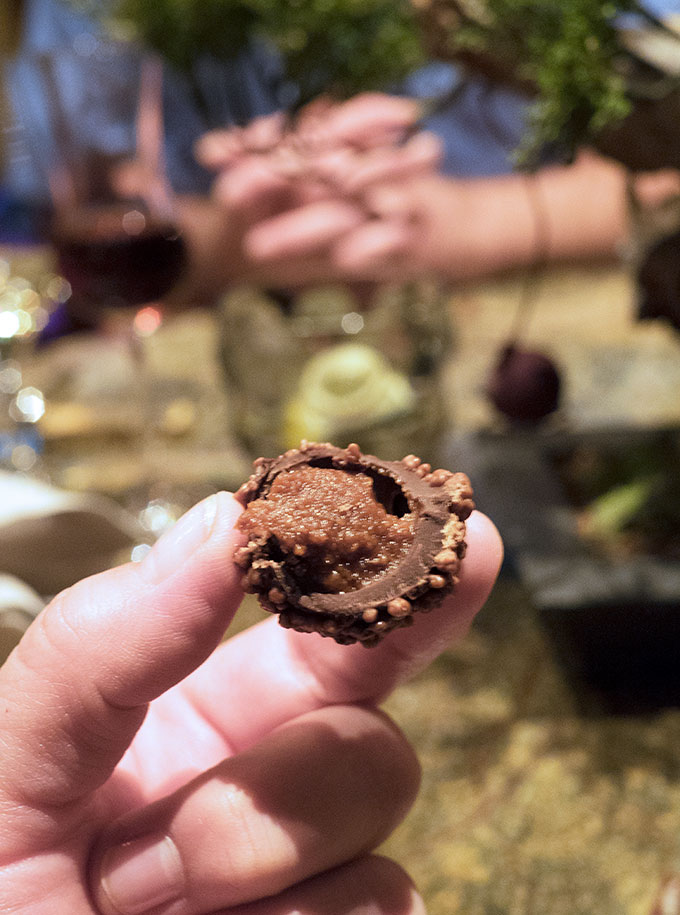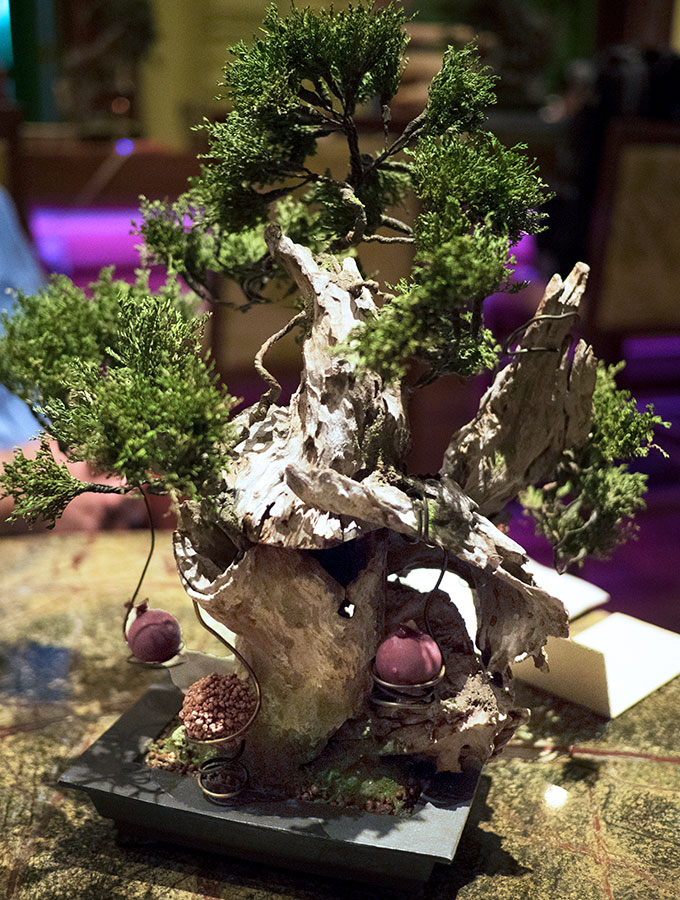 Sweet End
But that's not all folks. The sweet endings keept coming. All night I had been eyeing off bonsai style trees up at the pass/front counter kitchen. Time had come to reveal their use. The trees presented a selection of house made Hennessy and Frangelico truffles.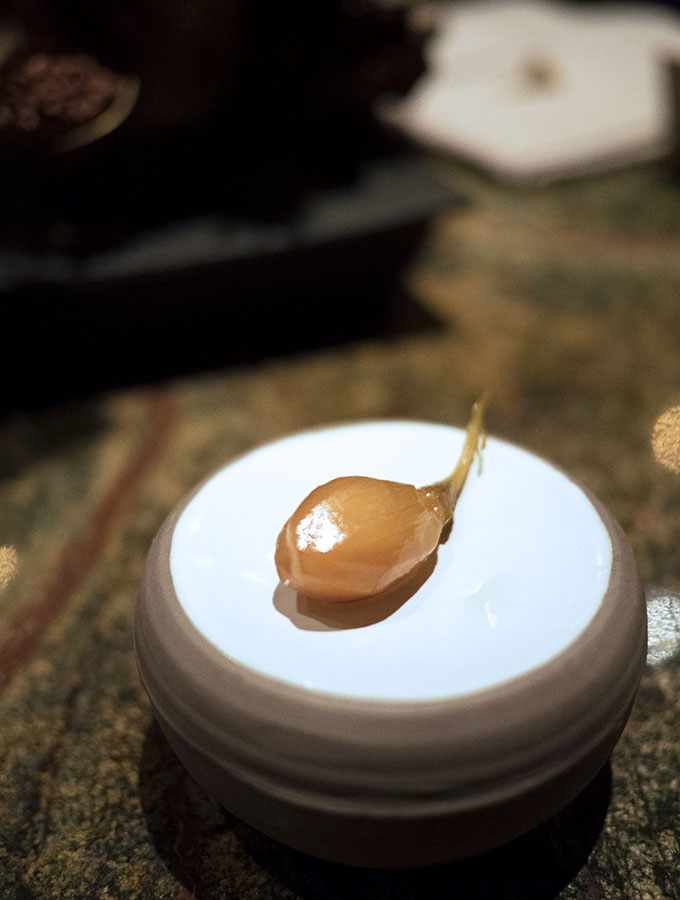 Alongside the bonsai tree of goodies there was also candy eggplant.
I opted for wine pairing (TBH 2,000) and that was my biggest disappointment of the evening. The wines themselves were fine, I would tell you about them if I knew what I was drinking. Normlly the wine is presented and poured. They there is a brief explanation about the wine and why it was chosen for a particular dish. In this case, I was quickly shown the bottle, glass filled and server ran off.
Despite the slight "rush" with serving wine I found the service to be warm and friendly. The dishes did come a little hard and fast to start with. As we weren't getting breathing room between dishes. And I was downing my wine like the local alcoholic to keep up, we asked them to slow it down a little, and they happily did.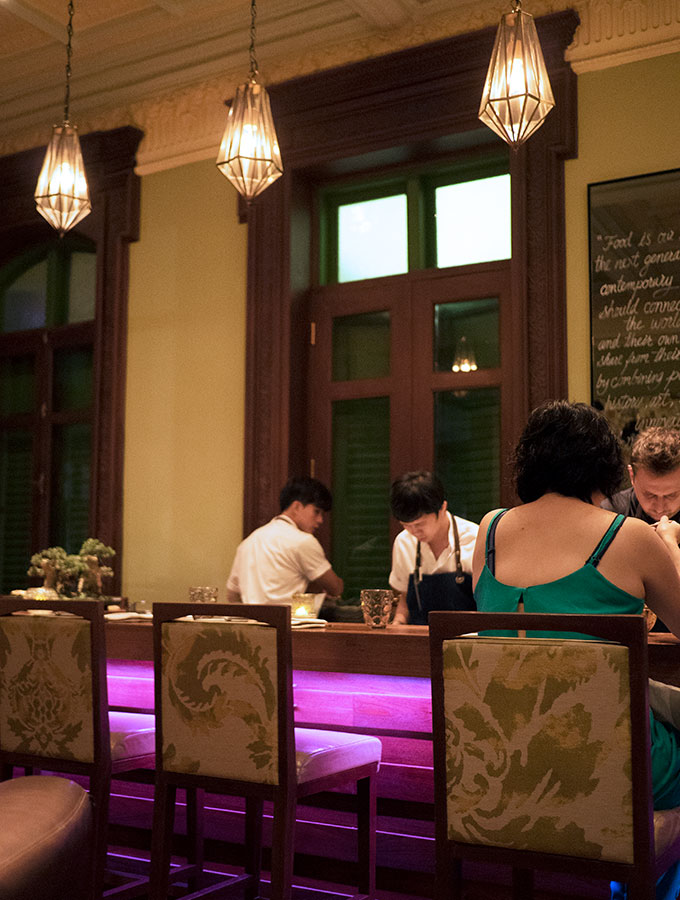 When choosing where to sit, pick the counter. Here you will be able to watch Fatih and his team assemble and put the finishing touches on dishes being served. Plus from what I witnessed he is a chatty guy who enjoys talking about his food. Please note it was a quiet night when we visited. If the restaurant was at capacity I would expect Chef's chatting would be less.
Fatih did come to our table a couple of times during the evening to explain dishes, which was fantastic. You heard the passion in his voice over the produce and inspiration for the dishes. He is a very relaxed chef who obviously is loving what he is doing. And why shouldn't he when he has created a wonderful modern Turkish menu and is serving it up to guests in a gorgeous location.
Do you book if paying a visit to Bangkok? If you have the time, I say it is worth doing so.
Sara xxx
Must try dish: Umami of Anatolia & Hallucination of Winter
Who should dine here: Perfect for the romantic date night, groups up to 10 people
Who shouldn't dine here: Leave the kids at home (children under 12 aren't welcome)
What else you should know: Book a seat at the counter and make sure to drop by the bar for a drink. There are private dining rooms you can book too.
Price: Signature Journey THB 3,800/person, Voyage THB 2,800/person and the vegetarian option Trip THB 2,200/person
BYO: No
Bookings: Yes and essential
Opening hours: 6 - 10.30pm
Contact details: 106 North Sathorn Rd, Silom, Bangrak, Bangkok 10500 Tel + 66 2 344 4025
Become a subscriber and don't miss a single delicious recipe, restaurant review or travel adventure.
More Bangkok Adventures
Salathip Thai Restaurant, Bangkok
Deluxe Suite Peninsula Hotel, Bangkok
Shangri-La Hotel, Bangkok
Suhring German Restaurant, Bangkok