These scallion (shallot/spring onion) pancakes are inspired by my recent trip to Taiwan. I am a bit of a lover of the old shallot pancake and have definitely eaten more than my fair share. Way way more!
Before my trip to Taiwan my knowledge of scallion pancakes began and finished with the Chinese style ones, which are very common in Australia. The dough is rolled in a particular way to create layers and within those layers you will find delicious green scallions, or as we Aussies call them, shallots or green onions. They are rolled flat and round like a pancake and then cooked on a flat hot surface with a little bit of oil.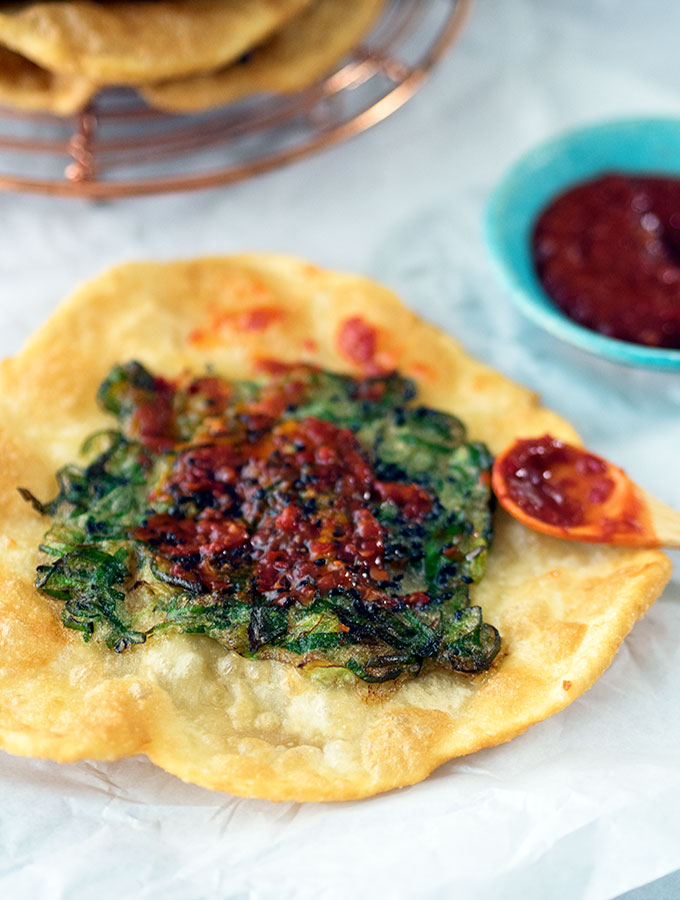 As Taiwanese food has a big Chinese influence it is no surprise that these pancakes are a popular street food. There are stalls at the local night markets churning them out in the look and style that I have come to know and love.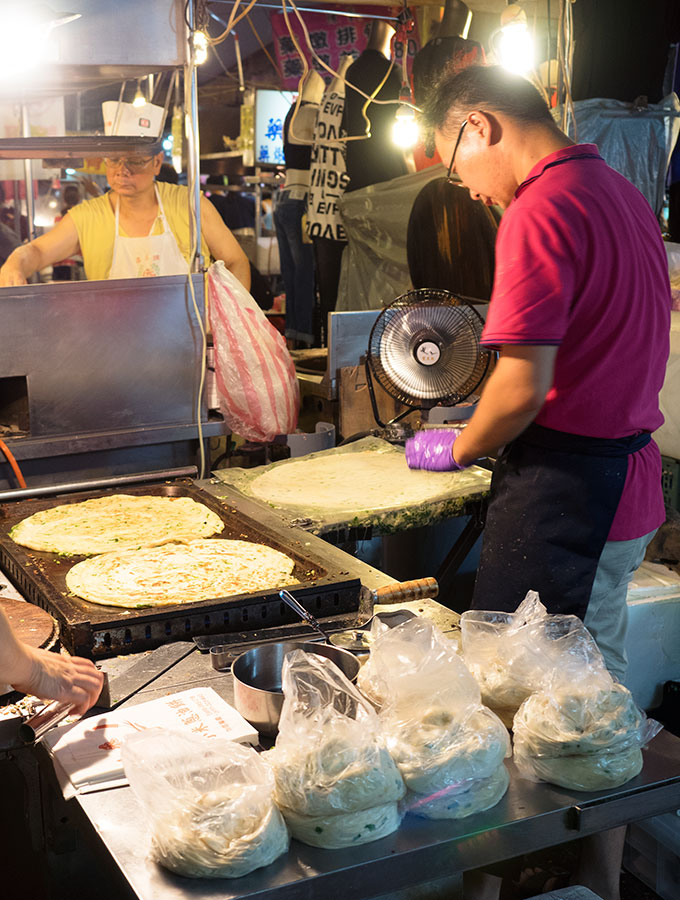 So it was a great surprise when we stopped to grab some scallion pancakes from a street vendor and I saw them being deep fried. Our guide Walter had recommended this particular stall and thank the scallion pancake gods he did.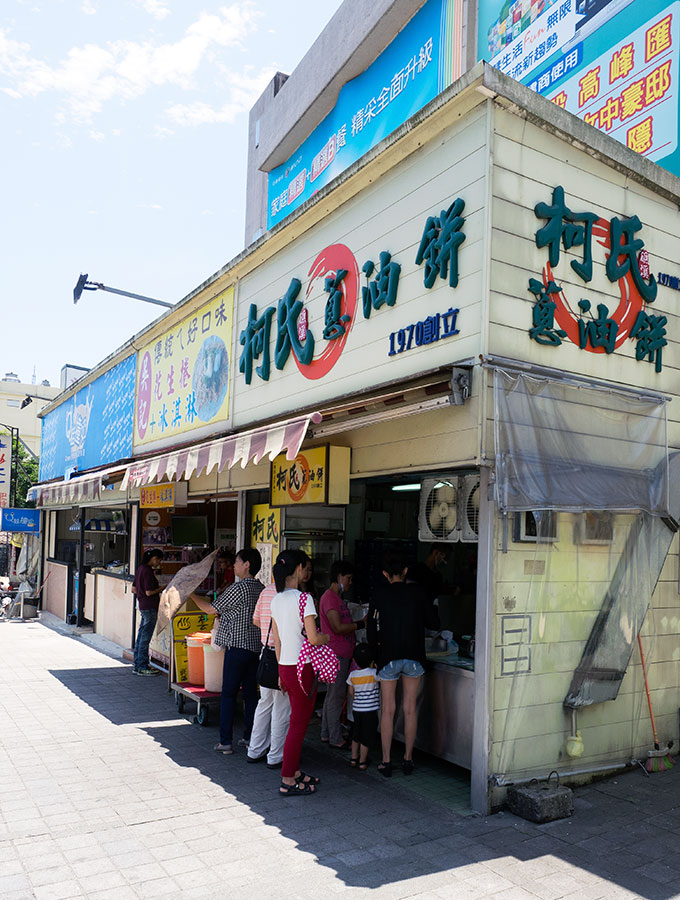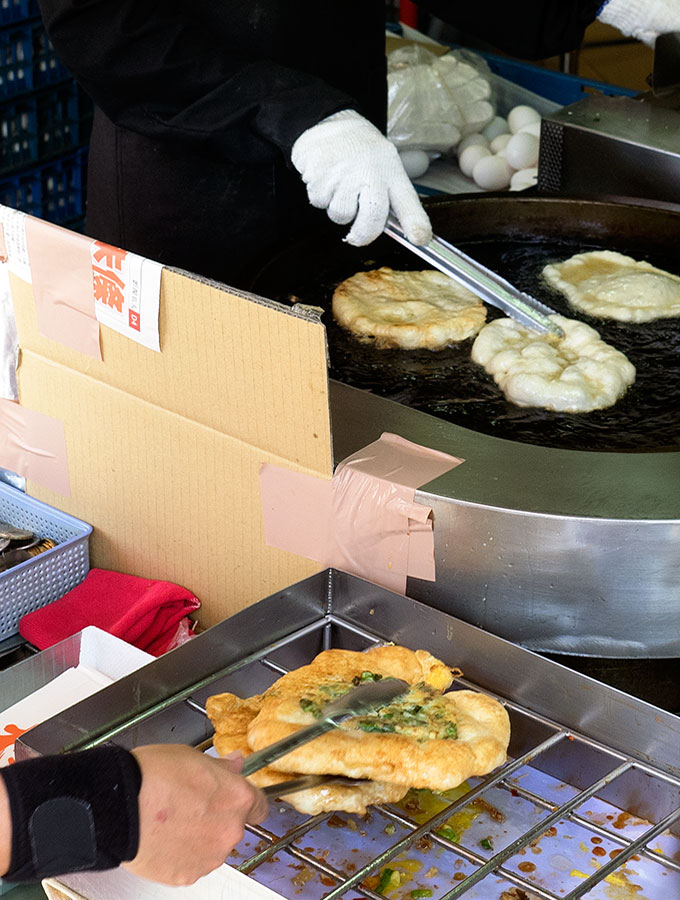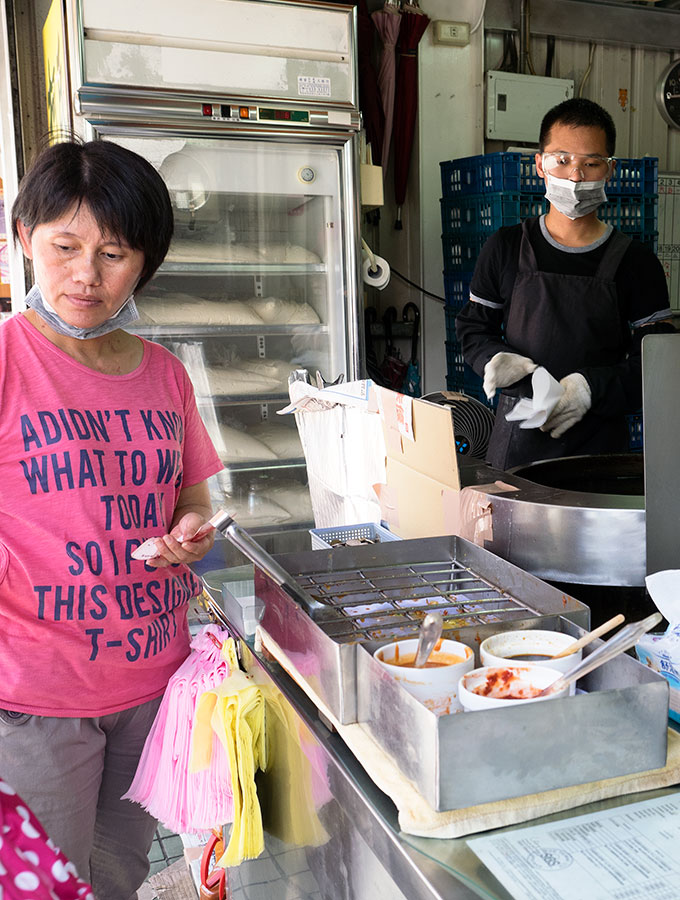 These scallion pancakes were a very tasty alternative to what I had enjoyed in the past. The scallions/shallots/green onions weren't rolled through the pancake, but instead placed on top. You could have the pancake with or without egg. The whole thing is then deep fried. Once cooked you are invited to smear your pancake with your choice of sweet chilli sauce, chilli sauce or soy sauce.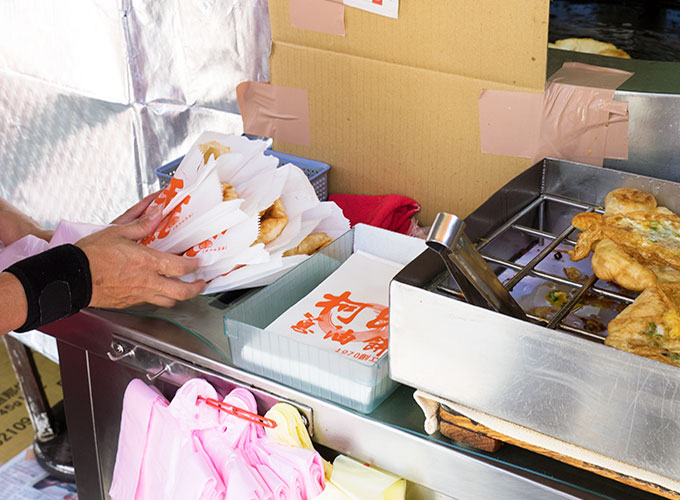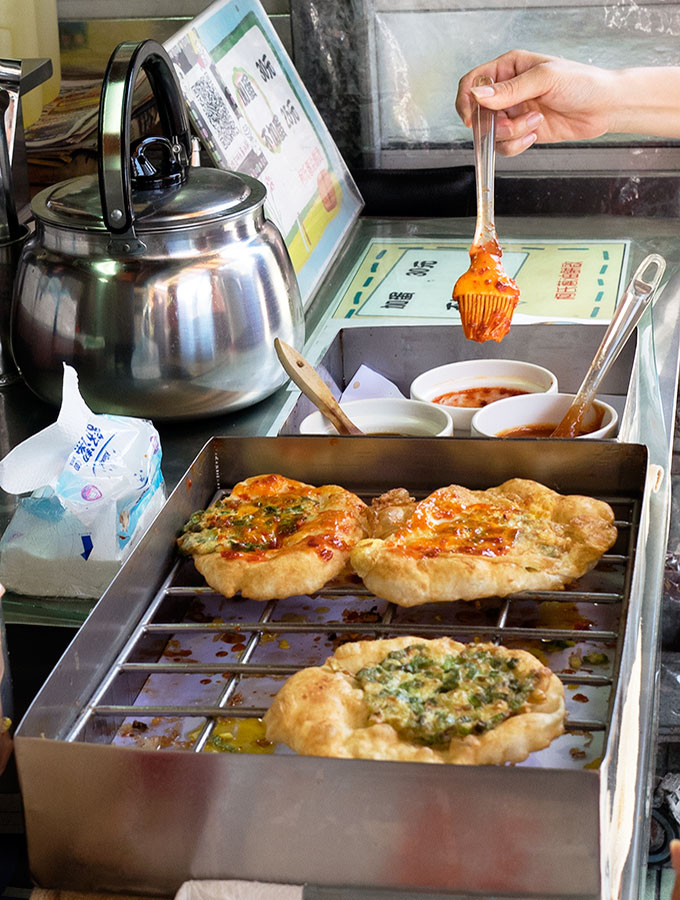 As soon as I returned home I hit Mr Google and tried to find a recipe for these style of pancakes. Couldn't find a single recipe that was prepared this way.
This is where 30 years of cooking experience and knowledge came in handy. If I couldn't find the recipe, then I was determined to come up with something on my own. And I must say I am extremely happy with the results.
Mine taste very similar, the only thing that has let me down is that they aren't as 'puffy' as the ones we ate in Taiwan. They still have a little blistering puff, but not as impressive as the ones in the photos above.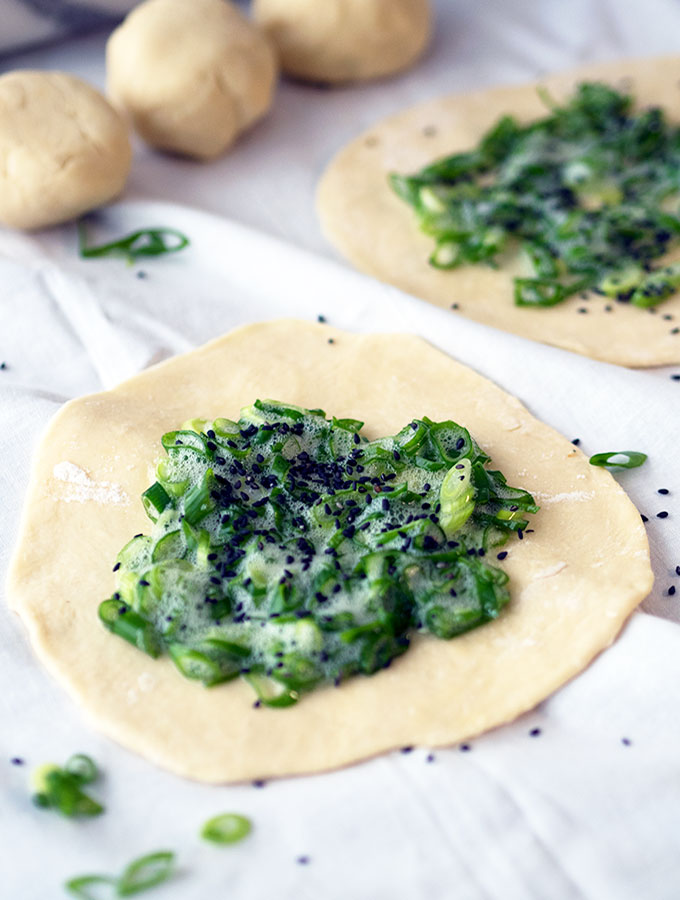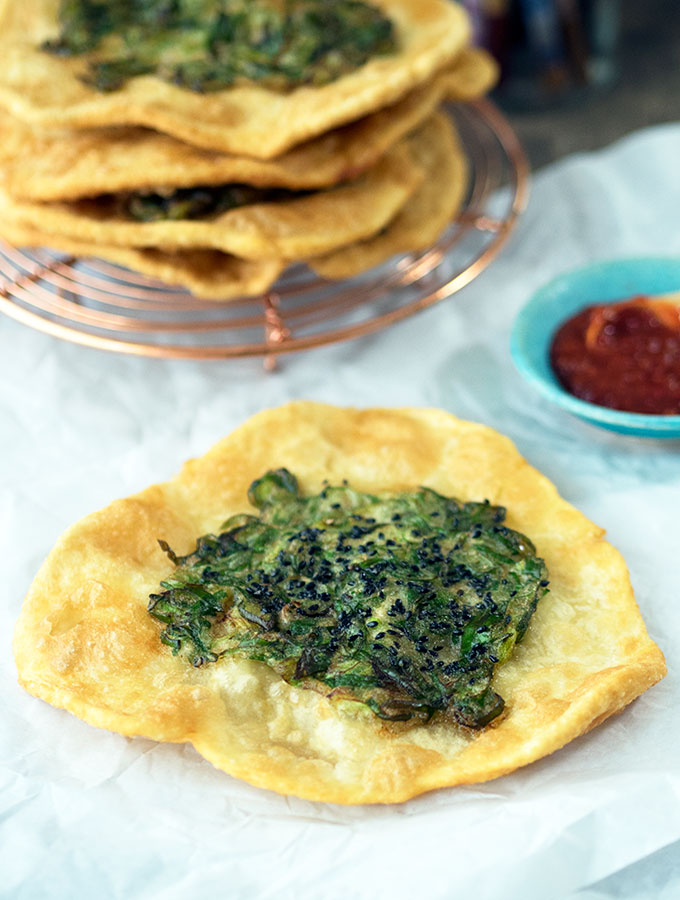 They are delicious and I will be making them again, and again, but I will also be tweaking the recipe (as I do). I feel I can do those street side pancakes better justice, but until I perfected the scallion pancake recipe, I am more than happy to scoff these babies.
Do they use egg white to get the shallots to stick to the top of the pancake? No idea, but I thought it was a good idea, and took the method from my prawn toast recipe. They most certainly don't add black sesame seeds, but I happen to like them, so feel free to add or not.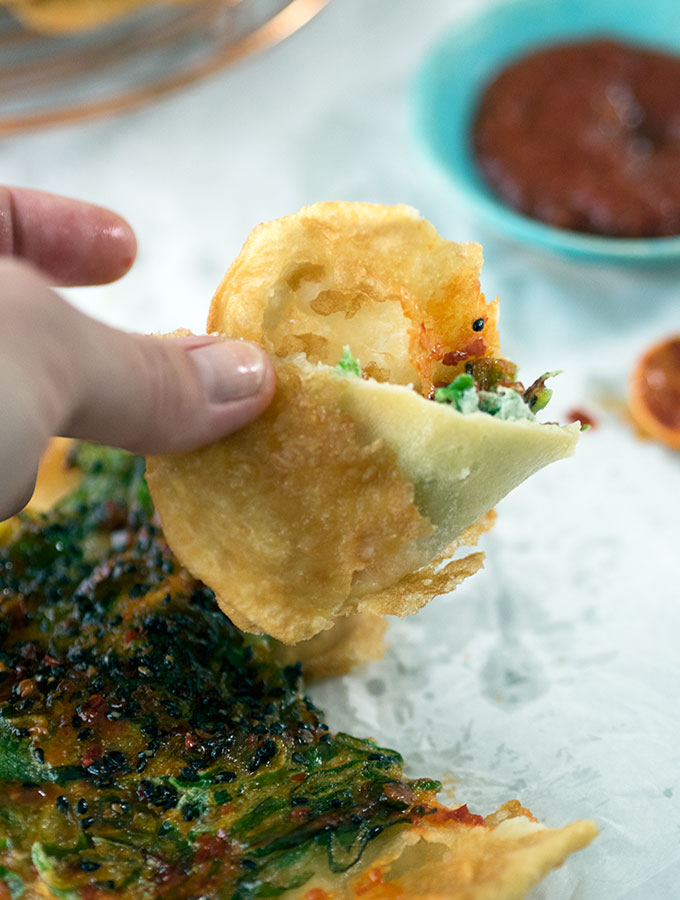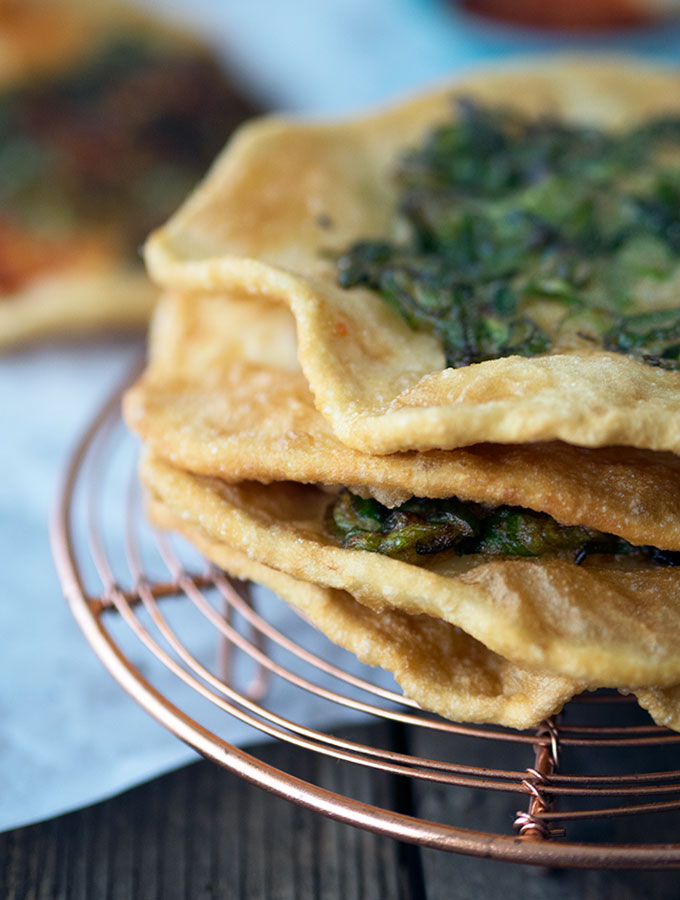 I am pretty sure the dough they were using in Taiwan didn't have egg yolks added. I decided to add them to my dough as the egg yolks were sitting there rather lonely after I used the egg whites for the shallot topping.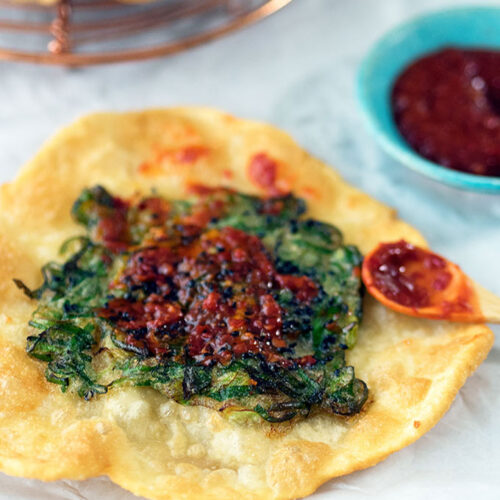 A change from the usual Chinese style scallion pancakes. These fried Taiwanese scallion pancakes are a delicious alternative.
Ingredients
500

grams

plain flour

250

ml

boiling water

125

ml

cold water

2

egg yolks

-

lightly beaten

pinch

of salt

150

grams

finely sliced scallions

-

shallots/green onions

black sesame seeds

-

optional

2

egg whites

-

lightly beaten

Oil for frying
Instructions
Place flour and salt in a large bowl. Pour boiling water over the flour and mix in with a fork. It will be hot, so please be careful.

Then mix in egg yolks and cold water.

Turn dough out on to a floured surface and knead until the dough comes together into a smooth ball.

Place some plastic wrap over the dough while you prepare the shallot mixture.

In a medium size bowl add scallions and egg whites, mix until well combined and slightly frothy.

Divide dough into 10 even portioned balls.

Roll a piece of dough out to about a 10-15cm round, you don't need to be perfect. Top the dough with a good amount of the scallion mixture. Sprinkle with sesame sees if you are using.

Cook pancakes in a wok, which has been filled a 1/3 of the way up with vegetable oil. You know the oil is hot enough when a small piece of dough sizzles when it hits the oil.

Place a pancake shallot side down in the wok. Cook until golden and bubbly and then flip over and cook the other side. Remove from wok once cooked and drain very well on absorbent paper.

Eat immediately with your choice of chilli sauce, sweet chilli sauce or soy sauce.
DID YOU MAKE THIS RECIPE?
I do a happy dance when people let me know, tag me on Insgragram @bellyrumbles #bellyrumbles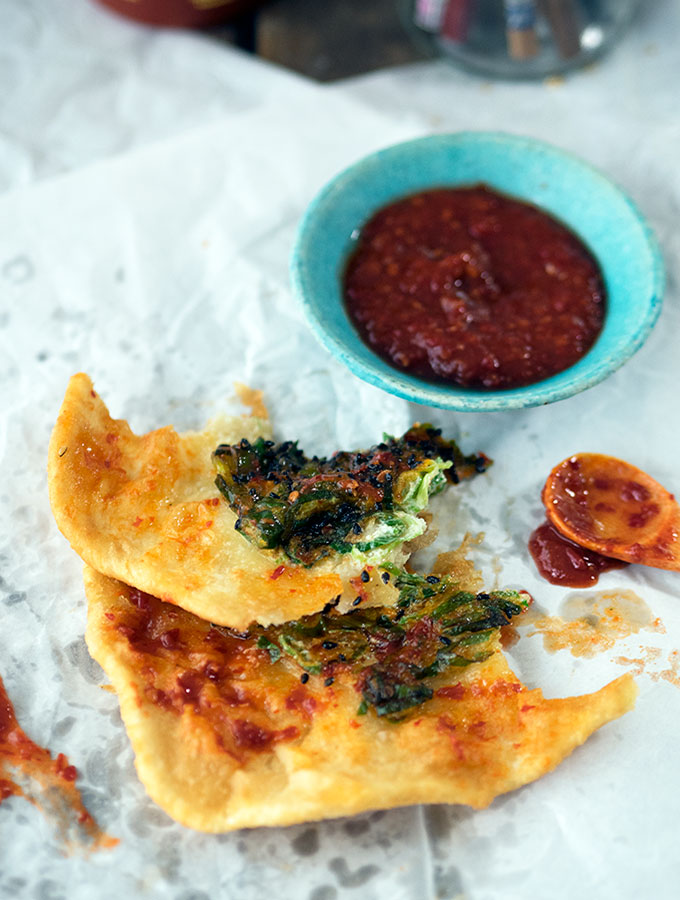 I love mine with chilli. A good chilli sauce with lots of chopped chilli in it. Yes, I do love my chilli.
Make sure that you drain them really well. Oil will collect around the shallots, so some absorbent paper won't go astray. They are best eaten just cooked, hot right out of the pan. They do reheat quite well, but they will be slightly crisper. I have frozen some as well as I think they will bounce back quite nicely once defrosted and reheated.
Calling for help! If you happen to have or know of a traditional recipe in the style of the shallot pancakes above, would love you to share it with me.
Sara xxx
Belly Rumbles travelled to and around Taiwan with much thanks to the Taiwan Tourism Bureau.
Don't miss one delicious recipe, restaurant review or travel adventure. Sign up to our weekly newsletter below to keep updated. There is also bonus content just for subscribers.