Matsumoto Castle is one of the most stunning original castles in Japan. It's a sight to see with its black wooden exterior contrasting against the surrounding alps. A must visit when in Japan and a photographer's dream.
It was a last minute decision on this trip to Japan to spend a night in Matsumoto. We were travelling from Kanazawa to Kawaguchiko. As Matsumoto is conveniently located on the JR line between the two cities, it seemed an easy and obvious place to spend some time.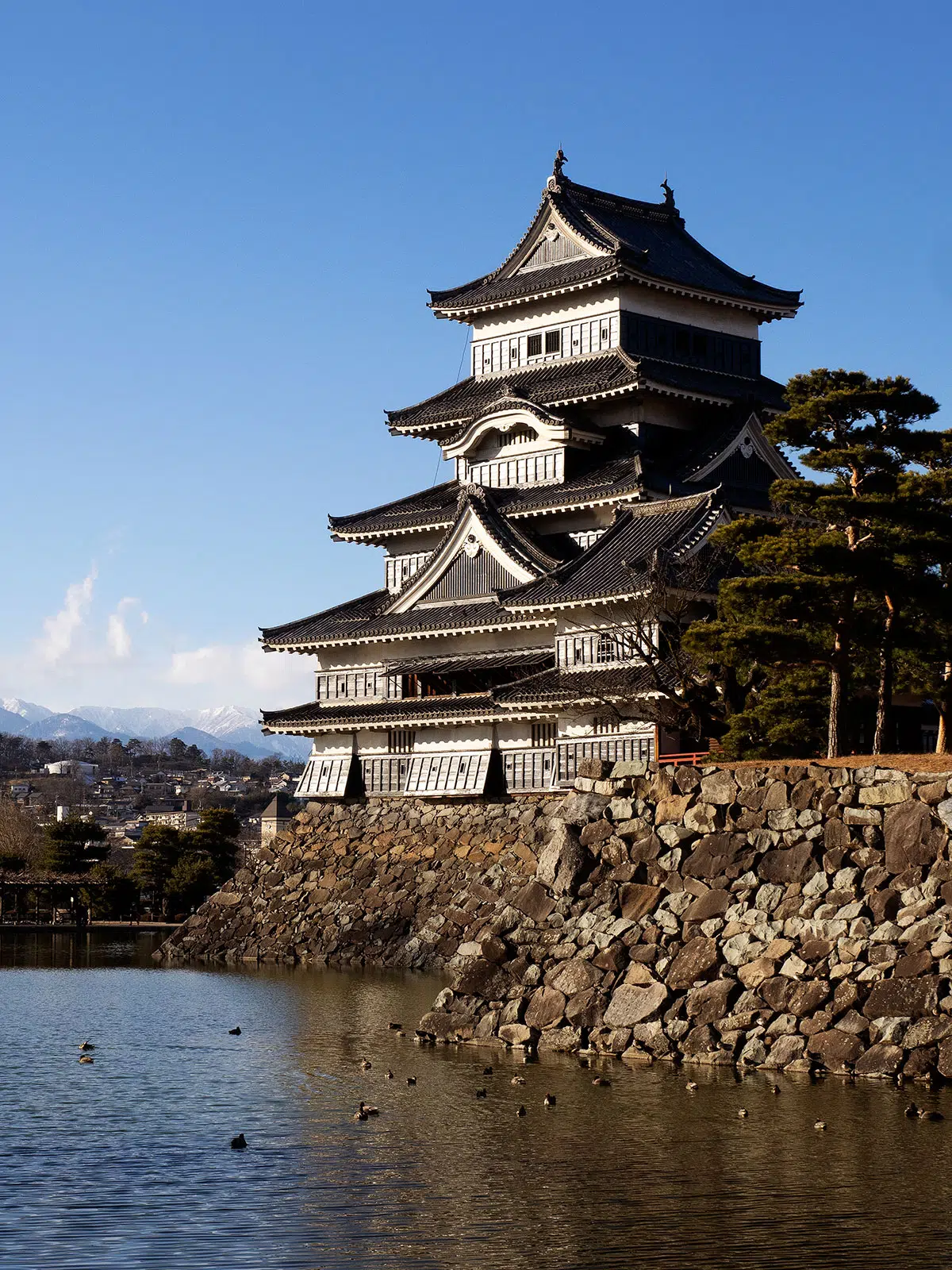 Matsumoto city is located in the Nagano Prefecture, the castle the jewel in its crown. One of the most complete among Japan's original castles.
The idea behind the striking black painted facade was to instill fear in those wanting to attack. Its black exterior is why the castle acquired the moniker Crow Castle (Karasu-jo).
A flatland castle (hirajiro), meaning that it wasn't built on top of a hill like so many others. Instead of the advantage of height, it relied on the extensive system of interconnecting walls, moats, and gatehouses for protection. Designed and built purely for military purposes, not as a permanent residence.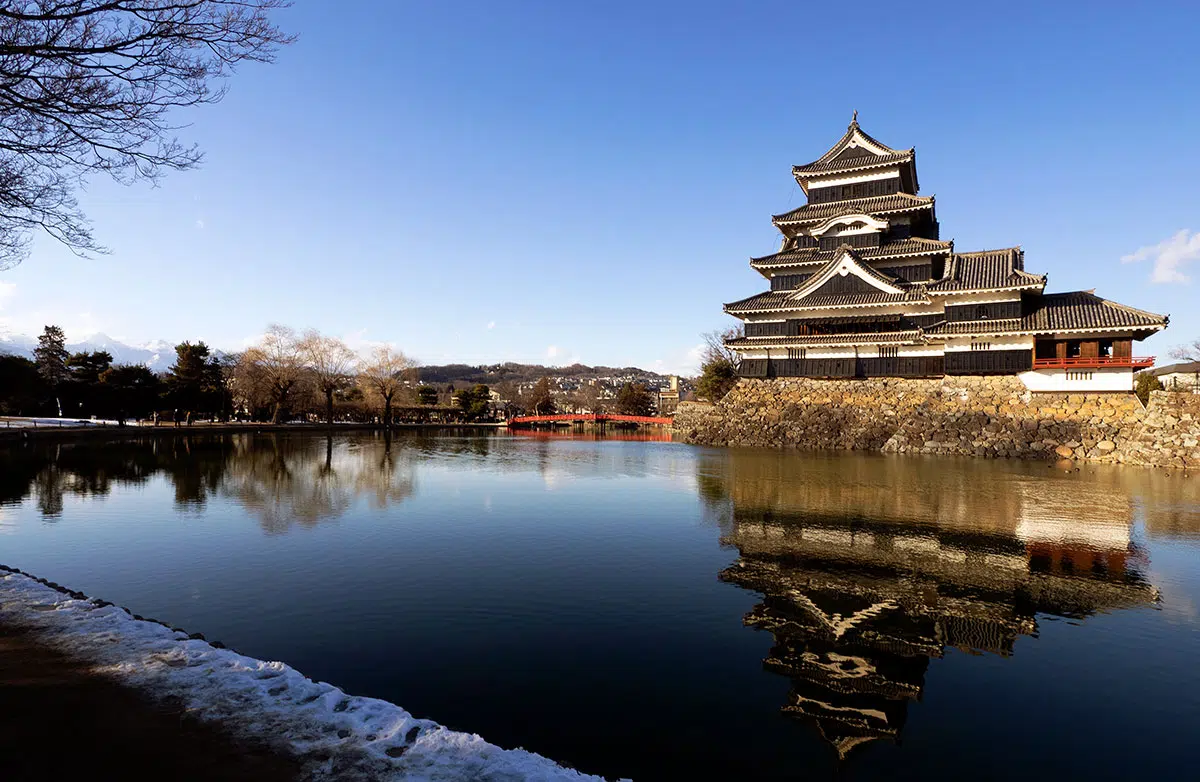 The surrounding moat is huge. On a still day take the time to catch the castle's reflection in the water.
Swans and ducks glide over the rippling water, and koi swim around hoping you have brought along a treat for them. They pop their little faces up through the water's surface wishfully.
The main castle tower consists of six floors. This includes a hidden floor where the samurai rested, kept their food and supplies. This main tower along with the smaller second donjon were built from 1592 to 1614. Later a third turret and another for moon viewing were added to the castle's structure.
Inside Matsumoto Castle
You are able to explore the inside of the castle, and it's well worth the effort. The workmanship of the wooden interior is original and interesting to see.
As the castle is a military stronghold keep an eye out for the openings where stones could be dropped onto the castle's attackers. There are also small openings for archers.
English and Japanese commentary is piped as you walk around the many exhibits of firearms, armour, roof tiles, photographs, and samurai swords. You will navigate steep wooden stairs from one level to the next.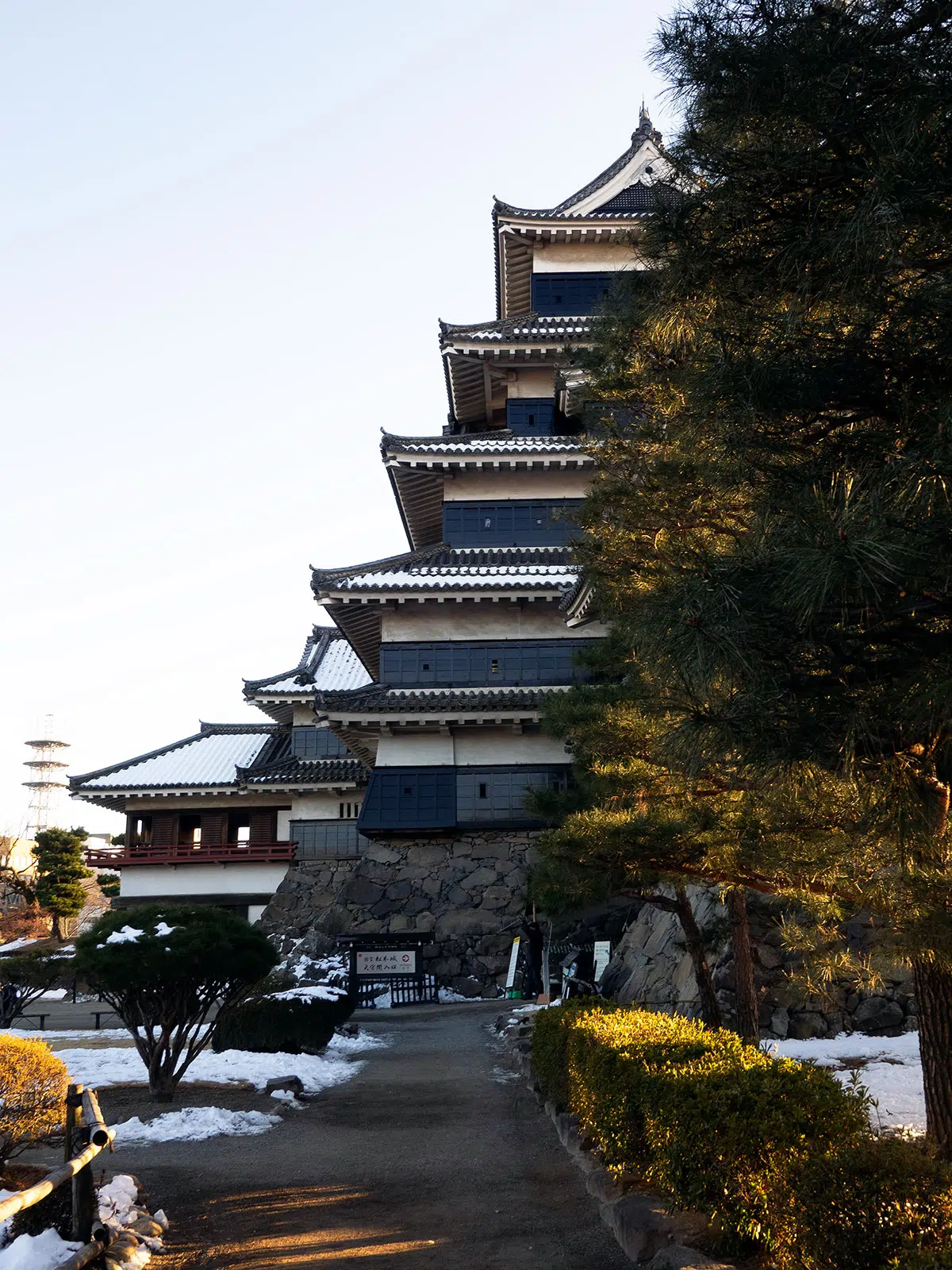 Once you make it to the sixth floor you are in for a treat. An incredible view of Matsumoto and the surrounding Southern Alps.
Best Time to Visit
Try to avoid visiting during Golden Week or the Bon Festival as there can be quite a wait to enter the castle.
Mid April: I can only imagine how stunning the castle and grounds are during cherry blossom season. It's a popular spot for cherry blossom viewing. There are hundreds of cherry trees along the outer castle moat, 300 in the park total.
July: There is an annual Taiko drumming festival held last Saturday and Sunday in July.
August: The evening of August 8th the annual Takigi Noh is performed under torchlight. Kyogen comedies are performed in between the Noh.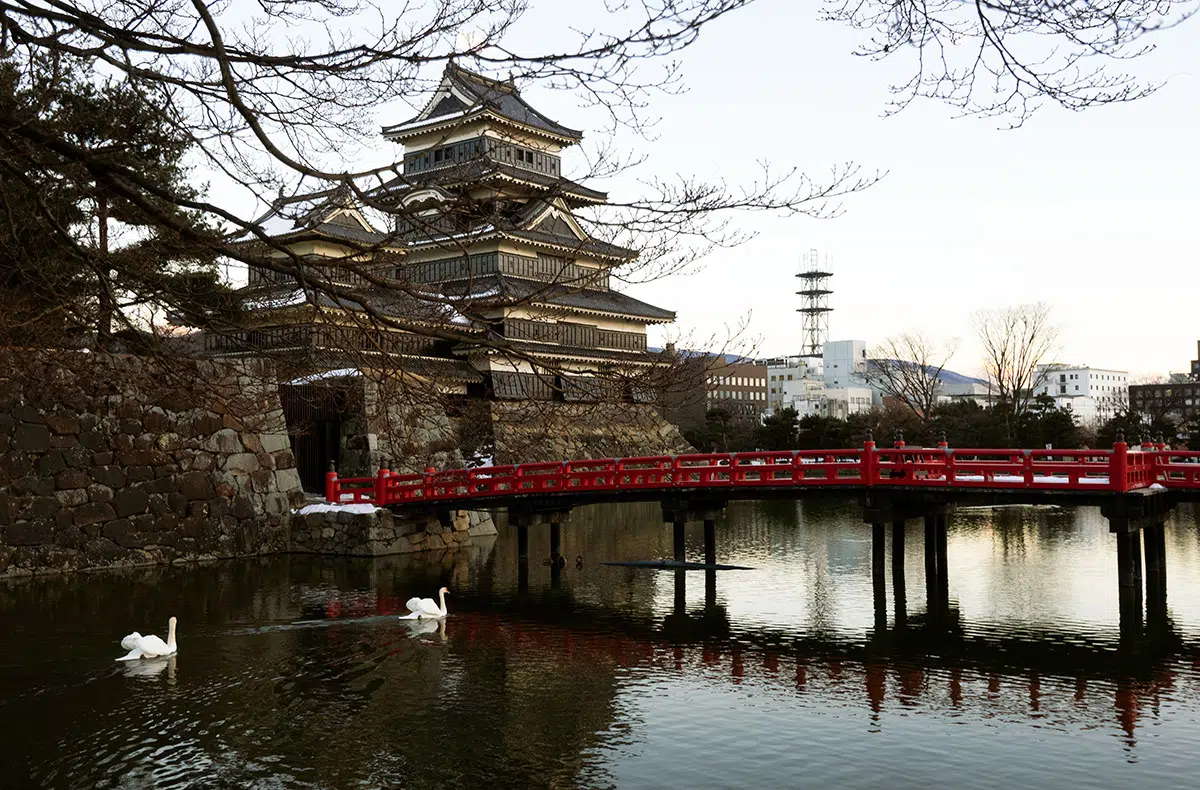 September or October: A moon viewing festival is held in September or October.
Is that a Samurai I Spy?
Not only is Matsumoto Castle stunning, but it is also a fun one to visit.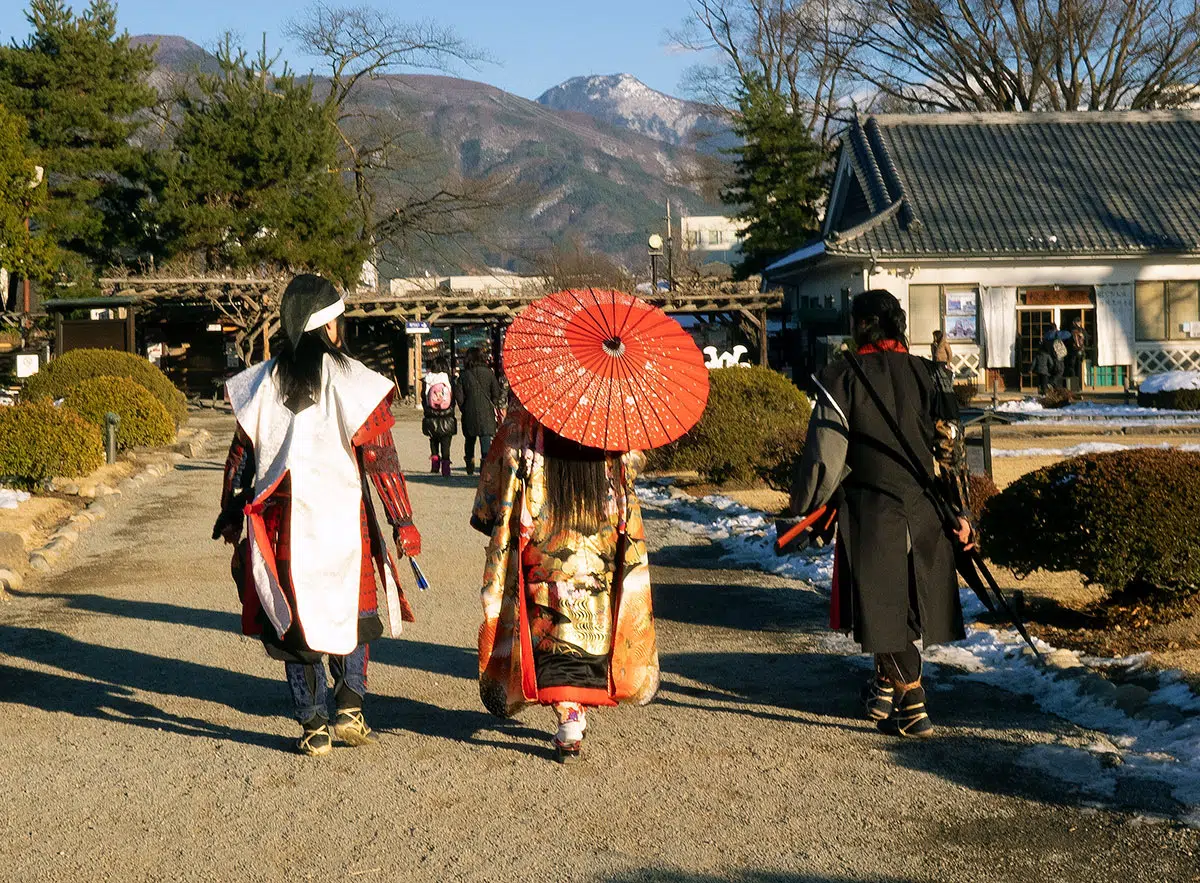 You will find people dressed as armoured warriors and princesses in the Honmaru Gardens between 8.30am and 4.00pm. They are the hospitality team and would love you to take photos of them or be in photos with you.
Important Information
Open hours are from 8.30am to 5.00pm daily (last entrance s 4.30pm)
Matsumoto castle is closed from 29th December to 31st December.
It will take around 30-40 minutes to explore the castle.
The castle tower is lit up from sunset until 11.00pm. daily.
It's a 20 minute walk from Matsumoto Station on the JR Shinonoi Line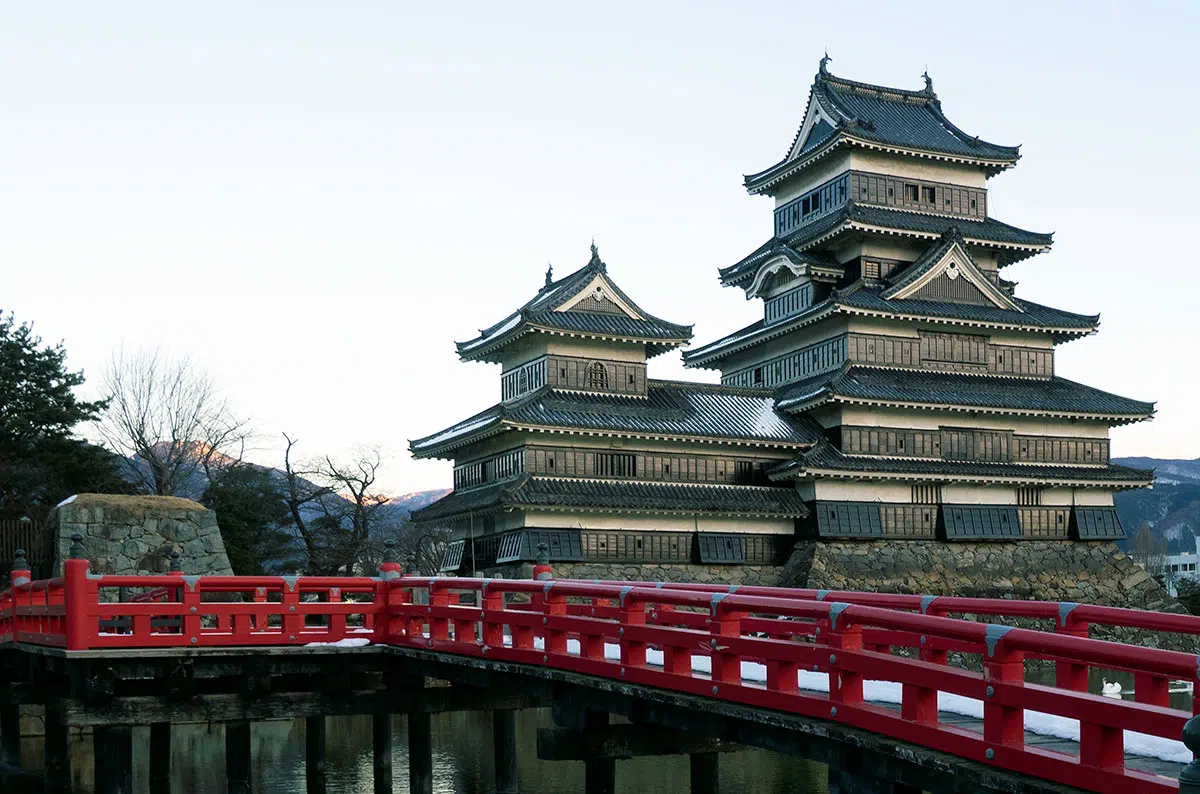 Collecting Castle Stamps?
If you are collecting 100 famous castle stamps in Japan, you will find them located at the entrance of the Management Office in the Honmaru Garden. You will need a ticket to access the stamps.
Accommodation near the Castle
Matsumoto is a great town to stay in. They have a very cool small bar and whisky scene. Below are my recommendations for accommodation near Matsumoto Castle.
Matsumoto Marunochi Hotel: This is where we stayed and it is only a 3 minute walk to the Castle. The accommodation was clean and comfortable. Take them up on the breakfast offer as nothing seems to open in town for breakfast before 10am.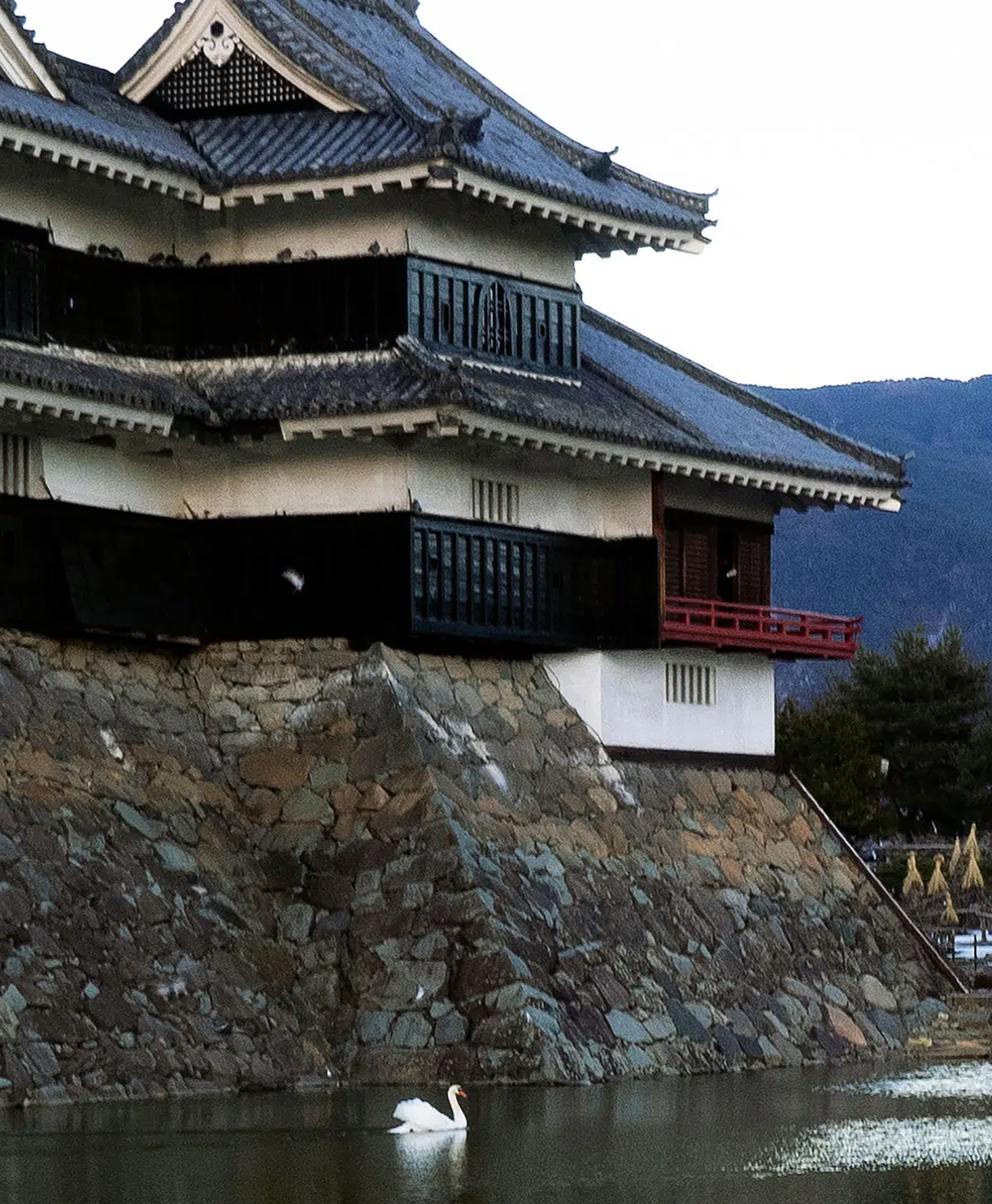 Matsumoto Hotel Kagetsu: This is a stunning old hotel with elegant Western and Japanese rooms. They offer meal plans and have a dedicated coffee room. Plus there is a public onsen. Only a 6 minute walk to the Castle.
Heading to Japan? Make Sure to Read These
Tsumago - an Edo era experience in Japan
Asakusa - our guide to one of the most popular places in Tokyo
Sake Bar O - Tokyo's hidden sake bar
Sara xxx
Matsumoto Castle Address: 4-1 Marunouchi, Matsumoto, Nagano, 390-0873
Tel: 0263 32 2902
Admission: 700 yen
Pin Me to Save Me to Your Travel Adventures!