Salsa tartufata shares the lead roll in this burrata salad. Creamy mozzarella teams perfectly with the umami of the black summer truffle sauce. Asparagus and celery add freshness and crunch. All topped off with more tuber aestivum decadence, truffle carpaccio.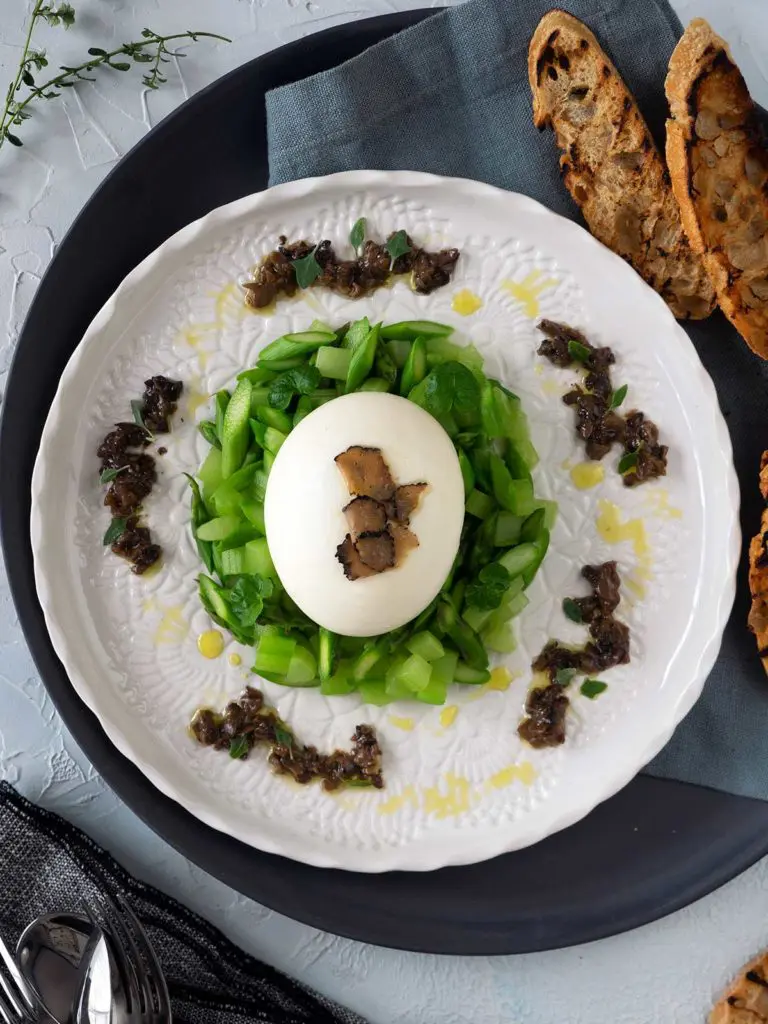 Greek truffles are a thing! Who knew?
I have never associated truffles with Greece. France yes, Italy yes, and most certainly Australia. Greece slipped under my radar on the truffle side of things.
It makes sense, they are in the same region, have similar landscapes and climates. Well they may not be in the same region as Australia, but you get the idea.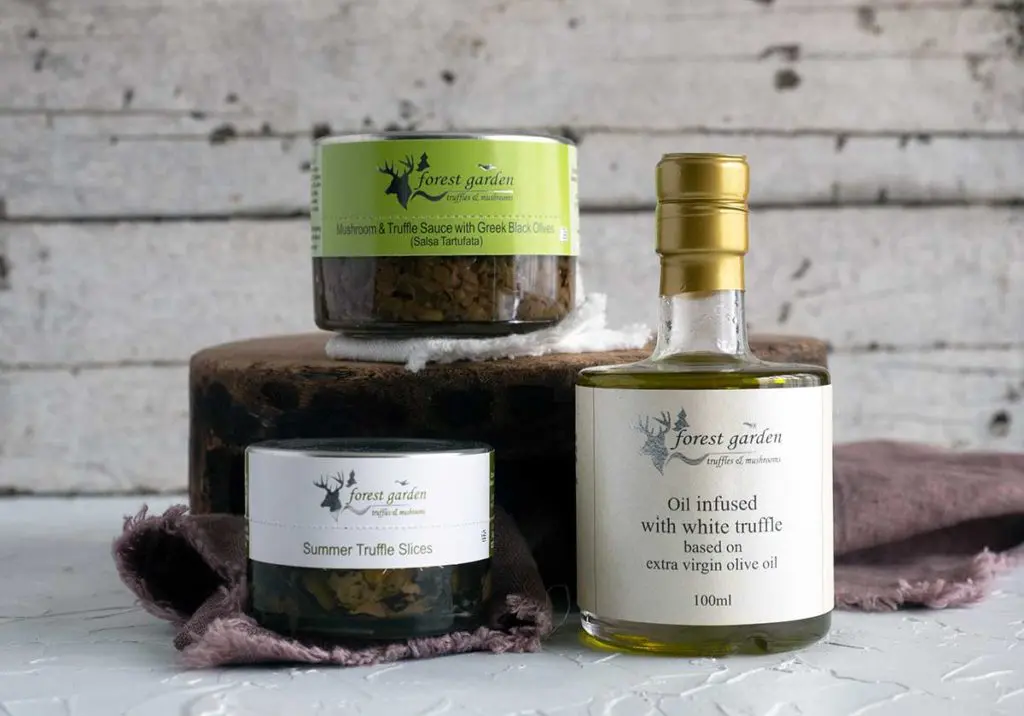 I was introduced to some amazing truffle products by William Dachris from the Grecian Purveyor. The Grecian Purveyor is a relatively new business located in Sydney and they ship their products Australia wide.
As you may have guessed by their name, the Grecian Purveyor specialises in gourmet Greek produce. William is very passionate about the products he has sourced and it shows in his extensive and unique range.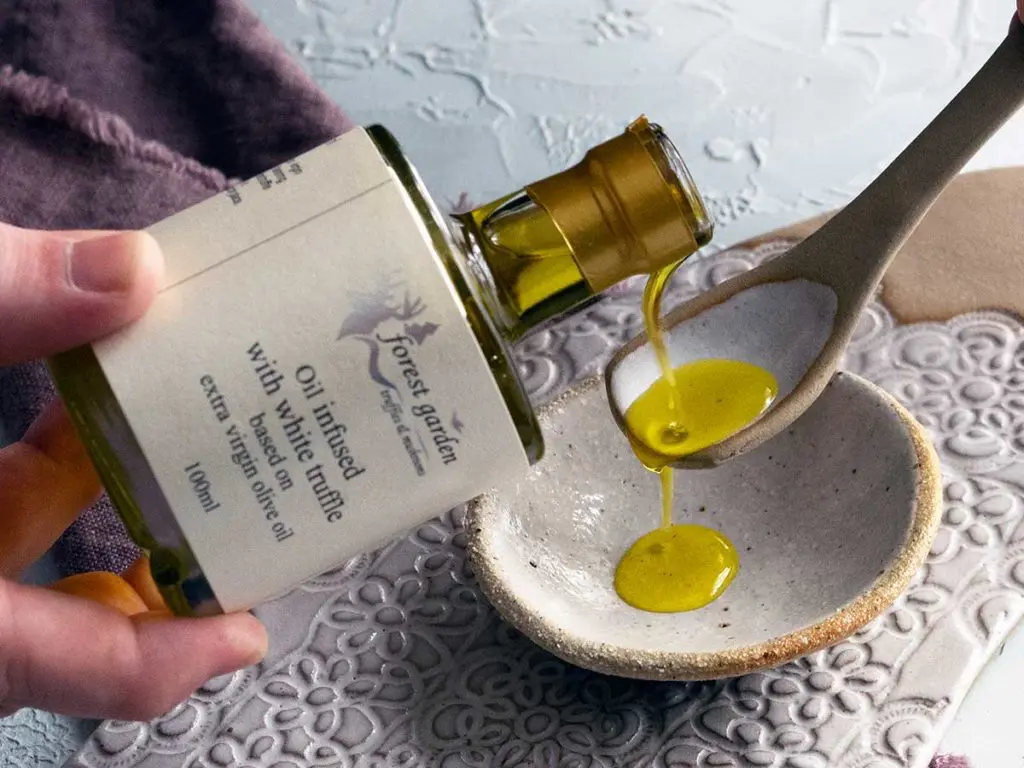 The truffle products he supplies are from a company called Forest Garden, located in the mountains of Chalkidiki, in Macedonia, Greece. William regards Forest Garden as the true truffle connoisseur of Greece.
Most of the products you will find at the Grecian Purveyor are EU Certified Organic. I was also thrilled to find out that they are ethically sourced too. Sourced from traditional food artisans, family-run businesses, and farmers' cooperatives. Supporting independent food producers by choosing them over large corporations.
What is salsa tartufata?
Salsa tartufata is a magical blend of black summer truffle, mushrooms and black olives. Ready to eat straight from the jar it can be used in all sorts of dishes.
Simply stir a couple of tablespoons through freshly cooked pasta, or the finishing touch to a grilled salmon or chicken. My favourite is to smear it on a slice or two of grilled baguette.
It is such a versatile ingredient to have stashed in your cupboard. It adds an truffle umami punch to everything it touches.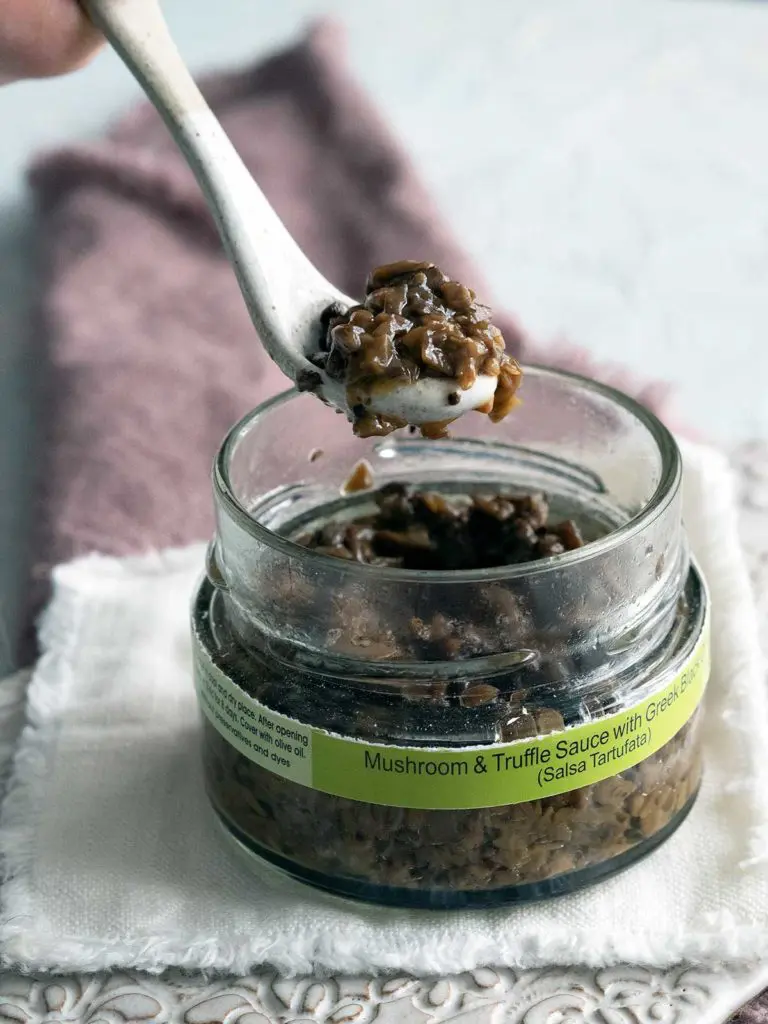 Truffle carpaccio, your secret ingredient
Black truffle carpaccio is slices of pure truffle heaven in a jar. The slices are delicate and thin, full of flavour and perfect for that extra special garnish.
Even though I have used them as the crowning glory on my burrata salsa tartufata recipe, slices of truffle are fantastic to cook with. Placed under the skin of chicken, as with my chicken breast baked in milk, and poulet en demi deuil recipes, they add an incredible flavour punch to a dish. Plus they look a little special too.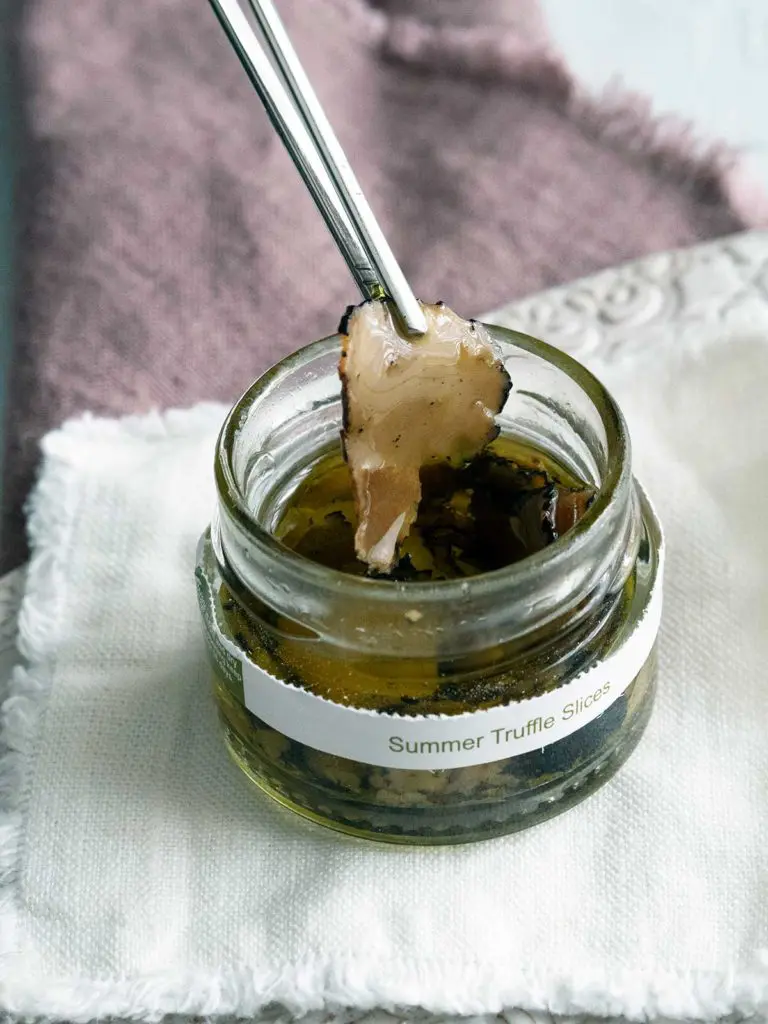 The beauty of burrata
Ah burrata, what a clever and magical cheese. From the outside it looks like a solid ball of mozzarella, but when broken into it spills its delicious creamy guts for all to devour.
It is a cheese made from cow milk (on the odd occasion buffalo). The outside is a shell of solid mozzarella. This shell is then stuffed with stracciatella (shreds of mozzarella) and cream.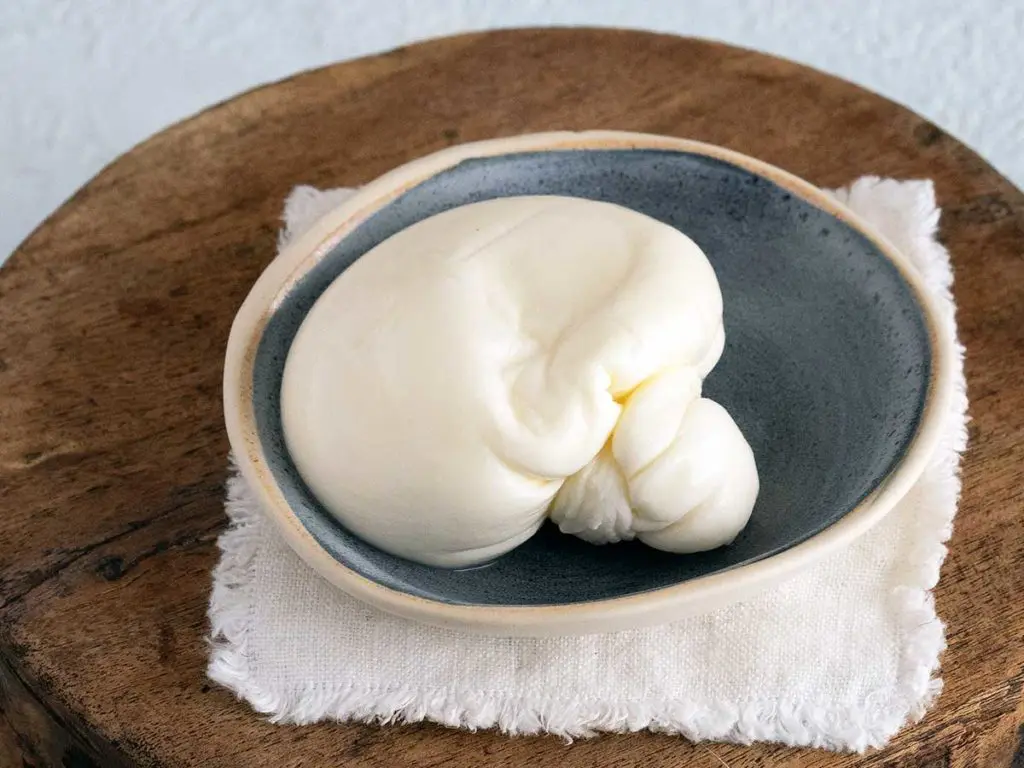 Recipe tips and tricks
This really is a simple recipe, but there are a few tricks to getting it right. Because all the ingredients are on show, and you are using luxurious truffles, make sure to use fresh plump asparagus and fresh crisp celery.
This is not a dish to use up those forgotten about veggies at the bottom of your crisper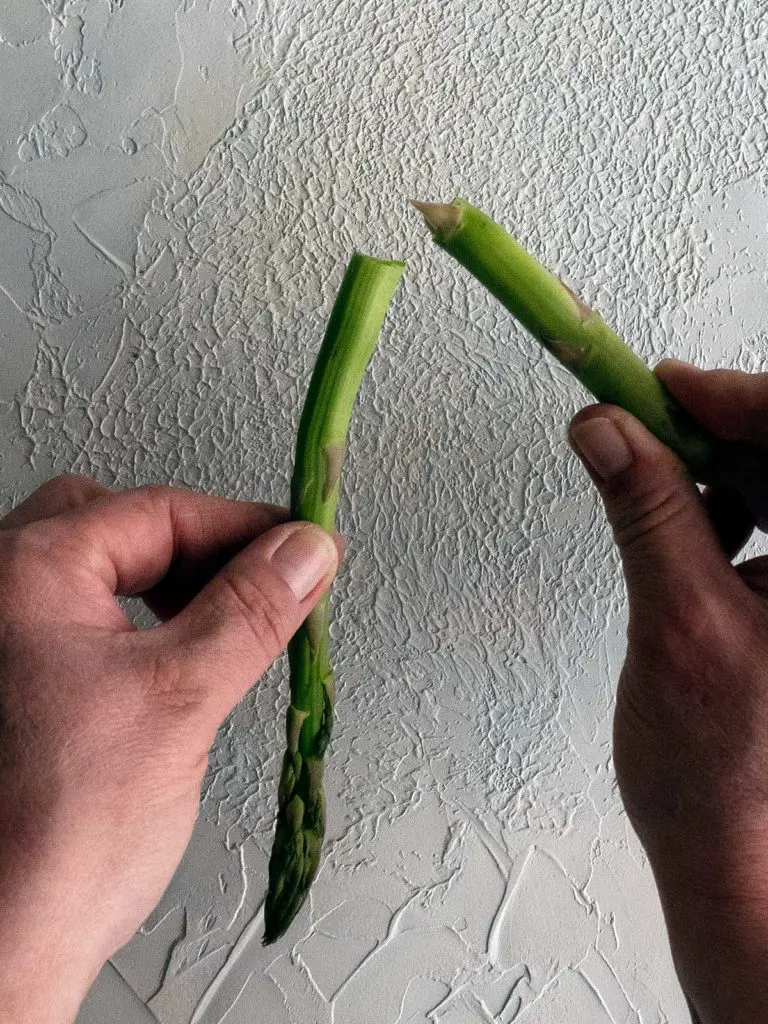 It is important to remove the woody ends from the asparagus. By grabbing an asparagus spear at either end and bending, the spear will naturally snap where the woody part of the spear starts/ends.
Alternatively, you can use a knife. Bend the spear and gauge where you think the woody part starts/ends and cut there.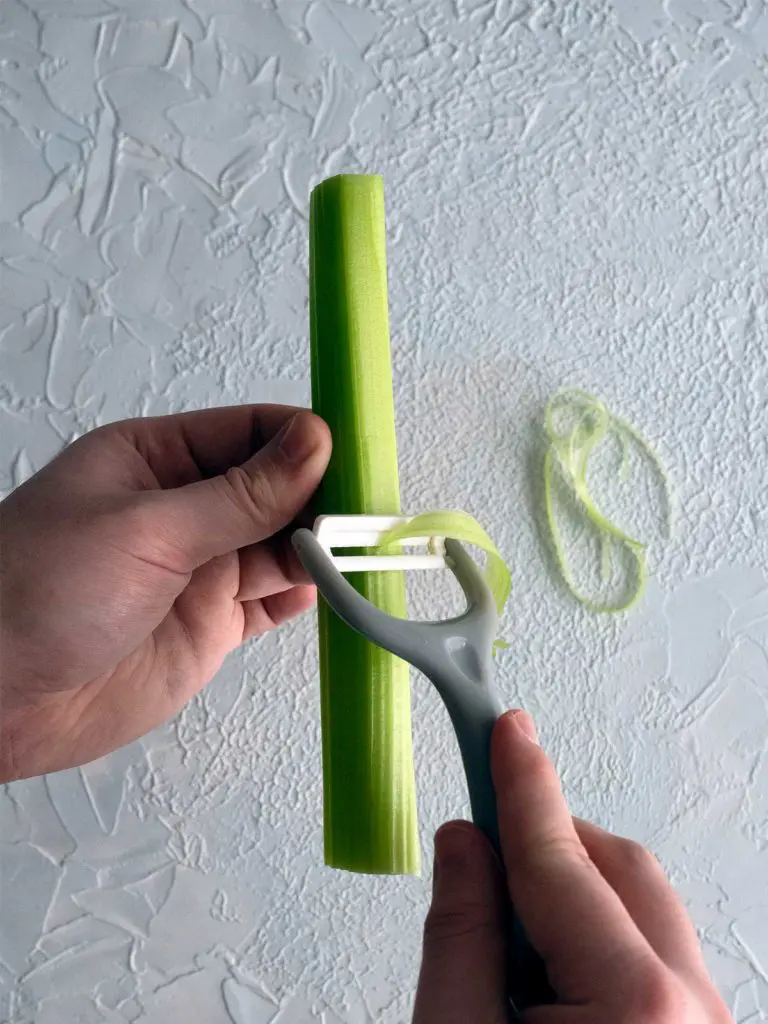 It is important to remove the stringy bits (collenchyma cells) from your celery. I find the neatest and easiest way to do this is with a vegetable peeler.
Simply run the peeler from one end of the celery stalk to the other. Don't forget to do the side edges of the stalk too.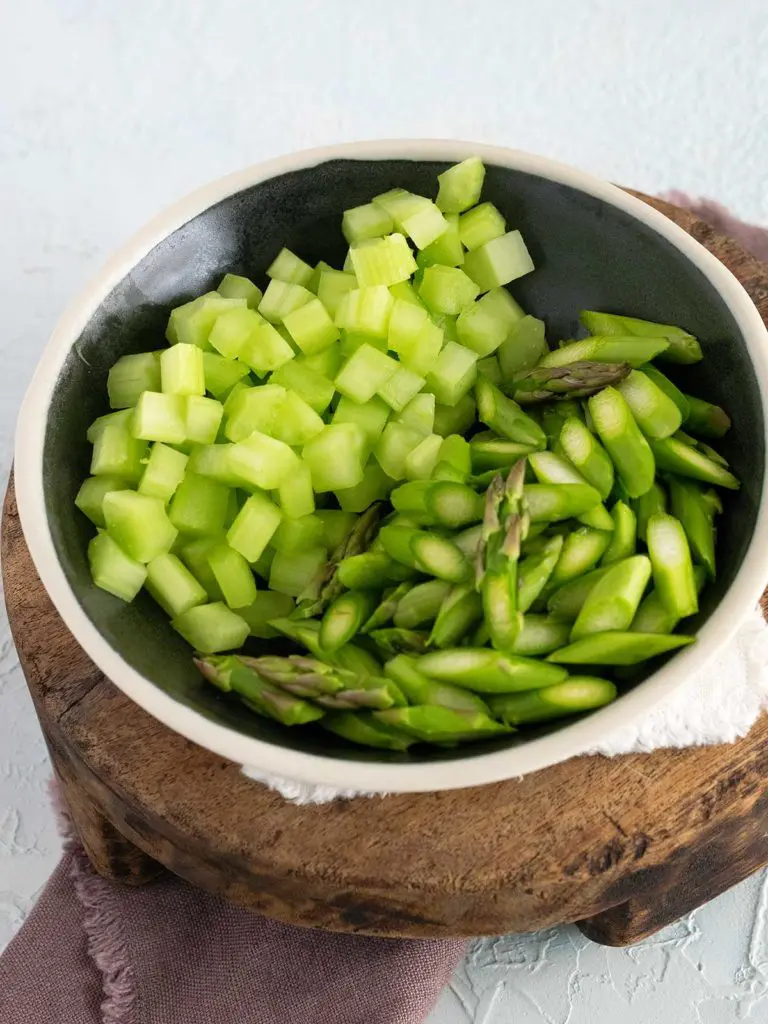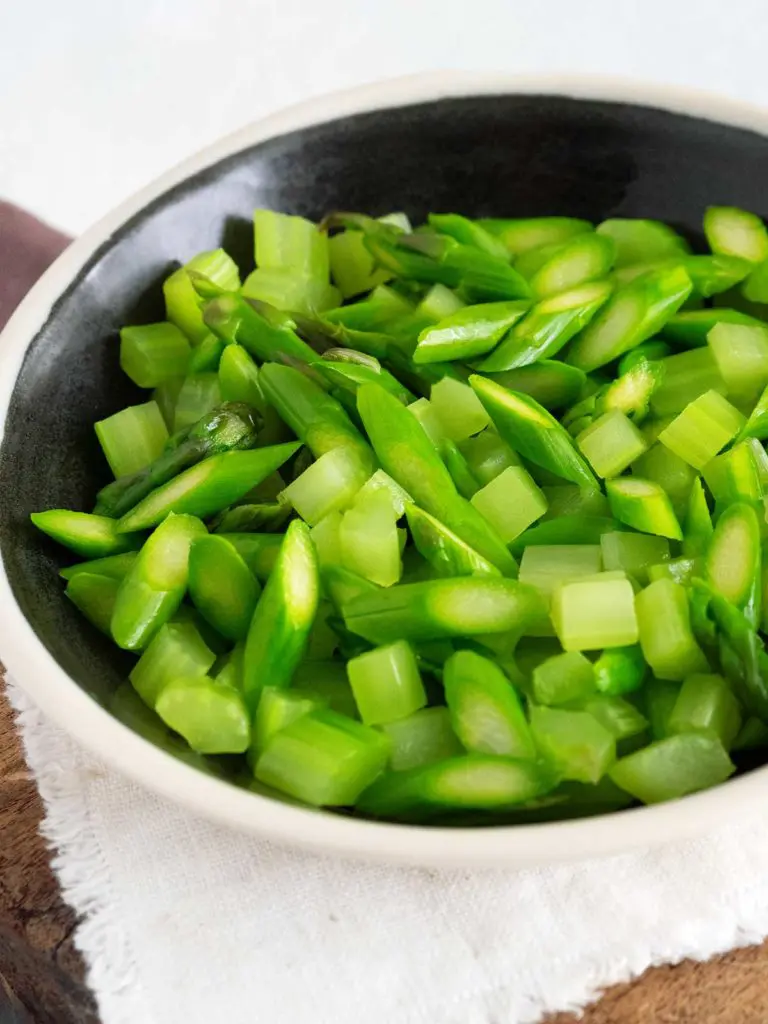 Cut your prepared asparagus and celery into small even dice sized pieces, around half a centimeter. I cut the asparagus on an angle to keep it visually interesting, but similar size to the celery.
Do not overcook the asparagus and celery, you do not want them to go soft. Make sure the stock is on a rolling boil before adding the vegetables. One minute may not seem long, but it is enough. We are simply blanching in stock.
Plating guide
This is a visual dish and plating is important for that wow factor. Take your time to plate up the dish.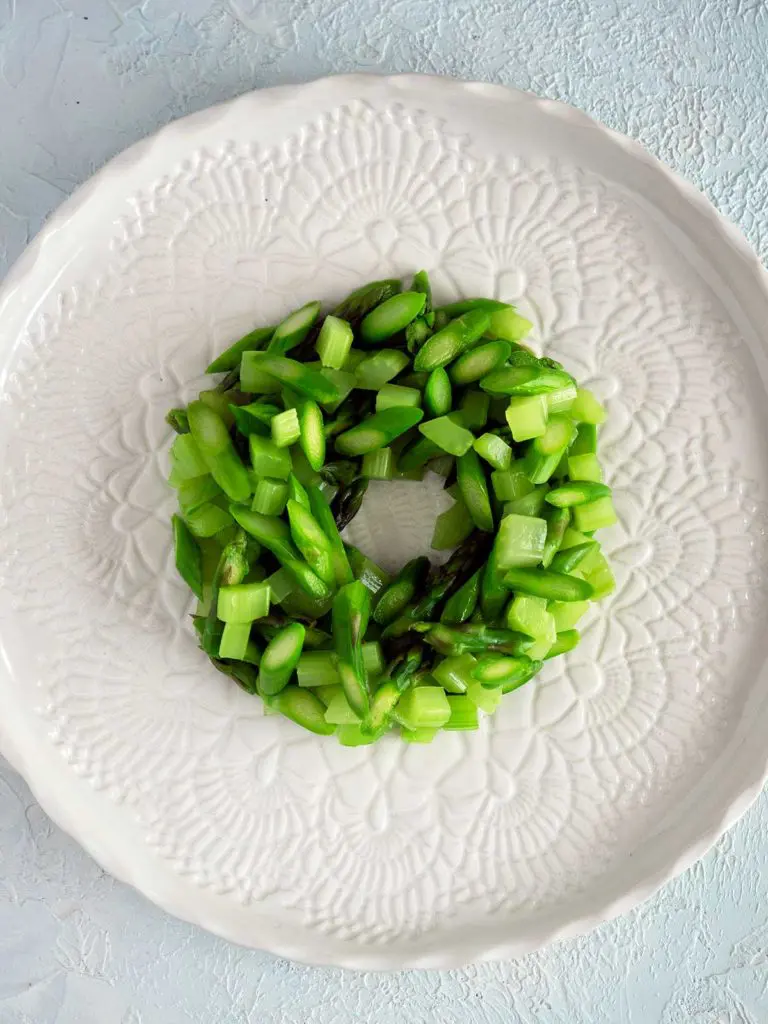 It may seem strange at first to create a doughnut with the asparagus and celery, but there is good reason. By leaving a hole in the middle you can place the burrata knot side down. The ball of creamy goodness sits stably on top of the asparagus and celery.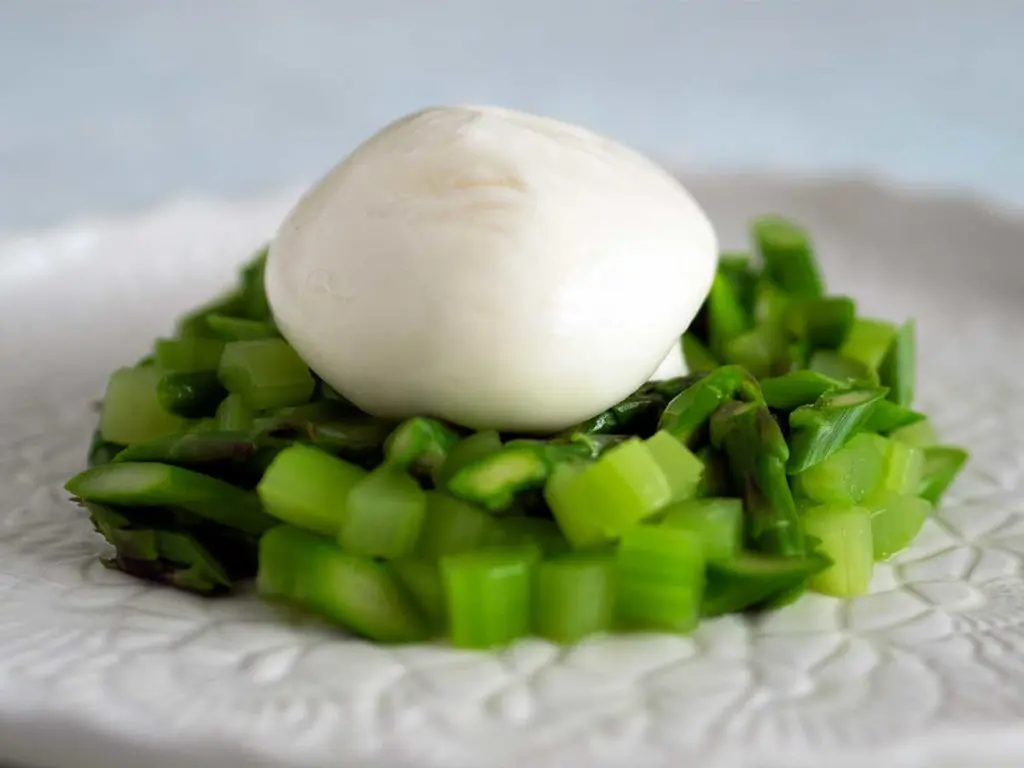 This allows you to hide the burrata knot out of sight. Yes, it does sort of look like a poached egg, I agree with you.
Decorate the top of the burrata with truffle carpaccio. Just a few slices will do, it is easy to keep adding them on top, but less is more. Remember you are also using salsa tartufata in this recipe.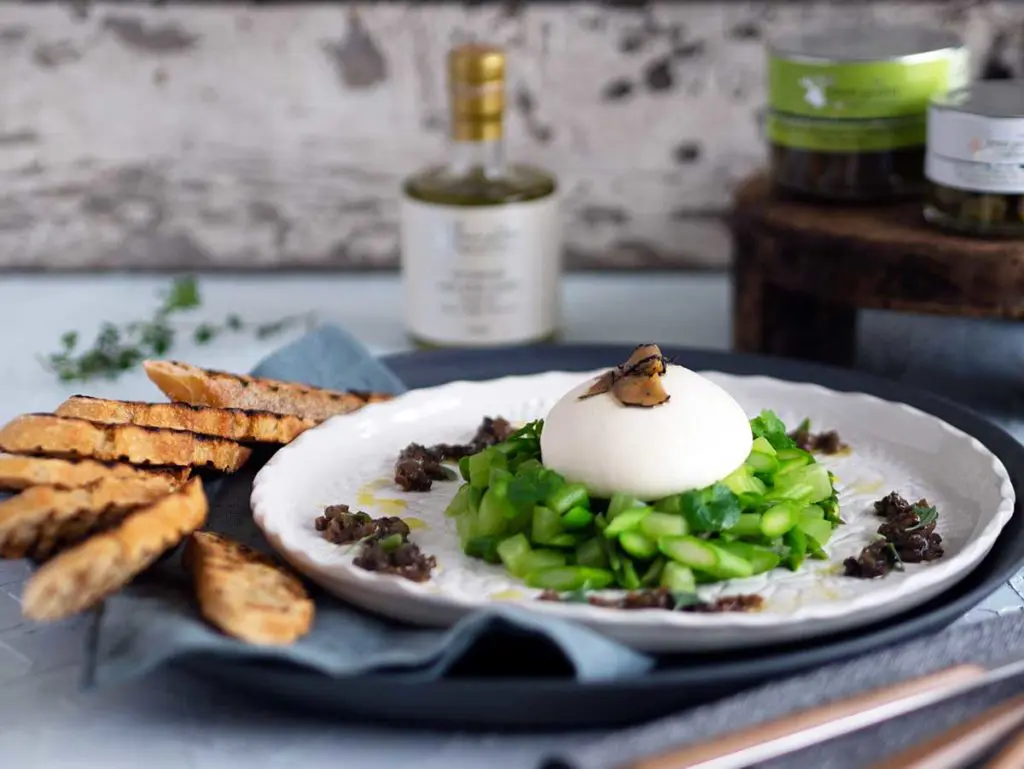 Finish plating the dish with generous dollops of salsa tartufata around the plate. Drizzle it all with some good quality olive oil and serve with grilled baugette.
Why this recipe works
At first it may seem a little strange to have a salad of asparagus and celery paired with a milky soft cheese and truffle. But all these ingredients are designed by nature to go together.
It is the funkiness, or strong sulphurous-sweet notes of cooked asparagus, that goes well with black truffle. Celeriac is often teamed up with black truffle, and it is due to this flavour teamwork that crisp celery works with this dish.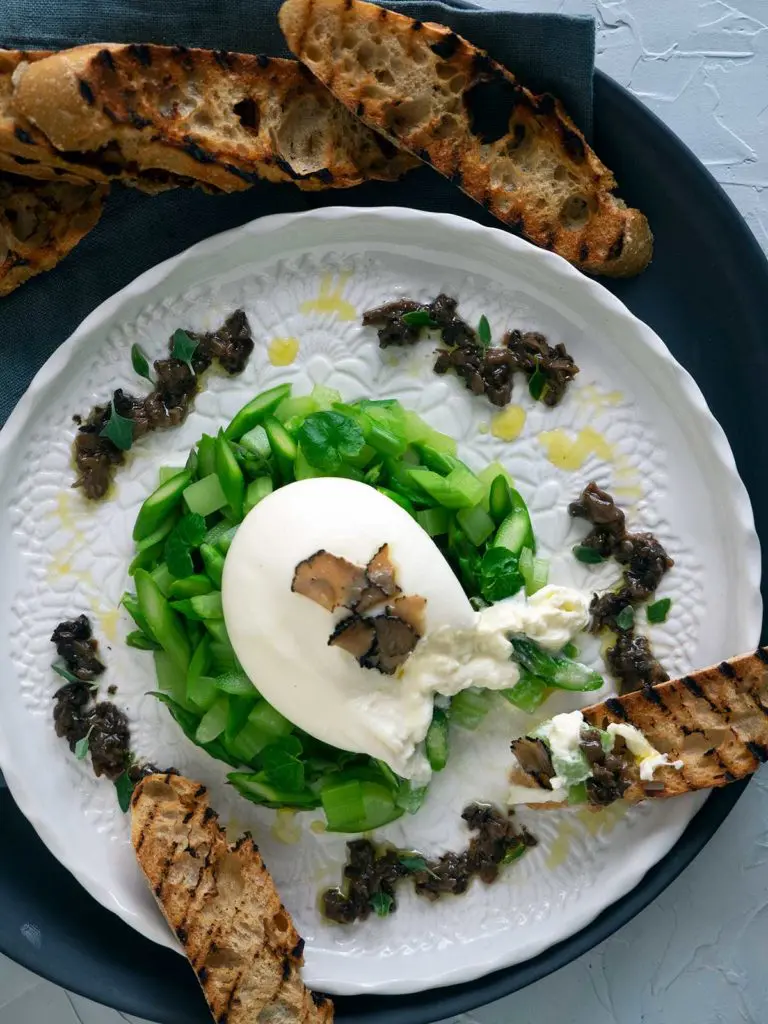 The asparagus and celery not only a textural component but also bring freshness. Blanching in chicken stock (you can substitute vegetable) builds another subtle flavour dimension to the dish.
The burrata adds a creamy lusciousness and ties the vegetables to the salsa tartufata. When scooping a little of all the elements on to crunchy grilled baguette, you end up with an explosion of flavour and texture in your mouth.
I haven't had so much fun developing a recipe in a long time. What isn't to love about a green doughnut, creamy burrata and a little black truffle action? I hope you enjoy this dish as much as I do.
Sara xxx
This recipe was developed in partnership with the Grecian Purveyor.
Printable Recipe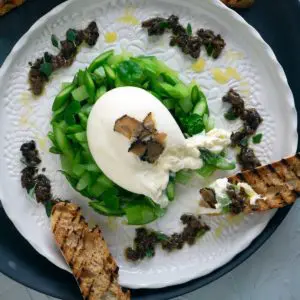 Burrata Salsa Tartufata with Asparagus and Celery
Salsa tartufata shares the lead roll in this burrata salad. Creamy mozzarella teams perfectly with the umami of the black summer truffle sauce.
Asparagus and celery add freshness and crunch. All topped off with more tuber aestivum decadence, truffle carpaccio.
Special Equipment
chopping board + sharp knife

vegetable peeler

small saucepan

slotter spoon
Ingredients
1

bunch

asparagus

woody ends removed

1

stalk

celery

string removed

1

cup

chicken stock

salt to season

1

burrata

3-4

slices

truffle carpaccio

2

tablespoons

salsa tartufata

olive oil

to garnish

saltbush leaves, or oregano leaves

to garnish

slices of grilled bread

to serve
Instructions
Remove woody ends from asparagus and string from celery. Cut asparagus and celery into small dices (just over ½ cm or ¼ inch).

Bring chicken stock to the boil in a small saucepan. Once rapidly boiling add the asparagus and celery. Simmer for 1 minute.

With a slotted spoon remove asparagus and celery shaking off excess stock and place in a small bowl. Rserve the stock.

Place the small bowl in the freezer to quickly chill the asparagus and celery down. This stops the cooking process. Don't leave it in there too long you do not want to freeze the vegetables.

While the asparagus and celery are chilling grill bread for serving.

Remove asparagus and celery from the freezer. Add a tablespoon of reserved stock and give the vegetables a stir. Taste and season with salt if needed.

A little salt brings out the flavour. If using a commercial stock you may not need to add salt.

On the serving plate form the asparagus and celery in to a doughnut shape The hole in teh middle of the "doughnut" is where the knot of the burrata will sit.

Carefully place the burrata on top of the doughnut, knot side down.

Place slices of truffle carpaccio on top of the burrata.

Place dollops of salsa tartufata around the plate and drizzle with a good olive oil.

Garnish the tartufata with a few small saltbush leaves. If you don't have saltbush, small oregano leaves.

Serve immediately with grilled bread.
Measurement Notes
All measurements are Australian metric standard. All measures are level, and cups are lightly packed unless specified. 1 teaspoon = 5ml / 1 tablespoon = 20mls / 1 cup = 250ml /4 teaspoons = 1 tablespoon.
Recipe Notes
Vegetarian Option
By replacing the chicken stock with vegetable stock the recipe becomes vegetarian.
Blanching
When blanching the asparagus and celery don't overdo it. You may be tempted to leave them cooking longer than 1 minute, but don't. Get them chilled down as quickly as possible.
Normally when blanching vegetables you place then in iced water to chill them quickly. You can't do that with this recipe as the residual chicken stock will be removed from the vegetables if you do.
Cooks Notes
All oven temperatures are for a conventional oven, if using fan forced lower the temperature by 20 Deg C (70 Deg F).
All measurements are Australian tablespoons and cups. All measures are level, and cups are lightly packed unless specified;
1 teaspoon equals 5ml
1 tablespoon equals 20 ml (Nth America, NZ & UK use 15ml tablespoons)
1 cup equals 250ml (Nth America use 237ml)
4 teaspoons equals 1 tablespoon
I use the below unless specified in my recipes;
Herbs are fresh
Vegetables are of a medium size
Eggs are roughly 60 grams in weight (large)
NUTRITIONAL INFORMATION
The recipe's nutritional information is an approximation based on an online calculator. It is meant solely for reference purposes. If you're looking for precise details, be sure to double-check with your own research.
Calories:
93
kcal
Carbohydrates:
14
g
Protein:
8
g
Fat:
2
g
Saturated Fat:
1
g
Cholesterol:
4
mg
Sodium:
192
mg
Potassium:
633
mg
Fiber:
5
g
Sugar:
6
g
Vitamin A:
1791
IU
Vitamin C:
13
mg
Calcium:
62
mg
Iron:
5
mg
Did You Make This Recipe?
I do a happy dance when people share how they went. Tag me on Instagram or Twitter @bellyrumbles & #bellyrumbles
More Truffle Recipes
Easy Cheesy Asparagus Frittata - with a kiss from black truffle
Black Truffle Chicken Breast - baked in milk, tender and delicious
Baked Brie with Black Truffles - perfect for sharing, easy entertaining
Black Truffle and Parmesan Soufflés - light, fluffy and delightful
Luxury Sausage Roll Recipe - black truffle, pork and pâté
Poulet en Demi Deuil - chicken in mourning