Coconut slice is an Australian classic. Buttery cake like base smothered with strawberry jam, and topped with a scrumptious coconut mixture. An easy recipe that delivers satisfyingly delicious results.
I love uncomplicated baking. A recipe that can be made from pantry staples. One that fills your house with heartwarming smells while it bakes, in this case, rich toasted coconut.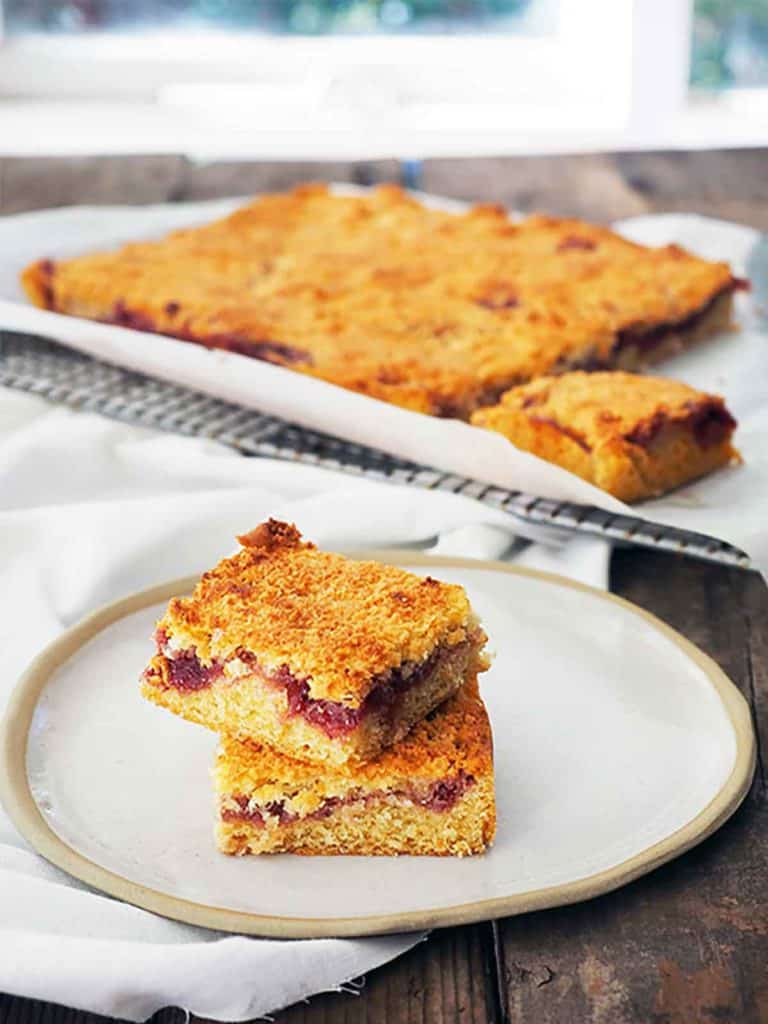 Contents
An Australian Classic
Coconut slice is an Australian bakery staple. All good cake shops worth the weight will have this tasty slice on display. It is also found in supermarkets and hot bread shops around the Nation.
Often filled with raspberry jam. In this case, I have used strawberry, as I always have jars of strawberry jam in my pantry.
There is a reason why coconut slice is dear to Aussies' hearts. It tastes so damn good! First there is a layer of butter crumbly cake. I hate to use the word dense, but it is more biscuit like (cookie like) than sponge.
On top of that is a generous layer of delicious sweet raspberry (or in this case strawberry) jam. It is all finished off with a coconut mixture. The mixture on baking becomes macaroon like (not macaron), which is like toasty coconut meringue.
Each bite delivers crunchy toasty coconut, sweet summery jam and crumbly cake to your tastebuds.
Ingredients
Recipe Walk Through
Start by pre-heating your oven at 180 deg C (360 deg F) and lining a 20cm x 30cm (8 x 12 inch) slice tin with baking paper.
Using either your stand mixer or hand electric beaters, beat butter and sugar until creamy and pale in colour. Add egg and vanilla and continue to beat until combined.
Add sifted flours and stir until completely incorporated.
Spread mixture into slice tin evenly with a smooth surface. The back of a metal spoon works best for this. Once smooth spread jam over evenly.
In a separate bowl add eggs, sugar and coconut and mix well. Then spread coconut mixture over the top of the slice.
Bake in oven for 35 minutes or until golden brown. Remove from oven and leave to cool in the tin. Once cooled remove from tin and cut into squares to serve. Store in an airtight container.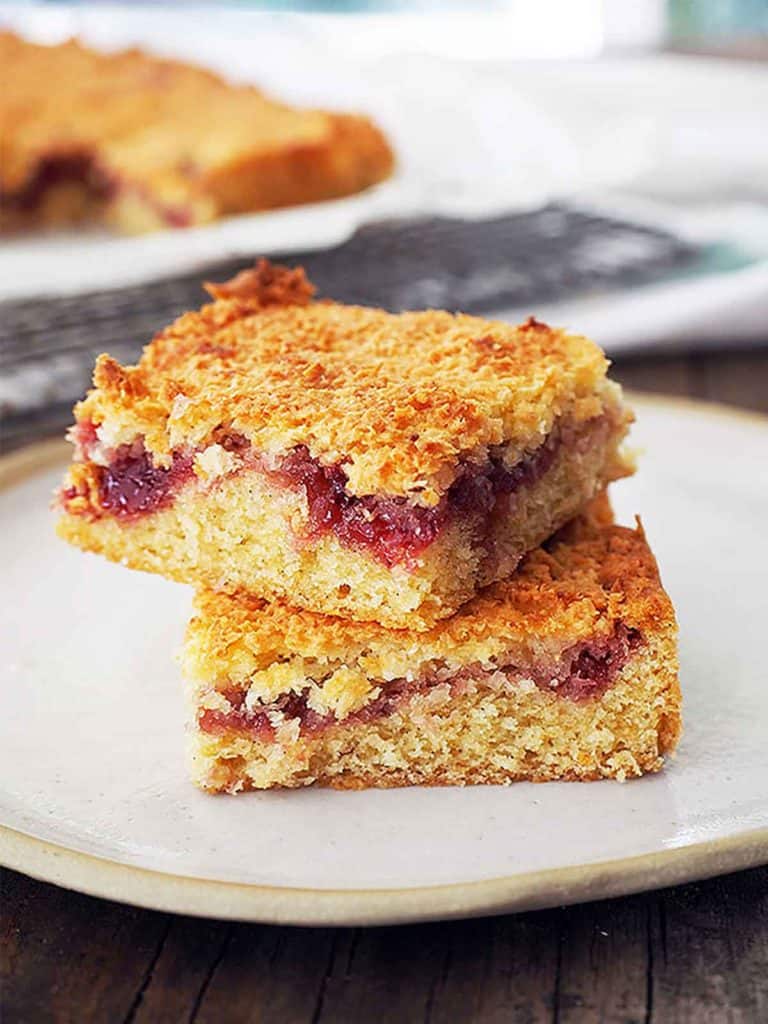 More Slice Recipes