Father's Day 2021 means a lot of us will be celebrating dad at home. I have some great Father's Day Menus to satisfy most dads. From breakfast in bed, seafood brunches, to my perfect father's day menu.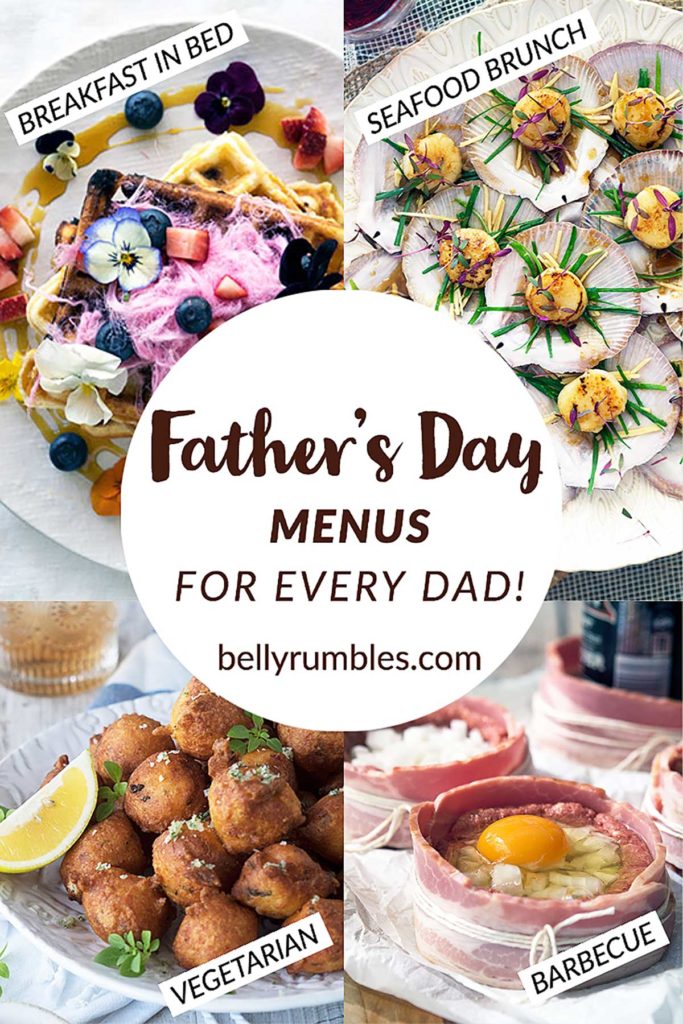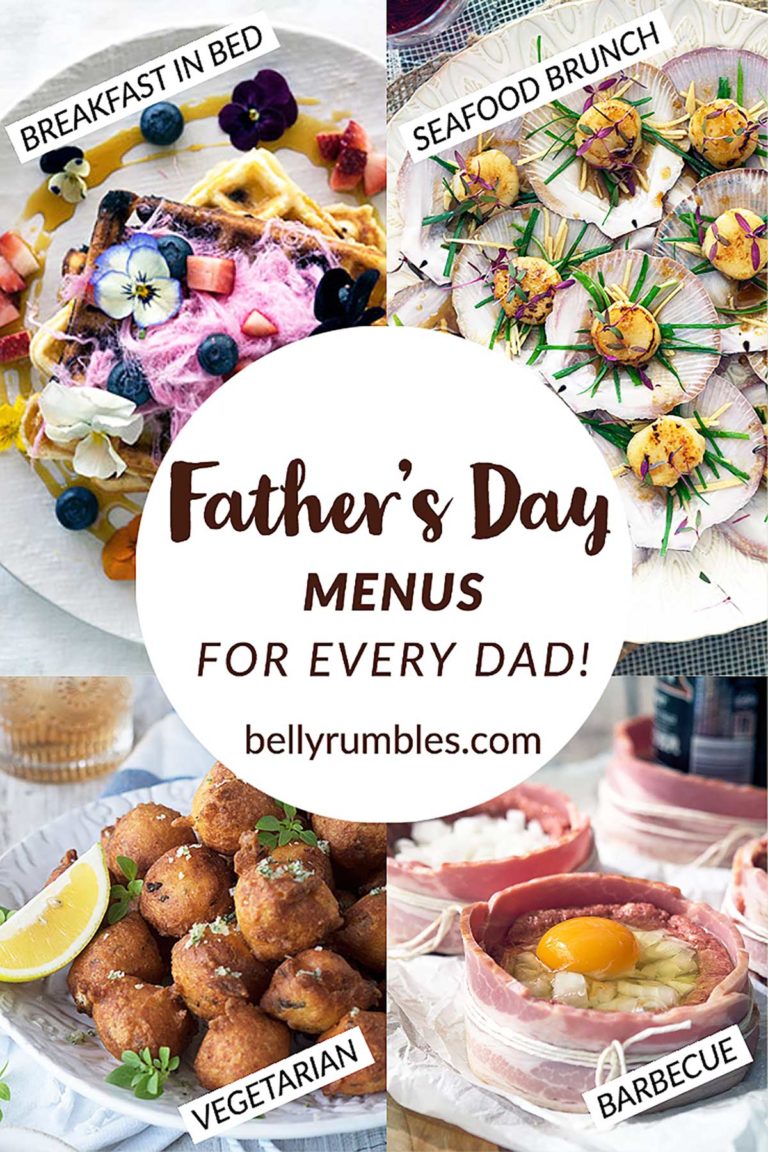 Father's Day Recipes and Menus
Often (even pre-covid times) we celebrate Father's Day at home. It's a chance for me to whip up a special Father's Day Menu with favourite dishes and some new ones.
I can't help but experiment with a new dish or two on the day too. As Father's Day falls in Spring in Australia it is often an outside affair taken advantage of the warmer weather. A lazy BBQ with meat and seafood.
If the weather isn't as nice I do have a few alternative Father's Day menus up my sleeve which are more suitable for shared indoor dining.
No matter your dad's tastebuds I hope that the menus below with offer some inspiration if not a complete solution for you on the day.
Sara xxx
Starters and Snacks
Whenever the family gets together grazing over a few drinks at the start of the event goes down well. Sets the scene for the main event, and satisfies hungry tummies until it happens.
Father's Day Mains
A lot of dads do like a nice piece of meat. Though not all, and you can find our special vegetarian menu below. Some mains that we think deserve to be on Father's Day Menus.
Something Sweet to Finish
There is always room to finish off a meal with something sweet. Dad is sure to love one of these cakes for his special day.
A few suggestions for the perfect Father's Day menu
Sara's perfect Father's Day menu
Give Dad breakfast in bed
Seafood extravaganza for Father's Day Brunch
A barbecue menu for a relaxing outdoor get-together
Menu for the vegetarian Dad
Menu 1 - Sara's Perfect Father's Day Menu
Obviously my menu will be all the things I love and my family love to eat and drink. The gathering would definitely start off with a gin based martini, shaken not stirred.

To Start
~ Oysters prepared in three easy ways to share.
~ Pork Scratchings (crackling) with an Aussie native twist
~ Smoked Salmon Dip, cheese, crudités, and crackers

Mains
~ Milk Braised Pork and marsala
~ Chorizo Stuffed Chicken
~ BBQ Rainbow Trout

Sides
~ Crispy Hasselback Potatoes
~ Tomato, Basil, and Mozzarella salad
~ Roasted Dutch Carrots
~ Crusty bread or homemade with Smoked Butter

Desserts
~ Sans Rival cake
~ Coffee and homemade Almond Roca or Alfajores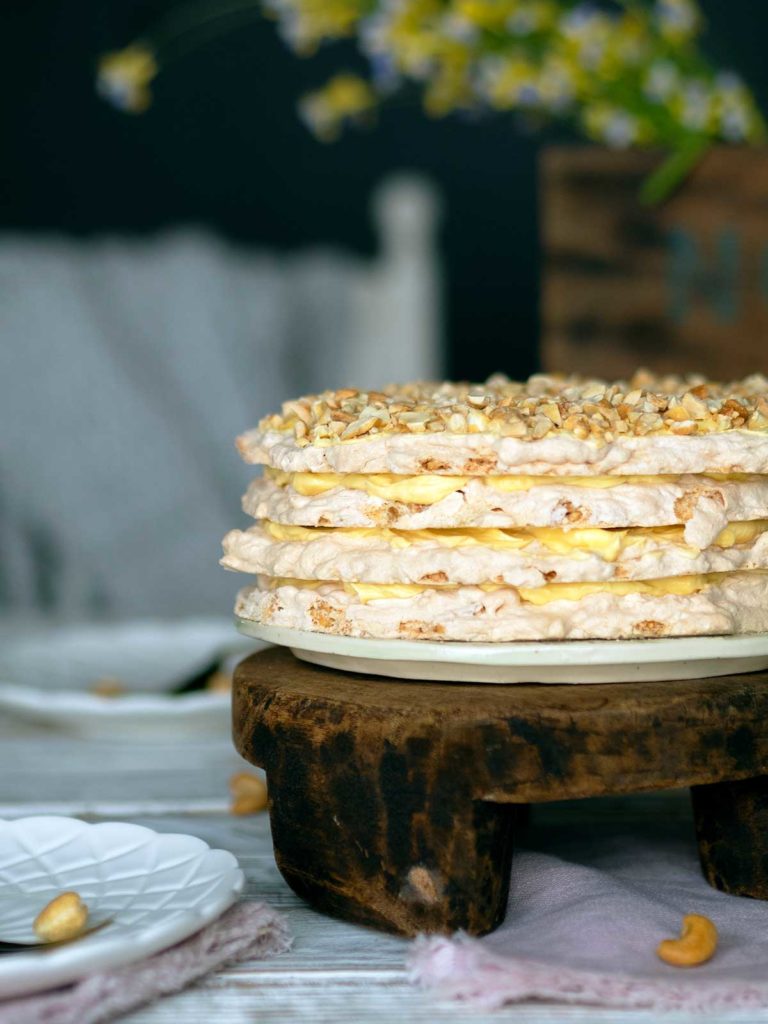 Menu 2 - Breakfast in Bed
Spoil dad with breakfast in bed on Father's Day. You could keep him healthy or spoil him with some decadent breakfast options.

The Evil Breakfast
~ Blueberry & White Chocolate Waffles or Cornflake Crumbed French Toast
~ Mushrooms on Toast - super easy and creamy
~ Black Sesame Doughnuts with caramel miso glaze
~ Boozy Banana Bread

The Healthy Breakfast
~ Fluffy baked Cloud Eggs on sourdough toast
~ Banana Pancakes, only 2 ingredients
~ Buttermilk Chive Scones with homemade butter
~ Freshly squeezed orange juice or a fruit smoothie made with coconut water
~ Raisin Bran Muffins

The Aussie Breakfast
~ French Toast with Vegemite Ice Cream
~ Corn Fritters with tomato relish
~ Tim Tam Spread on toast
~ Green Eggs and Ham Hash
~ Tomato Tarts with bacon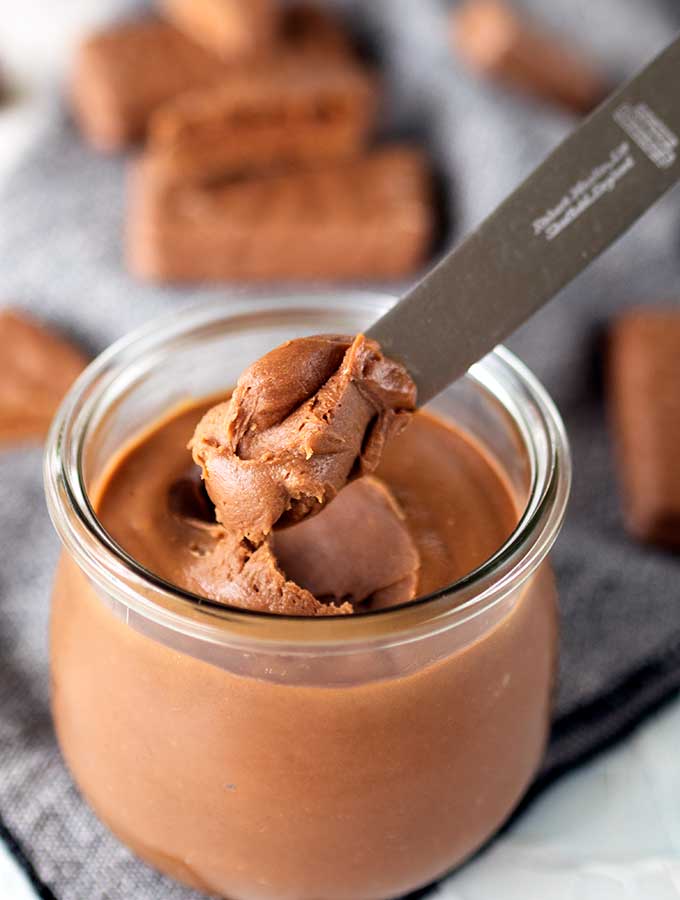 Menu 3 - Seafood Brunch
We are blessed in Australia with so many amazing seafood choices. A seafood brunch can be as easy to prepare as you wish. Simply going to the local fishmonger and picking up beautiful produce will result in a beautiful brunch.

Or you can go that extra mile and actually do some cooking too!

To Start
~ Oyster natural and Champagne
~ Scampi caviar - it's blue!
~ Chilled Corn Soup with crab and gin pickled tomatoes
~ A classic Prawn Cocktail with Marie Rose Sauce

Mains
~ Pipis in garlic, white wine, and cream
~ Best Garlic Butterfly Prawns, I call these the best for a reason!
~ Herb Roasted Salmon, quick and easy

Sides
~ Garden Salad with lettuce, cucumber, and tomato
~ Quinoa Tabouli
~ Grilled Corn
~ Crunchy Nutty Brocollini Slaw
~ Crusty bread to mop up the sauce from pipis and prawns

Desserts
~ White Chocolate and Mango Cheesecake or Honey Coffee Cake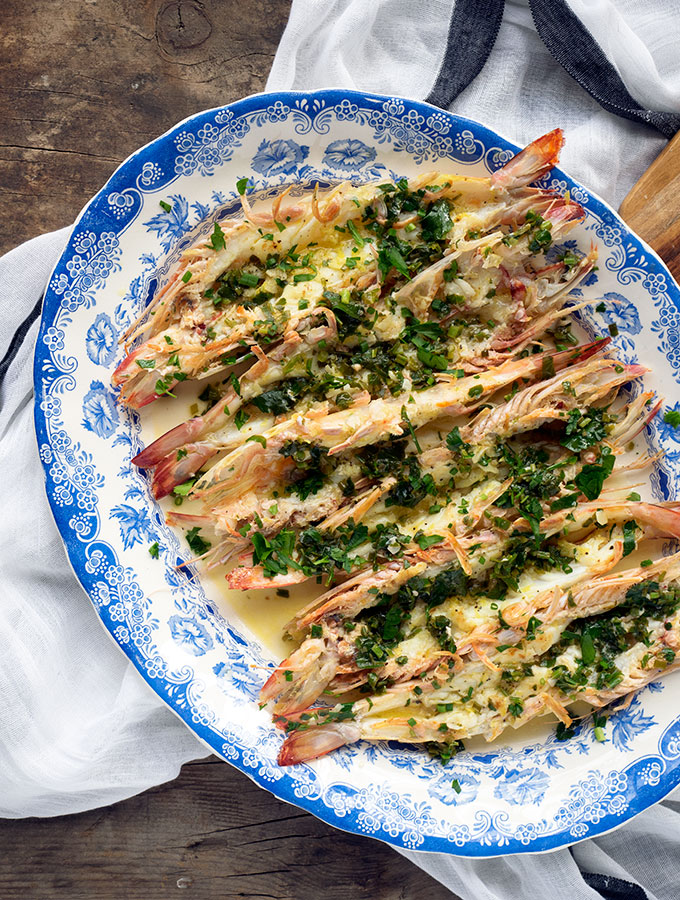 Menu 4 - Barbecue Bliss
A relaxing Father's Day spent around the BBQ with a few bevvies (drinks for my non-Aussie readers). A mix of food on the barbecue, some oven work, and salads make for a wonderful celebratory Sunday.

You could also mix things up and try a Japanese barbecue called Yakiniku.

To Start
~ Pork and Veal Terrine easily made a day or two ahead.
~ Brazil, Pecan & Fig Roasted Nut Mix
~ Mini Chicken Skewers with Peanut Satay Sauce

Mains
~ Aussie Burgers, let your guests make their own from prepared ingredients.
~ BBQ Smoked Pork Belly
~ Beer Can Burgers on the BBQ
~ Australian BBQ Prawns - nothing shrimpy about them
~ BBQ Rainbow Trout wrapped in prosciutto

Sides
~ Apple and Fennel Slaw with BBQ Flatbreads
~ Grilled Corn Japanese style
~ Baked Stuffed Onions with parmesan cream or plain BBQ onions
~ Oven roasted Bacon Fat Potatoes

Desserts
~ Decadent Caramel Crunch Brownies
~ Coconut Chocolate Ganache Cookie Sandwiches
~ Coconut Slice with Strawberry Jam
~ Super easy Toblerone Mousse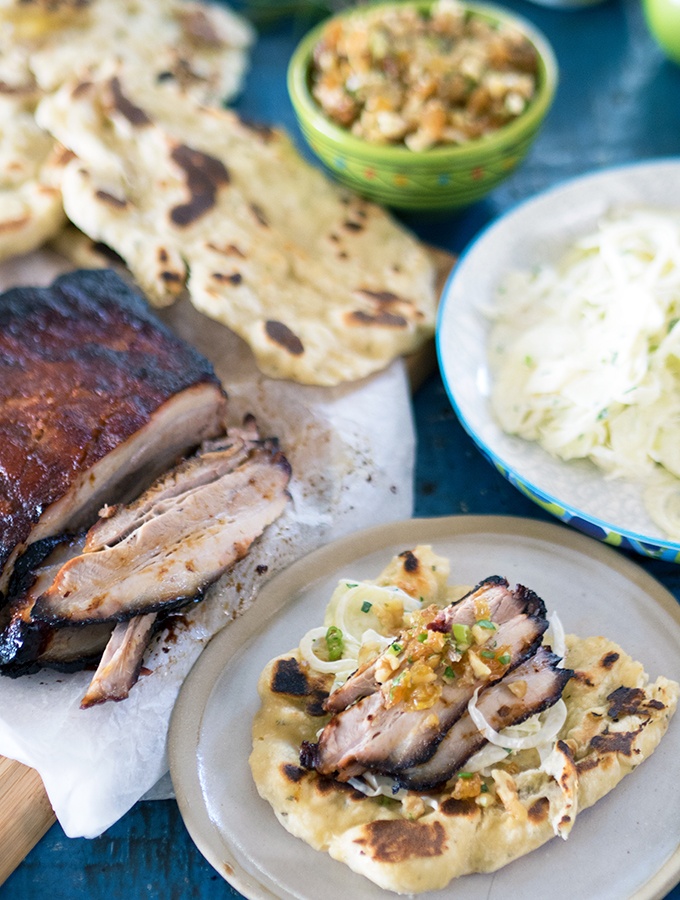 Menu 5 - Viva Vegetarian
A menu for all the vegetarian dads out there. Or maybe you just want to torture your meat loving dad? Carnivores will love the tasty vegetarian options in this menu.

To Start
~ Burrata with Salsa Tartufata and celery salad
~ Oven Baked Popcorn Cauliflower
~ Potato Skin Chips

Mains
~ Baked Cashew Cauliflower Falafel
~ Cheesy Asparagus Frittata with black truffle
~ Indian Rice Doughnuts with fresh coconut chutney
~ Zucchini Mushroom Croquettes
~ Delicious Greek Mushroom Filo Pie

Sides
~ Hummous and taziki for the falafel
~ Quinoa Tabouli
~ Bean Salad or fresh greens salad
~ Freshly baked Spelt Pita Pockets
~ Baked mushrooms with confit smoked garlic butter
~ Smoked Tomatoes

Desserts
~ Rainbow Seradura
~ Coffee with Chai Fudge
~ No bake Lemon Slice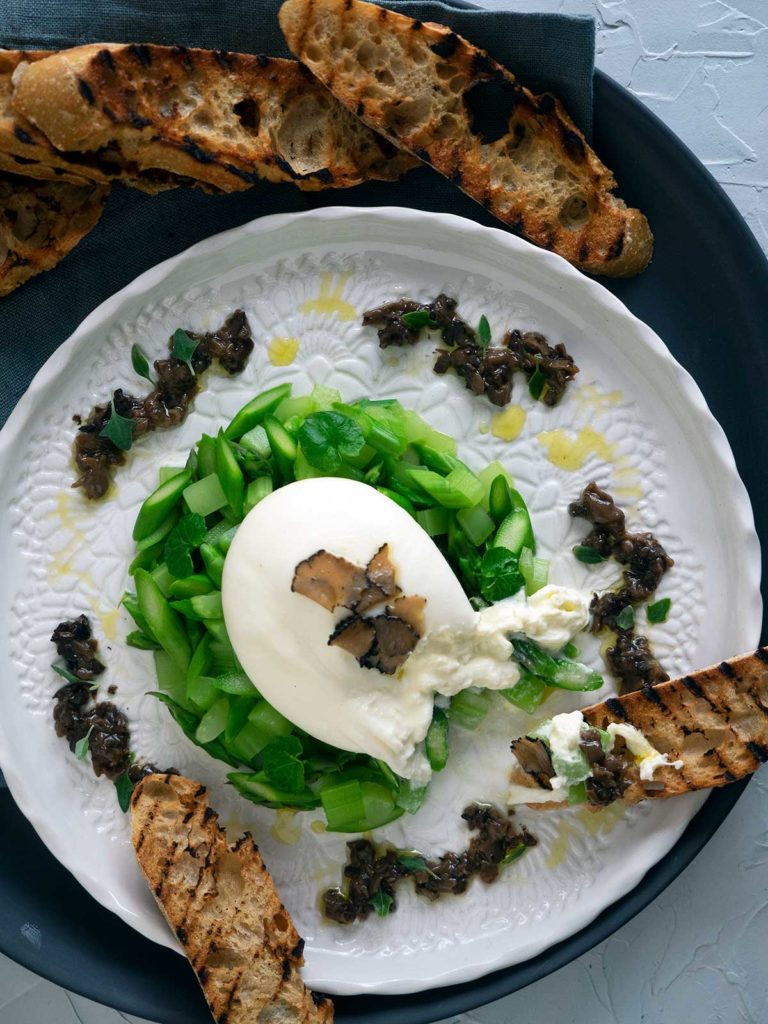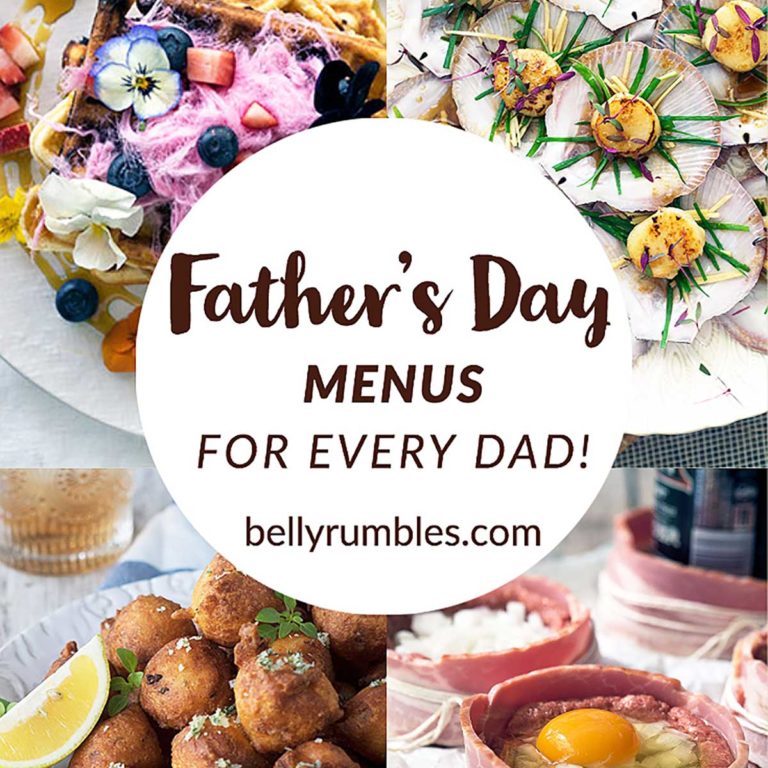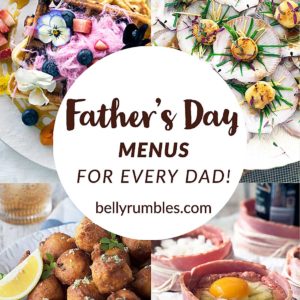 Perfect Father's Day Menu
A printable list of dishes in Sara's perfect Father's Day Menu. This will give you a running sheet of what and when to prepare the dishes for the perfect Day.
There is enough food in this menu to comfortably feed 6-8 people as part of a shared meal.
Ingredients
Instructions
Oysters Three Ways
Lemon and Gin Dressing best made just before serving.

Champagne Sauce can be made the morning of the event. Store in an airtight container in the fridge until needed. Mix well before use.

Crispy Parma Ham & Peach Dressing can be made the morning of the event. Store in an airtight container in the fridge and bring to room temperature just before serving oysters.
Pork Scratchings with Toffee & Pepperberry Salt
Pork Scratchings can be made a couple of days before. Remember that you need to start the recipe at least one day before by placing the pork rind on a cake rack in your fridge over nigh.t

If made a couple of days before pork scratching store really well in an airtight container out of the fridge.
Salmon Dip, Cheese, crudités, and crackers
The salmon dip can be made the day before and stored in the fridge, the rest can be prepared on the day. Make sure you store your crudités in an airtight container until serving.
Milk Braised Pork with Marsala
Make this dish the day of the event. It is a slow cook for 2 hours on the stove top dish. This means it will happily survive with the heat off and lid on for an extra hour.

The marsala sauce is best made before serving.
Chorizo Stuffed Chicken
Prepare the chicken up to the baking stage the day before. Wrap well in plastic wrap and foil so it keeps its shape and store in the fridge. Remove chicken from the fridge 15 minutes before baking.

If you are making the white bean salad in this recipe, this is best prepared the day you are having your Father's Day meal.
BBQ Rainbow Trout
If your fishmonger hasn't cleaned your trout for you do this the day before. Otherwise, prepare this dish the day of eating, it is quick and easy to do. BBQ just before serving.
Crispy Hasselback Potatoes
Peel, slice and "hasselback" the potatoes in the morning. Place them in a container and cover with water until needed.

Bake in time to serve immediately.
Tomato, Mozzarella and Basil Salad
Prepare all ingredients the morning of the event. Assemble just before serving
Roasted Dutch Carrots
Prepare the carrots up to baking stage the morning of the even. Make the almond honey sauce just before serving.

Place in the oven to bake 20 minutes before the end time for the chorizo chicken.
Crusty bread with smoked butter
Prepare smoked butter the day before.
Sans Rival Cake
Make the cake the day before.
Coffee and homemade Almond Roca or Alfajores
Almond Roca can be made a few days in advance and stored in the fridge. Just don't eat it all before Father's Day! Alfajores can be made one or two days ahead.
Did You Make This Recipe?
I do a happy dance when people share how they went. Tag me on Instagram or Twitter @bellyrumbles & #bellyrumbles